These are so far the best indoor security camera without subscription, not only they are affordable but very smart and high in features to be able to ensure maximum surveillance all the time, And in case you want outdoor cameras without subscription.
Here are the List of Best Indoor Security Camera without Subscription
| | | | | | | | |
| --- | --- | --- | --- | --- | --- | --- | --- |
| Product | Wansview | YI | Reolink E1 Pro | Wyze Cam | D-Link | EZVIZ C6CN | TENVIS Ultra |
| Resolutions | 1080 | 1080p | 2560×1440 | 1080p | 1080p | 1080 | 2304*1296 |
| Night Vision | Yes | Yes | Yes | Yes | Yes | Yes | Yes |
| 2-way Audio | Yes | Yes | Yes | Yes | Yes | Yes | Yes |
| View Angle | 105° | 112° | 110° | 110° | 92° | 94° | 108° |
| Storage Options | Micro SD Card / Cloud | Micro SD Card / Cloud | Micro SD Card / Cloud | Micro SD Card / Cloud | Micro SD Card / Cloud | Micro SD Card / Cloud | Micro SD Card / Cloud |
| Support | Alexa | Alexa | Alexa/Google Assistant | Alexa | Alexa/Google Assistant | | Alexa |
| Price | $30.99 | $25.99 | $49.99 | $25.98 | $69.91 | $38.99 | $39.99 |
Wansview Wireless Security IP Indoor Camera 1080P HD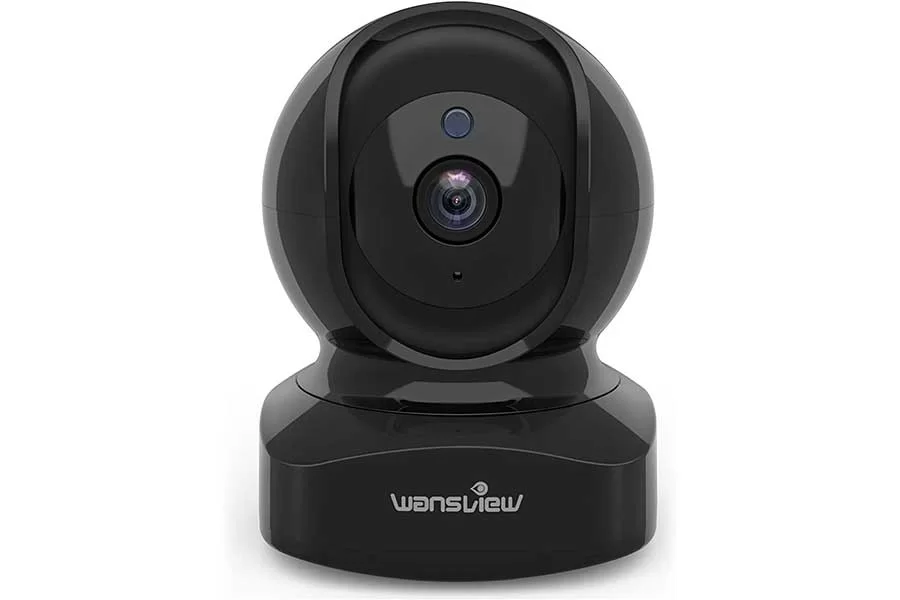 You can conveniently mount the Wansview Q5 WiFi ip camera, connect the camera to 2.4 G WiFi (5 G is not supported), put it on the table or hang it on the wall, then experience smooth live stream footage directly on your smartphone anywhere with the Wansview Cloud app (iOS and Android).
With 1080P HD resolution, wansview home camera displays a crystal clear smooth live video, you can keep an eye on your home anytime anywhere. Camera works with 2.4G Wi-Fi.
Built-in microphone & speaker offers to communicate with your love when you are out. Works with Alexa, ask Alexa to show your front door, baby room, or anywhere else you have your wansview Wi-Fi camera.
105° wide-angle enhanced lens combined with 320° horizontal & 80° vertical rotation range create a complete 360° coverage and 4X digital zoom to enlarge the video to see details clearly. 4 pcs 940nm IR Leds give you clear Black/White picture in pitch dark up to 5 meters, no light pollution.
Alert notification and 10s video will be sent to your phone, just open Wansview cloud app to check quickly what is going on, will not miss any important movements. SD card and Cloud Storage are optional.
YI 1080p Smart Home Indoor IP Camera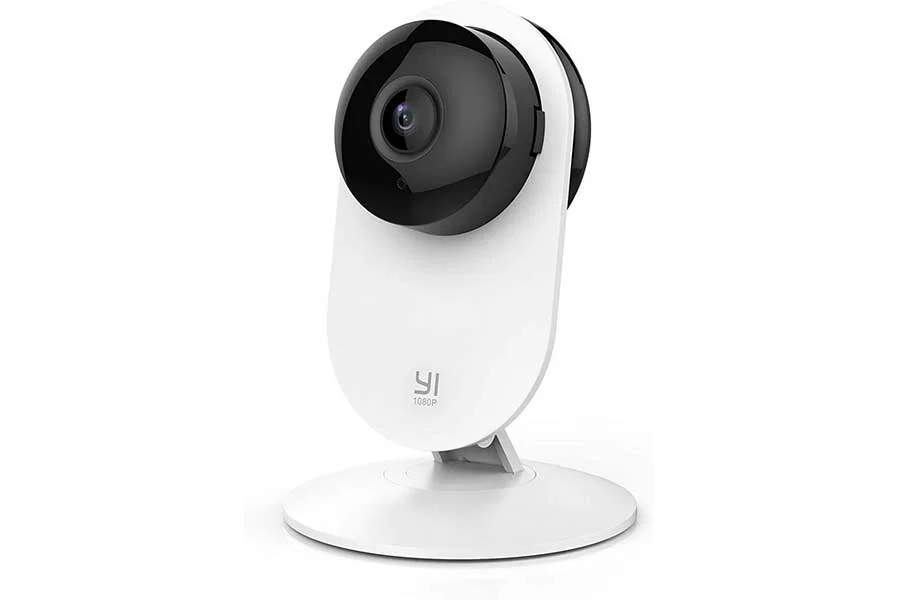 YI 1080p Smart Home Camera, Indoor IP Security Surveillance System with Night Vision, AI Human Detection, Activity Zone, Phone/PC App, and Cloud Service – Works with Alexa,
Optional 24/7 Emergency Response Service – YI's motion alerts and live video feeds are now equipped with the option to instantly involve Noon light's Certified Emergency Dispatchers, who coordinate with police, fire, and EMS agencies on customers' behalf to ensure the situation is promptly handled.
AI powered human detected alert or motion detected alerts can be set by sensitivity levels from high to low. Eliminates 'false positives' caused by flying insects, small pets, or light changes. You'll only be alerted for the moments that matter.
Officially Alexa compatible and works with any screen-based Alexa device. You can use the Alexa Skill to turn on your camera or view its live feed with a simple voice command.
Access your camera with our mobile / PC APP anytime and anywhere, more flexible with Home/Away mode. Allows sharing your camera with up to 5 family members or friends, and view multiple cameras on a single account. 9 live feeds on pc app is available now. Built-in support for 2.4 GHz (5 GHz currently not supported) Wi-Fi band.
Six second motion-triggered video clips will be safely stored on the Cloud for 1 day for free. For local storage, micro SD-cards up to 64GB are supported.
Reolink E1 Pro 4MP HD Plug-in Wi-Fi Indoor Camera
Reolink E1 Pro WiFi camera captures super HD videos in the resolution of 2560×1440 (4 megapixels), the eight infrared LED lights bring you excellent night vision up to 40ft.
Up and running in minutes. Rotate 355° horizontally and 50° vertically. See every corner of your home with easy pan and tilt control on Reolink software.
This camera supports both 2.4GHz and 5GHz dual-band WiFi. the 2T2R MIMO antennas ensure a strong signal for reliable network performance. Support Alexa/Google Assistant. Control your cameras hands-Free with your voice.
This camera supports both 2.4GHz and 5GHz dual-band WiFi. The 2T2R MIMO antennas ensure a strong signal for reliable network performance.
Support Alexa/Google Assistant. Control your cameras hands-Free with your voice.
24/7 monitoring when connected with Reolink NVR. Save motion clips to a micro SD card (up to 64 GB) and Reolink Cloud for double insurance for 7-days, for free.
With built-in mic and speaker, you can hear and speak through the security camera.
Wyze Cam 1080p HD Indoor Wireless Smart Home Camera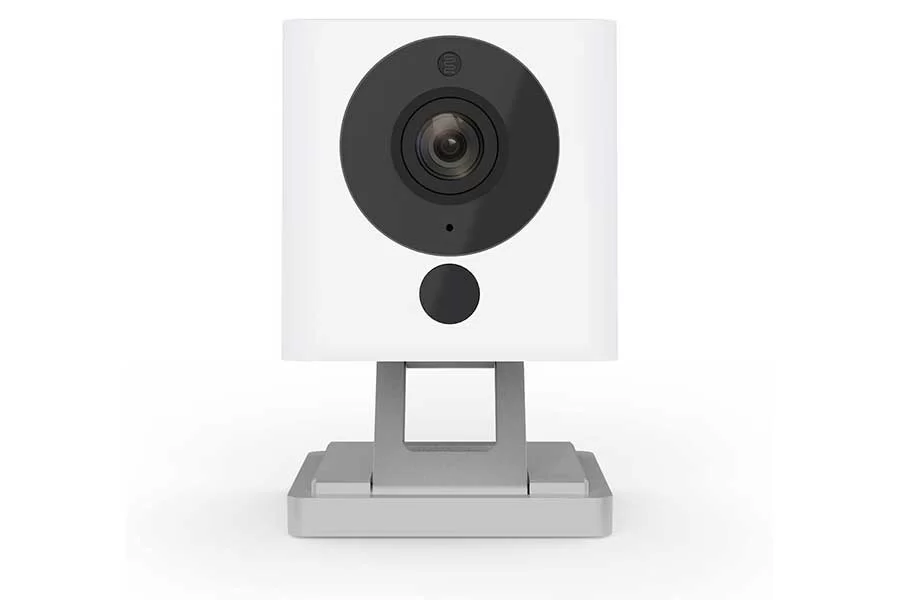 Wyze Cam v2 delivers fast, clear, live stream footage direct to your smartphone via the Wyze App (iOS and Android), day or night. You can receive an alert anytime your Wyze Cam v2 detects sound or motion and view up to 14 days of saved alert videos for free – no monthly fees or subscription required.
1080p Full HD live streaming lets you see inside your home from anywhere in real time using your mobile device.
While live streaming, use two-way audio to speak with your friends and family through the Wyze app.
Wyze Cam can automatically record a 12-second video clip when motion or sound is detected and saves that video to the cloud for 14-days, for free. Mobile push notifications can be enabled so you're only alerted when something is detected letting you stay on top of things without having to constantly monitor the app. cord continuously to a MicroSD card (sold separately) regardless of motion and sound. Compatible with 8GB, 16GB, or 32GB FAT32 MicroSD cards.
Night vision lets you see up to 30' in absolute darkness using 4 infrared (IR) LEDs.
Works with Alexa and Google Assistant (US only) so you can use your voice to see who's at your front door.
Only compatible with the 2. 4GHz WiFi network.
D-Link Indoor Full HD WiFi Security Camera
The Full HD Pan & Tilt Wi-Fi Camera (DCS-8525LH) with easy to pan & tilt control, you can see more of your rooms, pets and kids. Stay informed with automatic push alert notifications whenever sound or motion is detected with clear 1080p video even in up to 16 feet of total darkness. Have real-time conversations with anyone at home or tell the dog to get off the couch with two-way audio. Never miss a moment with recording on mydlink cloud or MicroSD card. Stream live video to your smartphone, tablet or compatible Google Chromecast or Amazon Alexa streaming device.
Full HD 1080p Video Quality
Have real-time two-way conversations.
Choose where to record with options of free and paid cloud recording to your private account or MicroSD card which can be viewed on the MyD-Link app.
Set Scheduled recording, and pinch to zoom up to 10x using the free MyD-Link app available for iOS and Android devices
EZVIZ C6CN 1080p Indoor WiFi Security Camera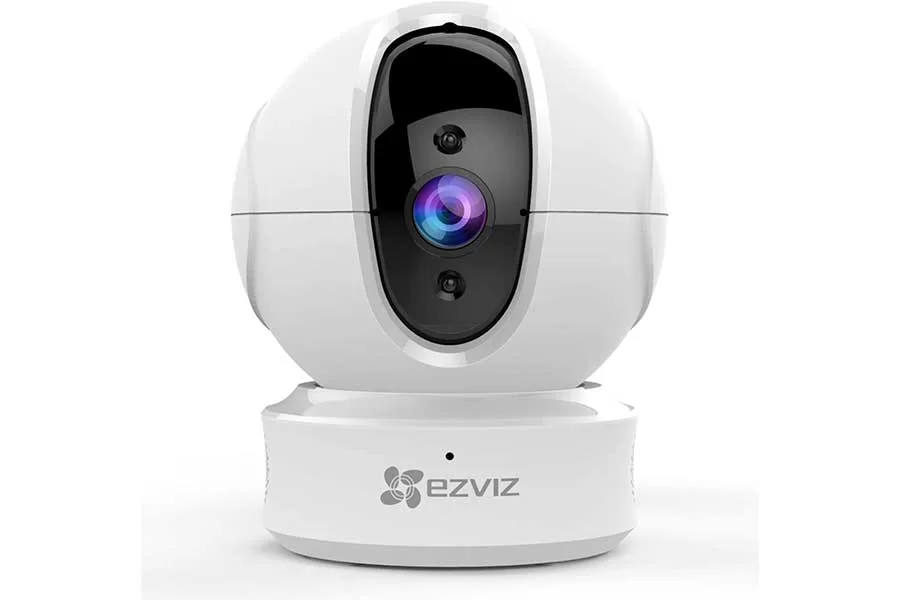 EZVIZ C6CN takes the popular Pan and Tilt series camera and upgrades it with full-duplex two-way audio for hands free communication, a faster motor for quicker auto tracking, and lower energy consumption. C6CN has got your covered with full room coverage and intelligent auto tracking that keeps detected subjects centered in the frame so you never lose visibility.
Full HD 1080p Video with 360° Coverage and Night Vision
When it detects a moving object, the C6CN is smart enough to automatically track and follow its motion while alerting you with an image in real-time.
Activate simple one-touch navigation by taking a full 360° photo around the camera.
Simply tap the microphone function in the EZVIZ app to activate simultaneous audio transmission to listen and speak as if you are in the same room.
Every EZVIZ WIFI Security Camera comes with a MicroSD Card Slot included. We also offer a selection of WIFI NVR's that include dedicated hard drives. If you need additional back up, subscription based cloud storage options are also available.
TENVIS Ultra HD 3MP Indoor Security Camera
Another excellent indoor camera with high resolution of up to 2304*1296, night vision, two way talk conversation and cloud and local storage up to 128gb, compatible with Alexa. Make Tenvis among the best indoor camera with an affordable price.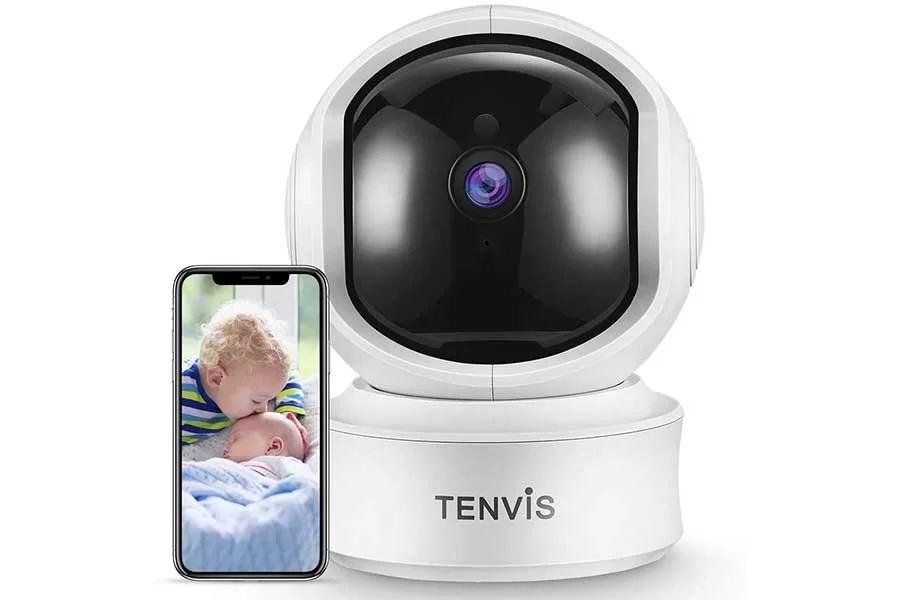 The high 3MP high resolution vision makes you can watch a clear and fluent visual experience with a 110 ° vertical and 355 ° horizontal view.
The internal IR tech can be clearly showed with a range of 10m night vision. The smart switch baby surveillance camera will help protect your family.
The highly sensitive detection tracking tech can help track any dubious movement and immediately alert the users.
With the high quality 2 way audio device, you can always enjoy a cheerful interaction with your children and for child protection without disturbing their sleeping.
The 3MP Tenvis wireless ip camera supports both iOS/Android smart devices, so you can allow your family/friends to get access to the pet surveillance cam.
The latest version of TENVIS zoom/tilt/pan 3MP cameras recommends a 64 GB SD card with encrypted cloud storage. There is a maximum of 2 months capacity for the cloud storage. You are the only one to review your data.