Smart light switches, which add online-enabled capabilities to your house lights, may not appear to be a significant advance over what you already have. They allow you to turn your house lights on and off remotely, as well as a range of other essential and entertaining capabilities. A switch with motion detection, for example, can turn lights on and off automatically, saving you money and benefiting the environment.
Before purchasing a smart light switch, there are a few things to think about.
The standard for smart light switch build quality has mostly reached a stage where you can trust that any recent model from a major manufacturer will perform dependably. As a result, the most important consideration is whether a smart light switch will work with your present smart home ecosystem as well as your house's wiring. (If you're new to smart home renovations, think about what other improvements you might like to make in the near future.)
Installation
Many smart light switches will require a neutral wire, which works with the ground wire to essentially complete the circuit of your home's electrical wiring so it can draw power even when it isn't in use. While it's common in homes built within the last 20 years or so, many houses do not have a neutral wire. If you don't have a neutral wire running through your home, you will need to avoid models that require one.
Protocol for communication
Most smart home gadgets can connect to your 2.4GHz home Wi-Fi network quickly and efficiently. Wi-Fi is the most convenient method to connect your smart gadgets, but it isn't always the greatest, especially when upgrading to smart light switches, which adds a slew of additional wireless connections if you replace every analogue light switch in your house.
Ecosystems
Smart home ecosystems act as the user interface for all smart devices in your home. Unlike communication protocols, which help the devices talk to each other, the ecosystem dictates how you talk to your devices.
Here Are List of Best Smart Light Switches 2022
Best smart light switch overall: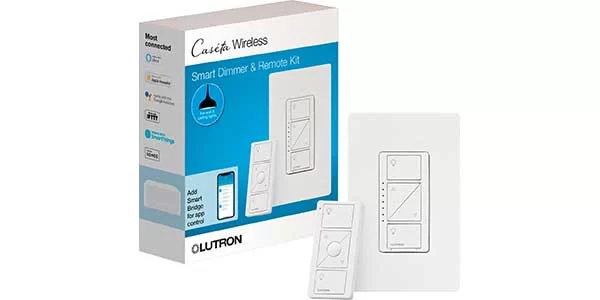 Why it made the cut: The Lutron Caseta costs a little bit extra, but you get an excellent array of features.
Specs:
Communication Protocol: Lutron Clear Connect
Ecosystems: Apple HomeKit, Google Assistant, Amazon Alexa, Nest, SmartThings
Neutral wire required: No
Dimmer: Yes
Supports three-way switches: Yes
Pros:
Comes with a remote
Good selection of features
Wide ecosystem support
Cons:
A bit expensive
Requires Smart Bridge to connect to Wi-Fi
The Lutron Caseta kit provides with everything you need to install smart light switches for the first time, so you don't have to worry about integrations or ecosystems. It's simple to set up, especially because there's no need for a neutral wire. There is no need for a hub because it comes with its own remote. It also has some wonderful features, such as a wall plate mount that comes with it and the option to switch lights on and off at odd times throughout the day to give the impression that you're at home.
There is a catch, of course. Lutron's Caseta products require a Caseta Smart Bridge to pair with ecosystems other than Lutron's. The Smart Bridge has its advantages, though. In addition to connecting with Apple HomeKit, Nest, and other ecosystems, it allows the dimmer to change the intensity of your lights based on season and time of day. With the Lutron app (iOS, Android), you can easily manage this sort of schedule on your own. 
If you want full ecosystem integrations or just plan to expand to other smart light switch types, you can always go right for the Lutron Caseta bundle with the bridge.
More:
Smart Light Switches Google Home
Best motion-detection smart light switch: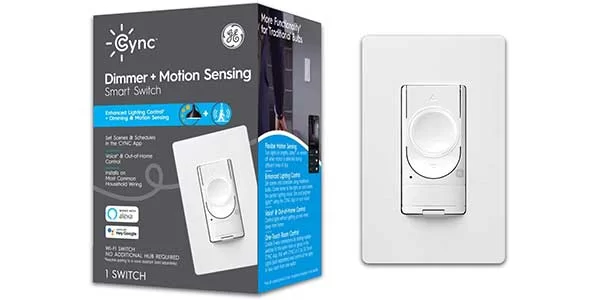 Why it made the cut: While a bit pricey, the GE Cync feels like a no-brainer if you're looking for a smart dimmer thanks to its ambient light sensor and support for multiple popular ecosystems.
Specs:
Communication Protocol: 2.4GHz Wi-Fi, Bluetooth
Ecosystems: Amazon Alexa, Google Home
Neutral wire required: No
Dimmer: Yes
Supports three-way switches: No
Pros:
No need for a hub
Can detect motion and ambient light
Easy installation
Cons:
App is less than ideal to use
Occasional sensor issues when dealing with LED lights
The most sophisticated version of the GE Cync smart switch line—formerly known as "C by GE"—includes a very handy feature: a motion sensor that detects when people enter and depart a room, ensuring that your lights turn on and off exactly when you need them. The sensor is not only handy, but it also improves your home's energy efficiency, lowering your energy expenses and lowering your carbon impact.
The CYNC, like our affordable selection, the Kasa, connects entirely over 2.4GHz Wi-Fi, albeit it also connects to your phone via Bluetooth via the Cync app (iOS, Android). You may use the app to operate the dimmer as well as other functions such as timers and light grouping.
Best budget smart light switch: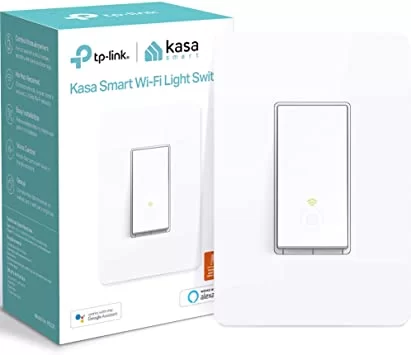 Why it made the cut: The Kasa smart light switch is minimalist by definition. For those who don't need any fancy features, its budget pricing makes it an excellent choice.
Specs:
Communication Protocol: 2.4GHz Wi-Fi
Ecosystems: Google Assistant, Amazon Alexa, Microsoft Cortana
Neutral wire required: Yes
Dimmer: No
Supports three-way switches: No
Pros:
No need for a hub
Looks and feels like a normal light switch
Good virtual assistant support
Easy installation
Cons:
Requires a neutral wire
Doesn't work with Siri or Apple Homekit
There aren't many smart light switches under $20 on the market, especially from well-known manufacturers like TP-Link. The Kasa smart light switch is a rare alternative that is both inexpensive and functional enough to justify a switch replacement from analogue switches.
The Kasa does not require a smart home hub, unlike other smart light switches. It's simple to set up because it connects over Wi-Fi. If you have a lot of switches and/or don't have a modern wireless router, this might be a double-edged sword: On the one hand, it is inexpensive and simple to set up. However, it causes a significant amount of congestion in your home Wi-Fi network. Having many light switches on your network is still a good idea, even with Wi-Fi 6 and MU-MIMO capability.
Despite this, the Kasa smart light switch has quite a few redeeming features. There's support for all the main virtual assistants, except for Siri, so that you can control it by voice. There's also scheduling for it to be on and off and a pretty smart 'Away Mode,' which randomly switches itself on and off to scare any potential burglars.
Best 3-way smart dimmer switch:

Why it made the cut: The GE Enbrighten has a little bit of everything, including a hub extender.
Specs:
Communication Protocol: Z-Wave
Ecosystems: Amazon Alexa, Google Assistant
Neutral wire required: Yes
Dimmer: Yes
Supports three-way switches: Yes
Pros:
Has both dimmer and 3-way switch support
Straight-forward installation
Supports a wide range of hubs
Cons:
Requires a hub
Requires neutral wire
The GE Enbrighten is very useful if you already have a ton of smart home devices. It's a core 3-way dimmer, as well as a Z-wave repeater that boosts your hub's signal throughout your home.While the majority of smart light switches on this list connect via Wi-Fi, the GE Enbrighten relies exclusively on Z-wave, so it will require a Z-wave hub to operate. Even with that limitation, it is still widely compatible with popular smart home ecosystems, including Smart Things and Wink, and voice commands through Alexa and Google Assistant.
Best smart dimmer: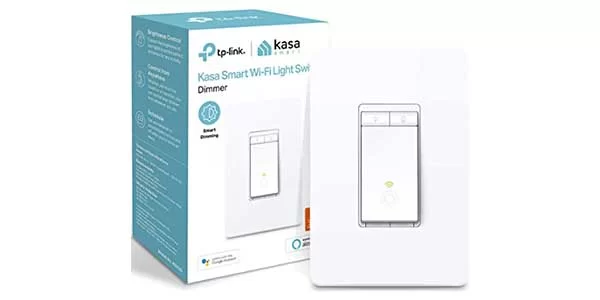 Why it made the cut: Kasa's smart dimmer gets you more precise lighting control for the lowest possible price.
Specs:
Communication Protocol: 2.4GHz Wi-Fi
Ecosystems: Amazon Alexa, Google Assistant/Home, Microsoft Cortana
Neutral wire required: Yes
Dimmer: Yes
Supports three-way switches: No
Pros
No Hub required
Simple to operate
Great customization
Minimalist aesthetic
Cons
No Apple HomeKit support
Large design might not fit everywhere
The dims in steps, rather than a dial
The Kasa Smart Dimmer Switch will save you money if you want to install a smart dimmer switch across your home. It's less than $20 per switch, which is less than normal for a smart switch, but it still provides a complete range of basic smart capabilities. The "Gentle Off" option, which gradually dims the lights as you turn them off, is our favorite. There's also the standard scheduling, sceneries, and remote control via your phone or voice.
It can connect with most virtual assistants and Google Home, much like other 2.4 GHz Wi-Fi devices, but unfortunately not with Apple HomeKit. This provides for a simple connection, albeit it does necessitate the use of a neutral wire, so it isn't a simple installation.
In truth, the switch's internal components are very substantial, so make sure there's enough room inside the gang box for it and the wires. A gang box is a plastic or metal container that houses electrical components such as light switches or outlets.
Home Automation

>>

Brands

>>

Amazon

>>

Best Smart Light Switches 2022