Here is a list of a few cameras that have been rated as the best in the market by customers and other rating platforms, so if you're looking for a wireless outdoor security camera with the best features, specifications, and dependability, here is the list for you.
| | | | | | |
| --- | --- | --- | --- | --- | --- |
| Rated For | Camera | Price | Type | Video Resolution | Night Vision |
| Overall The Best | Reolink Argus 3 Pro | $119.00 | Indoor/Outdoor Wire free | 1440P 2K | Color/IR |
| Best Tech | Google Nest Cam | $179.99 | Indoor/Outdoor Wire free | 1080P | IR |
| Best for smart home | Arlo Pro 4 | $159.00 | Indoor/Outdoor Wire free | 1440P 2K | Color/IR |
| Best for Alexa | Ring Stick up Cam Battery | $99.99 | Indoor/Outdoor Wire free | 1080P | IR |
| Best Battery Life | Blink Outdoor | $99.99 | Indoor/Outdoor Wire free | 1080P | IR |
| Best in cheaper Range | Zmodo | $34.99 | Indoor/Outdoor Wire free | 1080P | IR |
| Best in Pan Tilt | Amcrest 4MP ProHD | $59.99 | Indoor | 1550P | IR |
| Affordable | Wyze Cam V3 | $35.98 | Indoor/Outdoor Wired | 1080P | Color/IR |
Here are the List of Best Wireless Outdoor Security Camera
Overall the Best
Reolink Argus 3 Pro
Because it performs almost as well as the Arlo Pro 4 for 70% less money, the Reolink Argus 3 Pro is an obvious decision to top our rankings as the best wireless camera. Reolink's cloud storage isn't as excellent as Arlo and Ring's, but it does include a microSD card slot, which provides it a local storage edge. To store videos from your Reolink camera, you don't need a paid membership.
It also helps that it's a low-cost solar security camera. A Reolink solar panel costs roughly $30, which is less than half the cost of solar panels for Arlo and Ring cameras.
The Reolink Argus 3 Pro comes highly recommended above the standard Reolink Argus 3. The Arlo Pro 4 gives the Arlo Pro 3 a run for its money because to its 2K video resolution, longer battery, and compatibility for 5 GHz Wi-Fi. Because this camera runs on a rechargeable battery or solar power, you have a variety of options for where you may put it. Still, unlike the Arlo Pro 4 and Ring Stick Up Cam, the camera doesn't have a replaceable battery, so you can't switch in a replacement when needed.
In long-term battery testing, it outlasted the Arlo Pro 4, which is another feather in Reolink's cap. Local storage reduces the camera's Wi-Fi consumption (which depletes batteries) for improved overall performance. In contrast, we've found that without a solar panel attachment, batteries deplete rapidly if you record or watch video often.
Its starlight night vision gives you clear images up to 33 feet without any extra ambient light.
Good
Affordable (especially the solar panels)
Excellent video quality
Bright spotlight
MicroSD video storage
Bad
No removable battery
No motion zones
Best Affordable Camera
Best tech
Google Nest Cam (Battery)
Price: $179.99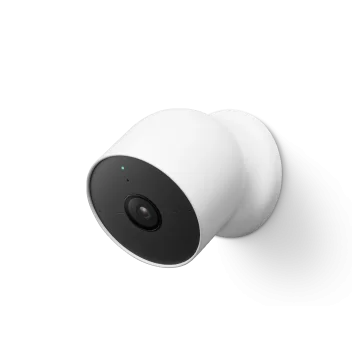 When it comes to picture, video, and sound quality, the Google Nest Cam (Battery) is fantastic. In addition, it addresses one of our major issues about the Nest Cam IQ by making most of its smart alerts available to those who do not have a Nest Aware membership.
This is Google's first battery-powered security camera, and we're pleased to say its battery holds up well. There's even built-in video storage that keeps the camera recording up to a week's worth of clips when the internet drops.
Nest is now even more affordable for those on a budget, thanks to the addition of free cloud storage. It only has three hours of video storage, but that's better than Arlo and Ring's utter lack of free space.
Person, animal, and vehicle detection, as well as motion zones, are among the free smart alerts available. The fact that you can utilize so many services without paying a monthly fee is a huge plus.
Good
Great video quality
Battery-powered
Local backup storage
Quality design and aesthetic
Bad
High price
Facial recognition requires subscription
Best for smart home
Arlo Pro 4
The Arlo Pro 4 has smarter home platform compatibility than any other product on our list. Amazon Alexa, Google Assistant, Apple HomeKit, and Samsung SmartThings are all supported. Although it fell in this update's rankings, it remains one of our all-time favorites.
We like that it's completely cordless—it doesn't require a power cord and yet outperforms the competition. Because of its Wi-Fi connection and batteries, it can be installed almost anyplace a ladder can reach.
The Arlo Pro 4 is a great battery-powered camera if you want a rapid setup, several cameras, and exceptional video quality. Its 2K footage captures more information than 1080p outside cameras, and owing to infrared night vision and a built-in flashlight, it can record clear video at any time of day.
Thanks to a good instruction in the Arlo app, it's a breeze to set up. It's also simple to install thanks to the magnetic wall mount. While the Arlo Pro 4 requires a monthly fee for cloud video storage, it is one of the more reasonable options available at $2.99.
Arlo 4 corrects Arlo Pro 3's greatest flaw in that it no longer requires a base station, which was previously only accessible when purchasing two or more cameras. Although it is still more expensive than the ordinary wireless camera, this makes it a more affordable option (including some Arlo cameras).
Good
2K video resolution
100% wire-free design
Indoor/outdoor versatility
Smart home integration
Bad
High price
Paid cloud storage
Best for Alexa
Ring Stick up Cam Battery
Because the Ring Stick up Cam Battery is wire-free, you have a lot of options for where you may install it. It's also one of the most economical security cameras you can use both indoors and outside, costing roughly $100. It's a great wireless camera for an Alexa-enabled smart home, however we wish it supported Google Assistant and HomeKit like Arlo.
If you need a wireless outdoor camera on a budget, the Stick up Cam Battery is a great bet. Ring also has one of the most competitive cloud storage plans on the market, costing just $3 a month for 60 days of storage.
Short battery life on Ring products (some say it lasts about a month), and recharging the Stick Up Cam is a tedious process since you need to remove the battery each time.
You can get a solar panel accessory so you don't need to remove the battery as often, but it'll cost you extra.
Good
No power cables to wrangle
Indoor/outdoor capability
Motion-activated sensors
Alexa compatibility
Bad
Tedious process to recharge battery
Short battery life
Relevant:
Best Wireless Security Camera without Subscription
Best Indoor Security Camera without Subscription
Other Brands To Consider:
Overall The Best Battery Life
Blink Outdoor
Blink is a security camera firm owned by Amazon that specializes on low-cost cameras. The Blink outside, a beautiful tiny camera, is the company's newest offering. Due to its indoor-only nature, this camera costs around $90, making it less expensive than comparable wire-free cameras.
It boasts a two-year battery life, which is far longer than the competitors. This is accomplished by capturing small clips and shutting off Wi-Fi when the camera is turned off. This camera, like other Amazon smart products, is less prone to interoperability difficulties than third-party brands. It's simple to connect Alexa and Fire TV devices, and Alexa smart displays like the Echo Provide can even show you a live view.
The Blink requires a monthly membership (about $3 per month) to preserve recordings, however it only keeps around two hours of film, which is little in comparison to other manufacturers. Still, if you're looking for a low-cost, wire-free interior security camera to work with Alexa, the Blink Indoor is a decent choice.
Best in cheaper Range
Zmodo Outdoor Camera Wireless
The Zmodo outdoor security camera is composed of metal to withstand adverse weather and so has a longer lifespan. A better signal and a larger Wi-Fi connection are provided via enhanced antennae.
Day and night, watch your house in genuine 1080p Full HD, and see up to 65 feet away in the dark. Videos may be seen on iOS and Android mobile devices and tablets, as well as on PCs through the web.
Zmodo outdoor camera works with Alexa and Google Assistant. Go hands-free with Alexa by saying, "Alexa, show me the front door" to view a live stream from your camera
30-day free trial of Zmodo 7-day cloud recording plan. With the plan, you can review, save, and share footage at any time, and reduce false alerts with cloud intelligence
Best Home Security Cameras without Subscription
Best pan-tilt
Amcrest 4MP ProHD
I would like to consider this cam as well, in case if you have an option of wired camera.
Wyze Cam v3
The Wyze Cam v3 adds outdoor capabilities, a built-in siren, enhanced night vision, and a faster frame rate for smoother footage to the original sleeper success from Wyze. While the v3 had a tiny price increase soon after its introduction, $36 is still a bargain for a wireless camera of this quality.
The Wyze Cam v3's night vision is notable since it produces color footage at night using a starlight sensor and two types of infrared LEDs. This is also one of the first Wyze cameras to capture movies at a frame rate of 20 frames per second (fps) throughout the day, allowing for smoother video playback and live watching than previous Wyze cameras.
Wyze offers free cloud storage for up to 14 days for short 12-second films. The Wyze Cam Plus subscription cloud storage plan supports full-length video clips and is ideal for those who don't want to invest in a microSD card. It's also one of the most affordable security camera plans available, at just $2 per month or $15 per year.
Good
2K video resolution
100% wire-free design
Indoor/outdoor versatility
Smart home integration
Bad
High price
Paid cloud storage
Wyze Cam Outdoor
For roughly $35 extra than the Wyze Cam v3, you can get the Wyze Outdoor Cam Starter Bundle. The rechargeable battery is ideal for those looking for a wire-free security camera that is less expensive than most other outdoor security cameras.
Two appealing extras for the v3 are a window mount and a lighting kit. The window mount makes it easier to record video via a window, which is usually prohibited with inside cameras. In terms of nighttime capability, the LED spotlight kit brings Wyze Cam v3 closer to Arlo Pro 4.
One of the only things is that you need a power cord, which limits placement options. To make matters worse, outdoor operation requires a special cord.
Wyze Cam Pan
In only three seconds, the Wyze Cam Pan v2 can scan an entire room. With the Pan Scan tool, you may configure parameters to automatically scan an area to your preferences. The motion tracking on this little Wi-Fi camera is particularly cool—if a child or dog runs around the room, the camera will follow them. (There will be no more squabbles over who shattered the light.)
Home Automation

>>

Brands

>>

Amazon

>>

Best Wireless Outdoor Security Camera