This article will highlight the matter of smart home systems which can connect with different smart home devices, including products from Amazon, Apple, and Google. We will also see how it looks and how it works.
Introduction
Controlling all the smart devices with only one compatible device might look impossible. But the matter has made this possible! Matter Smart home[1]works with all your smart devices at home, anticipating your requirements and instantly responding to your commands so that you won't have to open a specific app to optimize every upline. Just like a voice command device, it also works by voice control. Matter can remember the voice assistance and command combination, which can start new podcasts or your favorite one from the nearby Speaker. There are so many smart devices available, and although they can still be controlled using mobile phones, it becomes difficult to operate the devices.
The technological giants made voice assistance devices so that controlling devices becomes easier. However, if we take multiple devices at once example, Alexa cannot work with Google assistance or control Apple devices and Google devices. Thus, it becomes important to maintain an ecosystem that can connect all the devices. So, this interoperability has been remedied with the introduction of matter. It was earlier known as a project chip. But later on, the company named it as matter as it matters a lot! Some biggest tech companies have already signed with the matter, including Apple, Amazon, Google, and many more big firms. So now, the process of integration will go seamlessly.
What exactly is Matter?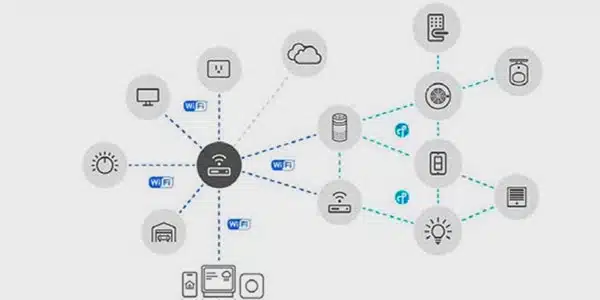 In simple Leyman language, matter can be termed as interoperability standards, which can unify all the accessories (smart home devices) irrespective of the platform they are running on. The motive is quite simple. All the smart home devices will run on one operating system, reducing the dependency on certain devices. For example, if you want to purchase a Smart light or Bulb, you don't need to check if it is compatible with Apple Siri or Google assistance. If the logo of the matter is there, that means it is compatible with multiple devices.
Various types of smart devices can be easily controlled using Matter. Some of this includes smart bulbs, thermostats, security, cameras, air conditioner, etc. And after that comes the controller devices, which are used to give commands, including Amazon Echo, Google nest, Apple HomePod, etc. In short, matter can act as an intermediate or controller, which can control different smart devices with the help of a smart controller. The command can be given in the form of text or voice. Moreover, apart from matter, no other device can control all the smart devices at once.
How does the Smart home look?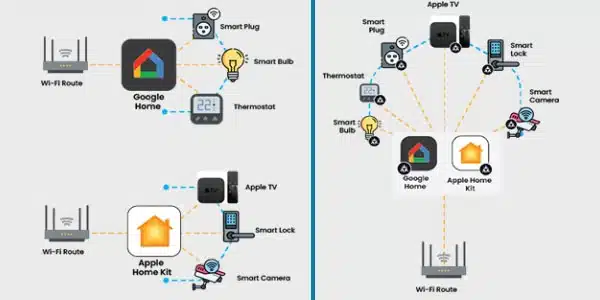 Different types of smart devices available nowadays, such as sensors, smart bulbs, door locks, thermostats, and blinds, can all be controlled using matter. Matter reduces the frequency of dependency on controlling different applications and devices. Many tech giants are working on matters and have launched voice assistance and hubs that can work with matters. Even the Apple TV can also be controlled with the matter.
It feels right to say that the tech company CSA has made something that can change lives with powerful effects. Matter controllers and devices have already made a big name in the market. Moreover, Apple is the biggest name that is coming out. Many devices of Amazon and Google Will start working on the matter by early 2023. Despite the world's rapid growth for smart home automation and the perception that new technologies are difficult for the average person, innovations like Matter undoubtedly make us happy.
What devices will work with matter?
Some devices can start working out with Matter just by simple firmware updates. But some devices need to be compatible. Several devices with Z wave, Thread, and Zigbee will also work with Matter. It's good to check the details regarding the device controlled or upgraded device to work with the matter. It's better to take the manufacturer's help regarding future support systems. As the release of Matter 1.0 is on the way, various categories will work with matter. It includes:
Light bulbs
Smart switches
HVAC controllers
Smart blinds
Smart plugs
Security sensors
Smart locks
Media devices
Thermostat
Garage door controllers
Devices Compatible with Matter Smart Home
Here is a look at devices that are compatible with matter smart home[2]:
| | | |
| --- | --- | --- |
| Device | Category | Features |
| Echo Dot with Clock (5th Gen.) | Smart Controller | Echo Dot with Clock, which comes with 5th-generation technology. It is available only at just $60. It comprises a smart speaker. It also has HUD, allowing the person to see the time quickly. Not only that, but it also tells about the weather forecast. |
| Nest Hub (2nd Generation)[3] | Smart Controller | Similar to Amazon, Google has also updated many of its devices with the matter. Nest hub has already been updated to work on the matter. It has a smart display of 7 inches. You can easily stream your favorite movies or shows. It also displays a calendar, and you can even play music. |
| Echo Show 15 | Smart Controller | It has a smart display of 15 inches that fully supports the matter. Apart from the Echo show 15 the various other versions of the Echo Show. You can also work with the matter, including echo show 8. |
| Eve Window sensors[4] | Smart Sensor | It is also compatible with the matter. So the process of home security becomes much easier. You need to know that your window or door is open or closed to track the status of various events, including turning the lights on and down. |
| Apple HomePod Mini[5] | Smart Controller | It is another amazing smart speaker. It has also been updated with Matter support. It can act as a central hub for various smart devices. All devices, including Google assistance, Siri, and Alexa, can be integrated. For iOS fans, there is a little disappointment because it could be more versatile with Siri. |
| Aqara App | Smart Controller | It is a mobile application for the control and automation of smart homes. It can control various aqara accessories at any time or anywhere. The only thing required is a good internet connection. It creates different rooms and homes, and different accessories can be assigned. |
| Philips Hue Bridge[6] | Bridge | All the Hue lighting or products will bridge with the matter. The Tap Dial Switch and Hue Sync Box cannot work with it. To work with matter, the hue bridge requires an update so that the lights will start working with it. |
| Schneider Electric Wiser Gateway | Bridge | It can easily bridge more than 200 Zigzag devices to the matter. Just like Philips's hue, it also works as a bridge. With the aid of a wiser gateway, different Wiser devices can work with the matter. It also requires a software update to work with the matter. |
| Aeotec Smart Home Hub | Smart Controller | It's an amazing smart device that is compatible with different SmartThings. It also works like a SmartThings hub. It's like a connection responsible for automation intelligence, which powers the Smart Home. It can be used for the automation of family routines. It also works wirelessly to control various compatible devices. |
| Nest Hub max[7] | Smart Controller | It works with different smart devices, including lights, locks and TV. All the devices can be controlled easily through a single place which is matter. It is also used to control compatible speakers, game consoles and TV. |
| Echo Studio | Smart Controllers | This device has spatial audio. It gives a remarkable experience of home theatre. It can be used with various Fire sticks, including Gen 1 and Gen2. Although it works with an internet connection, it cannot work with Bluetooth. It is also not compatible with Fire TV and Tv Stick. Voice control devices, including smart lights, can also control smart devices. Different time schedules can also be set. |
| Eve Energy smart plug | Lighting and plugs | It requires the use of an iPad and iPhone. It can be used to turn on or off various appliances, such as smart lights, with the help of a mobile app. |
| Tuya smart life app | Controllers | It's an internet of things platform service that supports more than 446000 developers. It can be used to assess robot vacuums or smart lights. It also has certification from matter for using different smart plugs and light bulbs. Many brands use Tuya smart app, including the Nooie, Teckin, Iotty, and Lidl. |
| All whiz lighting products | Lighting and plugs | Wiz smart bulbs can easily be used to work with the WIFI router. No bridge is needed for the connection. Once updates to the matter smart home are made, it can be accessed easily from anywhere. |
| Eve app | App | This app also supports the matter. It can be used for controlling various eve devices connected to it. |
| Smart Things | App | Samsung smart Things is now available with the matter features. The main purpose is to ease the process of automation. Generation 1 and 2 come with a matter feature. |
| Eero 6+ WIFI system | Router | Eero by amazon is known because all of its versions are compatible with the matter, so optimizing different smart home devices becomes easy. It can enhance online security, parental control, and ad blocking. Eero 6+, Beacon, PoE 5, and 6 are also compatible. |
| Comcast xFi Gateway | Router | Comcast has updated most of its routers to work with work. After that, all the devices connected to the WIFI can be easily accessed. |
| TP-Link [8] | Router | It is a wifi router that works with various smart switches, bulb plugs, and even hubs. More than 10+ devices of TP-link work with the matter. The main purpose is to make seamless connectivity. The company is known for its performance, stability, and value. |
| Yeelight smart lights | Smart lights | The matter was first released in the month of October last year. After its release, Yeelight became one of the fastest companies to support the matter smart home. Moreover, it is known for its premium product line, which gives an exquisite lighting experience. |
| PoE 5 and 6 | Router | PoE routers are compatible with various devices, including computers, laptops, smartphones, and smart television. It consists of a reset button along with the 24kv ed. |
| Homey Pro hub | Hub | It can be connected through ether wire. It is among the most advanced hub which can work with multiple devices. It is most commonly used with laptops and computers. |
| Meross matter smart plug | Smart plug | Smart plugs are also referred to as sockets and wall plugs. But what makes it different is that it can be integrated with an internet connection. |
| Google Home[9] | Controller | Once connected with the matter, voice controllers can provide the best result by automating smart devices. |
| Ubisys G1 | Bridge | It is used for connecting smart devices with the voice controller. It can be easily integrated with Matter. |
| Bosch smart home controller | Smart controller | The smart controller can be used to control various devices and appliances. |
| Schlage smart locks | Smart locks | Smart locks comprise a touch screen or keypad, which increases the house's safety. The smart lock can also be integrated with the mobile app to access it easily. |
| Google Nest Thermostat [10] | Thermostat | The thermostat is used to control the house's temperature from the inside. It is connected with different heating and cooling elements through with they control the temperature. |
| Nanoleaf Matter Essentials A19 light bulb | Smart bulb | This is another category of smart bulbs. It is available in different forms and shades. Mainly it comprises light strips and bulbs. Recently it has also launched thread bulbs. |
| Eero Beacon | Router | It is another product that comes from Amazon. The most amazing thing about this is its size. It is smaller, about half the size of a normal router. |
Final Thoughts
The matter just came a few days back, and its popularity has increased significantly. Many big brands such as Samsung, Apple, and other tech giants have also converted their devices to work with the matter.
The main purpose of using the matter is that various devices, mainly smart devices, can be easily accessed using a common platform. We have provided a list of only 30 products, but other products are also compatible with it. However, it's a new technological device, so it will take some time to become popular. So, if you are purchasing any smart product, look for the feature of matter.
References
1. Build With Matter | Smart Home Device Solution – CSA-IOT. https://csa-iot.org/all-solutions/matter
2. Solutions | Market Uses – CSA-IOT. https://csa-iot.org/market-uses/
3. Nest Hub (2nd gen). https://store.google.com/us/product/google_nest_hub
4. door and window. https://www.evehome.com/en/eve-door-window5.
5. HomePod mini. https://www.apple.com/in/homepod-mini/
6. Hue Bridge | Philips Hue IN (philips-hue.com). https://www.philips–hue.com/en-in/p/hue-bridge/8719514342545
7. Nest hub. https://store.google.com/product/google_nest_hub_max?hl=en-US
8. Wi-Fi Routers|tp-link. https://www.tp-link.com/in/home-networking/wifi-router/
9. home. https://home.google.com/
10. Nest Thermostat https://store.google.com/us/product/nest_thermostat?hl=en-US
Home Automation

>>

Blog

>>

Devices Compatible with Matter Smart Home – A Complete List