When Samsung chose to discontinue production of hardware for its SmartThings platform, firms such as Aeotec were forced to come in to fill the hole. The Aeotec Smart Home Hub looks and works just like Samsung's now-defunct hub. Once installed, the system connects directly to the SmartThings platform, which is simple to use yet very powerful for individuals who wish to link all of their smart home gadgets. In our Aeotec Smart Home Hub review, we'll explain why this is one of the finest smart home hubs and whether it's perfect for you.
Pros
Works with Zigbee (including Philips Hue), Z-Wave, and Wi-Fi devices
Easy-to-use software
Compatible with Alexa, Google Assistant
Cons
Doesn't work with HomeKit
Won't work without a broadband connection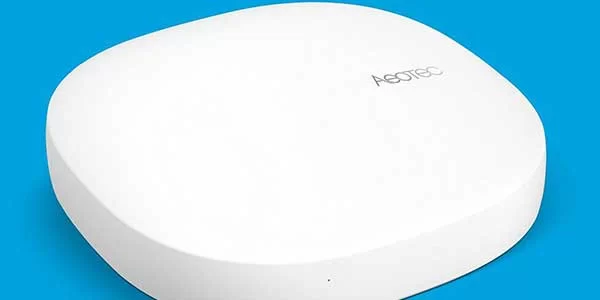 Compatibility
Like the SmartThings hub, the Aeotec hub will work with Zigbee, Z-Wave and Wi-Fi smart home devices. A company representative also said that it will work with Matter when that smart home standard becomes available. You can also connect and control it with Alexa and Google Assistant, but not HomeKit.
Anything that works with the Samsung SmartThings hub will work with Aeotec's, which is literally thousands of devices. This includes brands such as Arlo, August, GE, Philips Hue, Ring, Sonos and Yale. Among the best video doorbells, best smart locks, best smart light switches and many other smart home categories, there's a good chance that at least some will work with SmartThings. However, you won't find anything from LG or Sony, and GE products are limited to a few smart switches and plugs.
Inside the Aeotec Smart Home Hub
Under the skin, the Aeotec Smart Home Hub has a 528MHz ARM Cortex A7 processor that uses 2GB of RAM and 4GB of flash storage for its firmware and local settings compared to the Hubitat's 1.5GHz quad-core processor, 1GB of RAM and 8GB of storage space. While the Hubitat's local focus is a benefit when your broadband connection fails, the Aeotec's internet emphasis means any connected devices can be controlled from anywhere there's an online connection.
Be prepared to put in some effort if you're upgrading from an earlier hub. You must first uninstall the older device from the SmartThings app before manually reconnecting all of your smart home devices to the Aeotec Hub. This might take some time if you have a lot of gadgets like mine. However, if you're upgrading from a SmartThings v2 or v3 hub, Samsung can assist you. Log into your SmartThings account after configuring your Aeotec hub, note the Hub ID for both your SmartThings and your Aeotec hub, and contact SmartThings customer service at support@smartthings.com to begin the process.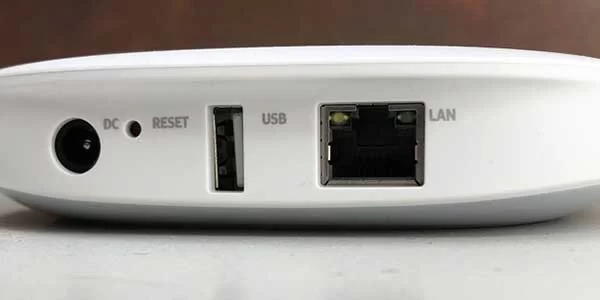 Aeotec Smart Home Hub Interface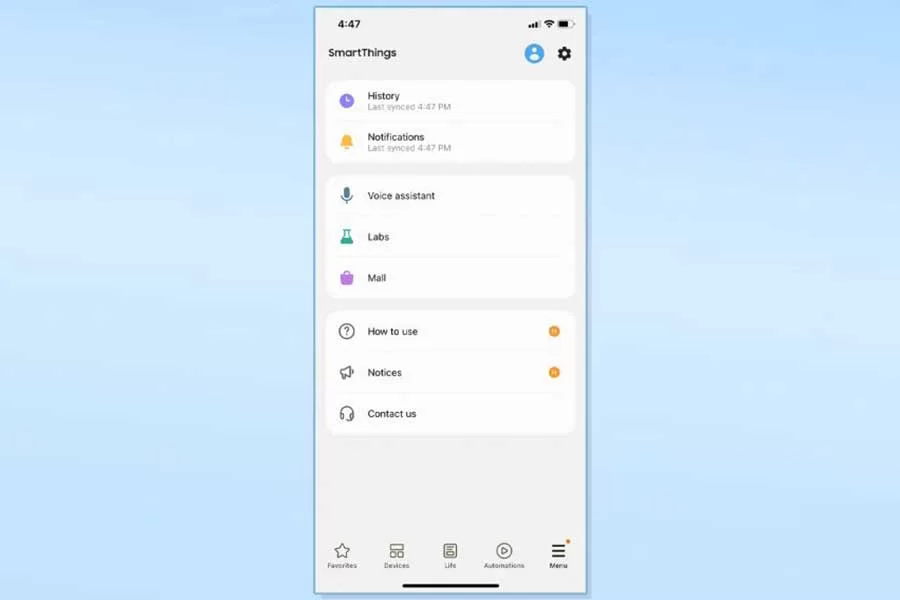 The app's main page displays a succession of cards, each representing a linked smart home device. Each card displays the item's name, a symbol representing the device (such as a lightbulb), and a button to switch the gadget on or off. The card will be greyed out if the device is turned off. At a look, it's clear. A thumbnail will display on the screen if you have a linked home security camera. Tapping on any of these cards will bring you to a menu with further device controls. If the gadget in issue is a lightbulb, for example, you'll have dimming controls as well as the ability to alter its color.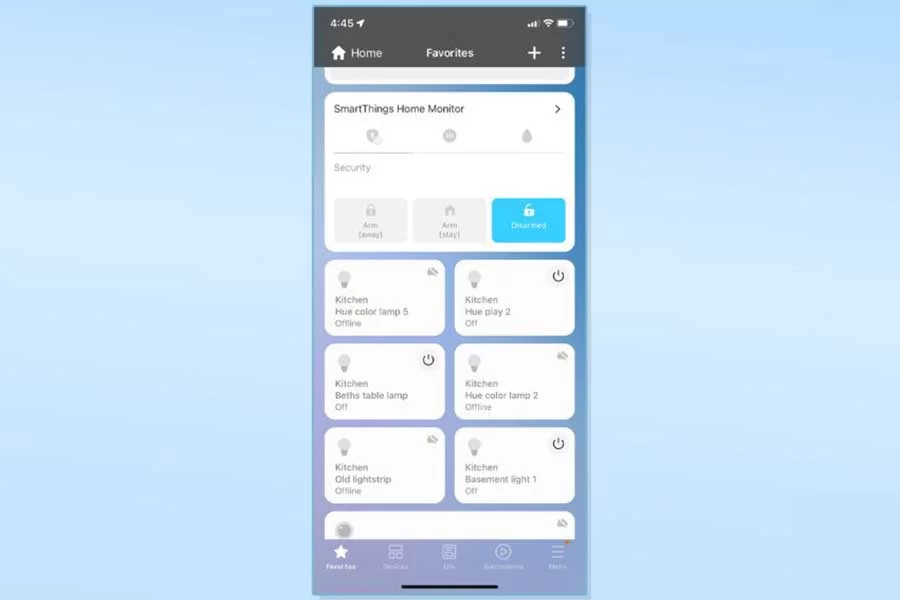 Select the Devices tab at the bottom of the screen, and you can see your devices grouped by room. Tap the Plus sign at the top of the Home screen, and you'll see a menu where you can add devices to SmartThings. Here, you can also create Scenes and Routines, which is where the true magic of the app lies.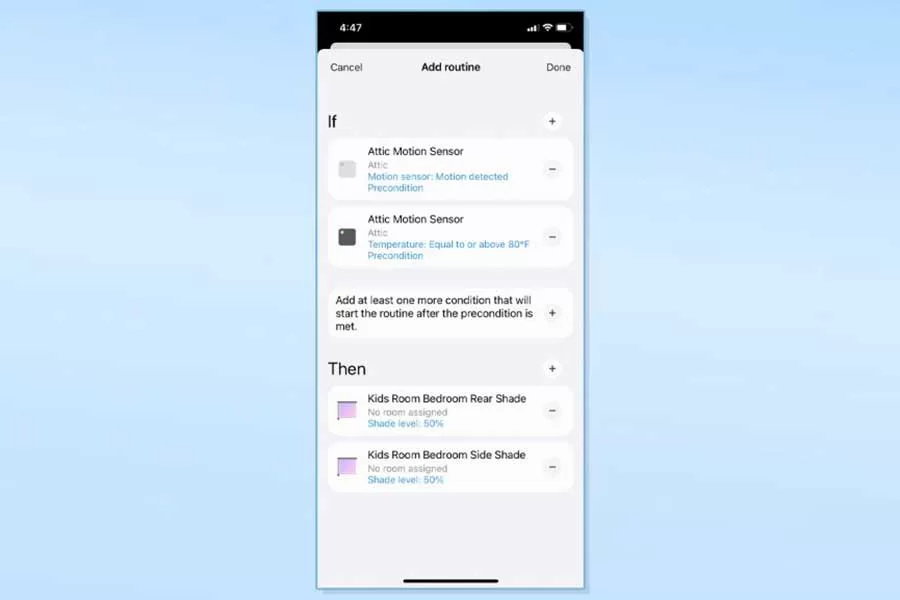 Both Scenes and Routines let you create a series of actions for your smart home devices. The main difference between the two is that you have to manually activate Scenes, whereas Routines trigger automatically based on criteria you set. The SmartThings app uses a very clear If-Then setup, which is exceptionally easy to follow, even for newbies.
More:
Setting up the Aeotec Smart Home Hub
Building a smart home around the Aeotec gear is not like using any other hub. That's because the Aeotec hardware doesn't have its own app. everything is done with the Samsung SmartThings app. There are versions for Android and iOS and the app works with Galaxy SmartTags and other Samsung products. When it's ready to connect, the hub blinks red and green.
Next, pick Smart Home Hub from the interface and tapped Start on a Galaxy S20 phone. I noted that the location for the hub is the Office and I allowed the software to see my location.
Next, select Ethernet rather than Wi-Fi for its connection portal due to higher reliability of a wired connection. It worked just as well using wireless data.
Then scan the identifying QR code on the bottom of the unit. The app automatically registered the hub and updated its software.
Finish by naming the hub. This took seven minutes to accomplish. It was also among the easiest smart home hub to install.
Time to add devices. After tapping "+" to add my WeMo outlet switch. I picked it from the list and in three minutes it was connected. I followed this up by adding a Leviton DZPA1 Z-Wave Plus outlet and a Linkind Zigbee floodlight.
I had one more task: integrate two of the room's lights into a group. Rather than asking during the set-up sequence, this needs to be done later. After tapping Add Lighting Group, I named it and added devices. All told, it took about 15 minutes, versus 45 minutes for doing roughly the same thing with the Hubitat Elevation.
The Aeotec Smart Home Hub is a simple, uncomplicated, and easy-to-use device that can operate your home.
One of the greatest smart home hubs is the Aeotec Smart Home Hub — and, to a lesser extent, Samsung's SmartThings platform. Its automations are typically more complex than Alexa's, and the Aeotec hub can connect to both Z-Wave and Zigbee devices. Those who are more committed in Alexa's ecosystem may prefer the Amazon Echo (4th generation), which has a Zigbee hub; Alexa also offers some decent automations. The Aeotec Hub, on the other hand, is the finest solution for people who need to connect to a larger range of goods.
If you're searching for a truly smart home hub that combines over 5,000 devices across protocols and smart home assistants, the Aoetec may be worth investigating further. According to the business, it is Z-Wave, Zigbee, and Wi-Fi compatible, and it can be voice operated with Alexa, Google Assistant, and Bixby. Nest, Sonos, Samsung, Philips Hue, Ring, and Yale are among the major brands that operate with the Aeotec Smart Home Hub, according to Aeotec. It takes the place of Samsung's now-defunct SmartThings hub. On Amazon, the Aeotec Smart Home Hub has a 4.3-star rating based on over 500 reviews.
Home Automation

>>

Lightening

>>

Hubs & central controllers/Bridges

>>

Why is Aeotec Smart Home Hub the Best?