Our all-in-one system with facial recognition and Amazon Alexa built in sends smart alerts to your mobile device. Easy to set up and use, it also plays your favorite music and grows with your needs thanks to a range of sensors and services.
The camera base station keeps you connected to your home with intelligent motion detection, sending smart mobile alerts directly to your device, live look-in-video to check in, and two-way-audio to interact.
It's an indoor camera base station or called Smart Honeywell home security systems do it yourself, which covers all features alone by having a multiple built in technology, using a 147 angle view auto camera detect every activity he sense with his motion technology.
Indeed Honeywell smart starter kit alone cannot protect each and every part of your house from inside and outside due to limited range.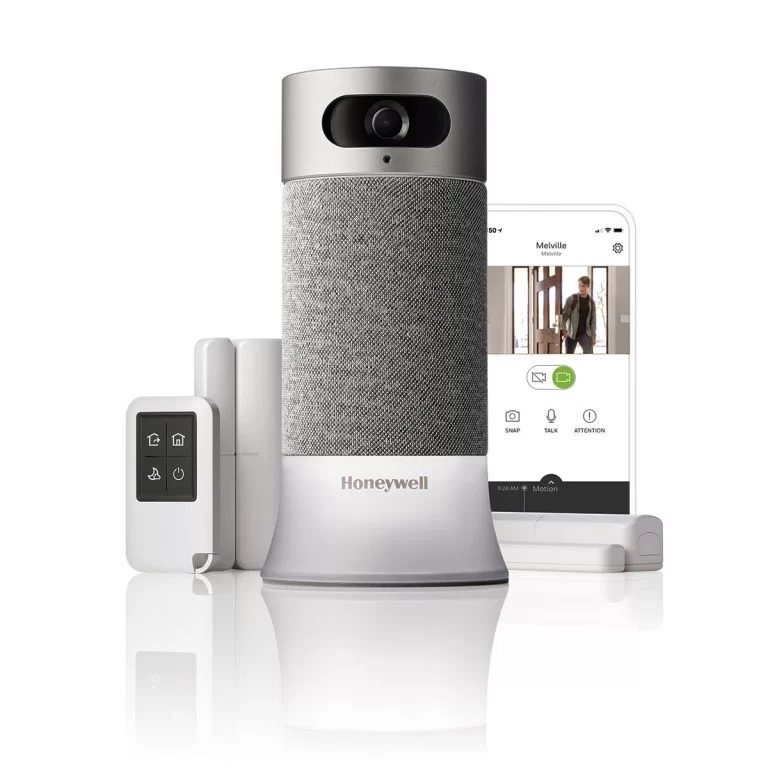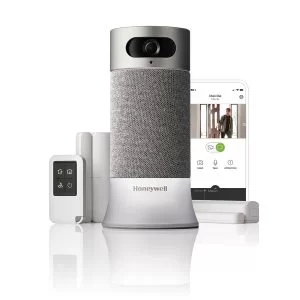 A detail of how to protect your house accordingly
Small to Midsize or Large Home
Small House
Camera Base Station alone is perfect for a small house. It's easy to install, with no renovation required. And when you upsize, it goes with you, helping you protect your next home.
Midsize
It remains the same with an addition of more sensors means doors, windows, and other hotspots can be monitored – giving you and your family confidence when you're away.
For Large Homes
Adding more sensors or Motion Viewers extends your reach indoors, Outdoor Motion Viewers can help you monitor yards and garages, and can alert you with clips of anything unusual.
Features
Simple to set up and use, it can change modes automatically as you come and go
Stays alert day or night with smart motion detection and night vision all recorded in crisp 1080p HD video, with full audio
Change modes with your voice, and talk to built-in Amazon Alexa to check the weather, ask questions, control other devices, and more
It's easy to connect compatible smart devices and services. When used with Outdoor Motion Viewers your system can even use sounds and Z-Wave lights to deter intruders
24 hours of free secure cloud storage – or more with a Membership Plan
Protection by military grade encryption
Honeywell Secure WiseLink Protocol
Pros and Cons
| | |
| --- | --- |
| Pros | Cons |
| Built-in camera with motion detection | Extremely expensive, especially with no professional monitoring option available |
| Available voice commands for changing security modes | Setting up add-on gear is far from intuitive |
| Works as a Z-Wave hub | Touted facial recognition is essentially non-functional |
| Alexa built in | Alexa abilities aren't yet on par with Echo speakers' |
| Drop-dead-simple initial installation | – |
| Unique features, such as Enhanced Deterrence, could help warn off intruders | – |
Technical Specification of Security Kit
All in one Smart Honeywell Base Station
Processor
2GHz Snapdragon 8-core processor
Camera
2MP HD camera with 1080p image sensor
147° field of view
Night vision
Motion detection
Audio
Three-microphone array
90 dB alarm
Two-way audio
Capacity
8 GB Flash
1 GB RAM
---
2 x sensors for window & door & Key Fob
Highly Sensitive Detection
Detects movement of less
than an inch
Battery Life
Lithium, Up to 4 & 5 years based on typical usage
Connectivity
Wireless Connectivity
Honeywell Secure Wiselink® Protocol
300ft Range, clear line of sight
Smart Alert
Key fob is complete with buttons for home, away and night modes along with a power button
Camera base station can be purchase alone which cost much cheaper than most of other smart system but as above said, it would not be worthwhile alone in sense of safety and security, you need to add some sensors for adequate security at your house.
You can also add indoor motion views and outdoor motion views for full security.
DIY Honeywell home security installation process
It takes less than 10 minutes, to set up the Honeywell Smart Home Starter Kit
Download the Honeywell Home app for your iPhone or Android device
App take care of most of the configuration, including connecting the camera to Wi-Fi and pairing the different sensor
Then it will walks you through setting up features like geofencing, which uses your phone's location to switch between home and away mode each time you leave the house
In the last app will ask you to input your Amazon credentials for Alexa access
Honeywell smart home security system also offers facial recognition features. They're free to use
[images cols="four" lightbox="true"] [image link="4276″ image="4276″] [image link="4265″ image="4265″] [image link="4274″ image="4274″] [image link="4273″ image="4273″] [/images]
Price:
Starter kit (2 x windows sensors, Key fob)
£174 + £87 + £70 = £331
Add on
Verdict
Certainly that system meets all criteria that would require, however it costs too much for all the other stuff that's bundled in. The security camera works fine, but its facial recognition features are subpar for a device in this category. And its Alexa functionality doesn't even work with all the same commands as a standard Echo speaker.
Cheap smart security system without camera and with camera would be better than this one.
Home Automation

>>

Brands

>>

Honeywell

>>

Honeywell Home Security Systems Do It Yourself