Do you have any elderly relatives who reside far away yet require particular care or attention? Alexa Together, which is available through an Echo device for the individual who requires your assistance, is one service meant to let you check on them.
Daily notifications notify you whether your loved one has used their Alexa device, and an activity feed displays the individual's interactions with Alexa and other smart home devices. You may also use their Echo device to make reminders and assist them in managing shopping lists and other duties.
Alexa may alert emergency contacts if the Echo detects that the individual has fallen and you have a suitable third-party fall detection device. There is even a 24-hour urgent response function where professional staff will assist your loved one. Furthermore, additional family members might join in to show their support.
How Much Does Alexa Together Cost?
Alexa Together costs $19.99 a month, however, there is a six-month free trial available to try the service. This is how it works.
What You Need
First, you'll need an Echo device for the person who needs personal assistance. Any Echo device will do, however, Amazon suggests the Echo Show if you want to video connect with your loved one. If you want to thoroughly set up the device ahead of time and then mail it to your loved one, an Echo Show is the best option.
You don't need an Echo device as the caregiver as long as you have the Alexa app on your phone or tablet. However, you would need an Echo to access services like Alexa Calling or Drop-In, as well as an Echo Show if you wanted to video chat with the other person. You'll also need two distinct Amazon accounts, one for you and one for the person in need of assistance.
Alexa Together Setup
To begin, if the loved one does not already have an Amazon account, establish one for them. You must enter either a cell phone number or an email address. If the individual does not have a phone number or an email address, you may always create one on their behalf. Indeed, you may find it easier to set up and administer the person's phone number or email account, especially if they are unable to do it themselves.
After that, you'll need to buy and set up an Echo device for your loved one. You may always get the Echo from Amazon and have it delivered to the individual in need. But how can you set up the Echo if they are unable to do so themselves? Sure, you can do that the next time you see them. But what if they live a long distance away and you won't be able to see them anytime soon?
Instead of having it shipped to the other person and waiting until the next time you visit them, you can have it shipped to yourself, perform the setup, and then ship it to your loved one. First, make sure you choose the gift option when you buy the device from Amazon so that it's not linked to your account. Then follow these steps to set up the Echo for the other person.
When you set up an Echo Show for a loved one, you have the option of having the device live stream a video of that person to your own Echo Show. This might be useful if you want to watch somebody with their permission. Tap Enable at the screen for Echo Show may help you monitor your home to select this option.
Activate Alexa Together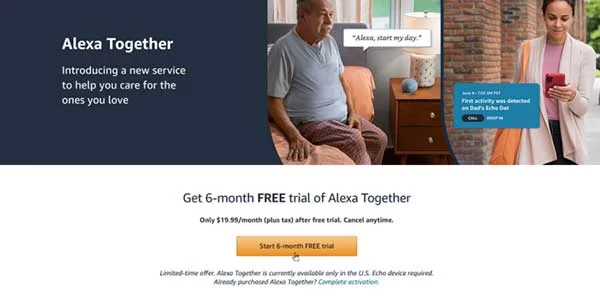 Now, it's time to purchase the Alexa Together subscription. Browse to the Alexa Together website and click the button for Start 6-month free trial.
At the next screen, choose your payment option and click Continue. At the Checkout page, click the button for Place your order.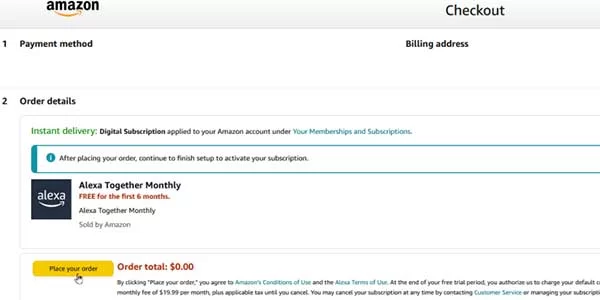 Next, you'll need to activate the service. Click the button to Activate Alexa Together.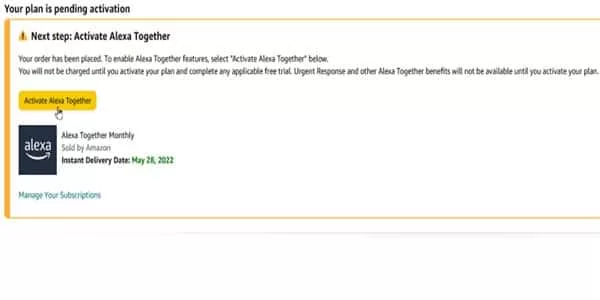 Select your Amazon profile and click Continue. Confirm your first and last name. Click Continue.
Amazon informs you that you and the other person must have separate Amazon accounts, that you must validate your phone number to set up Alexa Communications, and that you must verify an emergency address to use the Urgent Response feature. Click the Continue button.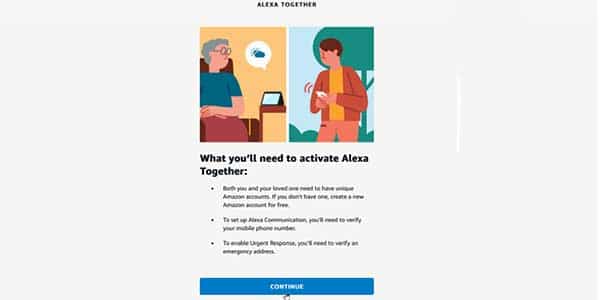 At the next screen, click the button for Provide Support to indicate that you're the caregiver.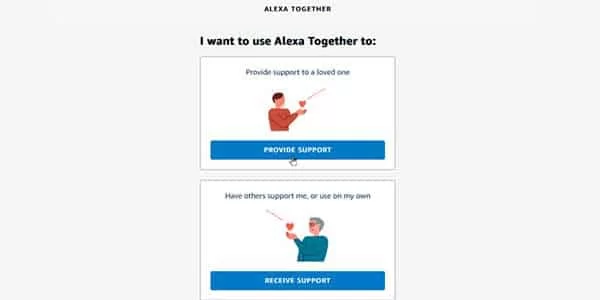 Next, enter the first name and Amazon account email address for the other person. Click the button for Send Invitation.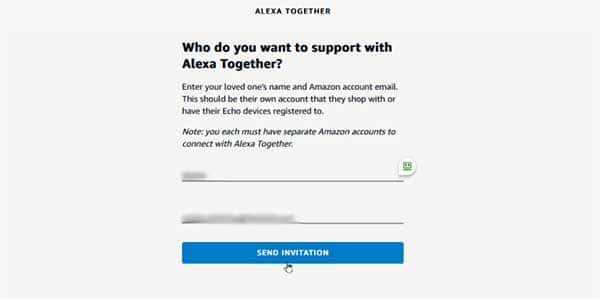 The other person then needs to open the invitation email and click the button for Sign in to Amazon to View Invite, a task you may want to do on their behalf. At the Amazon website, you or your loved one confirm their region, Amazon account name, and first and last name.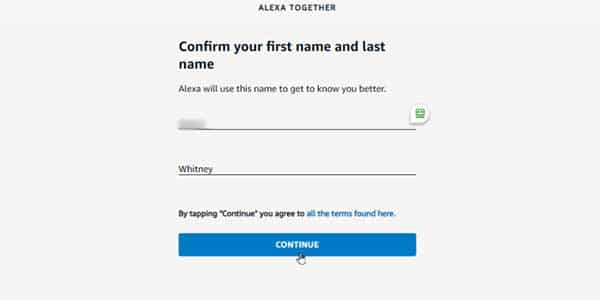 On the following page, the other person may watch a video to learn how Alexa Together works before clicking the Accept Invitation button.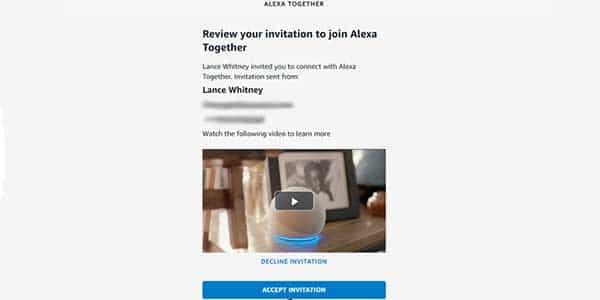 The other person selects the Continue button on the Urgent Response screen to enable this option. Alexa Together is turned on.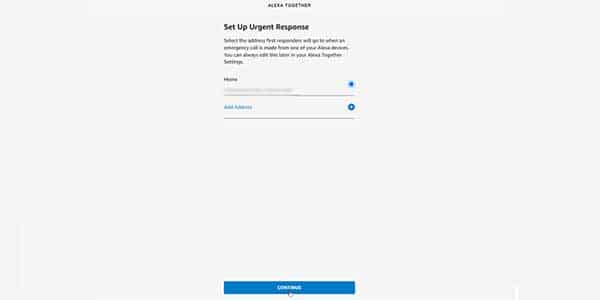 As the final step in the setup process, you should generate a PIN to safeguard your loved one's information and ensure that only you have access to it. To begin, launch the Alexa app on your own smartphone. Tap the More icon, followed by See More. Choose Alexa Together.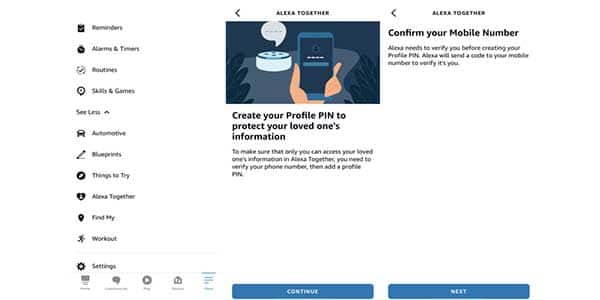 Continue after being prompted to establish a profile PIN. Next, press the button. Enter the one-time password to validate your phone number and hit Continue on the following screen. Next, press the button. Enter a four-digit PIN to secure yourself and then hit Save. Then, tap Done to confirm your new PIN.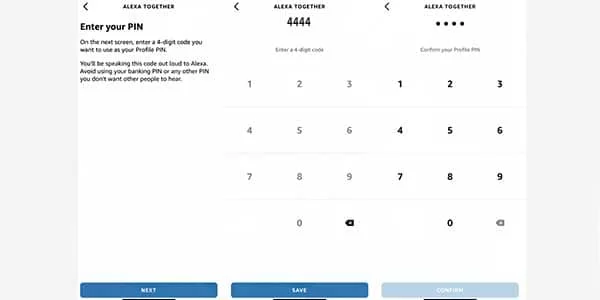 Customize Alexa Together
Now it's time to check out the different features. Return to the Alexa Together screen in your Alexa app. Swipe to the bottom of the screen and tap the icon for Alerts. Here, you can enable alerts so that you're notified when the other person first uses Alexa each day or if no activity is detected during a certain time. Tap each of the two options to set a specific start and end time and tap Save.
Next, you can view the recent activity and interactions between your loved one and Alexa. View the notices under Today's Recent Activity. Tap the link for View all activity to see interactions prior to the current day.
You may wish to handle specific features for the other individual. Tap the Tips icon on the Alexa Together screen. Then, for the entry for Create a reminder, press the Learn More button. Alternatively, just press the Remote Assist symbol at the top of the screen. Set up individual Alexa contacts for your loved one by tapping Contacts. Set up certain audio services by selecting Music and Podcasts.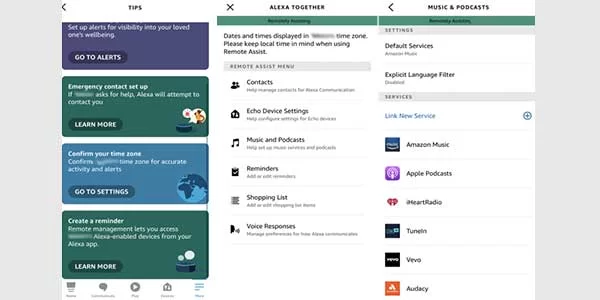 Tap Reminders > Add Reminder. Type a name for the reminder, select a date, choose whether the reminder should repeat and how often, and then select a time. Tap Save.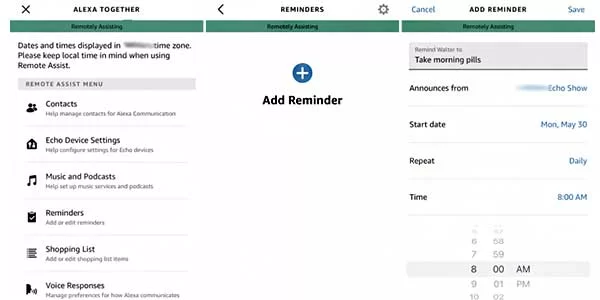 Tap Shopping list to create a list of items for the other person. Finally, tap Voice Responses to adjust the way Alexa responds to a question or command.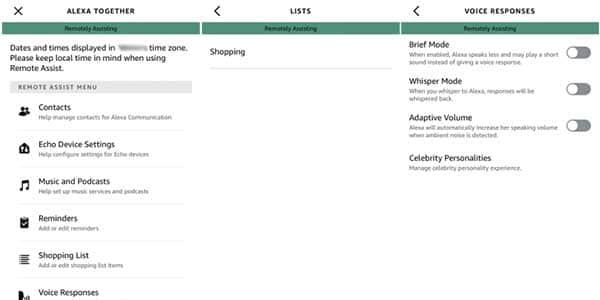 Following that, you can contact your loved one via a variety of techniques. Tap Call at the top of the screen to make a phone call, and Message to send a text message. Drop in to connect to the other person's Echo device.
Alternatively, you may instruct Alexa to contact your loved one. "Alexa, call [person's name], message [person's name," or check in on [name of person's Echo]." You can also see each other on a video call or drop in with an Echo Show on both ends.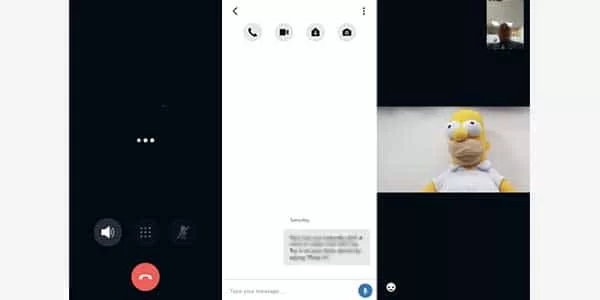 Add People to Alexa Together
Want to add more people to help support your loved one? Swipe to the bottom of the Alexa Together screen and tap Settings > Circle of Support > Manage. Tap the plus button next to Invite a member. Type their first name and email address. Tap Send Invitation. After that person accepts the invitation, they can act as a caregiver through their Alexa app and Echo device.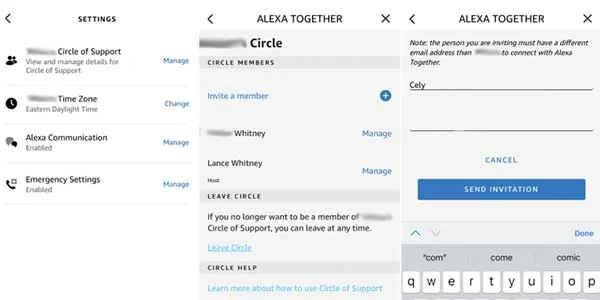 Next, make certain that emergency services are in place for your loved one. Return to the Alexa Together screen's Settings. For Emergency Settings, click the Manage button. Confirm that you are identified as the contact, that Urgent Response is enabled, and that the emergency address is your loved one's address.
Finally, if you decide you want to cancel Alexa Together, either before or after the free six-month trial ends, browse to your Amazon subscriptions page. For Alexa Together, click the button for Cancel Subscription and confirm the cancellation.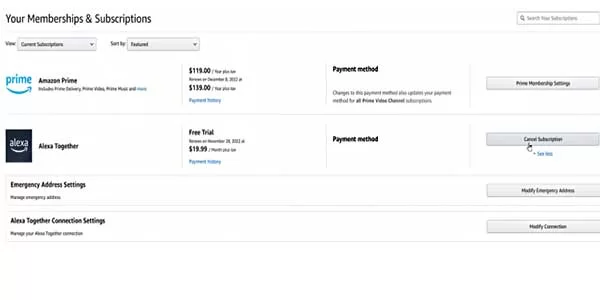 More:
Home Automation

>>

Brands

>>

Amazon

>>

How to Care for Family Members Remotely Using an Echo Device and Alexa Together