According to many customers, iSmartAlarm and SimpliSafe are two of the best smart home security systems available. However, effective protection comes at a cost, and we want to assist you in selecting a system that won't leave you out hundreds of dollars.
ismartalarm Vs Simplisafe: What's The Difference?
Differences
| | |
| --- | --- |
| iSmartAlarm | SimpliSafe |
| One of the cheapest options | Premium product |
| Self-monitoring only | Wider product range |
| Free mobile app access | Requires a monitoring plan |
Internet Connection
The SimpliSafe connects to the network through WiFi, but the iSmartAlarm requires an ethernet wire. SimpliSafe is superior because it allows for greater installation options.
Back-up battery
SimpliSafe features a 24-hour power backup, which means it can work regularly for 24 hours in the event of a power outage. On its own, the iSmartAlarm has no backup. SimpliSafe is an excellent product.
Back-up through cellular
In the event that WiFi is unavailable, the SimpliSafe will continue to operate using the mobile network. With iSmartAlarm, this feature is not accessible.
Professional Monitoring 24 hours a day, 7 days a week
SimpliSafe will supply you with a team of pros that will constantly monitor your home if you subscribe. In the event of an accident, emergency services will be notified right away. The iSmartAlarm does not provide this feature.
Subscription
In comparison to SimpliSafe, iSmartAlarm does not require a subscription, making it significantly less expensive. iSmartAlarm is superior in this sense.
Smart Home Connectivity
The iSmartAlarm has limited home connection, including Amazon Alexa voice control and IFTTT only. The SimpliSafe, on the other hand, has a wide range of home connectivity options, including Google Assistant, Alexa, and IFTTT voice control.
Similarities
SimpliSafe and iSmartAlarm have one thing in common: they're both DIY home security systems. Both companies sell wireless home security systems that are simple to install and allow you to monitor security hazards from afar. Both systems work with Alexa and Google Home, but you'll need to utilize IFTTT to allow iSmartAlarm to use the Google Assistant.
Features In Common:
Alarms trigger connected siren devices
Can purchase extra devices separately
Wide variety of starter packages
DIY Installation
Integrations
Both systems can only connect to the most popular smart home platforms, and neither can control your house with the Z-Wave technology. IFTTT-enabled devices, such as Amazon Alexa and Google Assistant, may be connected to the iSmartAlarm system.
However, we had to manually connect this system to Google Home using IFTTT, which required us to define and recall particular words.
SimpliSafe is already set up to work with Alexa and Google Home, but we learned from our previous SimpliSafe reviews that you can't use IFTTT to connect other devices. The Nest Thermostat is the only other third-party gadget you may utilise. We thought this may be beneficial in conjunction with the temperature sensor offered by this firm.
SimpliSafe is the winner.
Base Station
Both the iSmartAlarm and SimpliSafe base stations are smaller than they seem on the website, which we appreciated. Both of these gadgets have distinct designs that seem trendy and blend nicely with our other smart home equipment.
We preferred the SimpliSafe base station since it was easy to conceal amid other objects. One of our testers said it looked more like a fragrance diffuser or humidifier than a base station, and another of our testers' friends thought it was one, which we both agreed was a good indicator it would be bypassed by a thief.
SimpliSafe is the winner.
Indoor Cameras
iSmartAlarm offers two cameras; the Spot and the iCamera KEEP Pro. The Spot has a 720p resolution, 4x zoom, night vision, and a 130-degree wide view lens.
The iCamera KEEP Pro improves on this model with 1080p resolution, motion tracking, and a mechanical pan and tilt for a 350-degree view. Both models have audio detection for smoke and CO alarms, two-way audio, and free Cloud storage. They also both have a micro SD slot if you want to increase local storage up to 36GB.
While we initially thought the iCamera KEEP Pro was impressive, we found that it was troublesome to set up and maintain. Set-up was buggy, and even when we could get it to work, we found that the video dropped out completely after a few minutes.
iSmartAlarm Cameras:
Spot with 720 resolution
iCamera KEEP Pro
The SimpliSafe SimpliCam indoor camera has 1080p resolution, an optional addon to make it weatherproof, if you have access to the app, will stream HD footage 24-7 to your phone. Its field of vision isn't as wide as the iSmartAlarm cameras, but we found the motion sensors were a lot more reliable.
Of the two indoor cameras, we prefer the SimpliCam, because it'll automatically start recording when something or someone triggers the door/window sensors, security camera, motion sensors, or panic button.
SimpliSafe is the winner
Cameras for Doorbells
SimpliSafe is now the only one of the two security systems that includes a doorbell camera. Their Video Doorbell Pro contains a 1080p security camera and two sensors to eliminate false positives: one for heat and one for motion.
It also begins recording when it senses motion, even if no one rings the doorbell, and activates the system's other cameras to do the same.
We thought this would be a terrific method to capture a thief at the front of our house before any of the touch sensors were triggered.
During our study, we discovered that iSmartAlarm consumers had been wanting a doorbell camera for years [1].
SimpliSafe is the winner
Motion Sensors
The motion sensors from iSmartAlarm and SimpliSafe have a 30ft range and a 90-degree field of vision, making them equivalent in monitoring capability.
However, the motion detector on the iSmartAlarm is bigger, making it difficult to place in the corner of the room where it might cover more ground. We discovered that each area in which these devices were deployed required an extra motion sensor to guarantee that all entries and exits were covered.
SimpliSafe is the winner
Mobile App/Smart Phone Access
You can use iSmartAlarm's app for free, but you'll need to pay up for SimpliSafe's Interactive Plan to operate your security system from your phone.
The iSmartAlarm app was much too problematic to be trusted. While we found it to function most of the time, we were concerned that there may be instances when we were unable to access our alarm system. We found that arming and disarming the system with the key fob was more dependable than using the app because our system would occasionally not answer to orders from the app.
While we had to pay a monthly charge to use SimpliSafe's app, we appreciated that it offered more features than many other free home security applications. We were able to monitor the system's activity record, check the air quality in our house, and even receive notifications when our family members returned home.
You can also set up quiet alarms using the app to receive notifications when someone or anything activates your door/window sensors.
SimpliSafe is the winner
Data security
On course, no discussion of home security is complete without addressing the security of the data acquired by these sensors. When we looked through these products, we discovered that SimpliSafe provided the most data privacy. End-to-end encryption protects your data both outside and between your hom
They also claim to utilise 256-bit encryption at the bank level. Their SimpliCam interior cameras also have a privacy shutter built in. Before being erased, all movies are encrypted and preserved for 30 days. With your login and app, you may also utilise Face ID, fingerprint identification, or two-step verification.
They also built the third-generation devices to protect them from a cyberattack that attacked the second-generation devices [2]. It's also worth noting that there may be a vulnerability in third-generation devices, however others contest this [3]. We couldn't locate any information regarding iSmartAlarm's data security, by contrast.
During our investigation, we learned that an IoT smart home security specialist detected five vulnerabilities in the iSmartAlarm system two years ago [4], which might allow a criminal to take control of an alarm system or overcome authentication. Users have discovered weaknesses in the programme as recently as three months ago, according to the user forums for this product.
SimpliSafe is the winner
More: Nest Vs Ring Vs Simplisafe
Monitoring Plans
One of the biggest differences between iSmartAlarm and SimpliSafe is that iSmartAlarm has no option for professional monitoring. We review SimpliSafe and its professional monitoring service regularly, and we still think it's one of the best monitoring services around.
Whether you choose the Standard or Interactive plan, you get access to the same monitoring center. The difference between the two plans is that with the Interactive plan, the monitoring center will call the emergency services for you. As you can expect, the Interactive plan comes with a higher monthly fee.
Whether you feel safer with self-monitoring or a professionally monitored system will be down to you. Our team couldn't agree on which option they preferred, and we could see the merits of different options depending on what we were protecting.
Winner: Tie
Packages & Options
Both companies have a variety of packages available to get you started with everything that you need. We also liked that it was easy with both companies to add on extra devices to our purchase if a package didn't come with everything we wanted.
We felt that it was easier to compare which product package we needed on the iSmartAlarm website, as there was a handy table that showed us which products, and how many, were included in each kit.
However, with SimpliSafe, you can choose to buy professional installation if you're not confident doing it yourself, and you have the option to build a custom package if none of them suit your home.
Winner: Tie
Installation
Both systems were straightforward to physically install in our houses, we agreed. The devices from iSmartAlarm, as well as the majority of those from SimpliSafe, have an adhesive backing or just require electricity from a mains plug outlet.
Except for SimpliSafe's Video Doorbell Pro, neither of these are good solutions if you're renting because you don't have to screw anything into your walls or adjust any internal wiring.
We frequently mention how simple it is for us to link the devices together and to Amazon Alexa or Google Home in our prior SimpliSafe evaluations.
SimpliSafe's gadgets communicate using a cellular network, so we didn't have to worry about Wi-Fi connectivity when installing them.
We also appreciated that if we weren't sure about installing and connecting our system ourselves, we could choose for expert installation at checkout and not be charged until a technician was appointed.
While connecting iSmartHome's gadgets was simple, the system's dependency on Wi-Fi meant that those of us in older houses had to acquire additional Wi-Fi boosters to make it operate. It was simple to link the system to our Amazon Alexa once we had the app operating, but we had to wrestle with the IFTTT program to get it to work with Google Home.
SimpliSafe is the winner
Customer Service
We found it straightforward to access the information we needed to make a purchase on both websites. SimpliSafe, on the other hand, we think made information about their devices and services much clearer.
SimpliSafe's customer support was also more responsive to all modes of communication during our investigation, and we never had to wait long on the phone to speak with a person.
We tried calling iSmartAlarm's customer support several times in one day and never got a response; it was only until we contacted them that they responded after a few days.
SimpliSafe is the winner
ismartalarm vs simplisafe Comparison Chart
| | | |
| --- | --- | --- |
| Features | iSmartAlarm | SimpliSafe |
| Hub battery backup | — | 24 hours |
| Disarm options | App, key fob, keypad | App, keychain remote, keypad |
| Price | Check Price | Check Price |
| Hub to Router connection | Ethernet | Wireless |
| Subscription | free | $15/month |
| Sensors | Motion, entry | Motion, entry, smoke, CO, Temperature, water |
| Hub speaker | No | Yes |
| Google Assistant | No | Yes |
| Technology | Wi-Fi | Wi-Fi |
| Hub siren | Yes | Yes |
| Extra siren | Yes | Yes |
| Keypad | Yes | Yes(wireless) |
| Multiple Keypads Support | Yes | Yes |
| Key fobs | Yes | Yes |
| Remote panic button | Yes | Yes |
| Security camera | Yes | Yes |
| Alexa | Yes | Yes |
| | | |
Overview Of SimpliSafe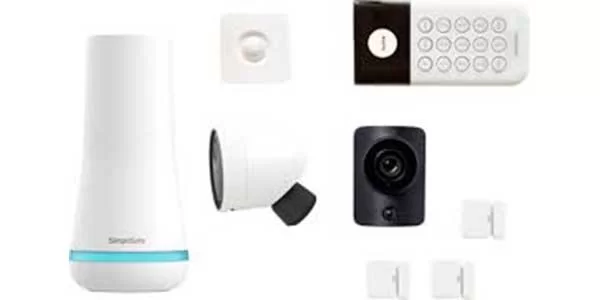 Right out of the box, it's ready to defend. Simply connect the base station to your house, set your sensors, and begin safeguarding your property…
Professional monitoring and cloud recording with police, fire, and medical dispatch are available for an additional 60c each day -…
Set off the alarm. Pioneering signal burst technology that can cover any size house with up to…
SimpliSafe provides 24/7 security, alerting emergency services the moment any danger is detected. Temperature, water, and CO sensors help detect fire in the house, not just human intruders. Also, a precise human form detection algorithm keeps its focus only on humans, not on pets. The device can be armed and disarmed from anywhere and everywhere, as per your choice, from your mobile phone: Google Assistant, Alexa, or even from an iWatch. It can alert you secretly, if someone breaks into your cupboard, without alarming them.
More: Cove Security Vs Simplisafe
Overview Of iSmartAlarm
iSmartAlarm provides a really good security at practically NO extra cost, other than the purchase price. It provides a 24/7 live stream, along with cloud storage. You get remote access through your phone, Alexa and IFTTT. There's, however, no power or internet backup. So, in case of such failures, the whole thing will just crap out. It is also equipped with a 110-decibel siren that is triggered if an emergency is detected, plus it sends notifications to your mobile phone too. The motion sensors are well suited for sensing human movements. However, there's no temperature sensors, hence they can't detect fires. You can add many cameras as per your choice. The cams have 4x zoom, sound recognition, 2-way audio, and motorized pan-and-tilt. The cameras have night vision and time-lapse as added features.
Technical Specifications Of iSmartAlarm
Model: iPU3
Classification: External power
Device dimensions: 100mm*100mm*105mm
Weight: 370g
Power: 5V 1A adapter 100-240V~50/60Hz 0.2A
Frequency: 908MHZ
Distance: <100m (Outdoor, open space)
Connection and Expansion: USB port 2.0; 10/100 BASE-T Ethernet (RJ-45 connector)
Operating temperatures: -10℃~50℃ (14°F~122°F)
Operating humidity: 30℃±2 ≤85%±5
Storage and transport temperature: -40℃~55℃ (-40°F~131°F)
Storage and transport humidity: 40℃≤90%
Alarm Sound Level: ≥100dB
Motion Sensor
Model: PIR3
Classification: Internally-powered
Device dimensions: 100mm*69mm*50mm
Weight: 80.1g
Power: 3*1.5V(AA)
Frequency: 908MHZ
Distance: <100m (Outdoor, open space)
Operating temperature: -10℃~50℃ (14°F~122°F)
Operating humidity: 30℃±2 ≤85%±5
Storage and transport temperature: -40℃~55℃ (-40°F~131°F)
Storage and transport humidity: 40℃≤90%
PIR detection angle: 90° 10M mounted @ Approximately 6 1/2′ from the floor
Remote Tag
Model: RC3
Classification: Internally-powered
Device dimensions: 60mm*30mm*10mm
Weight: 12.8g
Power: 1*3V (CR2032)
Frequency: 908MHZ
Distance: <100m (Outdoor)
Operating temperature: -10℃~50℃ (14°F~122°F)
Operating humidity: 30℃±2 ≤85%±5
Storage and transport temperature: -40℃~55℃ (-40°F~131°F)
Storage and transport humidity: 40℃≤90%
Contact Sensor
Model: DWS3
Classification: Internally-powered
Device dimensions: 50mm*50mm*13mm
Weight: 27.4g 5. Power: 1*3V (CR2032)
Frequency: 908MHZ
Distance: <100m (Outdoor, open space)
Operating temperature: -10℃~50℃ (14°F~122°F)
Operating humidity: 30℃±2 ≤85%±5
Storage and transport temperature: -40℃~55℃ (-40°F~131°F)
Storage and transport humidity: 40℃≤90% 20
Magnetic gap : <20mm
Technical Specifications Of SimpliSafe
Contact Sensor
Magnetic operation.
Magnetic gap: 2 inches
Motion Sensor
Range of up to 30 feet
Smart detection: detects humans, not pets.
Ninety degrees field of view.
Outdoor Unit
Weatherproof
25 feet cable connected
Functional from -20 to 45 degrees celsius.
Smoke Detector
Photoelectric sensor-based.
Batteries
CR2032 Li-battery
CR123A Li-battery
Dry AA cells
Verdict:
SimpliSafe is the best security system between SimpliSafe and iSmartAlarm, according to our analysis. In our SimpliSafe review, we discovered that, despite its higher price, many consumers believe it provides good value for money when compared to competing smart home security devices.
Home Automation

>>

Brands

>>

Amazon

>>

ISMARTALARM VS SIMPLISAFE