Smart security systems make it simpler than ever before to keep your home safe, and DIY solutions have never been more available. When comparing SimpliSafe vs Nest Secure, since it includes smart functionality without any extra monthly costs, we feel as if the latter is the better option. For a Complete and extensive system for each room then SimpliSafe is the best option with a monthly subscription.
Simplisafe Pricing
SimpliSafe costs:  $299.99 ($250 for the Foundation + $50 for the key fobs.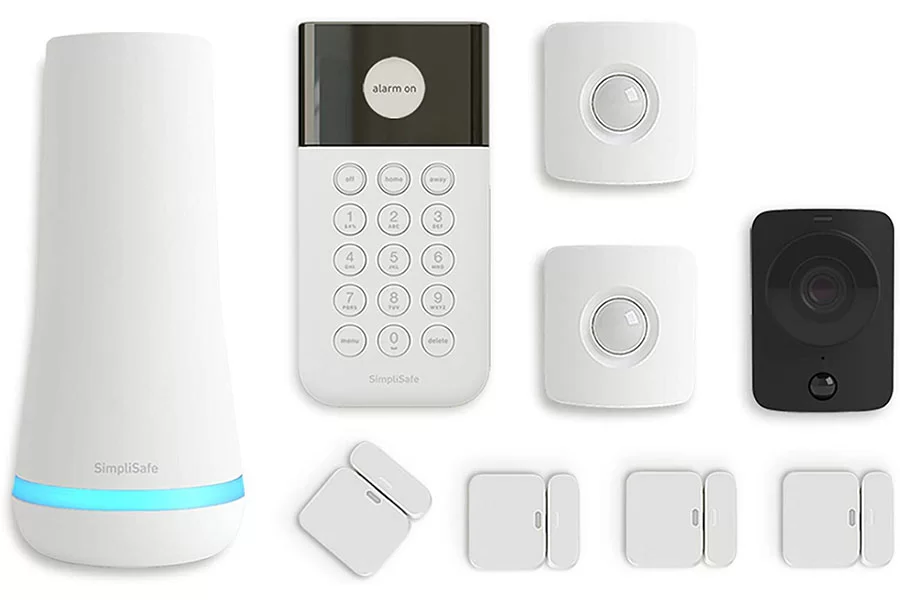 Nest Secure starter kit: $417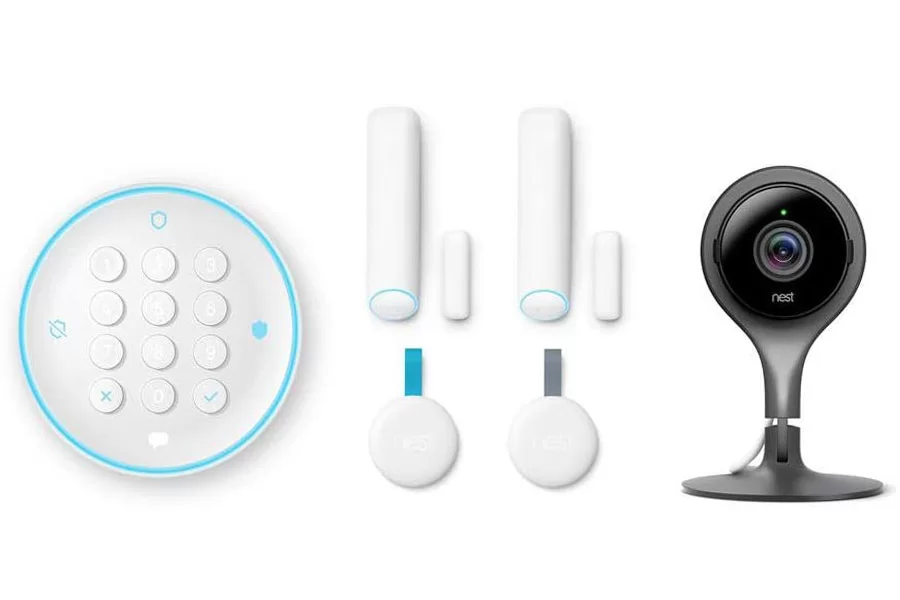 Simplisafe Pros & Cons
| | |
| --- | --- |
| Pros | Cons |
| Professional No-Contract Monitoring | Limited Device Lineup |
| Choice between Self-Monitoring and Expert | Local warning feature when self-monitored |
| Affordable Monthly Rates | Camera Features Limited |
Nest Secure Pros & Cons
| | |
| --- | --- |
| Pros | Cons |
| Google Backed | Limited Device Lineup |
| Extremely Innovated and Intelligent | More expensive than other options |
| Fits well with other Smart Home devices from Nest and Google | Professional Monitoring by a Third-Party Alarm Company |
Comparison Between Simplisafe Vs Nest Secure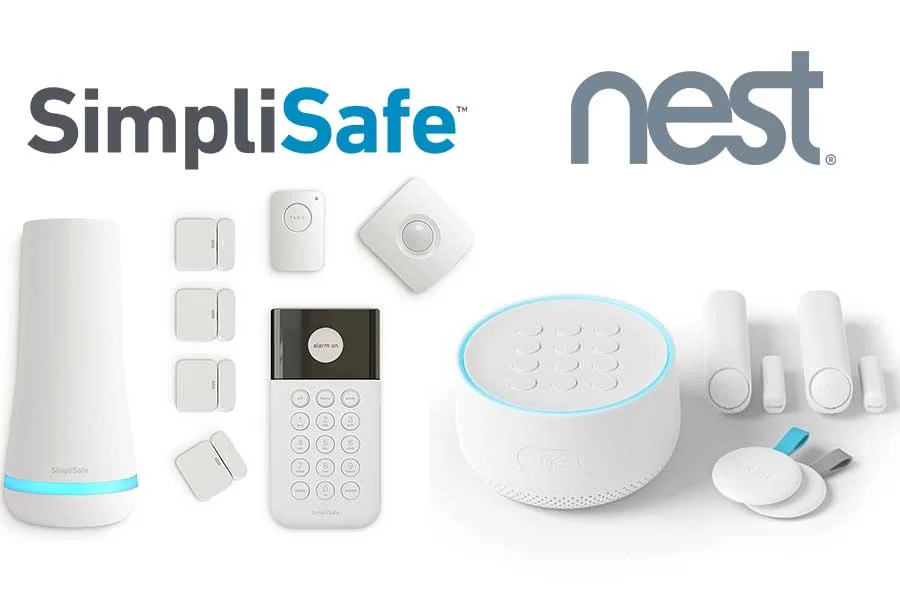 Keypads
| | |
| --- | --- |
| Comparison | Keypads |
| Simplisafe | One of the SimpliSafe system's main benefits is that you can use several keypads at a time. Although the machine comes with only one keypad by default, you can purchase additional keypads to position them where you need them. |
| Nest Secure | The only keypad in Nest Secure is located on the top side of the base unit. Hence, one of the biggest disadvantages of Nest Secure is that you cannot add multiple keypads to your device. |
Cellular Backup
| | |
| --- | --- |
| Comparison | Cellular Backup |
| Simplisafe | With SimpliSafe, cellular backups are only available when you opt for a subscription plan. While Nest also offers those backups with their 24/7 monitoring plan, the inexpensive monthly fee for standalone cellular backups is a definite advantage. |
| Nest Secure | When comparing Simplisafe Vs Nest Secure, the first distinction is in the way they enforce cellular backups. This feature is sponsored by both brands, but Nest pulls ahead with the option of a standalone $5 a month contract. |
Battery Backup
| | |
| --- | --- |
| Comparison | Battery Backup |
| Simplisafe | Using a battery backup, one field of which the SimpliSafe comes out on top is the amount of time it will remain live. It is a significant bonus that protection coverage continues during power outages, and SimpliSafe can provide surveillance for 24 hours in the absence of electricity, twice as long as the 12 available on the Nest. |
| Nest Secure | With a battery backup of 12 hours, Nest Secure provides almost half of the battery backup as SimpliSafe. |
Extra Siren
| | |
| --- | --- |
| Comparison | Extra Siren |
| Simplisafe | Another cool security benefit of the SimpliSafe is the inclusion of an additional siren that can sound the alarm if you've hidden the base. The SimpliSafe's inclusion of an extra siren allows you to hide away your base in an area that is protected and easy for you to access, so you can ensure that your home stays protected even if intruders are savvy enough to damage the visible equipment. |
| Nest Secure | The Nest Secure, on the other hand, has a base and siren 2-in-1. This is one area where Nest Secure definitely falls short, as having the siren built into the base that controls the security system is a single point of failure. If an intruder were to come in and smash the Nest base, you'll end up with a security system that's no longer doing its job. |
Cameras
| | |
| --- | --- |
| Comparison | Cameras |
| Simplisafe | SimpliSafe also has cameras, but they only have two: SimpliCam indoor camera and SimpliSafe Video Doorbell Pro. |
| Nest Secure | Nest Secure fits well with the Nest Cams, including the Nest Cams indoor and outdoor, Nest Cam IQ indoor and outdoor, and the video doorbell Nest Hello. Currently, the same app used to monitor Nest cameras is used by Nest Secure. |
Sensors
| | |
| --- | --- |
| Comparison | Sensors |
| Simplisafe | Another advantage of SimpliSafe is the wide range of sensors that it has to offer. Motion sensors, an entry sensor, glass-break sensor, smoke sensor, Carbon Monoxide sensor, temperature sensor, and water sensor are all the sensors that are available with SimpliSafe. |
| Nest Secure | Nest Secure only works with the Nest Detect motion sensor. Although this sensor is quite flexible in a way that you can place it on a door or window and it'll work as a motion sensor and open/close sensor, and on walls, it will act as occupancy sensor and let you know when someone walks by. But the absence of a number of other sensors that SimpliSafe has to offer puts Nest Secure in a position of disadvantage. |
Panic Button
| | |
| --- | --- |
| Comparison | Panic Button |
| Simplisafe | Even in this sector, SimpliSafe is useful. You can quickly activate this alarm button and, in case of an emergency, once you push this button, the message is sent to the competent control center. They will then call you back to make sure you are alright, and a police team will be deployed to your place as soon as possible if you fail to respond. The best part is that the intruders will have no idea about all of this since this panic alarm functions in a silent mode. |
| Nest Secure | Nest Secure even comes with a panic button, but SimpliSafe does not make it as easy. In the base itself, the panic button is found, which might make it impossible for the user to reach it in case of an emergency. Besides, as you click it, it does not touch the police department. The alarm button, instead, would make a loud sound that may or may not scare away the intruders. |
Home Integrations
Comparison
Home Integrations
Simplisafe
Unfortunately for SimpliSafe, their system isn't as well-integrated as Nest Secure. SimpliSafe, as well as Nest Thermostats and August locks, has limited connectivity with Alexa and Google Home, but both of these integrations include a subscription to the Interactive Package of SimpliSafe. The largest tracking plan presented by SimpliSafe is Digital.
To know more in detail about integrations
Nest Secure
Nest Secure is regarded as a powerhouse for home automation, with Google's leading home automation group for many years becoming the market name Nest. Nest Safe fits well with Nest Thermostats, Nest Safety, and Nest Cams as part of Nest's portfolio. It even connects well with Google Assistant, even providing the functionality of a Google Home with the Nest Security.
Smartphone Access
| | |
| --- | --- |
| Comparison | Smartphone Access |
| Simplisafe | SimpliSafe's app is not accessible to all SImpliSafe users. Only those with a subscription to SimpliSafe Interactive ($24/month monitoring) are allowed access. |
| Nest Secure | Nest Secure Nest App is free for all. We are fans of both apps. SimpliSafe's app is simple yet intuitive, and Nest App is smart and multi-functional as it controls other Nest products and even third-party smart home products that are compatible with the platform. |
Number of Devices
| | |
| --- | --- |
| Comparison | Number of Devices |
| Simplisafe | Maybe SimpliSafe is right up your lane. With the opportunity to get up to 100 gadgets programmed to it, larger homes that require extensive coverage in each room obviously come out ahead. |
| Nest Secure | Nest Secure allows for one Guard (hub) per home, and up to 30 Detects (sensors) per home. also a maximum of 10 Tags per person, Tags being sensors that allow people to easily bypass security measures with a simple dongle |
Other Services
Flexible Contract
Speaking of subscriptions, both Nest and SimpliSafe offer monthly contracts so you won't have to worry about a long-term commitment. You'll be able to cancel at any time without any termination fees or other hassles, which makes it easy to opt for a subscription without having to worry about being locked in for the long haul.
Professional Monitoring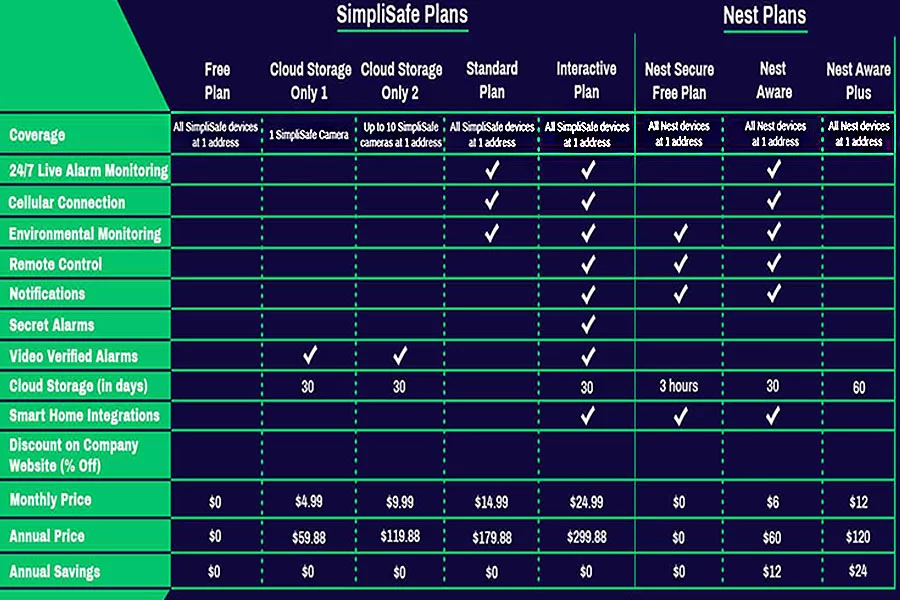 SimpliSafe and Nest Secure will charge you for providing 24/7 professional monitoring, it is a feature that they have in common. It is a very useful feature that your security system provides, especially if you are unable to provide self-monitoring to your house.\
DIY Installation
Since there are no wires to worry about with either system, installation couldn't be simpler. Just take things out of the box, plug them in, and get your home security within minutes.
Subscription
SimpliSafe subscription
SimpliSafe offers two different plans: Basic and advanced subscription. The basic plan includes 24/7 Live Alarm monitoring, Cellular Connection, and Environmental Monitoring. The advanced subscription lets you control your systems from your phone like receiving alerts and unlimited video recording storage in your cloud for 30 days.
Nest Secure subscription
Nest Secure also provides subscriptions to its users, where it offers a professional monitoring plan that offers 24/7 monitoring and cellular backup with a 3-year contract or a monthly fee with no commitment. Unlike SimpliSafe, you can control your systems from your phone for free which makes it more advantageous for us to invest in Nest Secure.
Warranty
All Nest Secure products are covered with a 2-year warranty that covers repairs and replacement if the products are found defective. SimpliSafe products are covered by a longer 3-year warranty that covers the same.
Last Words
When comparing Nest Secure vs. SimpliSafe, when the bulk of security capabilities are usable without an extra subscription, we have to offer Nest Secure the edge almost completely. If the subscription payments are not put into the calculation.
Thanks to the additional features available and improved coverage for bigger homes, SimpliSafe is the better unit. However, when you find you need to spend about $30 a month just to get the right to monitor your mobile protection feature, it is obvious that the benefits offered are much less significant.
SimpliSafe vs. Nest Secure — Comparison Chart
| | | |
| --- | --- | --- |
| | SimpliSafe | Nest Secure |
| Hub to Router Connection | Wireless | Wireless |
| Hub Battery Backup | Up to 24 hours | 12 hours |
| Hub Siren | Yes | Yes |
| Extra Siren Support | Yes | No |
| Hub Speaker | Yes | Yes |
| Hub Sensors | N/A | Motion, Proximity, Tamper |
| Keypad | Separate, wireless | On the hub |
| Multiple Keypads Support | Yes | No |
| Key Fobs | Yes (keychain remote) | Yes (Nest Tag) |
| Disarm Options | App, keychain remote, keypad | App, Nest Tag fob, keypad, |
| Basic Subscription | $14.99/month | $19/month, 3 year agreement $29/month, monthly contract |
| Advanced Subscription | $24.99/month. Adds remote app controls, | Only one plan available |
| Remote Monitoring & Notifications | Subscription required | Yes (no subscription required) |
| Cellular Backup | Included with paid plans | Included with paid plans Or pay $5/month ($50/year) if you want cellular backup without monitoring |
| Sensors | Motion, Entry, Glassbreak, Smoke, Carbon Monoxide, Temperature, Water | Motion (Nest Detect) |
| Remote Panic Button | Yes | No, but on the keypad |
| Security Camera | Yes | Yes: a variety of indoor and outdoor Nest Cams |
| Monthly Contracts Available | Yes | Yes |
| Google Assistant | Yes | Yes |
| Alexa | Yes | No |
| IFTTT | No | No |
| Other Smart Home Compatibility | Apple Watch, Nest Thermostat, August Smart Lock | Wink, Nest Hello doorbell, Nest x Yale lock, Nest Connect mesh Wi-Fi |
| Technology | Wi-Fi | Wi-Fi, Bluetooth Low Energy (BLE), Thread/Weave |
FAQ:
How to Change Battery in SimpliSafe Key Fob?
Take the cap off the end opposite to the keyring.
On the long side opposite from the button, slide that piece away from the keyring, this will expose the Keychain Remote's CR-1632 Lithium 3V battery, which can then be replaced.
Home Automation

>>

Surveillance & Security

>>

Smart Alarm System

>>

Simplisafe Vs Nest Secure