Most likely, you've encountered a Control4 system before. Maybe on a show that showcased the interior of an NBA, football, or rapper star's home. Perhaps in the posh hotel you stayed in.
Control4 isn't a company that you'll see marketed in the mass media, therefore it's likely that you weren't aware that it was Control4. Additionally, neither Amazon nor Best Buy's shelves will likely include any Control4 kits.
Before the current smart home boom took off and when the only echo at Amazon was the one you'd hear if you shouted something in one of its large warehouses, Control4 has been in the home automation business since the early 2000s.
Control 4: Setup and Sellers
You should be aware that Control4 is anything but plug and play, to start. To have a Control4 dealer visit you, you must first find one that is authorized to do so.
Before choosing the exact system you want installed, Control4 really advises receiving a few quotations from a variety of dealers. However, a nice place to start is its Product Planner portal, where you can answer a number of questions and receive proposed equipment lists and configuration suggestions through email.
However, your dealer isn't only there to put in the hardware. They will set up the entire system, starting with the software, to ensure that connected devices are compatible with particular device settings and scenes.
Contrary to Alexa, HomeKit, and specific smart home hubs like SmartThings or Wink, the consumer has very limited control over how their system is configured. Everything must be handled via the dealer.
It's true that some services, like When>>Then (Control4's answer to IFTTT), allow you to add layers of automation to pre-set ones, but this kind of system is mostly intended for consumers who want someone else to handle (and control) their smart home updates.
Control4 can control lighting, multi-room audio, HVAC systems, security platforms, smart locks, and more. It works with over 35,000 devices and uses technologies like Zigbee, Z-Wave, Wi-Fi, and Bluetooth. However, it is an exclusive club reserved for people with the money to purchase through an authorized Control4 dealer.
Want to join? Here is all the information you require to get going.
Control4: Controllers
A controller is the one essential item you'll need in order to join the Control4 party. A Control4 controller connects to your home network and then connects to any suitable technology. It serves as the system's central nervous system and sort of smart home hub.
The CA-1, the most basic Control4 controller, is a tiny white box with Zigbee and Wi-Fi connectivity (you can add a separate module for Z-Wave), allowing you to operate connected locks, electric blinds, and smart lights.
If you upgrade to one of the EA-series controllers—the EA-1, EA-3, or EA-5—you'll also get HDMI out and streaming audio (the number of streams corresponds to the model number; for example, the EA-3 has three streams) for complete control over your TV, digital media, and compatible set-top boxes.
The top-end controller is the most recent addition, the CA-10. It is specifically made for large smart home systems with hundreds or even thousands of linked devices and has four times the processing power and memory of the EA-5.
Control 4: User Interface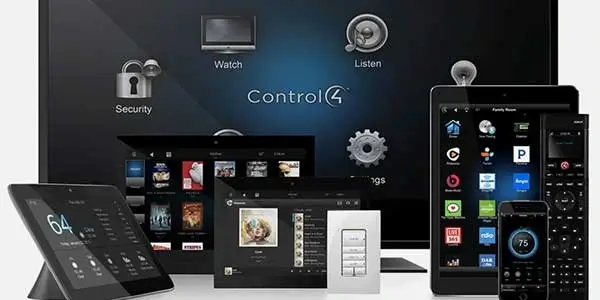 There are several ways to control your Control4 system and all of the technology you have installed inside of it.
You can see the Control4 UI on your TV if an EA controller is plugged into the HDMI port. The simplest way to do it is using a special "universal" remote control that can operate all linked lights, thermostats, security systems, and other devices in addition to your audio and video feeds. The SR-260 regular remote control or the new Neeo Remote for Control4 are your options.
A dedicated touchscreen panel is a better method to take a more thorough and intuitive approach to controlling your Control4 system. Control4 offers 7-inch and 10-inch variants that either slot in a wall or sit on a table.
With some restrictions, these specialized touchscreen displays can be simulated on smartphones and tablets; there are versions for iOS and Android.
Control4 provides keypads that hook into standard light switches in addition to touchscreens. Naturally, they can be set up to switch on and off lights, but they can also serve as the start of Control4 scenes. As you might have imagined, scenes are routines that automate actions in smart homes. So you might have a "good morning" scene that starts the kettle, shuts off the alarm, and tunes in to your favorite radio station.
Finally, there is Alexa compatibility—we say finally since it's the least helpful way to use Control4. If you add the Control4 skill to your Alexa setup, scenarios, settings, and devices are all pulled over, but it's not the most seamless connection. Before anything is even close to being usable, it requires an enormous amount of sifting.
Control4: Compatible Hardware and Software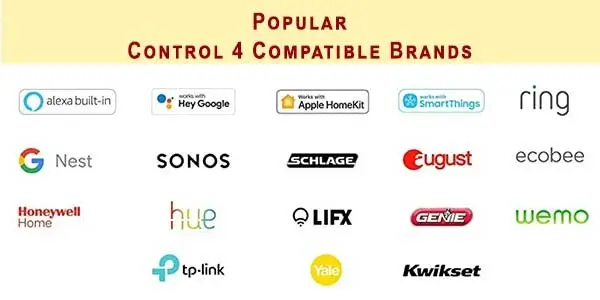 As we already indicated, Control4 works with more than 35,000 devices from a wide range of manufacturers. It isn't as simple as scanning your home network to see what's accessible to sync up, unlike the major smart home ecosystems.
For non-native technology, which is defined as anything that Control4 does not create directly, you will need to install specialized drivers. Furthermore, you must ask your dealer to install these drivers. These drivers will occasionally—no, most of the time—cost you money.
It's a pain, it costs a lot of money, and it doesn't exactly embrace the openness of the "works with" smart home concept. But as we've already mentioned, Control4 isn't a smart home system for folks who enjoy setting up their own gadgets; rather, it's made for people who want someone else to handle everything.
If so, you'll be happy to know that Control4 works well with a wide range of popular smart home products, including Philips Hue, Nest, Sonos, Apple TV, Yale, Netflix, Amazon Music, Lutron, and more, in addition to the majority of popular digital audio and video services.
Control4: Native devices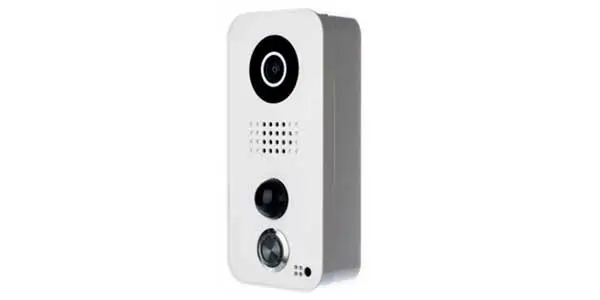 Purpose-built products are another service provided by Control4, and this is where the business really shines. The technology it produces is really high-end, so you should give Control4 priority over some of its more well-known competitors if you're seeking to spend some money on a fantastic multi-room media setup or you want a home network of the highest caliber.
Starting with digital media, those EA controllers we previously mentioned are compatible with a variety of audio switches, amps, and speakers, some of which are labeled Control4 and others which are branded Triad (an audio firm it purchased in 2017). Although you can include external audio devices like Sonos in the mix, an in-house setup will give you a much better, more organic experience.
From one-zone systems made to fit under your TV to incredibly powerful matrix systems that can live in a rack and power the audio and video for the biggest of mansions, Control4 offers a wide range of audio and video options. There are also outside speaker systems, like the Triad Garden Array outdoor system in the image above, which has amazing looks and sound.
A home network created by another significant Control4 acquisition, Pakedge (bought back in 2016), will outperform even the greatest consumer-grade mesh system. A Pakedge router is not required for a Control4 system, but it just makes everything function much more efficiently. Particularly if you include a Pakedge NK-1 wireless controller that addresses network issues without you even being aware of them and enables your dealer to access your system remotely to make changes without coming to your house.
A world-class network may be built in your home using a wide variety of switches, access points, and network accessories, much like with the audio side of things.
Additionally, Control4 offers a smart doorbell product. The Door Station DS2 allows you to remotely connect with anyone is knocking on your door by syncing with the SmartOS 3 software from the Utah-based company (there is no longer a requirement for the additional Intercom Anywhere app).
Additionally, a new Chime Doorbell that is a little svelter than the Door Station line was introduced in 2020-21.
In 2021, the smart video doorbell brand DoorBird received official certification for integration with a Control4 system.
This means that DoorBird IP door stations may now be directly integrated into Control4 systems using an official – and critically, free – driver, as opposed to utilizing expensive third-party drivers.
But that's not the case. Smart outlets, security cameras, thermostats, centralized lighting panels, motion sensors, KNX devices, and a ton more are all available from Control4.
What Are The Disadvantages Of Control4?
Although Control4 has many advantages and functions, there are a few potential drawbacks to take into account:
Cost: When compared to some other home automation options, Control4 systems are frequently more expensive. Equipment, installation, and programming costs are all part of the upfront cost. Additional costs can be needed for continuing upkeep and assistance. For individuals on a low budget or with fewer automation needs, Control4's price may not be an option.
Professional Installation Necessary: Programming and installation of Control4 are frequently performed by professionals. This implies that the installation and configuration of the system will require the assistance of a Control4 licensed dealer or installer. Professional installation may result in a more integrated and reliable system, but it also raises costs and may put DIY enthusiasts at a disadvantage
Complexity: Control4 provides a wide range of customization possibilities, which can result in a challenging installation procedure. Multiple device integration and system configuration could call for technological know-how. Particularly if they are unfamiliar with home automation concepts, some users may find the initial setup and subsequent customization difficult.
Dependency on Internet Connection: For various functionality, such as remote access and control, Control4 depends on an internet connection. Your Control4 system's performance can be impacted if your internet connection is interrupted or goes down.
Limited Integration with Third-Party Devices: Control4 supports a number of third-party protocols and devices, although there may still be some restrictions. Control4 may not be compatible with all smart systems or devices, which could restrict your options or necessitate the use of additional adapters or workarounds.
Upgrades and Compatibility: Control4 may release system updates or new versions over time, just like any other technology. The cost of upgrading your Control4 system may increase, and there may be issues with existing hardware or customizations.
Control4: Expected Cost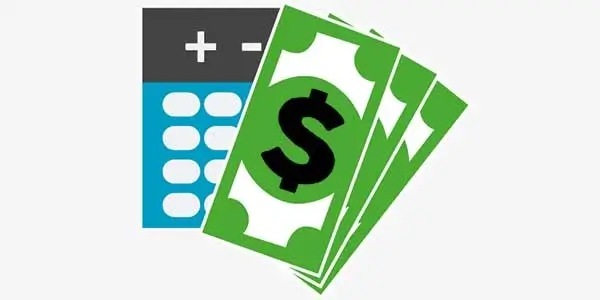 Costs for Control4 are high. Even for the simplest installations, such as streamlining your AV controls, you'll need to spend, say, $800 for an EA-3 controller and $350 for the remote control. On top of that, you'll need to pay a Control4 dealer to come out and set everything up.
The possibilities for building your Control4 home system are pretty much endless once you have that fundamental configuration. You can quickly rack up a five-figure price if you want touch panels in every room, multi-room audio, a professional grade home network, a cinema room, etc. Heck, if you went for a house like this, you might be looking at six figures.
You can get a sense of the pricing ranges we're working with by looking at the price of a few individual items. Costing $1,200 is a 10-inch in-wall touch panel. The $750 Pakedge router that Control4 suggests. Costs for a single load light switch start at $500. Around $4,000 will be spent on a 2.1 system that includes a Triad Soundbar, an amp, and a subwoofer.
Even the video doorbell from Door Station is pricey. With a $99 subscription added on top, that comes to $1,050 on its own.
We complied a list of control 4 product prices from different sources just only for the users to get an idea about how much budget you required for a good and complete home automation system. and I hope it will help you.
You see what I mean. It is pricey.
Control4: Where to Purchase
As previously stated, you won't be able to enter a store, leave with a load of Control4 kit. You must take your system to an authorized dealer to be configured, or, even better, have they come to you.
Frequently Asked Questions:
Is Control4 worth it?
Control4 is a well-known home automation system that enables you to manage multiple smart appliances and systems in your house from a single interface, including lighting, security, audio/video, and more. It integrates with a variety of devices and offers significant customization options.
The value of Control4 will vary depending on your budget, desired level of control and automation, and the size and complexity of your home automation setup. Because Control4 systems are often more expensive than some other home automation options, it's necessary to weigh the cost-benefit analysis for your particular requirements.
Control4 can be a wise purchase if you have a larger home with lots of gadgets and want a strong, integrated system that offers sophisticated customization choices. There are alternative options on the market, though, if you choose a simpler and more affordable solution or have a smaller home with fewer gadgets.
In the end, it's advised to investigate and contrast several home automation systems, including Control4, and take your unique requirements and budget into consideration before making a decision.
Who are Control4 competitors?
Siemens
Johnson Controls
Amazon Alexa
Samsung SmartThings
Smarthome
Crestron
SimpliSafe
Savant Systems
HomeSeer
Data taken from: softwaresuggest.com
Does Control4 have a monthly fee?
Most of the functions of Control4—including remote access—require a subscription in order to use them. Depending on your system and settings, Control4 subscriptions might cost more than $100 annually.
Professional Installation and Programming: Control4 systems usually require professional installation and programming by a certified Control4 dealer or installer. The fees for installation and programming services will vary depending on the scope of the project, labor involved, and the specific requirements of your setup.
Optional Premium Services: Control4 offers optional premium services that can enhance the functionality and convenience of your system. These services may include features like 24/7 customer support, remote monitoring, and advanced integration with third-party services. The availability and pricing of these premium services may vary, so it's recommended to inquire with your Control4 dealer for specific details.
Third-Party Services and Integrations: Control4 integrates with various third-party devices and services, some of which may have their own subscription fees. For example, if you integrate a streaming service like Netflix or a security monitoring service into your Control4 system, you may need to pay the subscription fees associated with those services separately.
Control 4 Dealers near Me
Check your location and the control 4 near location here
Home Automation

>>

Home Automation Complete Systems

>>

The Ultimate Guide to Control 4: Everything You Need to Know