Now that there are so many options for making your house smarter, automation of once laborious tasks is a breeze. In an ideal world, all of your Internet of Things (IoT) and smart home gadgets would work inside the same ecosystem. In order to maximize home automation, it is important that all of your smart home devices work together. This includes your security system and smart lights, which may not be made by the same firm.
If This Then That, or IFTTT for short, facilitates the effortless integration of disparate systems and approaches. If you want to set up conditional processes for your smart home or other internet services, like Gmail or Twitter, IFTTT is a good option to consider.
What exactly is "IFTTT"?
An automation tool, IFTTT. It enables the development of executable scripts, known as applets that can be activated in response to predetermined rules and situations. It debuted in 2010, and since then, more than 700 services have adopted it. If the service you want to use isn't one of the ones IFTTT supports out of the box, you can use Webhooks to increase that number. It also functions as a web service that can be accessed from the IFTTT homepage, and there's an Android and iOS app available for it.
Due to the fact that applets on IFTTT are based on triggers, which are predetermined conditions, any time one of these conditions is met, your chosen script will run. With IFTTT, you can set up an automated social media workflow, such as tweeting your Instagram photographs. Like how your sprinklers may be programmed to turn on even when it's not raining, your Philips Hue lights can be set to turn off automatically when you leave or return home. The same holds true for routine tasks like uploading files to cloud storage or adding songs to a playlist in music streaming services like Dropbox or Spotify.
The main benefit of using IFTTT is that it allows you to easily connect and sync a wide variety of services, apps, and gadgets. One simple task that can't be done using their applications is turning off the heating or cooling system when you leave or arrive home.
Even if a certain device isn't designed to work with a given smart speaker, you may use IFTTT to make the connection. This is because IFTTT is compatible with both Google Assistant and Amazon Alexa. It's not feasible to activate Blink cameras with Google Assistant out of the box, but this is easily accomplished by creating an IFTTT applet.
The platform also has more complex features, such as the ability to defer script execution following a trigger. Similarly, an applet's activities can be chained together so that a single trigger activates a series of actions. If the temperature outside rises beyond 85 degrees, for instance, you can program an applet to activate the air conditioner and close the blinds. For good measure, IFTTT can also fetch queries and integrate with JavaScript to help you develop even more complex applets.
Using these capabilities will necessitate a paid IFTTT Pro or IFTTT Pro+ membership. If you don't anticipate using more than five applets, each with more than one action, the free membership should be sufficient.
Getting started
One has the option of either making their own applet or selecting one from an already collection. If you're stuck or need some inspiration, perhaps someone else has already created an applet and posted it online. To begin using IFTTT applets, sign up for an IFTTT account and then proceed with the instructions below.
To browse the existing library:
1. Launch the IFTTT app on your mobile device or visit the website ifttt.com.
2. In the top right, select Explore.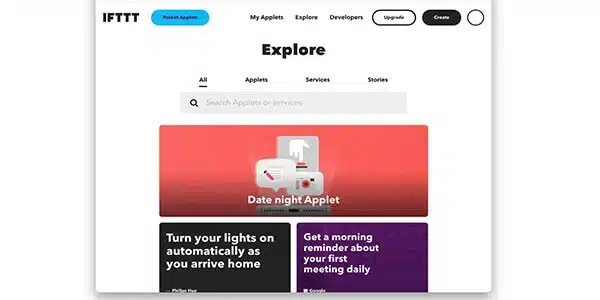 3. Choose the app that best suits your needs.
4. All it takes is a single click to join (connect) the dots.
5. Verify the options, then hit "Save."
6. Try out your new applet once it's ready.
It's easy to make your own applet and tweak it to your liking with only a few clicks:
1.  Join the site by signing in.
2. A Create button will appear in the top right corner; select it.
3. To specify your action's triggering condition, select Add beside If This.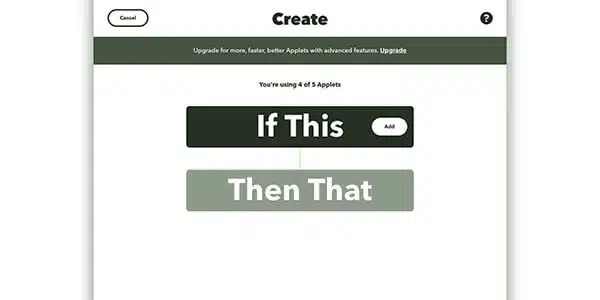 4. You can set up what happens next by repeating the process with the Then That function.
5. To set a delay between the If and the Then conditions, click the plus sign. If you need some more time before your security system is activated automatically, this feature can help.
6. Sadly, your trial subscription has reached its limit. With a Pro account, you'll be able to add more entries to Then, allowing you to chain together multiple triggers that each execute different actions.
7. When you're ready, select the Next button.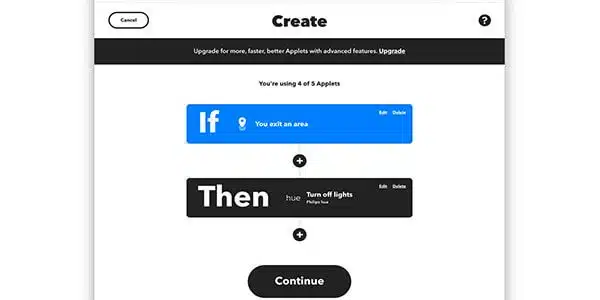 To complete your applet, simply name it and hit the Finish button.
In other words, you can start your journey now. Have fun experimenting with your new applet!
Subscription fees
With IFTTT, you can do amazing things. There are many restrictions on the free plan, such as a cap of five applets, each of which can only perform a single action. That may be sufficient for some, but if you're itching to do more, a subscription service may be for you.
The Pro plan increases the maximum number of applets to 20, and it also enables the creation of multistep applets, wherein a single trigger can initiate multiple actions. This is useful for home automation, especially when using multiple service providers and brand names. When compared to what it enables you to accomplish, its monthly cost of $2.50 is reasonable.
If you upgrade to Pro+, you'll have access to an infinite number of applets and can make as many as you like. In addition, you can link multiple accounts, which is useful if, for instance, you use a different account for each of your properties. And finally, it has sophisticated options like queries, filter codes, and developer tools. However, at $5 a month, it's more expensive.
Applet speeds are increased and customer support is provided in the Pro and Pro+ plans for a more refined smart home experience.
Equipped with state-of-the-art hardware and software
IFTTT offers advanced features that developers, geeks, and curious people love. One is Webhooks, which allows you to integrate IFTTT with virtually any service. Unlike existing services and applets, you create the Webhook and define the various values. It's not as straightforward as an applet, but it has the benefit of offering advanced integration with an infinite number of possibilities. For instance, if you have your own server at home, you can use it with IFTTT through Webhooks.
Furthermore, with a Pro+ plan, you can use queries and filter codes to customize your applets. The first allows you to create an extra condition for your trigger, allowing IFTTT to gather additional information to assess how to proceed when running the applet. Filter codes are snippets of JavaScript code that you can run inside IFTTT to customize the applet the way you want. While it requires coding and a Pro+ subscription, it lets you achieve maximum customization of your automation.
Automate everything in just a few clicks
Thanks to IFTTT, automation becomes a breeze. It takes a few clicks to create applets and have various services communicate with each other without requiring technical knowledge. Techy people will love the advanced features offered by the platform, offering a way to customize automation the way you want. The possibilities are endless, and your creativity is the limit.
You might want to see this:
Home Automation

>>

Other

>>

Software & Apps

>>

How Can I Use IFTTT and What Is It?