UV robots aren't fresh, they've been on the market for the past 5 years or so, but the trend to use such robots in hospitals for disinfection has been low.
But after covid-19 and china used UV robots in their hospitals on a large scale and additional thousands of orders were placed, it is more than enough for other countries to be careful to reconsider the way to clean patient's rooms and hospitals without any human intervention that would provide some kind of protection for cleaning personnel.
However, these robots have better results as they clean up more in detail and other places where humans are unable to do so, such as small areas.
All empty buses in China are spent each night with this blue light UVC as robots clear the hospital floor, banks and currency notes.
Similarly, in their medical services of United States, United Kingdom and Singapore are beginning their trails with Australia.
To know in detail about: HAI and why UV are so effective than the traditional method of cleaning.
Here are the following UV Cleaning Disinfection Robots
UVD Robots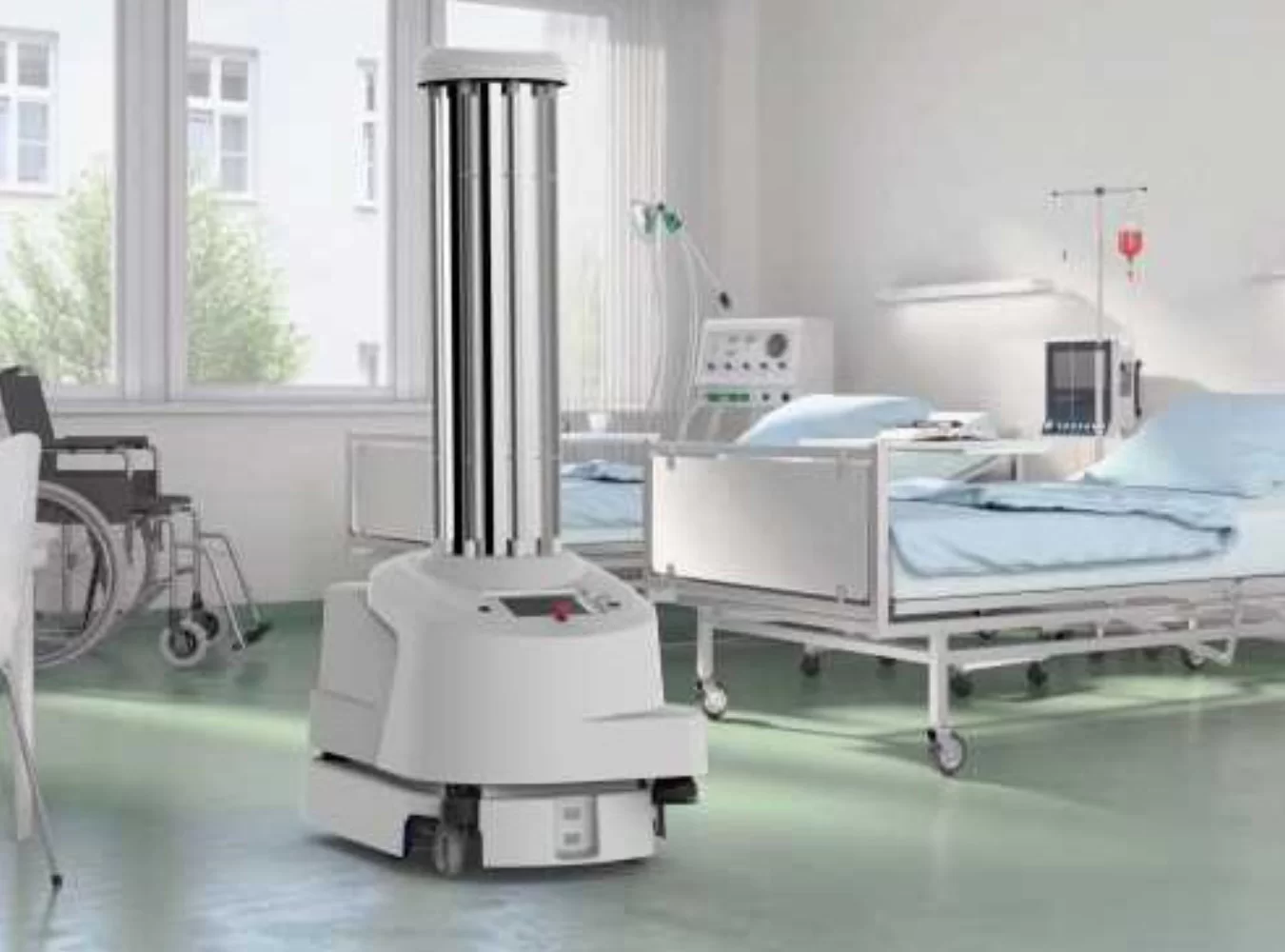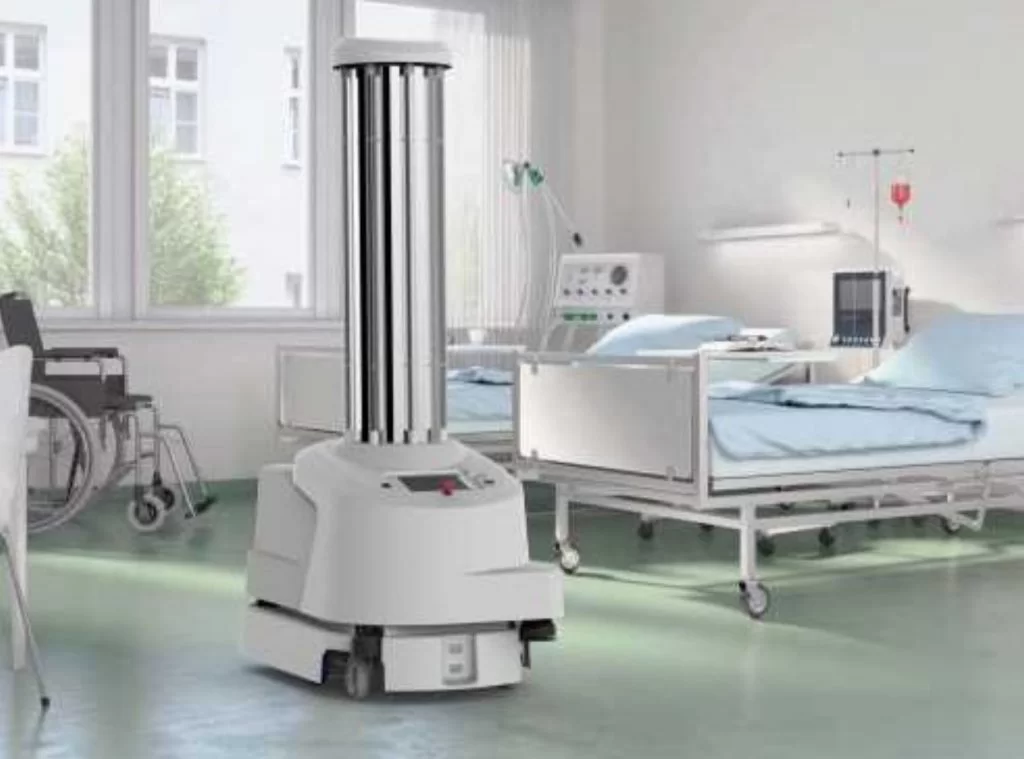 UVD Robots is a Danish company making robots that are able to disinfect patient rooms and operating theaters in hospitals. They're able to disinfect pretty much anything you point them at—each robot is a mobile array of powerful short wavelength ultraviolet-C (UVC) lights that emit enough energy to literally shred the DNA or RNA of any microorganisms that have the misfortune of being exposed to them.
More Robots: Home Assistant Roborock
The company's robots have been operating in China for the past two or three weeks, and UVD Robots CEO Per Juul Nielsen says they are sending more to China as fast as they can. "The initial volume is in the hundreds of robots; the first ones went to Wuhan where the situation is the most severe," Nielsen told IEEE Spectrum. "We're shipping every week—they're going air freight into China because they're so desperately needed." The goal is to supply the robots to over 2,000 hospitals and medical facilities in China.
Recently United States completed their trials in Florida medical test facilities and expected to reach across all medical facilities in United States.
It takes between 10 and 15 minutes to disinfect a typical room, with the robot spending 1 or 2 minutes in five or six different positions around the room to maximize the number of surfaces that it disinfects.
robot's UV array emits 20 joules per square meter per second (at 1 meter distance) of 254-nanometer light, which will utterly wreck 99.99 percent of germs in just a few minutes without the robot having to do anything more complicated than just sit there.
Price:
Expected $70,000 up to $100,000
Xenex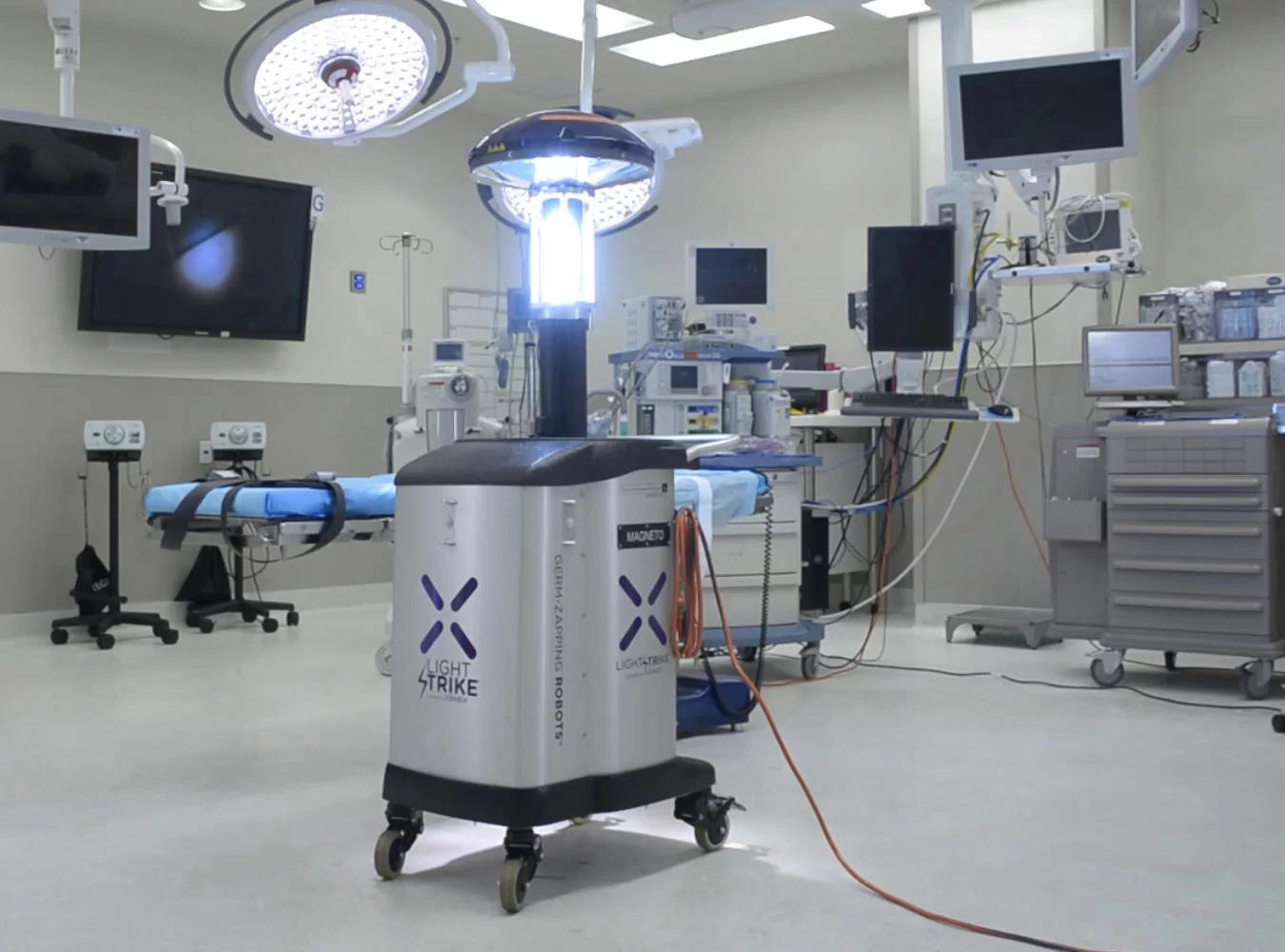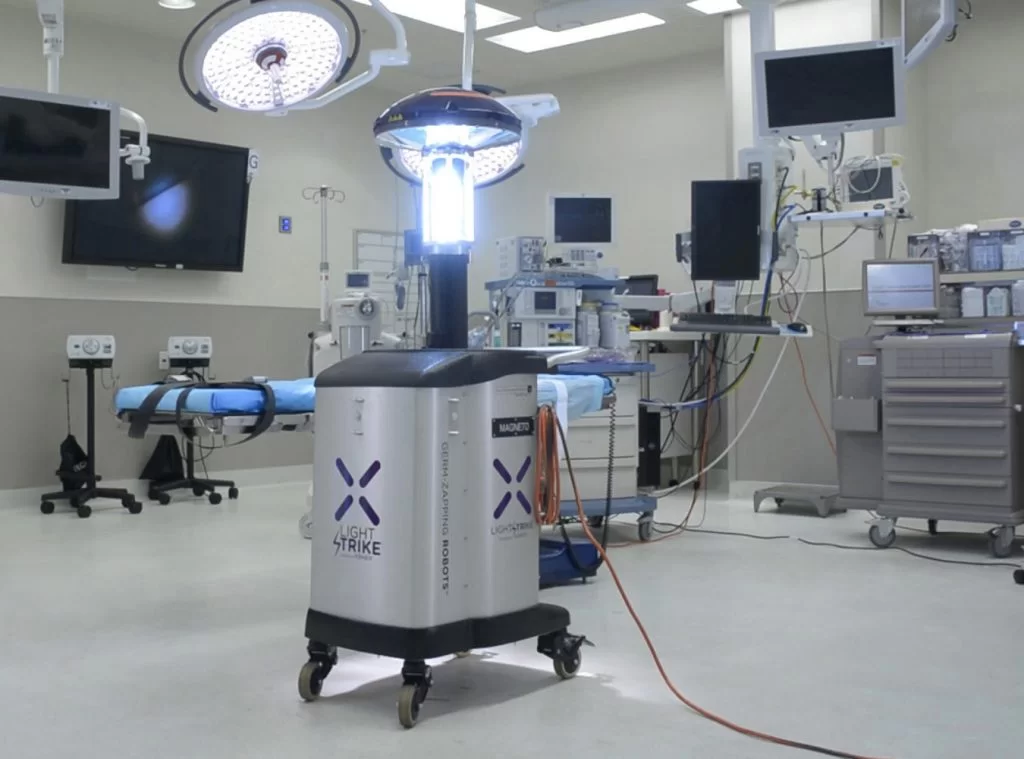 The University of Vermont Medical Center, a health system based in Burlington, is one of hundreds of U.S. hospitals that have purchased a disinfection robot. Sally Hess, U-V's manager of infection prevention, said the two Xenex Disinfection Services robots purchased last year add an "extra level of protection" to the hospital's infection-control program. It removes the element of human error, she said.
According to Xenex, their disinfection robot can reduce the HAI by up to 57% reduction in MRSA infection rate, 70% reduction in C. diff infection rates, 100% reduction in total joint SSIs.
Controlled study finds 47% C.diff, 52% VRE rate reductions with Light Strike.
VA researchers found that surface MRSA counts were reduced by 75 percent and aerobic bacteria colony counts were reduced by 84 percent in rooms disinfected with pulsed xenon UV devices. Manual disinfection reduced bacteria counts only by 25-30 percent.
Price:
Expected $90,000 up to $130,000
Skytron UV Robots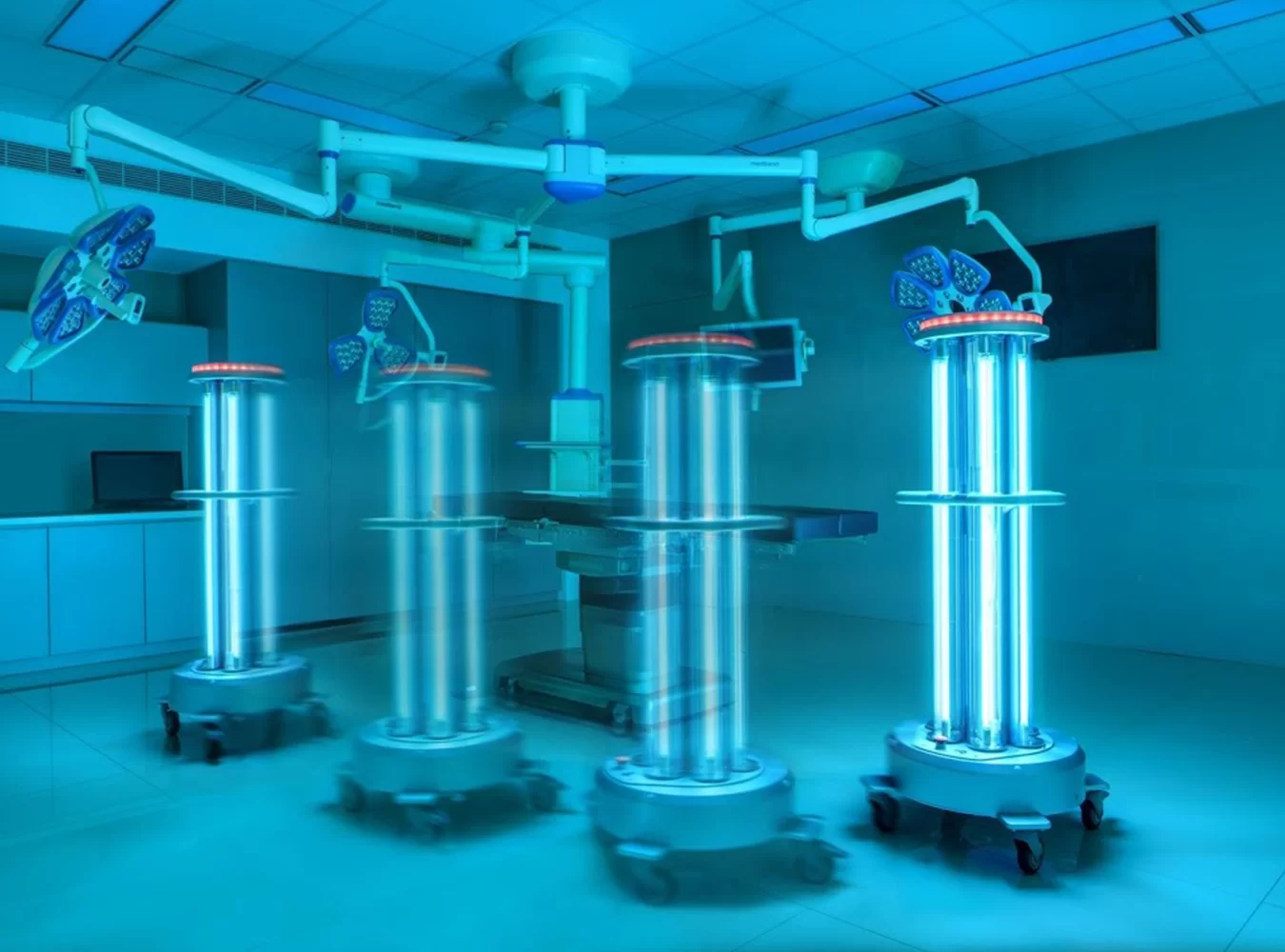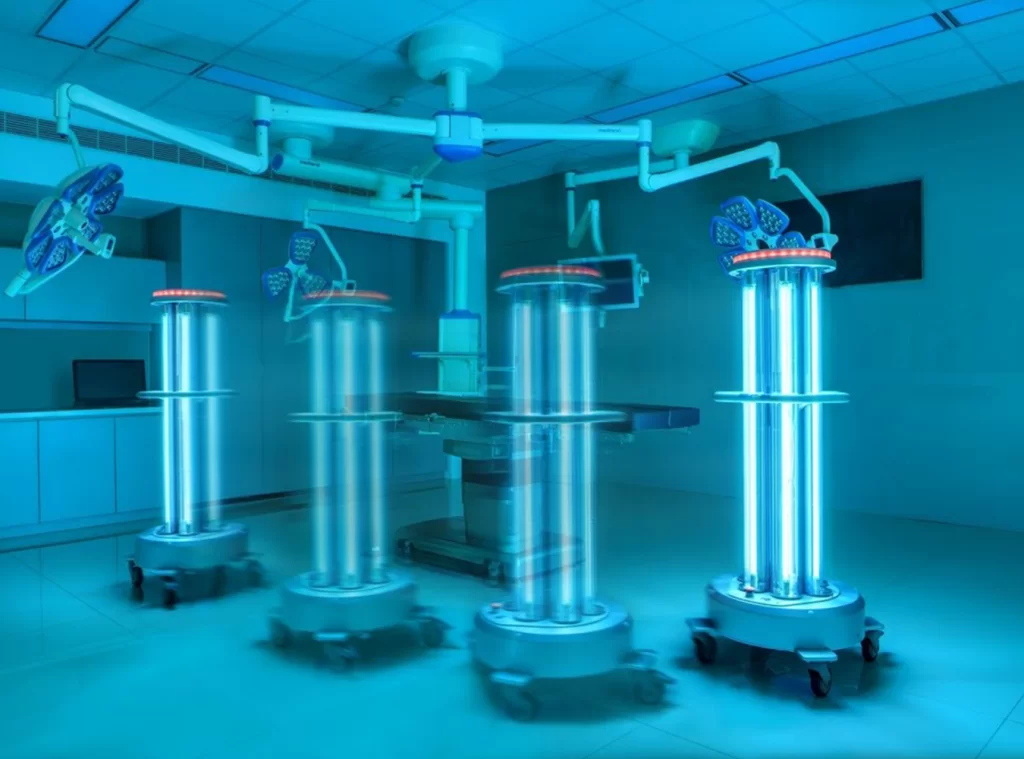 The IPT 3200 Max is the most powerful UVC light disinfection system in the world with its Power Boost UV technology. Ideal for health care facilities requiring maximum disinfection in the least amount of time, such as operating rooms, ICU, and isolation rooms.
More Robots: Home Cleaning Robots
The instrument can adjust UV dosage based on variables such as room size, layout, furnishings, and environmental characteristics. A user controls the device with a wireless handheld controller. The tech was originally developed by a company called Infection Prevention Technologies, which sold its assets and patents to the private Michigan medical company back in 2017
Single-cycle, whole-room disinfections
Disinfects direct, indirect and shadowed surfaces
Documented high clinical pathogen kill rates
No repositioning, no wasted time
Highest UVC dosage in the shortest possible time
Single-cycle, whole-room disinfections with assured germ-killing UVC dosage
Seamless integration into housekeeping workflow
Automatically calibrated run-time
Eliminates danger of under-dosing
Removes human error
Ensures thorough application of germ-killing UVC
Price:
Expected $80,000 up to $110,000
DiSa UV Robot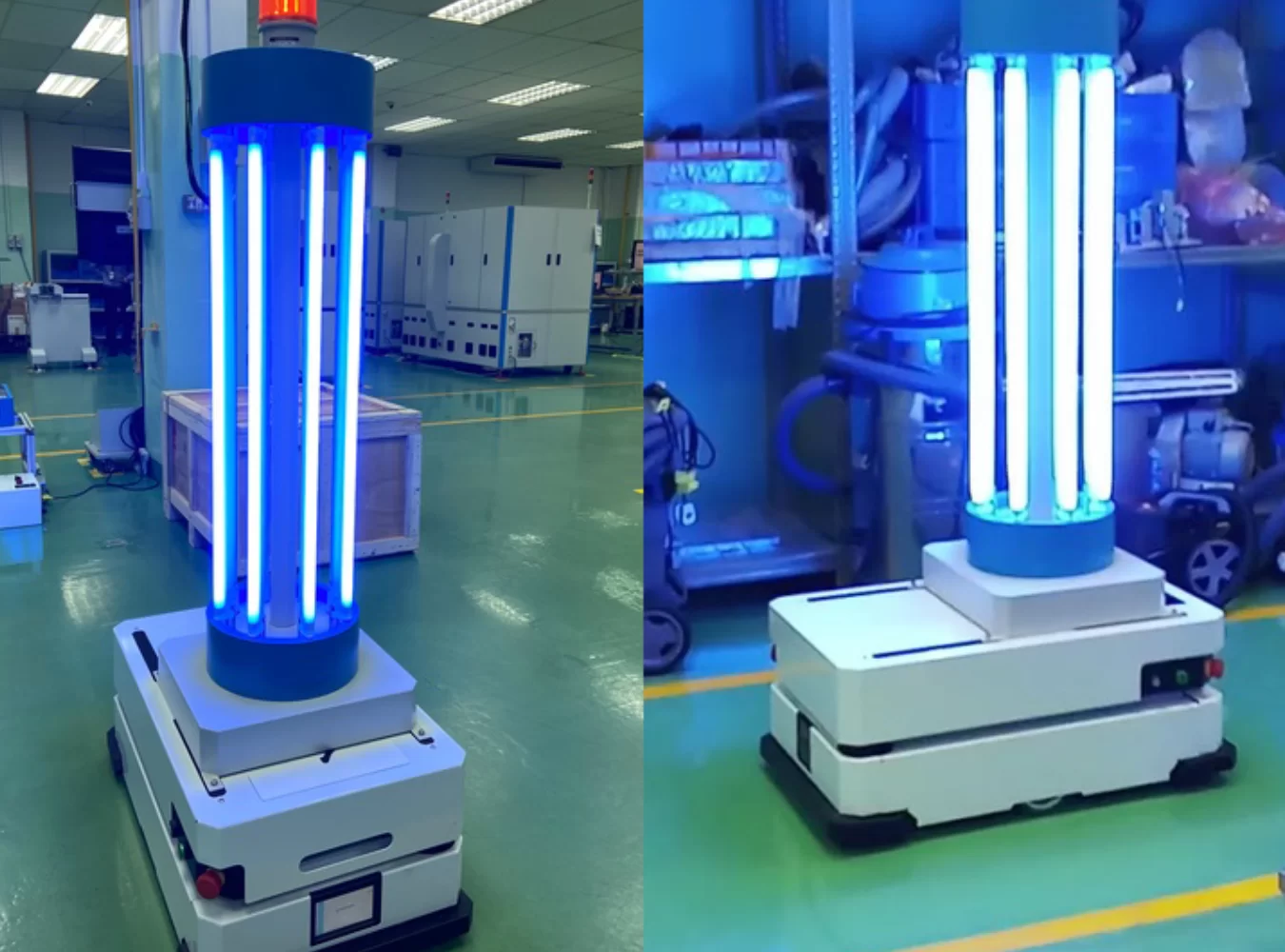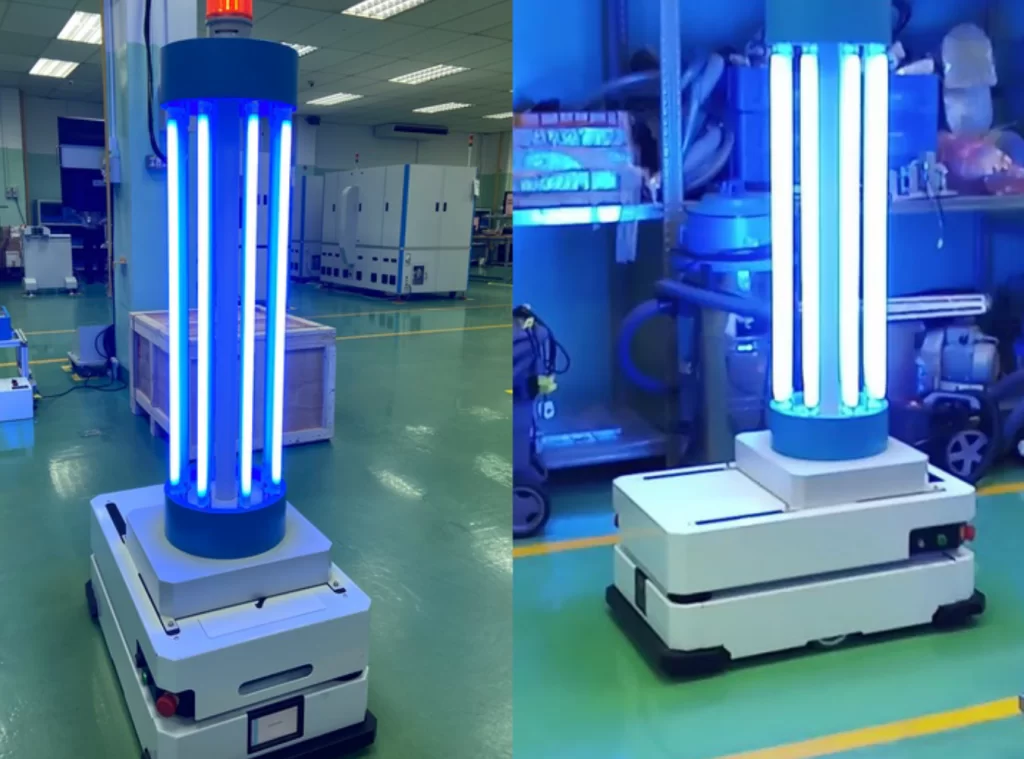 Singapore-listed company DiSa (apparently short for Digital Safety) Pte Ltd just unveiled the country's first UV Disinfection Autonomous Mobile Robot, an automaton built to counter the eruption of Covid-19 infections.
DiSa basically stuck some ultraviolet-emitting tubes onto a self-driving computer. The concept involves using a disinfection method that uses short-wavelength ultraviolet (UV-C) light powerful enough to irradiate microorganisms like bacteria and viruses to death. It's the same tech you see at those 10-minute haircut joints, where barbers sterilize their tools in UV light boxes.
The robot can make its way around rooms by itself as the UV-C tubes kill microbes in its vicinity.
Equipped with laser sensors, the robot is able to map out a room's layout before being able to automatically (and wirelessly) disinfect areas.
Equipped with laser sensors, the robot is able to map out a room's layout before being able to automatically (and wirelessly) disinfect areas.
It would take just 15 minutes for the machine to disinfect a room, though the company never specified the size of the room.
360-degree UV sanitization methods are extremely thorough, and are able to target hard-to-reach areas to ensure high hygiene standards are met, he declared.
Price:
Expected Price starts from $40,000 up to $130,000
Although no Conclusive evidence and research has been done yet to show how effective UVC can be, especially against Cod-19 except Chinese published papers and few other studies have shown that it can be used against cirrhosis such as SARS.
UV-C Safety Strategies
Common-sense safety strategies when dealing with UV-C lamps. Many HVAC/R and UV-C equipment manufacturers have voluntarily implemented safeguards against the risks of UV-C exposure. Instructions and signage advise service personnel that the UV system should be turned off before performing any work in the air handling unit (AHU). These safeguards include:
Placing warning labels near all access panels or doors to a plenum containing UV lamps, as well as on panels or doors adjacent to AHU sections where UV radiation may penetrate or be reflected.
Installing electrical disconnect devices on AHU lamp sections, so that the opening of any access point de-energizes the UV-C system. Some manufacturers include a door safety switch or lockout/tag out feature to keep the AHU closed until the UV lamp power has been disconnected. These safety devices should never be overridden
Instructing service personnel to never look directly at UV-C without adequate eye protection. Installing a view port is the safest way to view the light, as it will block the UV-C bandwidth. Ensure that the viewport is constructed from UL classified, fire resistant wired glass and is sized and located to allow an operating UV system to be viewed from outside of the HVAC equipment. Include proper safety signage to form a complete viewport/signage assembly.
Making it a policy to never enter the plenum where UV-C lamps are active. If it is absolutely necessary, wear personal protective equipment including UV safety goggles, UV face shields, long-sleeved, tightly-woven clothing that covers much of the body and gloves.
Home Automation

>>

Other

>>

Health

>>

UV Cleaning Disinfection Robots