They are one of the best robots that can defend and clean your home from germs, bacteria and viruses via UV Lights and mopping chemicals, some robots have limited capacity to perform certain things, and others are for the whole house.
List of Home Disinfection Robots
UV Robotic Vacuum Cleaner and Mop- Amatrix V600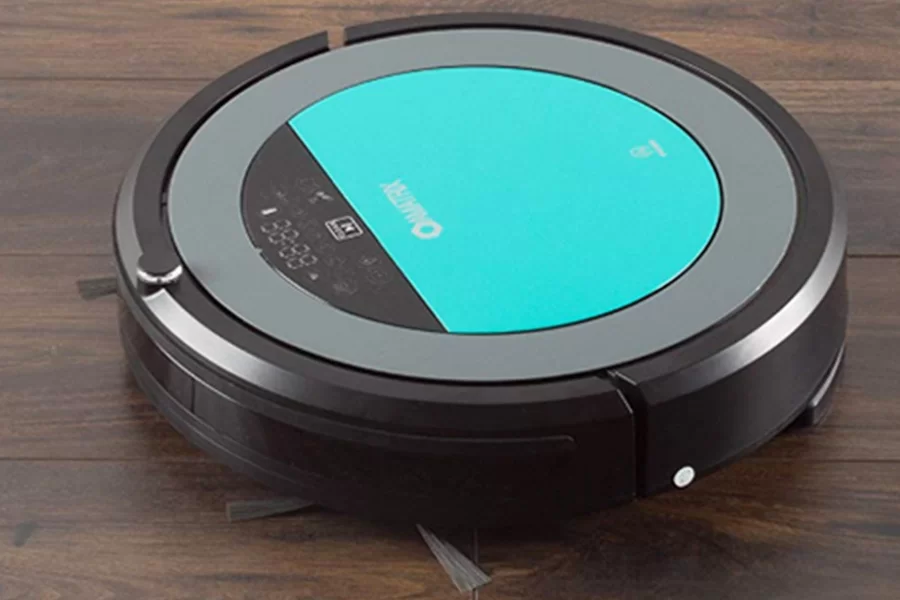 In the time of the novel virus-19, disinfecting your home against bacteria and virus might be the best option, this will allow you to protect your family and you to be protected in this present situation as well as for the future.
It will not only do UV Ultra-Light sterilization, but V600 Robotic Dual Vacuum Cleaner do cleaning and mopping without losing polished floors or clean carpet. This intelligently built dual vacuum robotic mop and can quickly conquer messes with advanced hard flooring or carp
Features:
The V600 has 2 powerful cleaning options: dry cleaning to vacuum floor/carpet, or wet cleaning to vacuum and mop hard flooring. With wet cleaning, the cleaner sweeps just before mopping and utilizes a programmable tank to protect floors.
Amatrix has intelligent operating features like scheduled cleanings, low-battery detection to automatically redock and recharge, adjustments to detect flooring type and required suction power, quiet operating noise and many more.
The robot cleaner uses infrared and cliff sensors that navigate your home and protect it from obstacles like furniture and stairs. It also has 4 smart sensor cleaning options for max efficiency: turbo, spot, wall following or full go.
With a UV sterilization light that disinfects while cleaning, HEPA filter that traps harmful allergens and pet dander, and 3D filter that prevents secondary air pollution, this is ideal for those with allergies or pets.
Lithium-ion 2200 mAh Battery, lasts up to 90min. Vacuum Mode Dust Bin Capacity: 0.9 L (30 Oz). Mop Mode Water Tank Capacity: 0.6 L (20 Oz), Dust Bin: 0.25 L (8.5 Oz). Remote requires 2 AAA batteries, not included.
More Home Devices: Home Cleaning Robots
Cons
Suction power can be weak
Does not map the house
Can get stuck in furniture
Price:
$189.90
iRobot Braava Jet 240 Robot Mop DUST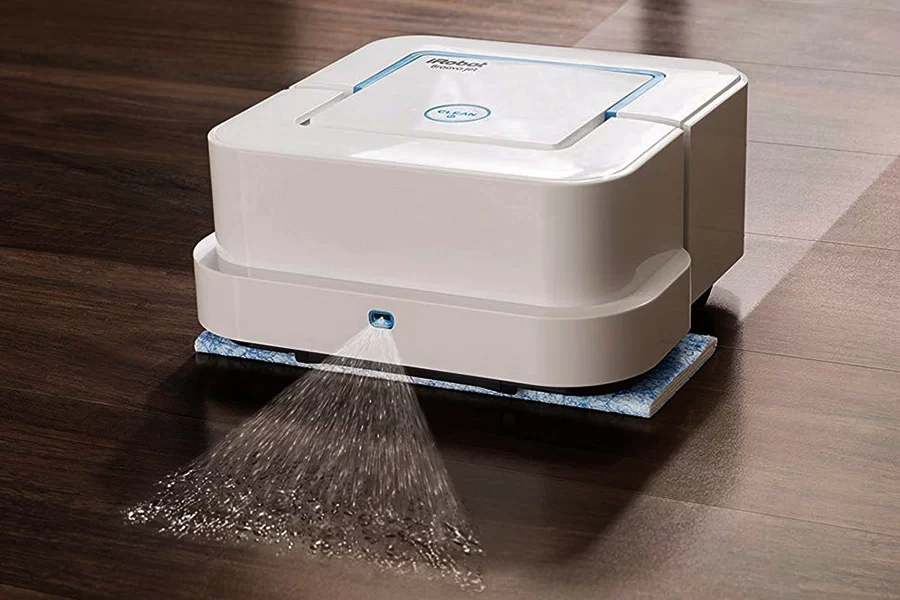 The iRobot Braava jet Mopping Robot tackles dirt and stains in hard-to-reach places, like under kitchen cabinets and around toilets. Just attach a Braava jet Cleaning Pad and the robot automatically selects wet mopping, damp sweeping, or dry sweeping. Braava jet is designed to clean hard floors including hardwood, tile, and stone.Fill the bottle with Hydrogen peroxide, citric Acid or EPA registered disinfectants chemicals and mop with them, it will allow to remove, germs, bacteria and virus on a mopped areas which lower the chances of having a human contact from them.
Normally kids or toddlers play at floor most of the time, therefore this would be best to use against them with this Robot all the time anytime, with no limit.
Main Features:
The Braava jet robot mop is designed to mop and sweep all hard floor surfaces, including hardwood, tile, and stone.
Precision Jet Spray loosens dirt and stains. Before it sprays, Braava jet searches for obstacles in its path to help protect furniture, rugs, and walls.
The robot mop's Vibrating Cleaning Head gently scrubs dirt and stains.
Braava jet mops and sweeps small spaces, such as kitchens and bathrooms, with an efficient, systematic cleaning pattern.
Braava jet automatically selects the correct cleaning method based on pad type. Simply attach the pad of your choice and press Clean on the robot.
Eject and discard Braava jet cleaning pads at the push of a button, without ever having to touch grime or grit.
Braava jet remembers obstacles in its path and slows down to gently clean along furniture and walls. Plus, Braava jet avoids stairs and riding up on rugs.
More Ai: IOT Devices on Healthcare
Cons
Tough stains required manual intervention in testing
Small coverage area
Additional cleaning pads can get expensive
Price:
UV Disinfection CleanseBot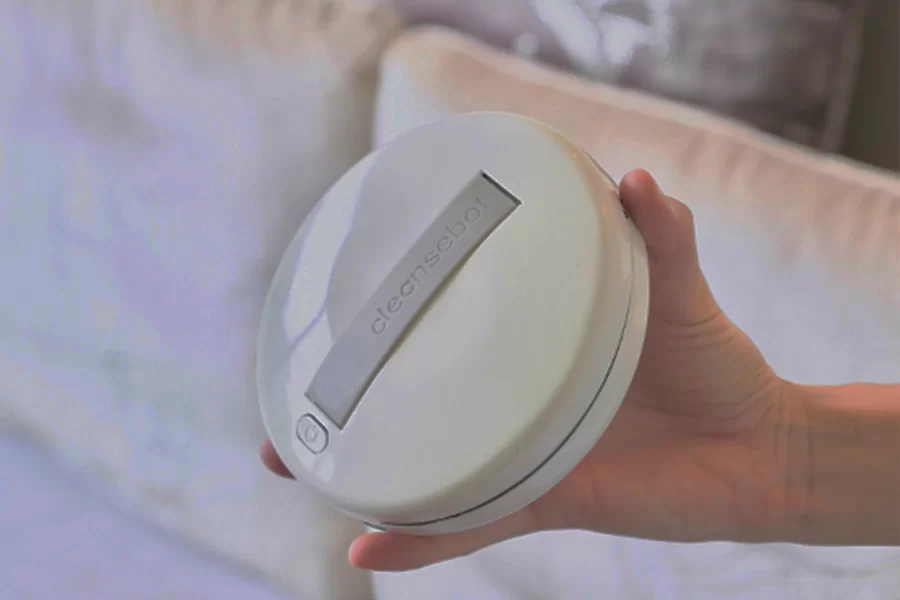 Especially in these desperate times, when we are hiding or cleaning as much as we can to disinfect places where we most touch, sit, sleep and so on, this one is the cleverest and targeted robot.
Cleansebot was built for travelers to bring and clean bed sheets, blankets, and so on, at the time of Covid-19, I don't think people should fly for a while, but to protect themselves and their families, cleansebot might play an important part.
With the help of UV Light, Cleansebot company claimed it can Kill 99.99% of bacteria and germs, but for Virus they didn't claimed anything about the virus being killed, however UV-C light has been proven in many studies to actually help prevent the spread of airborne viruses, too.
You can also take them anywhere you want to go, you can clean your groceries before you touch them, or clean car handles or most hot spot areas, home doors handles and etc.
Features:
CleanseBot is a smart robot with artificial intelligence and 18 sensors built in.
Four UV-C lamps to blast away 99.99% of germs and bacteria on any surface.
Just set the CleanseBot down on the bed, turn it on for either 30 or 60 minutes, and go about your day while it sanitizes and disinfects your bed sheets and blankets.
3 hours of running time
4 hours of charging time
3700 mah power bank
3 modes you can set
More Robots: Top 10 Personal Robots 2020
Cons
No warranty
Very New Invented Product So overall Reviews Are Not Available Right Now
Price:
UC Disinfection ROCKUBOT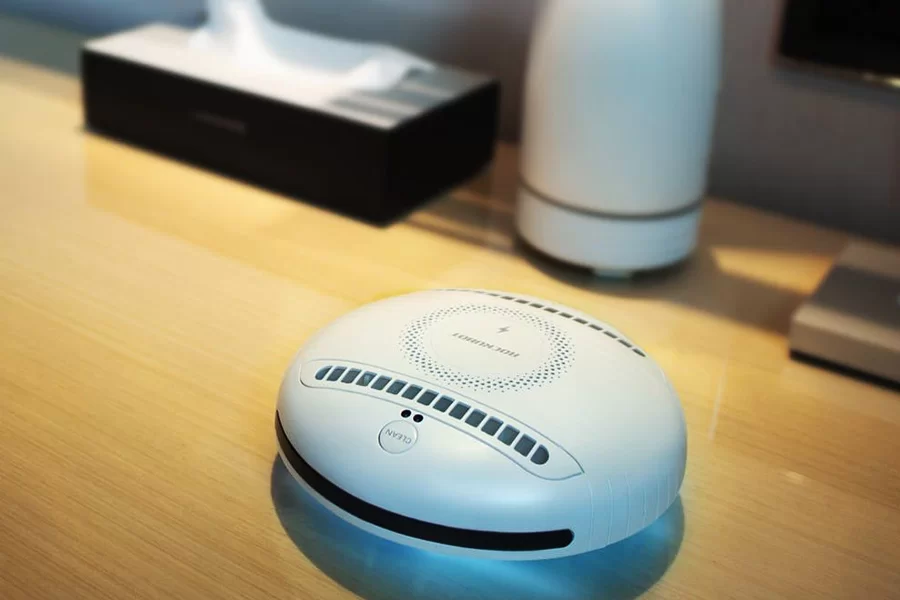 Similar design as compare to Cleansebot, with few enhancement and technology to make it attractive and comparatively better than their rivals.
Use UV-C light and ultrasonic wave technology, ROCKUBOT says it kills 99.99 percent of bacteria, germs and mites in a matter of seconds when traversing the home automatically.
ROCKUBOT easily cleans any room or even any furniture. You can also use this to clean portable products such as remotes, smartphones or laptops in manual mode.
You can carry with you anywhere with having a better charging capacity up to 5 hours of running time.
Features:
With 24 sensors that support smart mapping and navigation.
You can also use it in manual mode to clean handheld items like remotes, smartphones or laptops.
It's also a 5,000mAh power bank that can charge your devices via USB cable and a mobile Bluetooth speaker.
Four UV-C lamps to kill bacteria, germs and remove virus from any surface.
Cons
No warranty
Very New Invented Product So overall Reviews Are Not Available Right Now
Price:
Home Automation

>>

Other

>>

Robots

>>

Home Disinfection Robots