You are not the only one who has experienced the occasional sound cutting off of a Vizio TV. Many owners of Vizio TV have also expressed frustration with the Sound Cuts out frequently when using apps like Netflix, YouTube, Amazon Video, and others.
Your Vizio TV sound frequently cuts out due to a bad cable, a software issue, or a channel issue. Problems may each be approached differently and fixed quite fast without taking a lot of time or money.
I advise trying the first solution before moving on to the others, as most of the time this problem is resolved by just disconnecting and reconnecting the wires. So best of luck.
1. Disconnect Everything, Then Reconnect the Wires
Your Smart TV is probably connected to other devices to improve your experience if you're using one.
The secondary devices may have cable issues, which may be the cause of the sound glitches, which may leave you asking why the sound keeps cutting out on my TV.
It could be best to think about disconnecting and then re-plugging the cords to address the sound problems.
Here is how you do it:
Your TV's power cable should be disconnected.
Cut the coaxial cables.
Remove all of the home theatre wiring.
Disconnect all of the cords from the stereo receiver.
Remove all of the A/V receiver's cables.
To reattach all the cables, read the manuals.
You should first restart your TV to fix the sound after reattaching the cords to the proper ports.
2. Reconfigure Vizio TV Sound Settings
One of the main causes of frequent sound dropouts on Vizio smart Televisions is incorrectly configured sound settings. In that situation, you have to ensure that your sound settings are set up correctly.
Below are some sound settings to check that could fix your Vizio smart TV sound cut outs.
1. Turn Off Smart Sound Mode
You must first confirm that the Smart sound mode is enabled in your TV's settings. If so, you should first turn it off.
To achieve that, adhere to the steps listed below:
Using the Home/Smart button on your Vizio TV remote control, select the Settings icon to access the TV's settings menu.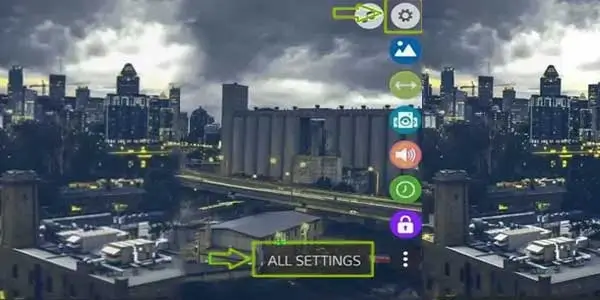 Toggle the Smart sound mode option to off by clicking the Sound tab.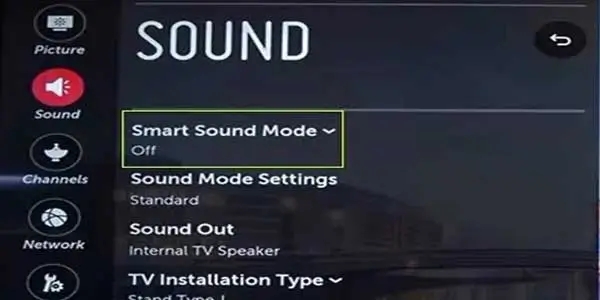 2. Switch Digital Sound Out to PCM
Some customers reported that by changing the Digital sound out settings from "Auto" to "PCM," they were able to resolve this problem.
Once more, go to Settings > All Settings > Sound on your smart TV to access the sound options.
Click "Sound Out" on the Sound options page.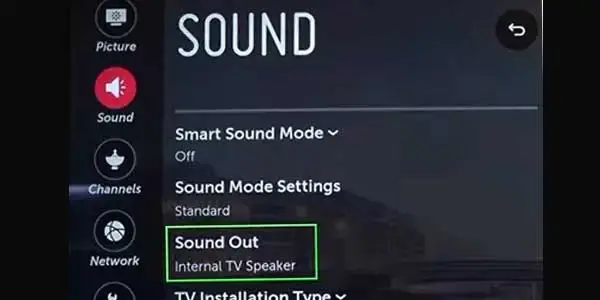 Set Digital Sound out to "PCM" by clicking on Optical. Disable the Vizio sound sync option as well.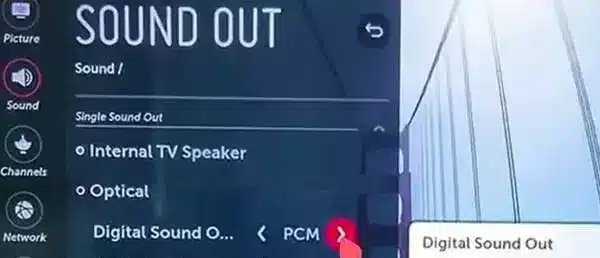 3. Turn Off AV Sync
You need to disable AV Sync under the Sound settings, and then check to see if that resolves the problem. A Vizio customer claimed that turning off Sound sync completely resolved the sound cutouts.
To do this, go to Settings > All Settings > Sound > Sound Out.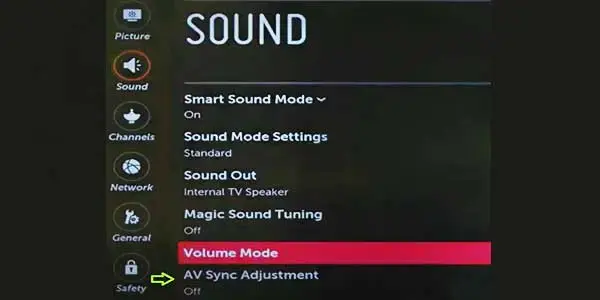 Toggle AV sync adjustment off
4. Switch Sound out Options
On your Vizio TV, there are several "sound out" choices available. Some customers of the Vizio claimed that only when using Dolby Digital or anything related to TrueHD do they encounter sound cut outs.
You have the choice to use optical and HDMI ARC in addition to the built-in TV speaker.
Therefore only use the Optical sound out option in particular in this case. You are completely mandating stereo mode only on your smart TV by doing this.
3. Switch HDMI Port
First move the cable to another HDMI port on the TV if HDMI ARC is the reason of the Vizio sound dropout problem. On your Vizio smart TV, you can face sound dips or, in rare situations, no sound at all if the HDMI port is broken.
Therefore, try connecting the HDMI to another port.
To establish a strong connection, Make sure it is positioned correctly in the holes and is not moving at all. Moreover, be sure to return the sound output settings on your TV's sound menu to HDMI.
4. Premium HDMI 2.1 Cable
The most frequent cause of sound cut out on Vizio and other brands Televisions has been the usage of non-premium HDMI cables. Thus, many customers have been able to resolve the frequent drop outs by purchasing a high quality HDMI 2.1 cable.
Only use of the Premium certified HDMI cable is strongly advised among the many varieties of HDMI cables. The Ultra High Speed HDMI cable is another option.
By the way, don't confuse or believed that just because your HDMI cable displays premium content does not imply that it is a genuine premium cable. For the communication protocols ARC and eARC, which are especially important for high resolution audio, premium 2.1 HDMI cables offer a larger bandwidth.
5. Performing a power cycle
The power cycle is the fundamental stage in resolving your Smart TV's general issues.
If the volume on your Vizio TV isn't working or is stuck, one of the first things you should do is to power cycle the device.
Just simply disconnect the TV from its power source, wait 60 seconds, and then reconnect it. Check to see if the volume problem has been repaired after restarting the TV.
1. Soft Reset
However we recommended do this way as stated below:
You must wait the entire 60 seconds to get the most out of this. By pushing and holding the power button, you can now turn on your Vizio TV. You will be able to drain any leftover electricity that has accumulated in your TV's capacitors by doing so.
Be patient and reconnect it after at least a minute.
It only takes a few steps for the TV to totally soft reset itself. Using the remote is more than just turning it on and off!
After plugging in the TV again, you should start hearing sound again.
In case the sound problem hsnt been fixed then continue to do the next option which is hard reset or called Factory reset.
2. Factory Reset Vizio TV
After turning on the TV, click the Menu button.
The "System" option should be within the menu. Click it.
Select "Reset & Administration" then "Reset TV to Factory Defaults". Before resetting the Vizio TV, the TV may ask for a code. There is a default code of four zeros, 0000, if it does.
You will essentially be resetting your Vizio TV to its factory settings.
6. Update TV System Software
Updating your Vizio software to the most recent version is another tried-and-true method of solving the problem.
Follow the steps below to check for software updates and install them, if necessary:
Press menu button on your remote control.
In the top right corner, select the Settings icon. At the bottom right, select the All Settings icon.
Click on the Admin and Privacy.
Click Check for Updates to access the TV's current software version (you may alternatively set "Allow Automatic Updates").

If an update is available, download it and give it time to finish installing.
Your TV should automatically reboot after installation.
The sound on your Vizio TV should now be flawless.
You can use the manual update option if you run into any problems while attempting to update your software:
Start by clicking here to access the software & drivers help page from your PC.
To search for your device model number, type it in and then choose it from the results.
Put a USB drive in your computer and give it the folder name Vizio TV.
Continue to download the zip file containing the newest firmware to your computer.
Open the zip file you just downloaded, then extract all the files into the "Vizio TV" folder it creates on your USB device.
Eject the USB drive from your PC once the extraction process is finished, then place it in your TV's USB port.
NOTE: For your TV to find the folder on your USB device, the name must exactly match what is seen above.
The TV will indicate USB UPDATE READY if the file is named properly. Choose Install.
After the setup is finished, turn off your TV for 10 seconds, then turn it back on to finish the update.
7. AVR Software Update
If your AV receiver's software is out-of-date, you should update it to the most recent version. Also, some users said that this resolved the problem.
There is an issue with compatibility between the smart TV and AV receiver in some situations. On certain popular receivers, these problems have been resolved by software updates.
Hence, check for and install any available software upgrades on your AVR. Once finished, the problem ought to be resolved for you.
Other Issues:
HDMI Audio Cuts Out Intermittently
Don't panic if your HDMI audio visual signal is broken, not functioning, or keeps dropping out. Most likely, nothing seriously incorrect is present. Simple cabling problems or a loose connection on the back of the AV source device could be the cause.
You can find other solutions as well on Vizio TV such as no sound but not muted, Volume fluctuation or up and down. find out the a separate guide.
Home Automation

>>

Home Theater

>>

Other Home Theater Devices

>>

Vizio TV Sound Cuts Out Frequently – Troubleshooting Methods