So far there is no Wi-fi Door Lock with Camera available at the market, however a doorbell with camera is available in detail.
Other than that a Wi-Fi Locks are available at the market, choose from listed lock reliable, durable tested products.
Yale Keyless Connected Lock
The Yale Keyless Connected Smart Door Lock gives you freedom to secure your home without the need for a key. Simple to use and gives you complete control on how you unlock your door.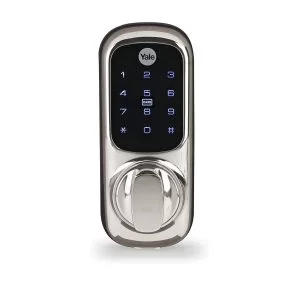 Technical Specs
Keyless
One Touch Control
Easy to fit
Tamper Alarm
Use a mix of up to 20 PIN codes, key tags and key cards
Enhanced security to prevent unauthorized access
Battery powered
24 hour PIN code for visitors
The Keyless Connected Smart Door Lock is compatible with most 60mm backset Night latches. Making it a quick and easy installation.
Open your door via PIN code, key card, key tag, remote fob and even from your smartphone when connected to a smart home system
Price
Conexis L1 Smart Door Lock
The Smart Door Lock that puts you fully in control giving you the freedom to secure your home without the need for a key.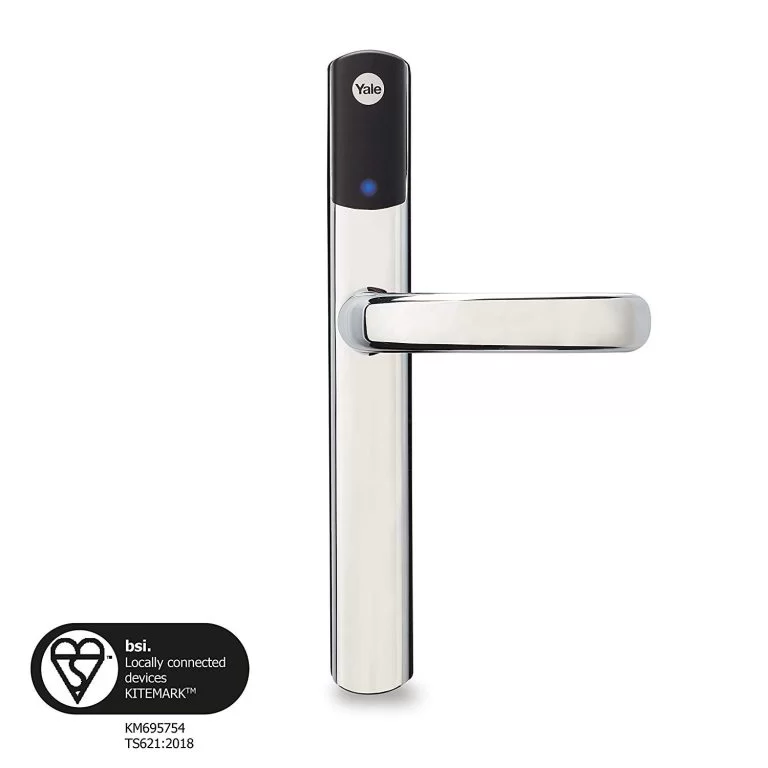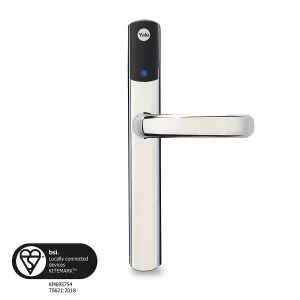 Technical Specs
Control access from your smartphone
Keyless
Battery powered
Know who comes and goes
The Yale Conexis App
Integrating your Conexis L1 Smart Door Lock with the Z-Wave Module 2 allows you to connect and control your lock using Samsung SmartThings, opening up a whole new range of features
Price
ZKTeco
ZKTeco DL30B Bluetooth smart lock is designed to be "Real Smart". It provides the best user experience by connecting your smartphone to your lock. You can either unlock or track entry data with your smartphone on our App.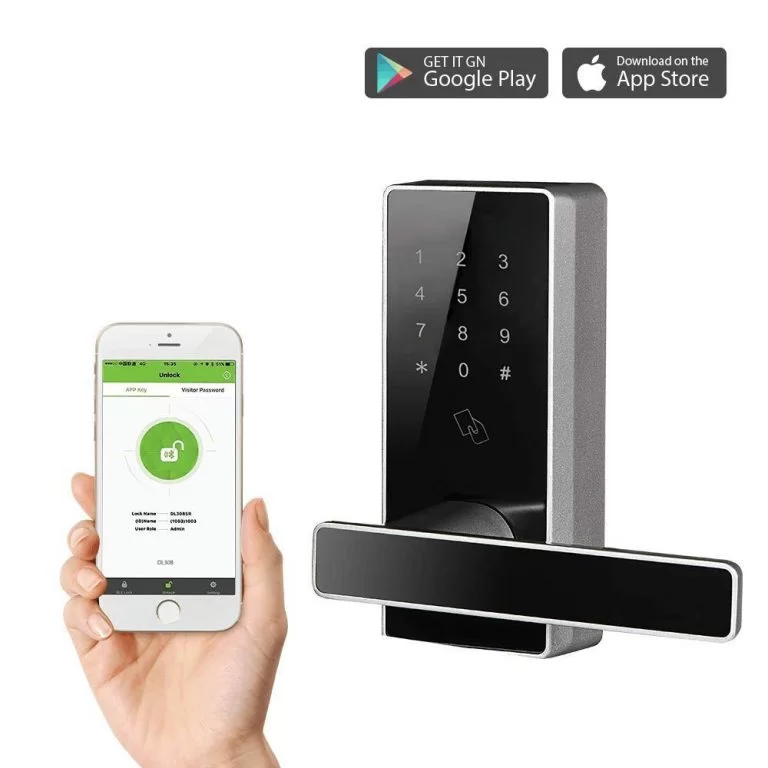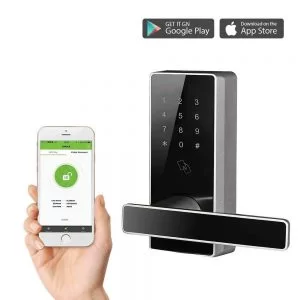 Technical Specs
The Bluetooth lock could be unlock with 4 ways: Bluetooth +digital password+ 5 RFID cards+ 2 keys
Use smartphone to operate the function, administrator could set unlocking time for house cleaners, visitors, your friends or others, they could unlock the Bluetooth lock in a few hours, a week, or just specific times of the day
Remote control, you can unlock the door within 15 meters.
Battery powered
Create temporary password anywhere
Price
OpenEdge RG – Deadbolt RemoteLock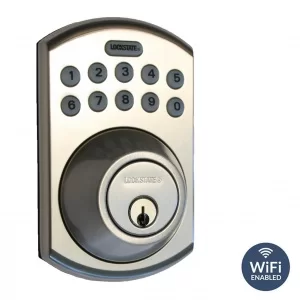 Technical Specs
Connect directly to your existing Wi-Fi signal
Manage your guest's access from anywhere
Edge State software lets you manage access from anywhere, receive alerts and notification
Receive emails or text messages when your guests arrive, or anyone accesses your property. Up to 1000 user codes or guest codes available to store in its memory
Price
Schlage Connect Century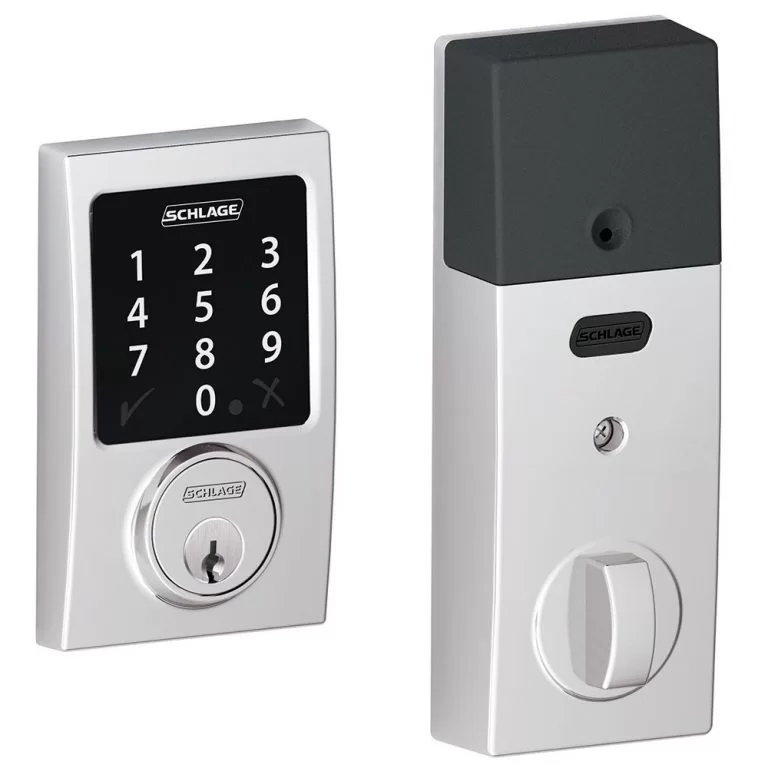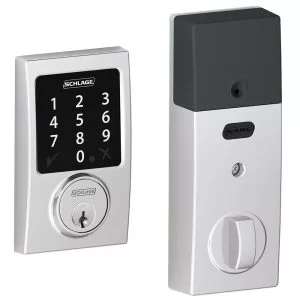 Technical Specs
Enter with an access code instead of fumbling for keys
Easy to get started with Schlage Sense app
Easily share access with trusted friends/family
Easy to pair with your smartphone through Bluetooth Smart technology
Battery-operated no hardwiring required
Still accepts access codes on touchscreen during home power outages
Lock/unlock from anywhere on iPhone and Android smartphone with Schlage Sense Wi-Fi Adapter**
Holds up to 30 access codes
Price
Nuki Combo 2.0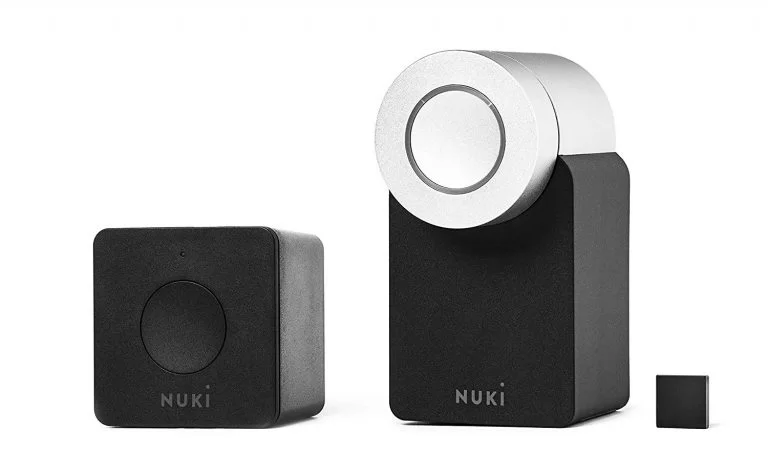 Technical Specs
Open and close your front door with a simple swipe on your smartphone (iOS & Android) or smartwatch
Remote controlling via Nuki Web or Nuki App
Works with Apple HomeKit
Your door opens automatically when you come home
With the Nuki Bridge over Wi-Fi from a distance and lock up
The door sensor allows the Nuki Smart Lock to show not only the status of the lock cylinder, but also whether the door is open or closed
Price
Kwikset Kevo Touch-to-Open Smart Lock (2nd Gen)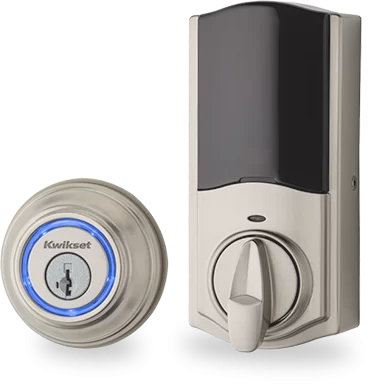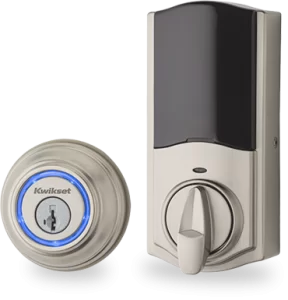 Technical Specs
Touch-to-Open Smart Lock powered by your smartphone and Bluetooth
Your keys is now a thing of the past
Bluetooth-enabled deadbolt can be locked or unlocked by touching the exterior side of the deadbolt
Kevo (2nd Gen) also comes with In Home Locking & Unlocking from your smart device within Bluetooth range of the lock
Works with Alexa voice commands
Price
Nest x Yale Lock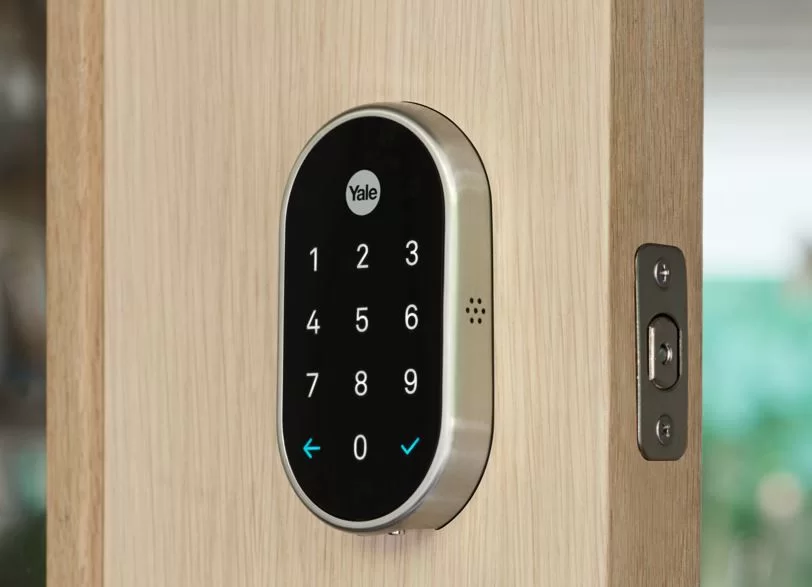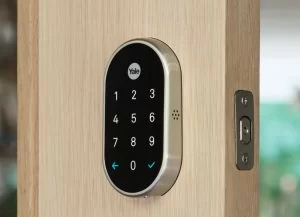 Technical Specs
Key Free Deadbolt
It can lock automatically when Nest knows you're away
Tap anywhere on the keypad to lock the door behind you
Low Battery Alerts
Lock and unlock from anywhere using your Nest app
Give passcodes to family and guests. Set schedules to let them in
Works with Nest Secure Alarm System
Price
Friday Lock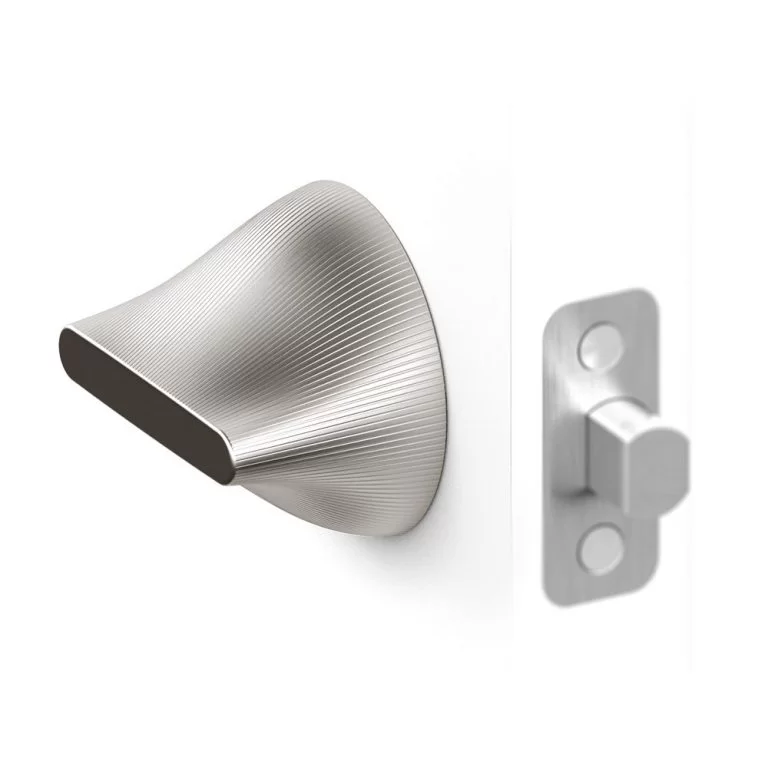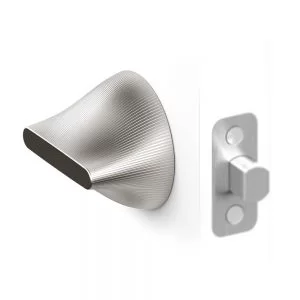 Friday Lock securely connects to your phone wirelessly, giving you the ability to lock or unlock your door as you leave or approach and effortlessly share access with friends and family.
Technical Specs
Keyless
Control all your locks and grant or deny instant access via Friday app
Issue keys to friends and family in just seconds, and revoke them again whenever you need to
Apple ® HomeKit ™ allows you to connect through any Apple device and use the same HomeApp for all your appliances
Works with Ios and Android
Price
August Smart Lock Pro + Connect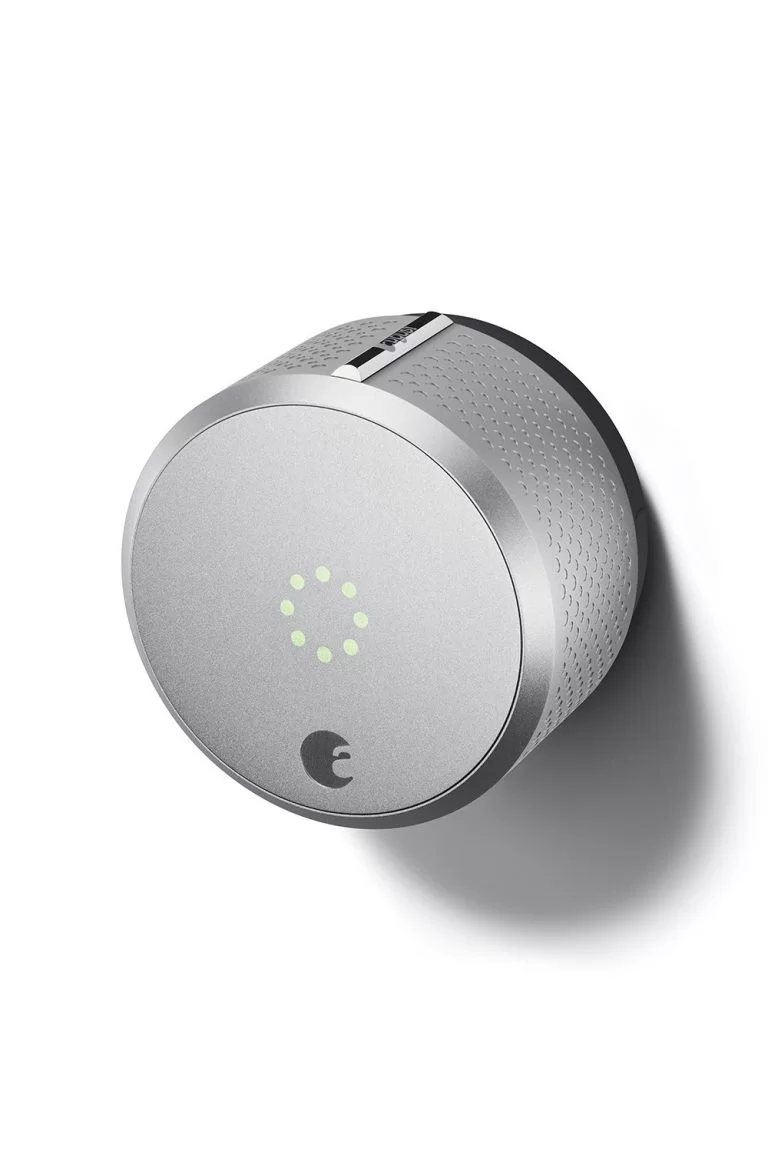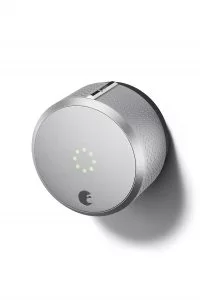 Easy to install. Supports Bluetooth, Wi-Fi, and Z-Wave. Comes with a door sensor and a Wi-Fi bridge. Works with Alexa, Google, and Siri voice commands. Geofencing and IFTTT support.
Price
Home Automation

>>

Home Automation Complete Systems

>>

Security system

>>

Wi-Fi Door Lock with Camera