These are the best on demand wireless home alarm systems in UK
Simplisafe
It's here. The all new SimpliSafe. At half the size and double the range, it's practically invisible. And at five times faster, fifty percent louder, and loaded with safeguards, it's the most powerful SimpliSafe ever.
Easy DIY installation and professional monitoring service. You're in complete control of your SimpliSafe home security system.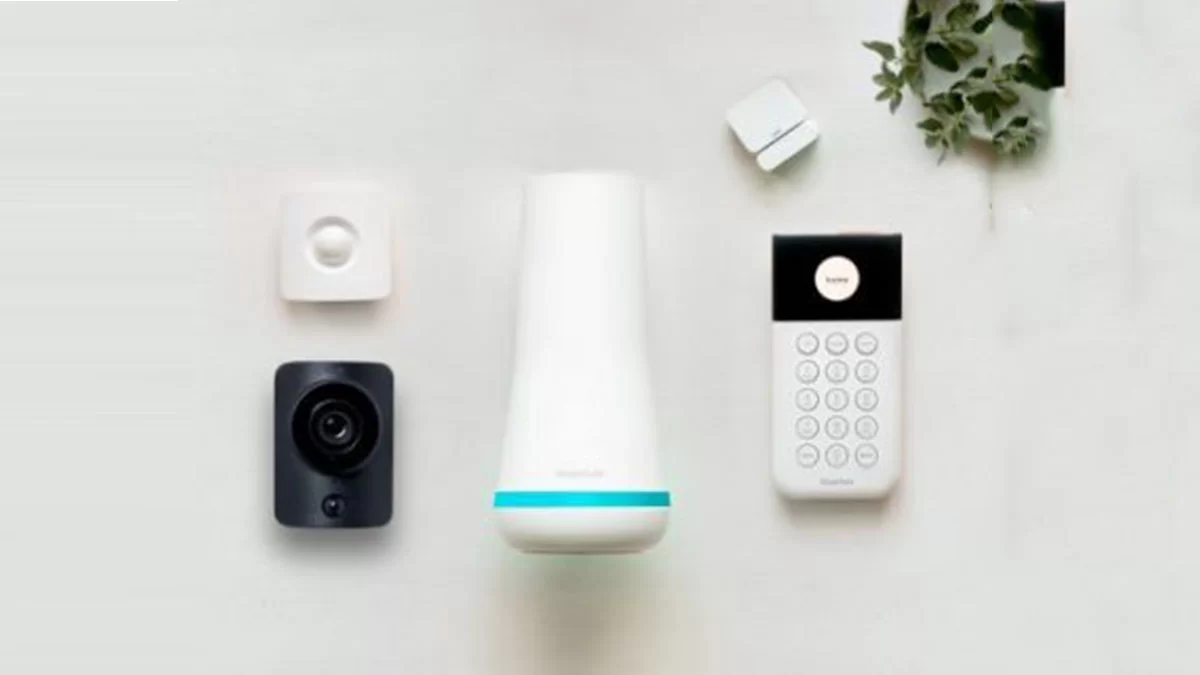 It has five preselected equipment packages, ranging from £279 to £504. If you don't find a good match, you can skip the packages altogether and build your own system.
Features
An intruder can damage the keypad, doesn't matter, simplisafe still alert the emergency responders, Sorry, bad guys.
In a power cut, a back-up battery, kicks in and protects you for a full 24 hours.
From sensor to Base Station to monitoring centers and back, your signals are encrypted.
Detects fires
Motion sensors to detect the unique heat signature of humans, not pets.
Custom built long-range micro antennas, so you get practically invisible sensors that cover any home.
All new touch-to-wake keypad. Lights up, when you need to see it. Goes dark when you don't, it doesn't need to be plugged in, so you can put it anywhere you like.
Good
Affordable monitoring
Easy DIY installation
Security camera included in every package
Voice control with Amazon Alexa or Google Assistant
Bad
No external siren
Higher upfront costs
Price
Yale Sync Smart Home Alarm Family Kit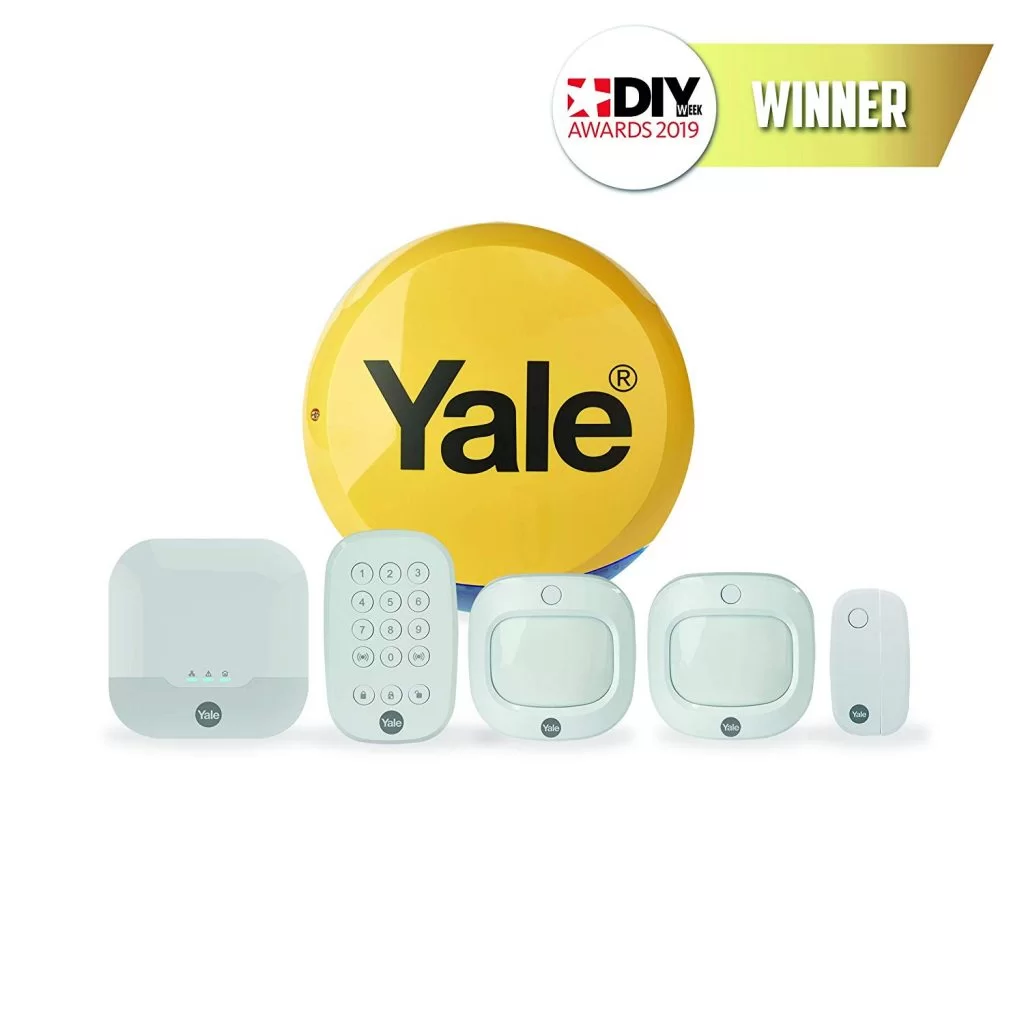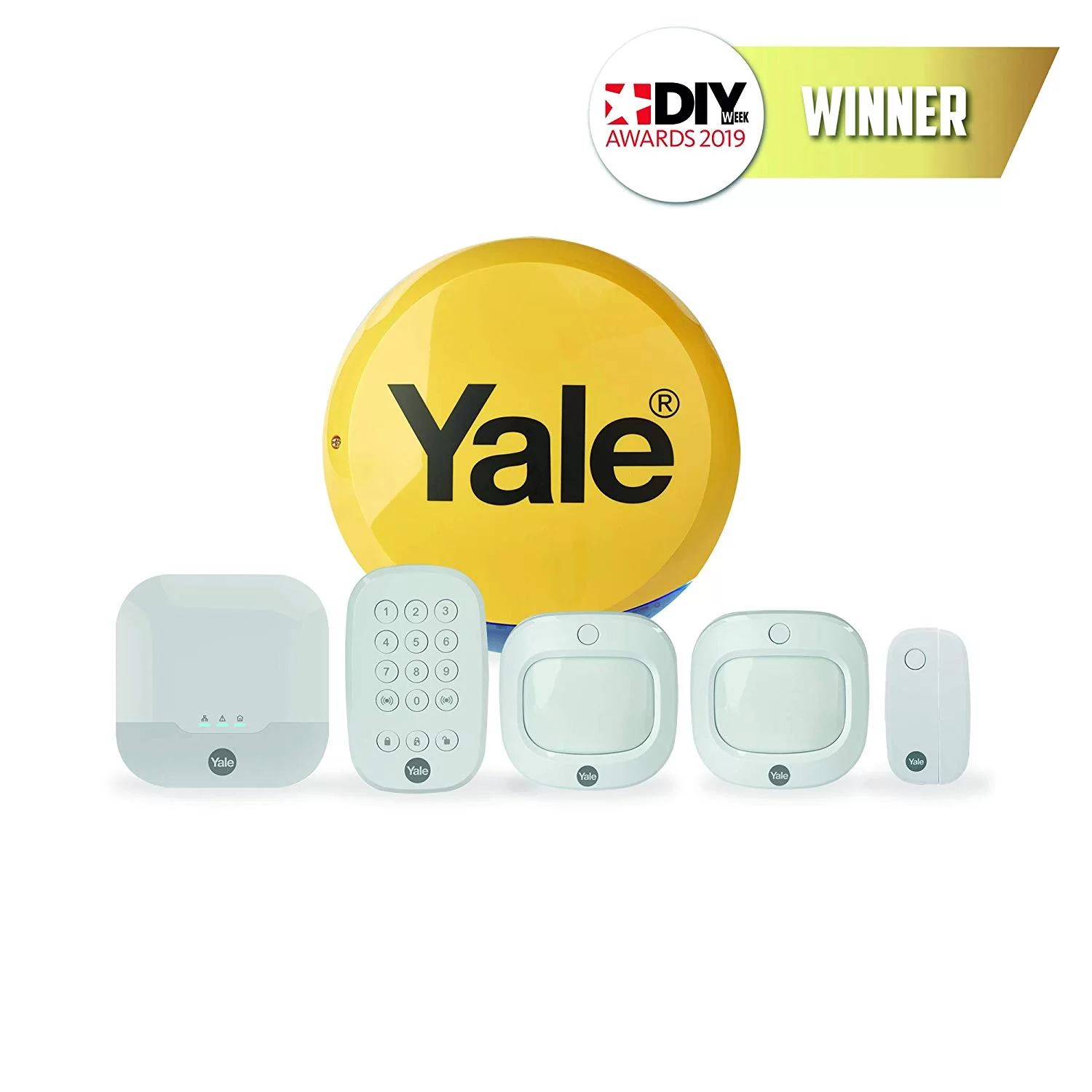 The sensor-based Yale Sync includes a pair of passive infrared motion sensors (PIRs), a single window or door sensor (you can buy more online) and a fixed keypad to arm or disarm the system. If it spots an intruder, the whole house will know about it, courtesy of the 105dB, battery-driven sensor. This is bright yellow and sits on the front of your house to scare away would-be intruders.
The whole system communicates through a bundled Wi-Fi smart hub, which has a whopping 200m range. So far, so good.
Features
Use your smartphone to arm, disarm, configure and control your Smart Home Alarm system anytime, anywhere
Receive picture alerts and notifications from the PIR Image Camera if the alarm is triggered
Expand your Smart Home alarm with additional accessories, including a power switch to turn home appliances on and off remotely (i.e. a lamp or radio) and a PIR image camera to view images from inside your home
DIY Friendly
Direct alerts and self-monitoring mean that there are no monthly fees to pay.
Works with Alexa and Philips Hue
Good
Easy to install if you are used to DIY and drilling holes
Easy to arm and disarm
Good range
Bad
Expensive
Rebooting requires frequently
App is not user friendly
Price
Thustar Professional Wireless Home Alarm System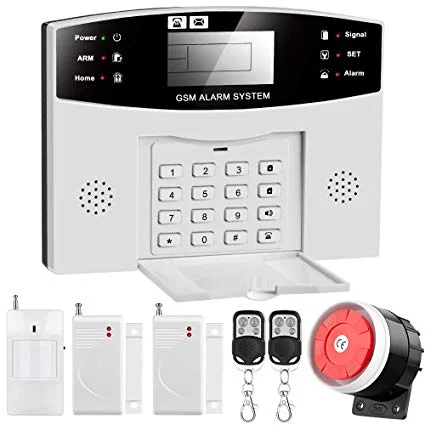 One of the best home wireless alarm systems, it has everything that make the home a safe and secure in every manner, has got a five star rating with an excellent zero compromising quality.
Features
Support 8 wired and 99 wireless defense zones
Support max 5 remote controls
Defense Zones types: Real-time, delay, 24 hours, bypass programming function
Can be preset 6 phone numbers and 3 SMS numbers
Easily make calls by using keypad on alarm panel, just like a telephone
10-seconds automatic voice message recording, the mini siren up to 110dB
Built-in artificial intelligent digital voice announcer and English message
3 groups of timely arm and disarm
3 ways to remote control the alarm panel: Phone, SMS, Remote Control
One-key-control: Away arm, Home arm, arm by remote controller or phone call
SOS, fire,door, hall, window, balcony, and boundary places alarm
Support other various sensors, such as water detector and etc in our shop
Good
Requires very low maintenance
Easy to setup
A great alarm system that gives options you would only expect from a higher end system.
Great piece of kit and works well
Bad
No warranty
Only work with 3g and 4g network
Little or zero feedback
Price
Somfy One+ Alarm System
The Somfy One + wireless alarm system is plug and play and has everything you need to protect your home including a full HD camera, siren, motion detector and privacy protection.
The Somfy One + features a long lasting built-in battery that stays working for up to 6 hours. As a result, the Somfy One + protects your home even when the power fails.
If something happens during the power outage, the Somfy One + will trigger its built-in siren and begins to record immediately. The Somfy One + also comes with one door/window contact and one key fob.
Features
Full HD video camera; pin-sharp images that ensure nothing escapes you
90 DB siren: fully integrated and loud enough to scare off intruders
Motion detector: the camera starts recording as soon as it detects movement
Active privacy shutter: your private life is automatically shielded
Plug and play: the system is active and you'll be done within 10 minutes!
Compatible: so you can expand it with various nifty Somfy Protect accessories
Backup battery up to 6 hours
30 seconds image recording upon motion detection
Download the video clips for free or upload to Dropbox, Google Drive or OneDrive
Good
Easy to set-up
Incredibly loud
High quality camera
Bad
App glitches
Very expensive
Not enough features without contract
Price
Y-Cam Protect Alarm System
It's a complete home security system designed to protect your property and family. It is an easy-to-use, smart wireless alarm system that you can arm or disarm from your phone.
It provides total control and flexibility of your home security needs, notifying you instantly² of any alarms. Combine your Y-cam Protect Alarm with the Y-cam plus service to stay powered and connected during blackouts.
Features
Control your alarm system from your smartphone via the free Y-cam app on iOS or Android
Push alarm notification
Integrates seamlessly with your Y-cam camera to see what's happens when your alarm is triggered
Wire-free installation with 'stick-and-go' sensor set up
Use your voice with Amazon Echo to control your alarm system when your hands are full. You can arm/disarm, set home mode
24/7 connected over mobile networks using the built-in SIM card when your broadband connection is down so your home security remains active
Y-cam call¹ you when your alarm is triggered
Good
Easy to install
Get almost all services and features with just £6 UK sterling pound
It works adequately without getting plus service
Bad
Requires frequent replacement after sometime due to low built quality
Price
JC Wireless GSM & WIFI Security Alarm System
The burglar Security Alarm Kits support WIFI/GSM/GPRS/2G(can be used 3G or 4G network, But the network transmission of the system is 2G)Intranet Alarm.
System supports Different Alarm Channels (APP Push / SMS / Voice monitoring / CHENG SECURITY home and business alarm system complete with fully programmable alarm host and sensors.
Features
Support APP Remote Arm/disarm, parameter setting and accessory management
Support up to 100 Learning/Storage Location for Remote Control and Wireless Detector
Record 20 Seconds Alarm Voice, if alarm occurs, the alarm host will dial preset number and play the record voice
Can set automatic arm/disarm time according to your own routine time, avoiding repeated operation or miss arm/disarm
Support Timing Arm and Disarm
Support WIFI/GSM/3G/GPRS Intranet Alarm System.
Support Different Alarm Channels (APP Push / SMS / Voice monitoring / intranet center Alarm, to ensure the alarm performance stable and reliable)
Support 5 groups preset alarm phone number, SMS on/off and dial on/off can be set respectively
Support SMS Alarm/Disarm and Voice Alarm/Disarm
Good
Easy to set up
Value for money
DIY installation
Works perfect in emergency situation as it required to do so
Bad
Lazy customer feedback
No support as much after sale
Compatibility issues with other products
Price
ADT Burglar Alarm systems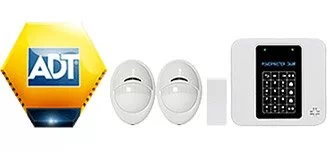 Every ADT security package is designed to help protect your home in a way that works for you and your budget. Whether you want just the basics or all the bells and whistles, our experts can help you customize our alarm systems to fit your home.
You're choosing protection that features the very latest security technology – because only the best is good enough when you're securing what matters most to you.
Features
24/7 alarm monitoring
Remote arm & disarm
Customizable alerts, schedules and automations
Video surveillance
Record and save video clips
Fire, flood and carbon monoxide detection
Z-Wave technology
Good
Guaranty for 6 months for everything's included
Works perfect
Good customer service
Low-cost contract-free option
Bad
You need to call to get exact pricing
Key features like cellular backup cost extra
Moving costs are high
Price
Friedland Response SL2
An alarm system that allows for multi-user control by accessing the system through a small keypad using a four digit code. Ideal for small and medium homes.
Friedland now introduce a new range of wireless alarm systems, using the more secure 868MHz frequency that is less prone to interference from other devices than systems operating on 433MHz. The higher antenna output provides a stronger transmission enhancing the performance and range from the control unit to the accessories.
Features
​Suitable for the family home
Self-learning accessories for fast and easy installation
Advanced 868MHz technology
Energy saving Solar Powered Siren
125m range
Good
Easy to install
DIY installation
Good value for money
Bad
Lazy customer feedback
Glitches when the time of responding in case of intruder
Price