All these are smart light dimmer switches compatible with Apple Homekit, list include 0ne-way to 3-way pole switch, offering scheduling, Day & Night mode feature and many more in detail below.
Here Are The List of Apple Homekit Dimmer Switch
Lutron Caseta Smart Home Dimmer Switch
The Lutron Caséta dimmer switch uses simple connection technology to make connections easy and secure for wireless communication to the included hub. This dimmer switch has built-in brightness controls and adjusts with the Home App from Apple, the Caséta App, or any of the prominent voice assistants. Without a neutral cable, this dimmer even works, which is perfect for older homes.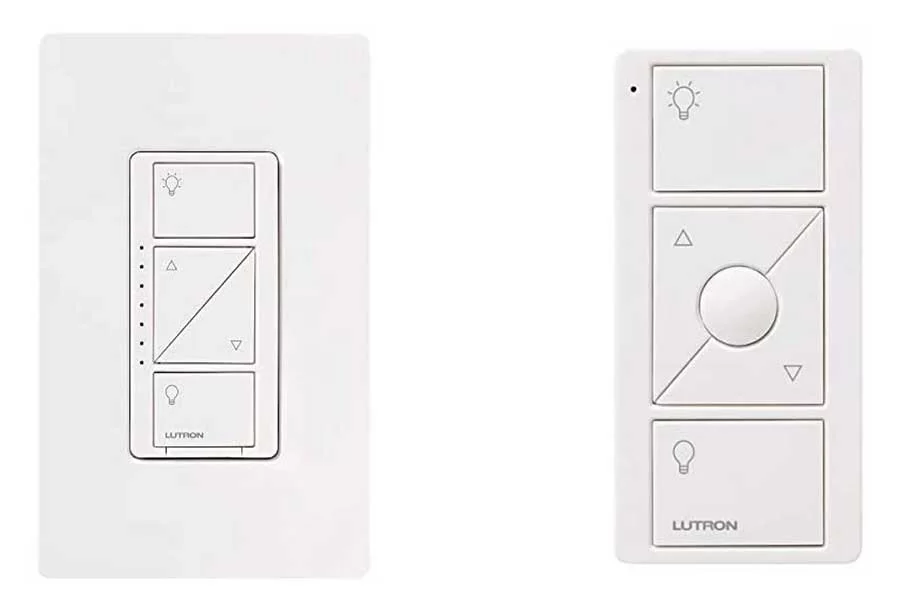 Features
Set lights to automatically adjust with changing seasons so your family always comes back to a well-lit home; you can also enable the Smart Away feature to randomly turn your lights on and off to look like you're home even if you're away (smart bridge, L BDG2 WH, required)
Caseta connects with more leading smart home devices – including Alexa, Apple Home Kit, the Google Assistant, Serena shades and Sonos – than any other smart lighting control brand (smart bridge required)
Caseta puts the smarts in the switch so you can control your lights a variety of ways – via the free Lutron app, your voice, or from the wall.
You can create personalized schedules to turn on, off, or dim lights at set times to best fit your everyday routines, or activate favorited lighting scenes with the touch of a button (smart bridge required).
One Caseta smart switch can control many bulbs at once; make many bulbs smart, even your existing bulbs; Get smart control of multiple styles of dimmable LED, incandescent, and halogen bulbs.
Leviton Decora Smart Switch Dimmer
Late at night, holding an armful of groceries? Do you feel lazy and don't want to get off the sofa? All you have to say is "Hey Siri, turn on the lights," (or "dim the lights") thanks to smart switches and in-wall smart dimmers, and you will never ever fumble for a light switch again.
The Leviton Decora Smart HomeKit Switch works over WiFi and packs a special chip that makes it compatible with Apple HomeKit. It connects to an app called Leviton Decora Smart Home that is only available for iPhone.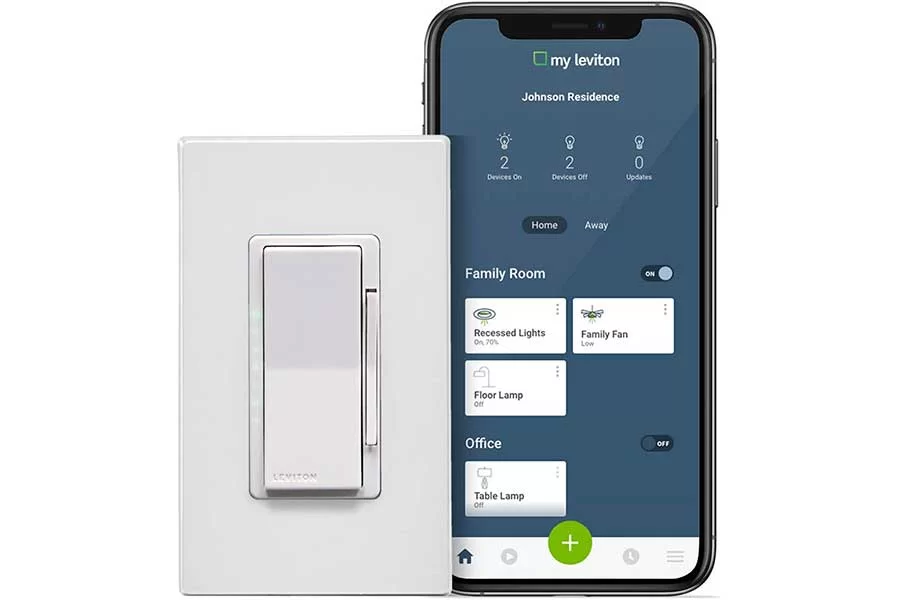 To set up the switch, Apple HomeKit uses special barcodes that you scan with your phone. We preferred the Decora Smart Home app over the My Leviton app, finding it to be more polished and intuitive. And since it's a HomeKit product, Siri is able to control it as soon as the setup is complete.
Features
No Hub Required, Control your home from anywhere via My Leviton app – simply replace your existing light switch (neutral required).
Schedule lights to adjust when you want including sunrise/sunset, easily create lighting scenes, and utilize auto-shutoff feature and vacation (randomization) mode.
Works with Alexa and Google Assistant voice assistants (sold separately). "Alexa, dim kitchen light to 25%".
Works with IFTTT, SmartThings, August, Amazon Alexa, Google Assistant and more.
Dimmable LED and CFL loads up to 300W and incandescent loads up to 600 watts.
Facilitates multi-location (3-way) dimming with up to 4 remote units (DD00R).
Smart Home: Apple Homekit Light Switches
Smart Home: Apple Homekit Smoke Detectors
Smart Home: SECURITY CAMERAS COMPATIBLE WITH APPLE HOMEKIT
WeMo Wi-Fi Smart Dimmer
With the Wemo Dimmer kit, Wi-Fi allowed, you can easily set the ambiance of any room and control your lights from anywhere. To provide wireless control of your lights from anywhere in the world, these two intelligent dimmers use your existing home Wi-Fi network.
There is no subscription or hub required: simply install the Dimmers and you can use Amazon Alexa or Google Assistant to dim your lights from the wall, the Wemo app or from your voice.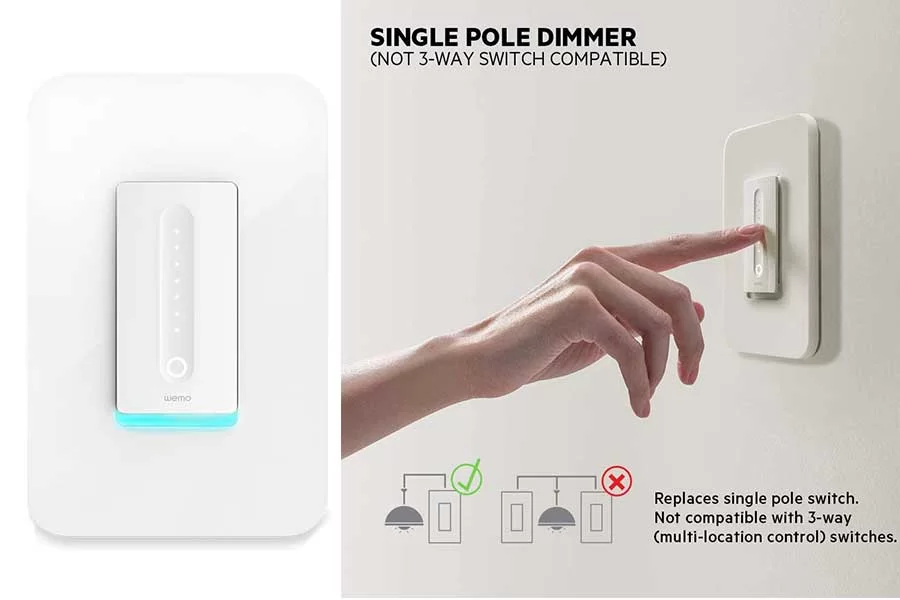 Features
You can set worry-free schedules for your lights. Using the free Wemo App, you can schedule the dining room lights to turn on at sunset, or dim your lights to a soft glow just before bedtime.
Wemo Dimmer will optimize the dimming range to suit the specific type of bulb you're using. Whether you're using LEDs, CFLs, or incandescent bulbs, the dimmer delivers the maximum dimming range with no flickering.
Want to prevent bright-light blinding when you're making a late-night trip to the kitchen or bathroom? With Wemo Dimmer's 'Night Mode,' you can set your lights to turn on to a lower light level during specific times.
Wemo Dimmer lets you wirelessly control your lights from anywhere.
Wemo is compatible with Apple HomeKit, meaning you can control your Wemo Dimmer with the Apple Home app and Siri from your iPhone, iPad, Apple Watch, or HomePod.
Works with Amazon Alexa, Google Assistant and IFTTT.
Legrand, Smart Dimmer Switch
The Legrand Smart Light Switch, without the need for a hub, connects to your home network over 2.4ghz Wi-Fi. Wi-Fi makes getting up and running right out of the box incredibly easy, and it works with all voice assistants, including HomeKit. Using a different, but lower cost, remote, this switch can also operate with 3-way installations.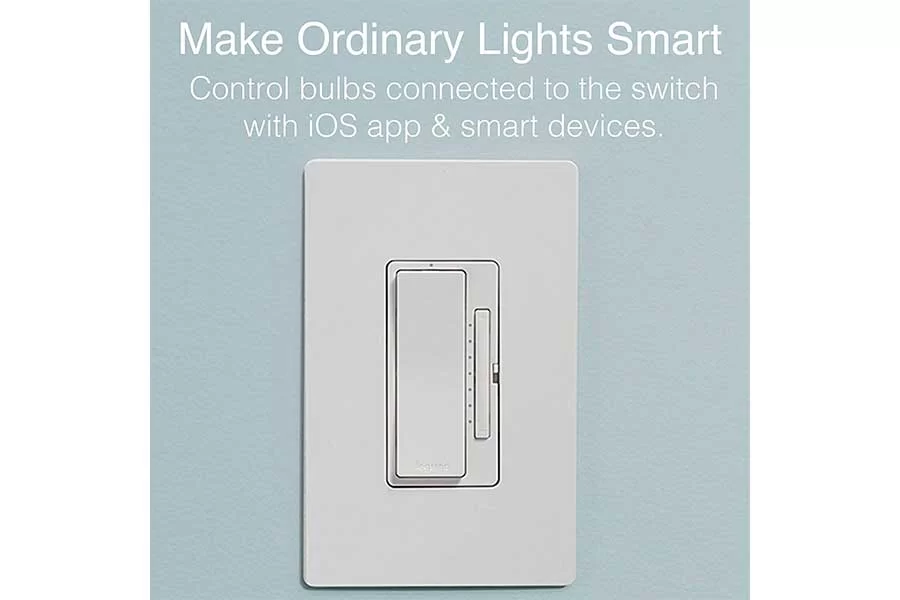 Smart Dimmer Switch from Legrand makes ordinary dimmers smart. Once the switch is wired, you'll be able to control connected bulbs with your Apple device. Not compatible with Android.
After a quick setup on an iOS device (iPhone or iPad required), easily create scenes, groups, and automation with the Apple Home app.
Ask Siri to set the scene from your HomePod, Apple Watch, Apple TV, or Apple mobile device.
Install your Smart Dimmer Switch like any other dimmer switch. Neutral wire (the white one) is required to keep the switch connected to Wi-Fi for full functionality.
No hub required, Smart Dimmer Switch from Legrand connects to your 2.4 GHz home Wi-Fi network and doesn't require a hub. Just wire, set up on the app (requires an iOS device), and you're ready to go.
RunLessWire Click for Philips Hue Wireless Dimmer Light Switch
Offering premium-quality wireless lighting control solutions at an affordable cost, RunLessWire is a USA-based technology partner—designing quality products you can trust.
Innovative, wireless lighting switches and kit options are incredibly simple to install and don't require complicated wiring or even batteries.
Offer a comprehensive line of user-friendly products suitable for any set up, making them the perfect choice for DIYers and professionals alike.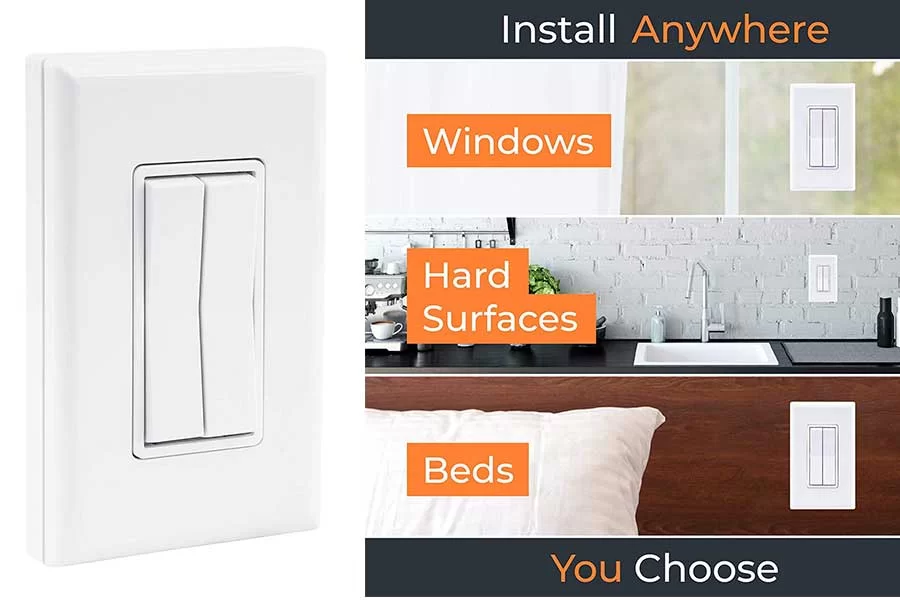 Features
Click for Philips Hue allows you to add a traditional switch in tandem with your Hue system and has an astounding 100-foot range. Use the switch to easily dim the lights by pressing and holding the rocker after configuring the "hold" option in the Philips Hue app. Click for Philips Hue is the perfect smart home lighting system.
You can easily mount Click for Philips Hue anywhere with no batteries or wires. Everything is powered by the press of a button—simply install and link to your Philips Hue app.
To install, place the switch where you'd like it, connect to the bridge, and you're all set.
You will receive a self-powered, battery-free, wireless switch; both a single- and double-rocker insert; and a wire nut in case you wish to cover the loose wires. Click for Philips Hue requires a Hue bridge v2 (square) or newer.
DIY lighting solutions for home use that are incredibly easy to install.
Works with Apple HomeKit, Alexa, and Google Assistant.
Home Automation

>>

Brands

>>

Apple

>>

Apple Homekit Dimmer Switch