Are you looking for an intelligent home assistant for yourself and your home, then here are the best home robots 2020, some are in the marker and the rest ones in the list are expected to be coming in 2021.
A personal robot assistant can take up your daily tasks and catch-up with the never-ending to do list in your mind. They combine the best features of security, smartphone, and a pet.
Here Are The List of Active Best Home Robots 2020
UBTECH Alpha 1 Pro Humanoid Robot
Alpha 1 Pro is an app-enabled, programmable humanoid robot that's designed to educate and entertain your entire household. It's perfectly designed, high-precision servo joints, 3D visual programming software, and other advanced features are seamlessly controlled in one app.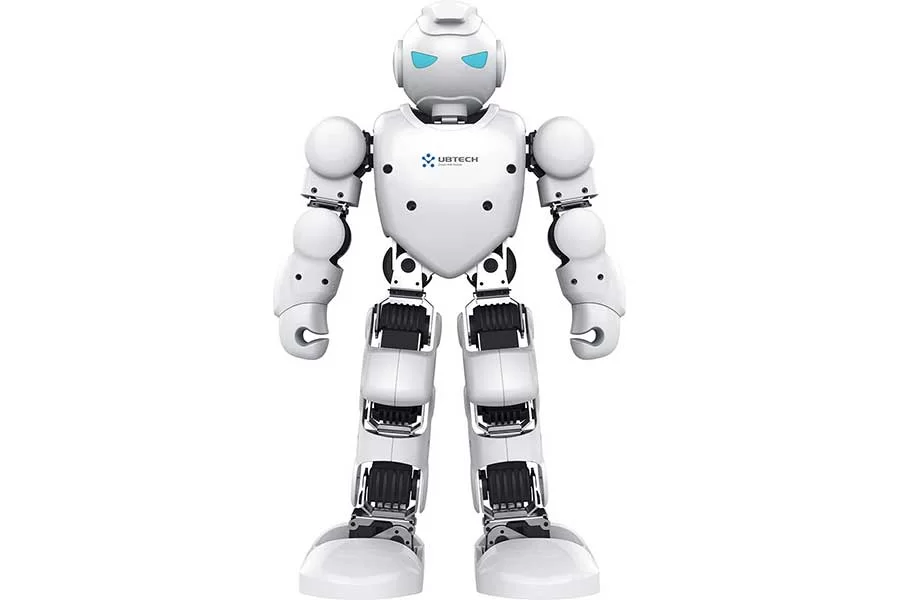 Alpha 1 Pro is so much more than a tech toy…his personality, life-like movements and energy make him feel like the newest member of the family.
Easily control your Alpha 1 Pro via the app. Access content from hit songs, classic tunes, and original actions or even upload and share your moves with the Alpha 1 Pro community.
New to coding? No problem. Alpha 1 Pro can be programmed in many ways. The 3D visual programming software has an interface that's simple and easy to operate.
You can also program Alpha 1 Pro via the app with Blockly coding. Drag-and-drop code modules and adjust the parameters to program the robot's actions.
From dance to martial arts, Alpha's moves are sure to amaze.
Record actions in three easy steps. Program your Alpha 1 Pro robot by manually adjusting its arms and legs into poses.
Specification
User Friendly Graphical User Interface (GUI)
Intelligent Bluetooth 4.0 App
16 Patent Digital Servos
9 Major Humanoid Features about your Robot
Aluminum alloy with Pure White Servo Armour
Quick Charge and Long Play Time.
3D Visual PC Software for Beginners to Advanced Programmers
APP Control Program Feature.
Compatible with iOS, Android, and PC.
Vector Robot by Anki,
Vector is another affordable personal assistant robot. We actually call it a companion to help out and hang out. This comes from one of the famous Robotics Company Anki which is known for its world class robots.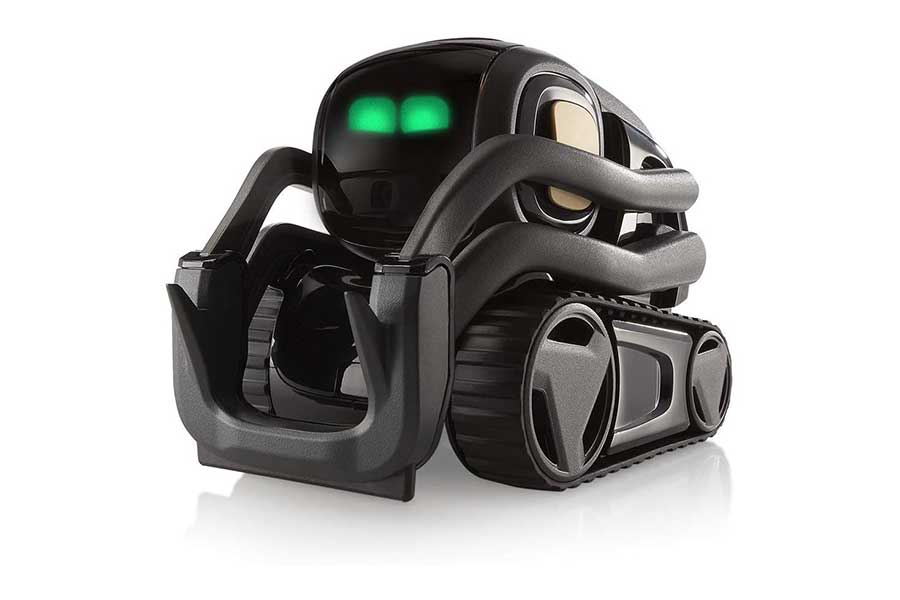 The advanced technology for AI and robotics is driven by Vector. We enjoyed the fact that Vector has a great personality, and that sight, touch, and sound are involved. The software is compatible with devices running iOS or Android. It can be run by the Vector App once it is connected to the computer. Another useful advantage is that it doesn't need to be assembled, it is fully assembled and ready for use. A good choice, therefore, for someone who hates robotic assembly.
Other interesting features that attracted us were the voice-activated commands. Vector is designed to answer your questions, take photos, tell you the weather, crack a joke, tell you the dinner time, and many more. Further, you can connect your Vector with Alexa to set up reminders and control your smart home devices.
Specification
Compatible with the iOS or Android device
Self-charging
Compatible with Alexa
Cloud connection for up-gradation
Sphero BOLT App Enabled Robot
In order to discover new activities, or to drive and play, Sphero bolt is programmed with the Sphero Edu AP. In reality, we call it a private assistant robot that keeps you engaged in your boring lonely time. It is fitted with Infrared, Compass, Light Sensor, Gyroscope, Accelerometer, and Motor Encoder programmable sensors. This means that programming can be taught, hand-on exercises attempted, powered like a motor vehicle, and coding learned. Overall, we found out that there are endless opportunities in this create and have fun while learning.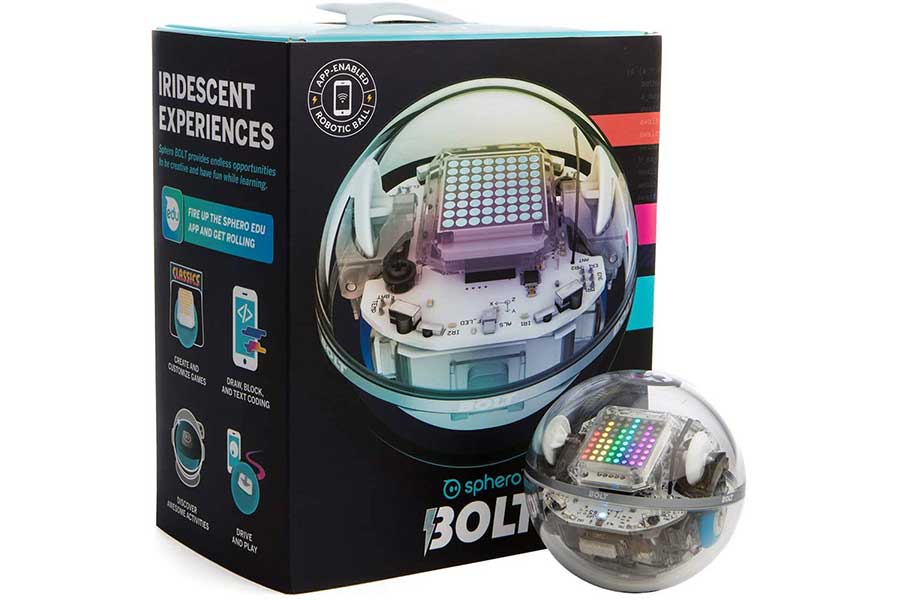 Furthermore, the robot is powered by the Sphero Edu app which lets you code bolt by drawing or writing Java script. Last but not the least, the Bolt also has a option to share the creation on social media. Thus, it a good affordable option to have fun while learning and innovating things.
Specification
Connects via Bluetooth
Sensors include Infrared, Compass, Light Sensor, Gyroscope, Accelerometer, and Motor Encoders
Good battery life
Waterproof
Rick Robot Puppy
Intelligent robot dog, new member of Hi-Tech Robot Family, will be your good friends, won't bite and won't attack you, it will be a great alternative to have a real one. Remote controllable with 30ft long range controller.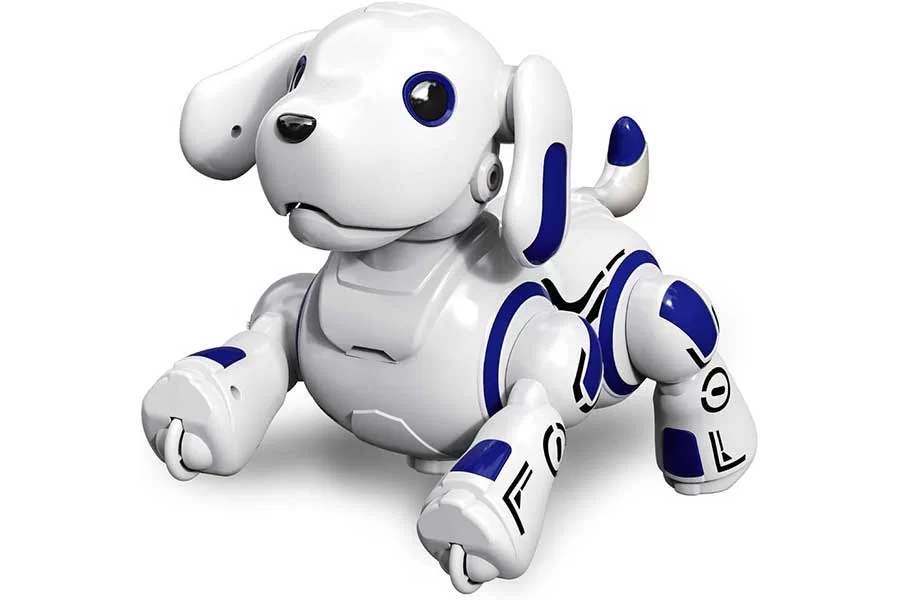 Musical Instrument: Listen to different instruments' sounds when you press down the musical instrument button, one press for one instrument.
Imitating: When RICK receives the signal "animal call", he will imitate other animals' sounds for you.
Singing: When RICK receives the signal "singing", he will sing cheerful songs for you.
Dancing: When RICK receives the signal "dancing", he will be very happy to dance for you.
Programmable: Under this mode, RICK can remember 40 actions at a time and will demonstrate them when finish programming.
Rechargeable: One fully charge takes 2 hours, after that RICK can play with you for about 60 minutes, child will have endless fun with family and friends.
Volume Adjustable: You don't need to worry about that RICK will be too noisy to play.
Touch & Respond: Touch the head of RICK, he will do different movements to respond with his eyes changing into different colors.
Temi
Temi is a voice-activated personal assistant robot recently chosen by the Ministry of Defense of Israel to support medical teams in the country's COVID-19 wards. This wheeled cobot is able to recognize and follow people around the house, make video calls, answer user questions, play music, or move small items from room to room.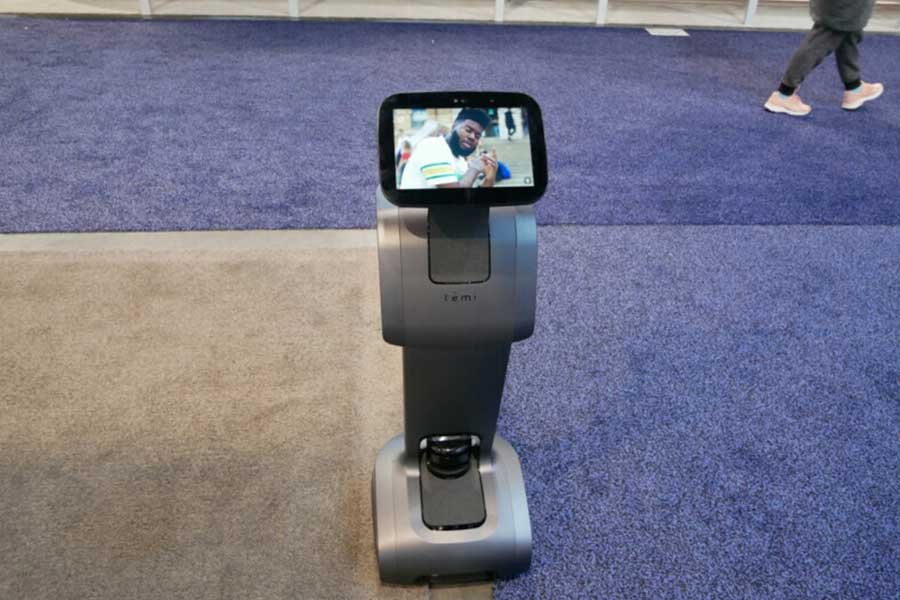 The robot is equipped with cameras and laser radars and can communicate with the world through Amazon's personal assistant Alexa. To help fight against Covid-19, medical teams can operate it remotely and send it to perform various tasks. The robots can gradually replace humans with tasks like taking patients' temperatures, delivering medications or antibiotics to patients, and distributing food.
More Robots: Top 10 Personal Robots 2020
More Robots: Olly Robot Vs Pepper Robot
Here are the list of best Home Robots 2020 featured in CES 2020, which are yet to be available in the market, hopefully it will be available in 2021.
Petit Qoboo (Yukai Engineering)
If tickles and tummy rubs are your main reason for wanting a feline friend, Petit Qoboo could be the weird almost-animal for you. A furry therapy pillow with an expressive tail, this companion robot looks for all the world like a disembodied cat butt.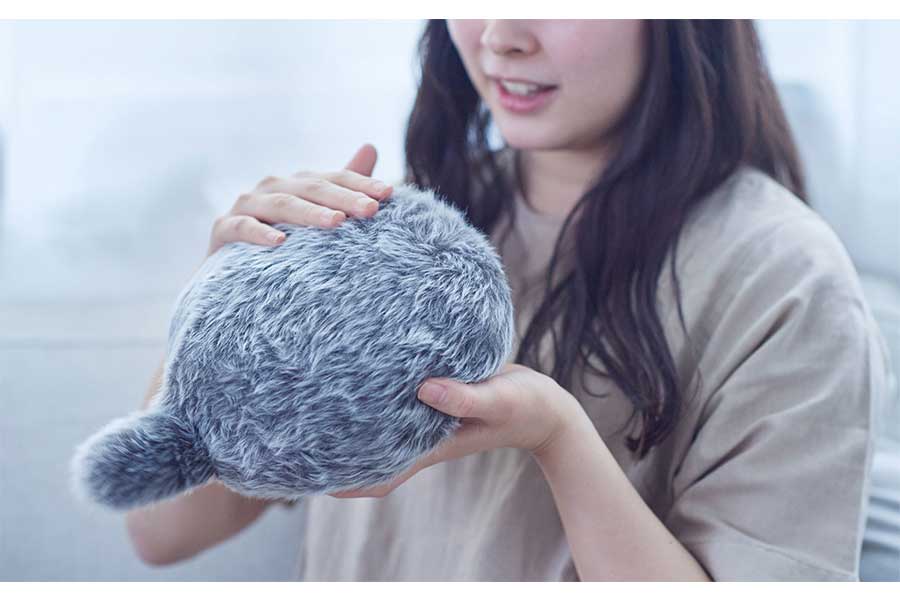 Petit model debuted at CES 2020 is still in the prototype stage. Its creator, Yukai Engineering, is working to an ambitious schedule, and hopes its miniature cat butts will hit the shelves at the end of the year.
Reachy (Pollen Robotics)
The bouncing antennae of Reachy make it look vaguely insect-like, which is unfortunate as it is a remarkable engineering feat. An arm has seven degrees of freedom, and its specialized neck joint enables a remarkably lifelike way for its head to pan, twist and tilt.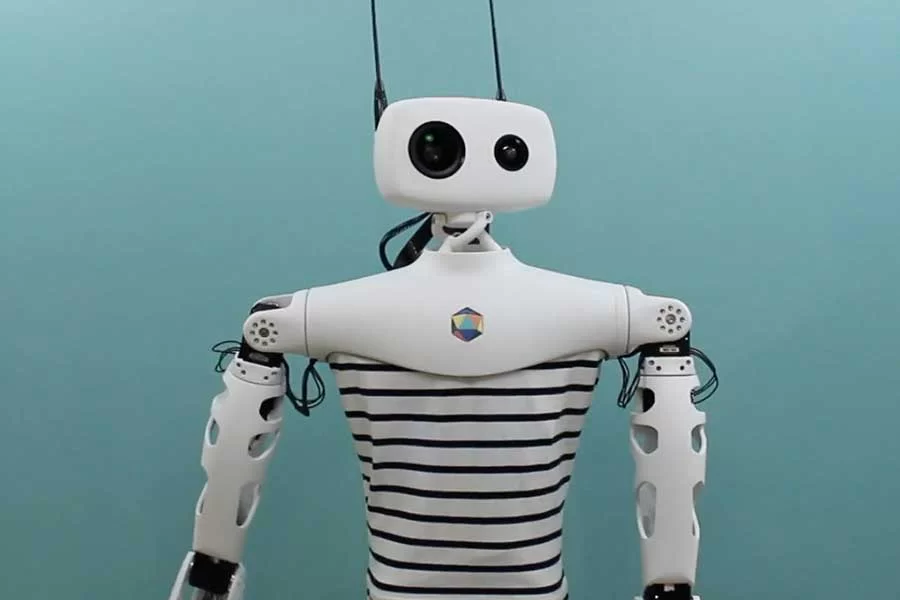 Like MarsCat, Reachy is open source – you can use Python to create your own programs for it to run, and developer Pollen Robotics suggests it could be used for research and development, as a robotic receptionist, or as a helpful tour guide.
It will cost about $17,000 (about £,13,000, AU$25,000) for the complete version of Reachy, with a head, body, and two arms, but a version with only one arm is available for $9,000 (about £7,000, AU$13,000).
RollBot (Procter & Gamble)
RollBot is one of CES' most humorous novelties, a distinctly bear-shaped gadget that balances on two wheels, Segway style, and if you run out it will carry you a fresh roll of toilet paper. RollBot is Bluetooth-enabled, so while scrolling through your Facebook news feed, you can call RollBot from your computer. Just like a robot vacuum cleaner, it makes its way around your house, balancing your refill roll on its hexagonal head.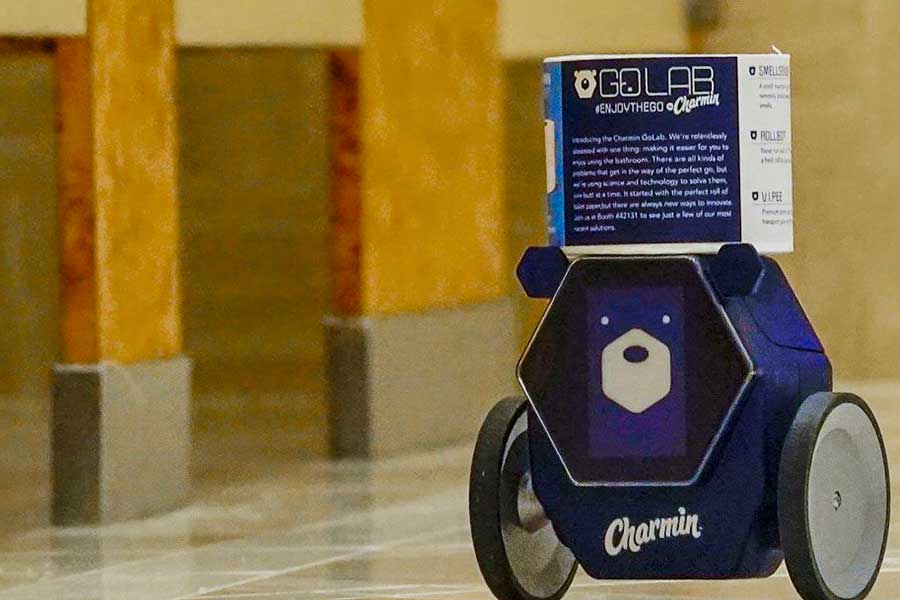 Unfortunately, RollBot won't be knocking on your bathroom door with a fresh roll any time soon, amusing as it may be. According to brand director Rob Reinerman, it was established as part of Charmin GoLab, a concept lab that will enable the paper brand to "finally extend beyond just the seat."
Home Automation

>>

Other

>>

Robots

>>

BEST HOME ROBOTS 2020