The warning "Ecobee calibrating heat cool disabled" has appeared? Continue reading if you don't want to waste any more time seeking for a solution.
We'll have your ecobee repaired and the problem described in full by the conclusion of this instruction.
If your ecobee is calibrating, it is now taking a temperature reading in your house. Simply wait 5-20 minutes, depending on your ecobee's functionality, and make sure your HVAC system is not cutting the power to the thermostat to resolve the problem.
Please let 5-20 minutes before proceeding with the guide.
Ecobee will calibrate every once in a while to get a proper reading of your household's temperature and you should let it finish the check.
Why is Ecobee calibrating Heat/cool disabled?
As previously said, there is nothing to be frightened of when it comes to calibrating your thermostat.
It will normally do a temperature check on your home, which should take no more than 20 minutes; yes, it will turn off your heating and cooling, but only momentarily.
If the check has been running for a long and your ecobee appears to be unresponsive, there are a few possibilities.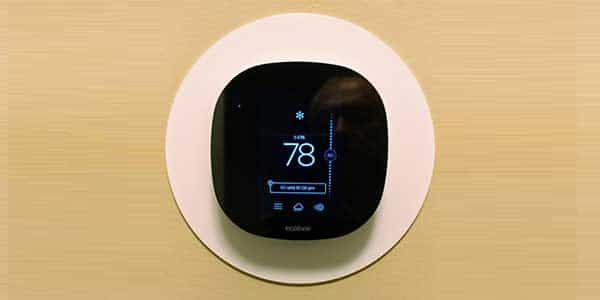 Depending on the reason, this problem might have a wide range of potential causes and several potential solutions. This is how to make your Ecobee thermostat work again.
| | |
| --- | --- |
| What to do? | Explanation |
| Try cleaning the filters of the smart thermostat. | When the thermostat is dirty or has debris stuck inside of it, it occasionally performs improperly. In order to remove it, you need clean the filter. |
| Try to reboot your thermostat. | Your thermostat can be restored to factory default settings by restarting in order to resolve all minor software issues. |
| Try to reboot your WiFi. | Try resetting your router to resolve connectivity problems because occasionally a bad internet connection prevents the thermostat from working. |
Other Issues:
1. Hvac Power Issues:
If the HVAC keep cutting of your thermostats, power supply, it won't be able to finish the calibration process.
2. Sensor problem:
As you know, sensors of your thermostat would scan the temperature surrounding the device, but if there is an issue with them, your thermostat might be unable to get the reading.
3. Outdated overheating:
Ecobee initiates a calibration whenever it reboots. It could be happening due to outdated firmware.
4. Furnace overheating:
Quite rarely, but not excluded is the fact that your furnace is overheating, impacting your thermostats, and reading.
5. Condition obstruction:
If water has built up in your conditioner, it could be making your thermostat calibrate for longer than usual.
Having that said. Let's learn how to fix the issue of your thermostat in a matter of minutes.
How to fix ecobee heat and cool disabled issue?
We have extracted the best troubleshooting information you could come across and put it in the solution down below.
Solution: 1
Configuration of the Calibration
It is possible that the configuration of the calibration itself is not set up correctly.
Follow the steps below to set up your ecobee calibration in the correct way:
Go to the Menu of your thermostat
Tap the Installation Setting tab, located in the setting menu.
Now Locate the Thresholds tab and select Temperature correction
Adjust the temperature to the correct one for your configuration.
Play around with the temperature correction features temperature and see what fits in with your thermostat.
Solution: 2
Remove the plug
If your EcoBee thermostat shows the error "Calibrating Heat/Cool Disabled," you can try a few things to fix the problem. First, disconnect the unit from its power source. Then, reconnect it.
Most of the time, this will reset the thermostat and make the error message go away. If this doesn't work, press and hold the Menu button for 5 seconds to reset the thermostat by hand.
Next, press the Set Point Up button until the temperature reads 20 degrees Celsius or 95 degrees Fahrenheit. Then press the Temperature Down button until the temperature reads 16 degrees Celsius or 60 degrees Fahrenheit.
Press Enter again to save your changes and leave the menus. After you've done this, wait 2 to 3 hours before trying to use the unit again. Before calibrating your system again, you may have to wait up to 12 hours.
Solution: 2
Reconnect the Power Cord
Next is to reconnect the power cord.
There are a few things you can try if your Ecobee thermostat is having trouble calibrating the heat/cool settings. First, make sure the unit is hooked up to the power source correctly. Next, check the batteries to see if they are running low and need to be changed.
If neither of these fixes the problem, you might need to press and hold the reset button for five seconds to reset the unit.
Here is how…
Locate the 24V wire, which should be in red color, going in from the side of your thermostat.
Disconnect the wire and wait for 5 minutes.
Reconnect the C wire and TEST your Thermostat.
Remember that when you reconnect the wire and switch on the thermostat, a new calibration will begin.
Continue with the following solution if it lasts less than 20 minutes.
Solution: 3
Clean the A/C, s Drain Pan
If your drain pan is clogged, your thermostat's capacity to monitor the ambient temperature may be impaired, causing the calibration procedure to take longer than usual.
As a result, our next suggestion is to clean your A/C's drain pan.
Because there isn't much we can do because of your unique A/C and drain pan design, it's up to you to thoroughly empty your system.
If you have many A/C drain pans, make sure to clean them all before testing the calibration.
Solution: 4
Update your Ecobee
Outdated firmware might always cause problems with your device's operating system.
Before you apply any of the remaining remedies, make sure your ecobee is up to date.
Ecobee would normally auto-update, however system faults may have stopped you from receiving the notice.
Make sure the thermostat is connected to the internet, and it will automatically install the update when it becomes ready.
Keep in mind that for the thermostat to begin downloading, your internet connection must be stable; otherwise, any updates may have been ignored, and your software may be obsolete.
Solution: 5
Clean the Air Filter
We recommended running an overall check of the air filter and cleaning it if any dust and debris.
Your filters may be blocked if your Ecobee thermostat is having difficulties calibrating the heat and cold settings. Turn off your thermostat and unhook it from the wall before cleaning your filters. Locate the filter after removing the thermostat's front panel.
Once you've located the filter, pick up any dust or debris with a gentle brush attachment to your vacuum. The filter can also be washed in warm water and dried by air before being reinstalled.
Try resetting your thermostat by pushing and holding the reset button for five seconds if you're still experiencing issues after clearing your filters. After that, switch on your thermostat and let it 24 hours before attempting to calibrate it once more.
Keep in mind that your thermostat won't operate regularly during this period. It's crucial to keep in mind to depart your residence normally. Otherwise, you might not notice when it becomes too hot or chilly inside. Then, repeat these actions once again after 24 hours.
Here is how:
Turn off your thermostat and unplug it from the wall.
Go to the Clogging hole of your air filter and take it out.
Use a vacuum cleaner to get rid of the dust within the air filter.
Manually remove any larger pieces of remaining from the air filters fences.
Install the air filter and screw it tightly.
Once done. Reboot your thermostat and check if the calibration process has finished and it will start heating/cooling.
Solution: 6
Reboot your WiFi connection
If your EcoBee thermostat is giving you trouble, you can try restarting your WiFi connection. Here's how to do it on a PC or laptop:
Click on the WiFi icon in the lower right corner of your screen.
If it asks you again, click Disconnect (it may not).
Close your laptop or desktop computer, then wait 10 seconds before turning it back on.
After turning it back on, connect to your WiFi network again by clicking on the WiFi icon in the lower right corner of your screen and repeating steps 1 through 3 as needed.
To reset your EcoBee thermostat, turn it off for 10 minutes: If restarting your WiFi connection doesn't work, you can also try turning off your EcoBee thermostat for 10 minutes. You'll need to be patient because this could take up to an hour. To turn off the thermostat, just touch the Cancel button at the bottom of the screen and then the Off button. After 10 minutes, it should start to blink white and then turn off by itself. Once it turns off, just turn it back on and see if that fixes the problem.
Make sure that all the wires between the devices are securely connected: The last thing you should check before calling for help is that all of the wires between the devices are securely connected.
Solution 7
Ecobee Thermostat Stuck on Calibrating
If your Ecobee thermostat has been stuck on "calibrating" for a long time, you may need to do a power cycle.
Unplug the Ecobee Thermostat and then wait five minutes. Then plug it back in and reboot to restart the calibration process. Your device should be done calibrating after a few minutes.
Solution: 8
Factory Reset
If nothing worked so far and ecobee calibrating heat cool is disabled after all of these solutions, then you should bet on a factory reset to resolve the issue for you.
If the problem has something to do with the software first priority is to reset the thermostat and reset all of its features.
Here is how.
Go to Menu of your thermostat.
Hit the setting.
Scroll down until you find the
Choose Reset all settings.
Choose a reset option. Recommended (overall Reset).
Wait for your thermostat to finish.
Keep in mind after resetting the thermostat, calibration may not come up.
Perhaps you need a second reboot, it will fix your thermostat calibrating heat/cool disabled issue.
For other issues relevant to ecobee thermostat, here is a complete troubleshooting topic. Ecobee Thermostat Problems
For more Troubleshooting Go to Support Ecobee.com
Conclusion:
One of the most common problems with Ecobee thermostats is that the message "Calibrating Heat/Cool Disabled" shows up on the touchscreen interface.
This is a very common problem that has more than one cause, so you'll have to try more than one fix to solve it.
First, try cleaning the filters. If your Ecobee thermostat is having trouble calibrating the heat and cool settings, it could be because your filters are dirty. So maybe cleaning it will fix the issue. If that doesn't work, try the second fix.
Then, you can try restarting your thermostat. This is often enough to fix small software problems that can cause this problem.
You could also unplug the device and then plug it back in. This can fix any problems that may have come up because the device was plugged in wrong.
Lastly, you can try restarting your WiFi. The Ecobeer smart thermostat is a device that needs to be connected to the internet.
Frequently Asked Questions:
Can I use my Ecobee even if I don't have the app?
You can use your Ecobee without the app, but you won't be able to use many of the features of the smart thermostat. Without the app, you won't be able to schedule changes to the temperature or see how much energy you're using. so to schedule temperature remotely via you have to download ecobee app.
How do I use my voice to run my Ecobee?
You can use Amazon Alexa or Google Assistant to talk to your Ecobee and control it with your voice. To do this, you'll first need to link your Ecobee to your Amazon or Google account. After you connect your Ecobee, you can start it.
You might want to know this:
Home Automation

>>

Thermostats

>>

Smart Thermostats

>>

Ecobee Calibrating Heat Cool Disabled – How to Fix it?