I had a pretty difficult time figuring out what was going on when my Fire Stick control started blinking orange and how to fix it.
After searching through the Amazon Fire Stick support forums, I discovered a number of comments from Amazon Staff dealing what this orange light exactly represents and how to resolve it.
The reason I'm writing a separate topic is because this one is specifically about not pairing due to orange blinking light issue and how to fix it. I have a number of topics related to this issue, but none are as specific as this one, aside from the one you can check out which is blinking yellow light and how to troubleshoot.
What Is The Orange Blinking Light on Firestick Remote?
If the orange LED on your Firestick remote blinks, your Fire TV Remote is not linked to your Fire TV.
Why is my Firestick Remote Blinking Orange but Not Pairing?
There is a Problem with the Fire TV Remote
Your Firestick remote may not be working properly if it is blinking orange but not pairing. You might need to reset your remote in this situation.
To Fix this:
Press and hold the Home, Back, and Left buttons on your remote simultaneously for about 10 seconds until the light on the front of your Firestick device flashes three times.
Your remote will be reset during this process, and any problems will be resolved.
Other Reasons of Firestick Remote Blinking Orange
Fire Stick Remote Low Battery Power
Your Firestick remote blinking orange light could be a sign of low batteries, which is a frequent cause.
To fix it:
If this is the case, try changing the batteries in your remote and checking to see if the blinking light stops. As long as they are new and have not expired, you can use any brand of AAA batteries.
Blinking Orange Due to Remote Unpaired
Your Firestick remote blinking orange light because you haven't paired it with your Fire TV device.
To fix it:
Make sure your Firestick is powered on and connected to the internet before attempting to pair your remote.
Wait one minute after restarting your Fire TV device.
Press and hold the Home button on your Fire TV remote for 10 seconds to pair it once more.
For more detail on how to pair it find it here.
Your Fire TV device and the remote should be paired.
In case the firestick problem of blinking orange light remain as it then do this:
Reset your Remote
This is how to perform a remote factory reset.
Steps:
1. Disconnect your Fire TV, then wait a minute.
2. The Left, Menu, and Back buttons should all be pressed and held at once. Hold them for a full 12 seconds.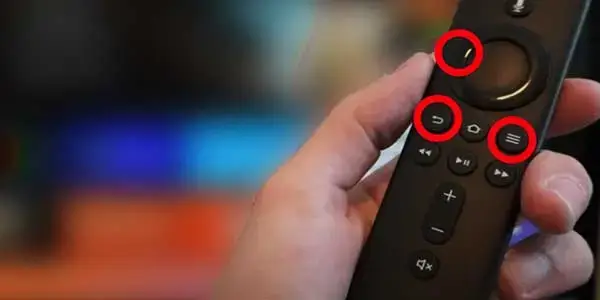 3. Wait five seconds after releasing the buttons.
4. Wait another 60 seconds and the remote will factory reset.
5. Next remove the batteries from your remote and unplug your Fire Stick from the TV and the power adapter for 60 seconds..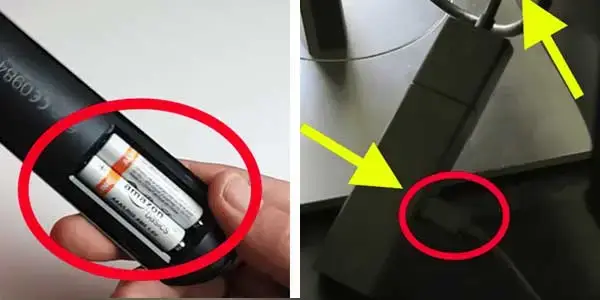 6. Reconnect your Fire Stick to the power adapter and the TV.
7. When replacing the batteries in the remote, wait for the Fire TV menu to show on your screen.
8. The LED indication will turn blue when your remote has been successfully associated, so look for it. Press the Home button for 30 seconds if it isn't already paired.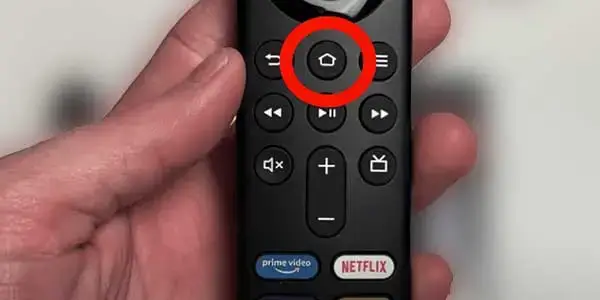 IF The issue of Firestick Remote Blinking Orange but Not Pairing is still on then Move on to Next Step:
Firmware Update
Try a firmware upgrade if your firestick remote is still blinking orange and not pairing.
To reach settings on your Fire TV device, use the Amazon Fire TV app.
Choose Bluetooth devices and controllers.
Select Amazon Fire TV Remotes.
Your remote can be chosen from the list.
You can install an update from this page if one is available.
When all else fails and the blinking orange light problem on your firestick remote continues to blink, it's time to move on to the next possible cause.
Several Fire TV Devices Paired
Amazon Fire TV products are so widely used in homes today that many have multiple units.
This can occasionally result in remote control issues.
Make sure your remote is not associated with one of your other devices if you are one of those folks with many Fire TV units in your home.
Although it happens frequently, if you are unaware of it, it can be very annoying. You should be fine as long as you don't place your Fire TV devices too near to one another.
Item Count of Bluetooth TV Pairings
Several Fire TVs and other smart TV manufacturers have Bluetooth functionality.
You should try unplugging a few Bluetooth devices if your smart TV is connected to seven or more of them.
Try to pair your Fire Stick remote once more while they are separated.
Your remote's ability to connect can occasionally be impacted by the simple fact that there are so many Bluetooth devices paired at once.
Get In Touch With Amazon Customer Support
You might need to get in touch with Amazon Customer Care if all else fails and your Fire TV remote is still glowing orange and won't connect to your TV. You might ask for a replacement remote and explain the situation to them.
In case the amazon customer support unable to respond your queries on time then for the time being you can do the following methods to use your phone as a firestick remote.
Here is how:
Use the Fire TV App as a Replacement Remote
Use your smartphone or tablet as a makeshift remote if all the steps above have failed and your Fire Stick control is still flickering orange.
You must first download the Fire TV app in order to do this.
The Fire TV device must be plugged into the same Wi-Fi network as your smartphone or tablet for this app to function.
To act as a temporary remote with your smartphone or tablet:
Get the Fire TV application.
Join the same Wi-Fi network that your Fire TV device is on with your smartphone or tablet.
Launch the Fire TV app on your smartphone.
Choose a device from the list on the screen.
A prompt will appear on the screen.
Control the chosen Fire TV device by using the keyboard, on-screen controls, and other menu options.
Frequently Asked Questions:
What does it mean when my Firestick remote blinks orange?
Your Firestick remote is in discovery mode and is attempting to pair with your Firestick when it begins to blink orange. This is a typical behavior that happens when you initially program the remote or just after you reset your Firestick to factory settings. The remote will glow orange during this procedure and turn solid blue once it has properly paired with your Firestick. If your Firestick remote keeps blinking orange and won't connect with your Firestick, there may be a problem with either the pairing procedure or the remote itself.
Why won't my Firestick remote pair even though it's blinking orange?
Weak batteries can cause pairing issues and prevent your remote from pairing with your Firestick.
Firestick is too far away from the remote, the signal may not be strong enough for the remote to pair with the Firestick.
Try resetting your Firestick remote by holding down the home button and the back button for 10 seconds until the LED light blinks rapidly.
Defective remote
Interference from other wireless devices can also cause pairing issues.
Can I reset my Firestick remote to fix pairing issues?
Yes, you can reset your Firestick remote to fix pairing issues. Here are the steps to reset your Firestick remote:
Remove the batteries from your Firestick remote.
Hold down the home button and the back button at the same time for 10 seconds. The LED light on the remote will start blinking rapidly.
Release the buttons and wait for the LED light to stop blinking.
Put the batteries back into the remote and wait for it to pair with your Firestick.
After resetting the remote, try pairing it with your Firestick again.
How can I replace my Firestick remote if it's not pairing at all?
Go to the Amazon website and navigate to the Fire TV remote page.
Choose the Firestick remote that is compatible with your Fire TV device.
Click "Add to Cart" and proceed to checkout.
Once you have received your new Firestick remote, insert the batteries and try pairing it with your Fire TV device.
If the new remote still does not pair with your Firestick, there may be an issue with your Firestick itself. Contact Amazon customer support for further assistance.
Is there a way to pair my Firestick remote without the use of Wi-Fi?
Sorry, pairing your Firestick remote without Wi-Fi is not possible. Via a Wi-Fi Direct connection, which is a sort of wireless connection that enables devices to connect directly with each other without the need for a Wi-Fi network or router, the Firestick remote and your Firestick pair with one another. However you can connect your firestick with Wi-Fi without the use of remote.
You might want to see this:
Home Automation

>>

Brands

>>

Amazon

>>

Firestick Remote Blinking Orange but Not Pairing – Fixed Pair Issue