There are so many smart thermostats that, when studying and comparing them, it's hard to know where to start. Today, we will take a look at two common versions of thermostats: Nest E vs. ecobee3 lite.
There are display differences, power choices, compatibility with smart homes, and more. So, let's go over the primary differences and aim to give you a sense of the correct model for you!
Comparison Chart of Nest E Vs Ecobee3 Lite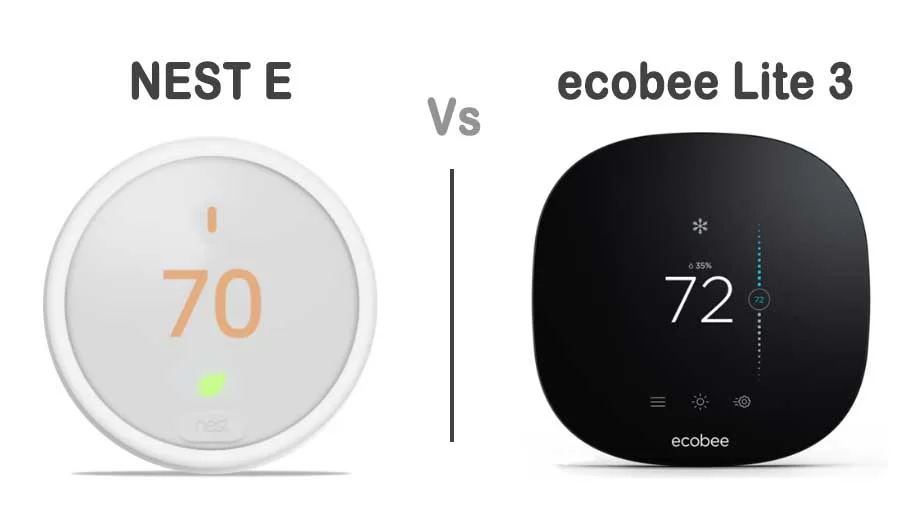 | | | |
| --- | --- | --- |
| Specification & Features | Nest e | Ecobee3 lite |
| Dimensions | 3.19×3.19×1.14 inches | 4.05×4.05×1 inches |
| Weight | 1 Pound | 1 Pound |
| Touch screen | NO | Yes |
| Voice Control | Yes | Yes |
| Alexa, Google Home, IFTTT | Yes | Yes |
| Apple HomeKit | No | Yes |
| SmartThings, Wink, Etc. | Limited | Yes |
| Room Sensors | Yes, Available separetely | Yes, Available separetely |
| Learning Algorithms | Yes | Yes |
| Humidifier & Ventilation Support | Yes | Yes |
| Dehumidifier Support | Yes | NO |
| C-Wire Required | No, but may require with few systems | Yes |
| Comes With Power Adapter | NO | Yes (PEK) included in the package |
| Wi-Fi Connectivity | Yes | Yes |
| Geo-fencing and Motion Sensors | Yes | Yes |
| Multi-stage heating and cooling | 2 stages of either heating or cooling, and 1 stage of the other | 2 stages of heating and 2 stages of cooling simultaneously |
| Ambient light sensing | Yes | NO |
| Warranty | 1 Year | 3 Year |
Differences between Nest E vs Ecobee3 lite
Schedule Learning
Nest Learning Thermostat is that it is heavy and feels sturdy. It has a modernized look and resembles the classic Honeywell Round. It comes with a plastic outer ring and has a matte finish to it. It pretty much blends in with any décor where Ecobee on the other hand comes in black plastic and sports a rectangular look which is rounded at the corners.
Who's got the edge?
Is the learning programme function of Nest better than a daily schedule like ecobee's? Or, is it just another gimmick that seems all too familiar in the world of smart homes?
I suppose it depends on who you ask.
For people that are really hands off, I can see a definite benefit to Nest's way of doing things. However, if you're a more hands on person like myself, you might not find Nest's learning feature very useful.
Anyway, the learning function of Nest is an added option that Ecobee does not have. You can use it if you have a Nest and you like the learning feature. Turn it off if not.
Smart Integration
It's likely that this distinction alone will help you determine by default which thermostat is optimal for you. In their smart home usability, the Nest E and ecobee3 lite are distinct. It's not really helpful if you're not able to connect your system into an existing configuration, is it?
Ecobee features support for Amazon Alexa, Apple HomeKit, Google Assistant, Samsung SmartThings, Wink, and IFTTT.
Nest works only with Amazon Alexa, Google Home, Wink, and IFTTT. SmartThings integration is also possible via a custom setup from the SmartThings Developer Community, but this violates Nest's terms of service.
Who's got the edge?
A slight advantage is the built-in Alexa speaker on the Ecobee. But, if you have a smart speaker nearby already, the extra one could end up causing problems. You can disable it if it does cause problems.
Nest doesn't support HomeKit directly, so if you're a HomeKit user, the ecobee would be a better choice.
Room Sensors
With external sensors, both Ecobee 3 Lite and Nest E are compatible. Nest E uses Nest Protect Smoke Detectors as sensors. This means that the temperature is kept in your house. When you do have smoke alarms at home, this might be a nuisance.
The Ecobee 3 Lite makes use of Ecobee sensors to maintain the temperature. They do not have the added utility of smoke detection. But they are much cheaper and effective in performing the same function.
Who's got the edge?
ecobee's sensors have motion sensing and Nest's do not. That means Nest's sensor driven features are at a disadvantage (relative to ecobee) from the start.
C-wire
To power their screens and to maintain Wi-Fi connections, smart thermostats require a constant source of power. This is provided by the wires connected to the thermostat. But if your wires do not include a C-Wire, you may have to jump a few extra hurdles to get your smart thermostat working.
If there's no C-Wire in your thermostat wiring, you could absolutely remove it by going for the Nest. While this eliminates the difficulties of mounting a C-Wire, we would consider installing the wire anyway. This is because, to avoid using a C-Wire,
Nest powers the thermostat using what is referred to as power stealing. Power stealing is sometimes capable of causing systems to behave erratically. This might cause undue hassles in the future.
Who's got the edge?
Nest works without a c-wire and ecobee does not. Advantage Nest, right?
Well, not necessarily.
I would consider adding a c-wire instead, even though I had the Nest. It really isn't that complicated and in the future you'll stop a potential cause of big headaches. The easiest way to add a c-wire is to use an add-a-wire kit, which you will have to buy separately.
On the other hand, ecobee includes their add-a-wire kit (PEK) with your purchase. So if you need it, you'll have it.
Geofencing
To decide whether you are at home or not, many smart home gadgets use your phone's GPS. It's called geo-fencing. The thermostat switches to off mode if you cross the geo-fences and head out somewhere. The thermostat will restore its work when you pass your geo-fences and return home. Nest 's geo-fencing in their software is built-in. You can also build different accounts such that on all your cell phones the functionality works.
You might be thinking, 'Okay, but what if my kids are still at home?'. If you do have Nest Protects at home, they have motion sensors on them. These will detect motion in the house and will thus ignore the geofence trigger to switch away mode.
Ecobee also supports geofencing, but it is only for one phone. This disadvantage can be overcome.
Who's got the edge?
Definitely Nest e has an advantage over Ecobee 3 lite, however its true that Ecobee only support for one phone, but you can overcome that disadvantage by requires the use of a couple of third party apps like IFTTT which are inconvenient.'
Display
The display is one feature of the thermostats to take into consideration. When making a decision, while not generally the most important factor, it is also important that the device looks fantastic and is readable quickly.
The Nest E features a 24-bit color LCD. The screen is 1.76 in (4.5 cm) in diameter with a 320 x 320 resolution at 182 pixels per inch. These are decent specifications, but Nest falls short in this section by hiding the display behind frosted glass. This decision results in a more difficult-to-read thermostat that, while aesthetically pleasing, lacks important utility.
The ecobee3 lite comes out on top in this section with a more easily accessible 3.5" full-color LCD, 320 x 480 pixel display. The device also features a touch screen which sets it apart from the Nest's traditional thermostat "ring"
Who's got the edge?
Clearly ecobee Lite has an edge over Nest E.
Look And Feel
One of the apparent characteristics of the Nest Learning Thermostat is that it feels strong and durable. It has a modernized appearance and is identical to the classic Honeywell Round. It comes with an exterior ring of plastic and has a matte look on it. It fits in with every decor pretty well.
The Ecobee on the other hand comes in black plastic and sports a rectangular look which is rounded at the corners. It has a larger glass screen compared to the Nest and it does resemble an oversized smart watch. The screen is a touch screen and it gives access to many control settings from the base unit if you desire.
Who's got the edge?
Overall, the Nest does look better than the Ecobee as it has a stylish round 'cool' cut at its edges.
HVAC Options
If we look behind the ecobee3, it was not fitted with the humidifier, dehumidifier and ventilation features. But now Ecobee has rolled out ad firmware and software upgrades that allow users to monitor all three of the ecobee thermostat, and this feature can also be accessed through voice control and app. But if you need to instal these features or have a plan to add them in the future, then be assured that ecobee will monitor these machines.
While on the other side, Nest E thermostat can control these, but on a limited basis like you cannot run both ventilation and dual humidifier, that is a limitation which ultimately pushes you to look for further advanced thermostats. 4H, 2C isn't going to be an option for you; it will cause your problem if you are already using these systems and want to upgrade to Nest E, with either system. 1H, 1C, or 2H, 1C, however, will work just fine.
Controls
Nest E has some minimal influence over thermostats, and scheduling can be a cumbersome process and a never-ending task with only dialling and clicking.
On the other side, Ecobee3 lite is equipped with a fully functional touch screen, a user-friendly interface, and the most modern app. Here i found that ecobee3 lite has a different approach its equipped with a touchscreen and also comes with the fully functional app.
Energy Reports
The Ecobee Energy Data Analysis Platform called Home IQ is available through the web console that you can access from any computer and view various reports, such as weather reports, showing how much you are incurring due to weather shifts or weather savings, as well as showing you performance reports.
Nest E only records the data and not tool available to analyze the same so only on the basis of data you hardly can make any further decision to optimize your use. The nest is only able to record the data of 10 days and does not provide any analysis. It shows the visual of the times your system turned on or off.
Two models have in common is also equally important. We have listed their similarities below:
Both models make use of Wi-Fi for mobile app and voice commands.
Both models have a simple, step-by-step DIY installation process.
Both models are compatible with humidifiers and heat pumps.
Their prices are almost identical depending upon where and when you buy the products
Degree variances of the two units?
It all depends on the size of your home, the ambient temperature outside and in the case f the Ecobee3, if you have room sensors or not. In general, the Nest E will have a temperature variance of about five to seven degrees.
Without the room sensors, the Ecobee3 Lite will have a variance of about three to five, which can be reduced to about two degrees with the use of the sensors.
All thermostats will have a degree variance, but the Ecobee3 Lite has one of the lowest in the industry.
Like About Ecobee3 Lite
Multiple third party integrations that are practically smooth.
Installation and installation can be completed in less than 20 minutes.
Room sensors (should be included!) can be bought and used out of the box.
Like About Nest E
Intuitive operation of all HVAC systems, including humidifiers, dehumidifiers and ventilation systems.
The Nest learning feature will still save on your energy costs.
Voice Instructions function well in all relevant programme.
Home Automation

>>

Brands

>>

Ecobee

>>

Nest E Vs Ecobee3 Lite