Blinds made by many companies but not many smart manufacturing companies offering blinds along with device as a separate product, however many blind making leading companies partnering with some of a best smart devices companies to get the blinds convert into smart blinds.
Here is the complication of those that providing smart Venetian blinds along with own smart devices as a single unit and others offering by partnering with other smart companies.
Lutron Venetian Blinds by TIDMARSH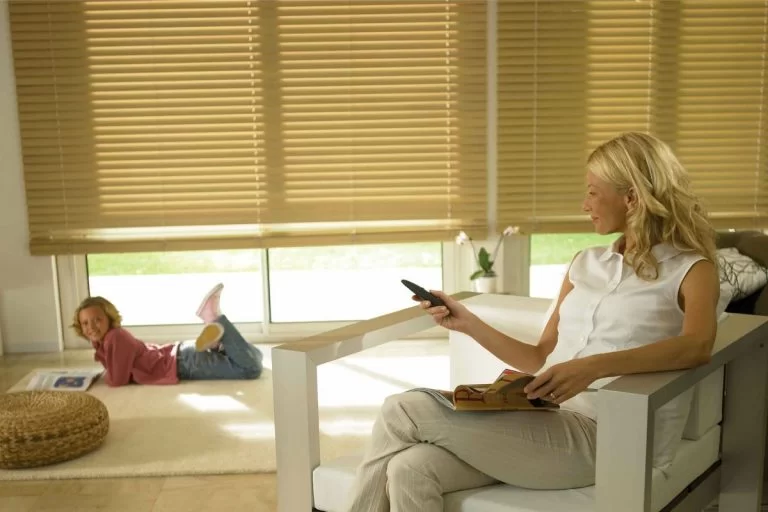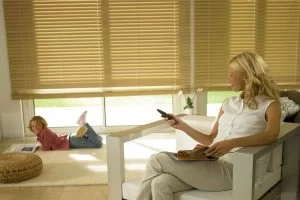 Venetian Blinds with Intelligent Tilt Alignment. Lutron Venetian Blinds provide independent control of blind height and slat angle, putting a new tilt on the timeless look of this traditional window covering.
With one button press, you can change the amount or angle of light streaming into a room – for unmatched versatility any time of day.
You can have optimal privacy, while still preserving your view and controlling the amount of sunlight in a space.
Lutron's Venetian Blinds, come in many colors and styles, but they can offer a bespoke option. They can make your blind with any wood type and color you would prefer, even painted baby pink or blue if required.
Features
Works with Amazon Alexa, Nest and Google Assistant
Compatible with Apple Homekit
Set your favorite blind height and tilt angle for the slats as a preset, and the blinds will automatically adjust to that height and tilt angle with the touch of a button.
You can set several presets for different environments and conditions, giving you a range of options for the automatically adjusting blinds.
Keypads and remotes feature buttons for adjusting slat tilt angle, so with one touch, you can precisely position the slats. Intelligent Tilt Alignment ensures that the slat angle between adjacent blinds remains with 1/16th of an inch of each other for a clean look. Venetian blinds are available for Sivoia QS and Sivoia QS Wireless systems.
Get Quote: Lutron By Tidmarsh
QMOTION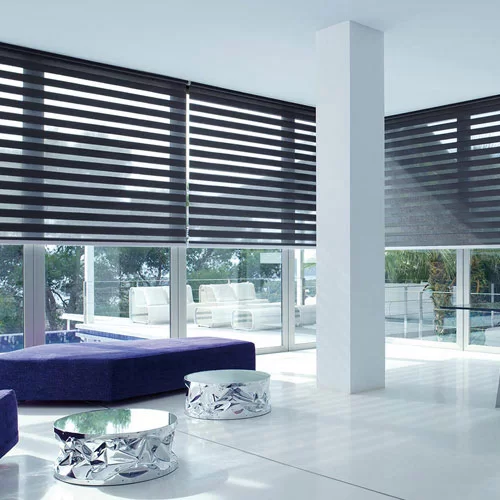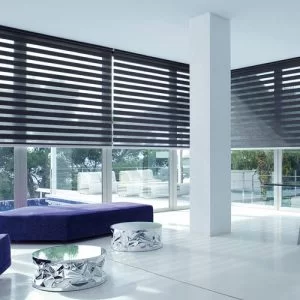 QMotion Blinds specialize in providing unique and innovative window covering solutions for the home. The company specializes in wire free window treatment solutions with all the benefits of a wired solution but without the need for a qualified electrician to install 240v wiring. The QMotion Blinds solution requires no wiring at all.
Features
QMotion Blinds can be controlled wirelessly via Amazon® Echo Plus without the need for a bridge into your Wi-Fi router/hub. QMotion Blind motors already have ZigBee protocol built in which means they can talk directly to Amazon® Echo Plus.
Simple set up is via the Amazon Alexa app which allows operation of the blinds from within or outside the property.
You can also set up routines and schedules so that the blinds will raise and lower at times when you are away from your property.
The ability to operate the blinds by voice, remote or manual override brings a brand new level of convenience to the end user who wants an easy to operate quiet motorized blind solution.
QMotion remote or smart app for either one-way or two-way communication.
Power to the blinds is available via wireless hybrid spring and battery power or traditional wiring via low volt or cat 6 cable.
Note:
Qmotion might not offer smart venetian blinds but Qmotion Hub (Qube) can be integrate with other company blinds.
Motorised Venetian Blinds by Smart blinds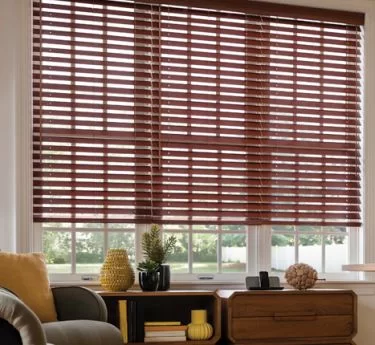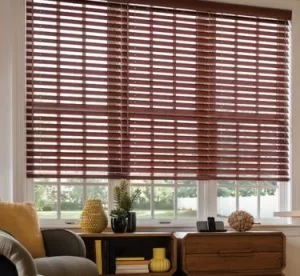 Their motorized venetian blinds come in either traditional real wood, or contemporary easy care faux wood. Both are made by hand and available in a number of wood and satinwood painted finishes to match your interior whether it is the latest contemporary style or a more traditional home.
The motors used on their ranges of wooden blinds are hidden within the wooden blind track making it less visible and not detracting from the beauty of the blind.
Their automation packages include standalone remote control operation, smart device app operation or voice operation. As well as our own standalone system. They can also provide blinds to link into any 3rd party home automation systems systems, such as Lutron, Control4, Rako, LightwaveRF, Crestron and more should you have already begun creating your smart home.
Features
Motorized blinds can be controlled by voice, from your Google Home or Alexa device or simply via remote control handsets.
Their Wooden Venetian blind range offers a wide variety of beautiful slat options, in both natural and painted finishes, especially chosen to reflect current trends and classic favorites.
Get Quote: info@smartblinds.org
Somfy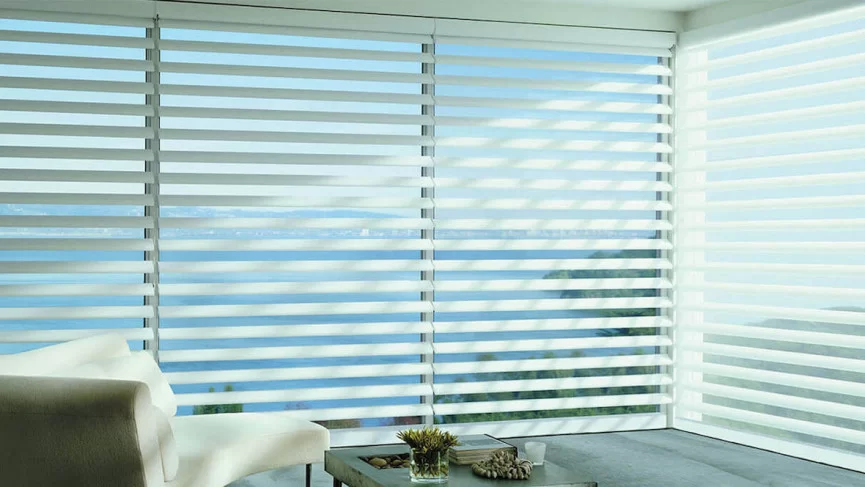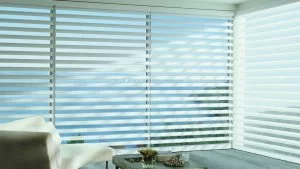 Venetian blinds consist of slats that can be tilted or lowered and raised. They are available in aluminium, wood or fabric, as well as many different finishes and textures.
Features
Smooth operation and silent motors
App and voice control options
Motor discreetly pre-assembled
Ideal for large windows, high-up or hard to reach shades
Control your blinds by remote, wherever you are, at any time
Get quote: Somfy Blinds with device
Duette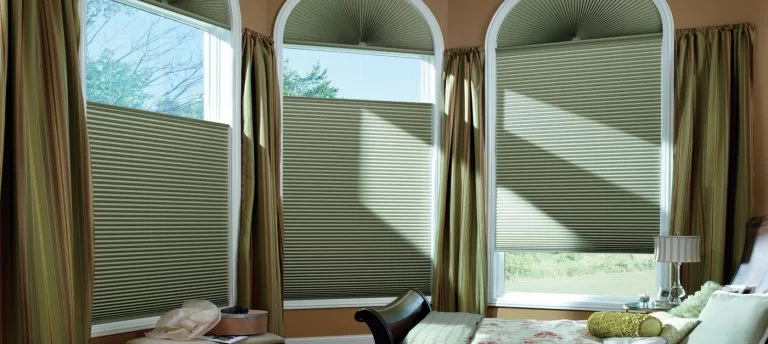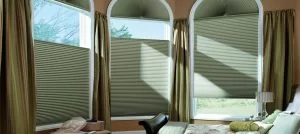 Electric blinds are perfect for those hard to reach areas; rooms with lots of blinds or just for an added touch of luxury. PowerView® allows you to control your electric blinds via your smartphone, virtual assistant or our Pebble® remote.
Features
Their Electric Blinds are battery powered, so no wiring required
Set blinds to move throughout day depending on light and privacy levels
Works with Alexa
Control blinds by APP from your smart phone even at a remote location
Schedule blinds at a set periods of time to move according to your preferences
Get Quote: Blinds with Device
Related: Z Wave Blinds
Smart Venetians Blinds by Innovation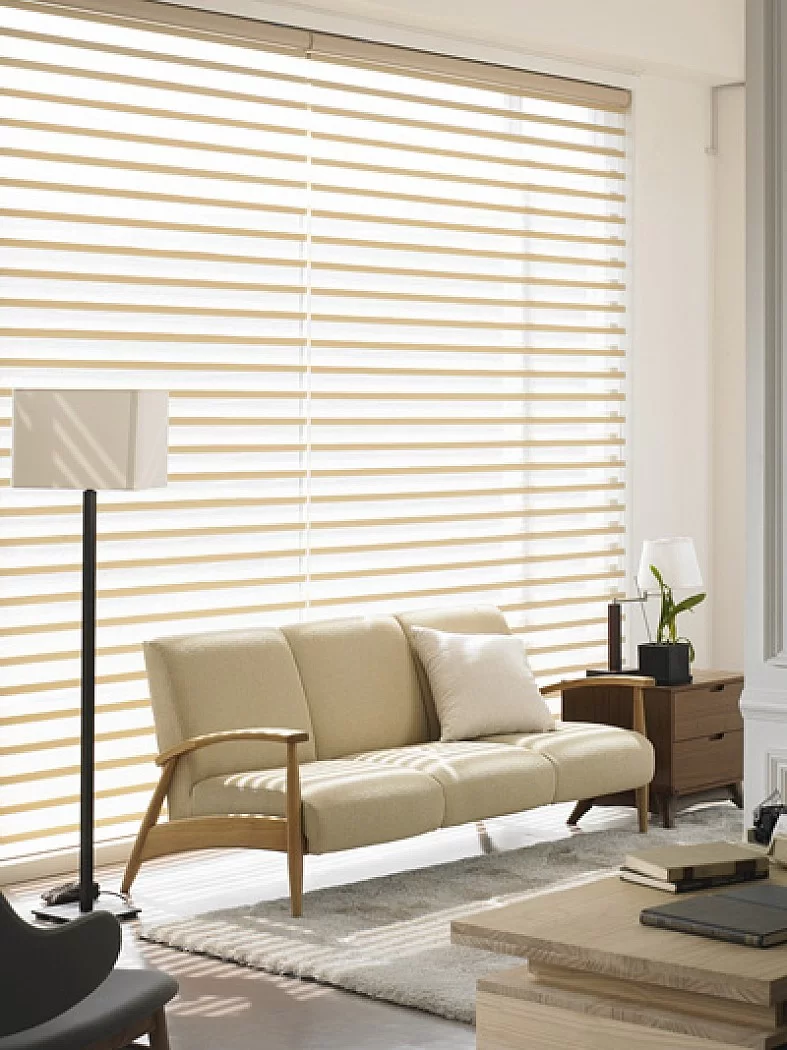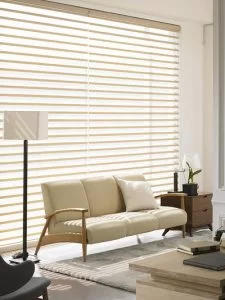 All slats are manufactured from aluminum alloys coated with the highest quality polyester based paint – designed to withstand 500 hours at 100% humidity and tested to withstand both slat spray solution and accelerated weathering. So no need to worry that the slats on your venetian blinds will be unnecessarily damaged!
The cord lock is a crash-proof design made of clear, durable plastic containing a metal roller for the cords to ride over.
Roulett, Continent and Classic Venetian Blinds are selected for their attractive appearance and sturdy, durable qualities. Continent and Classic headrails are the preferred choice when creating that individual look by means of wide woven ladder tapes.
A whole new approach to privacy has been achieved with the 25mm Privacy Blind. This has been designed to ensure that sun-spots on work areas and screens are eliminated and offers improved room darkening performance for use in AV and VDU areas. The Privacy Blind is the ideal solution for working in the home or the office.
Get Quote: Blinds with Device
Brunt Blind Engine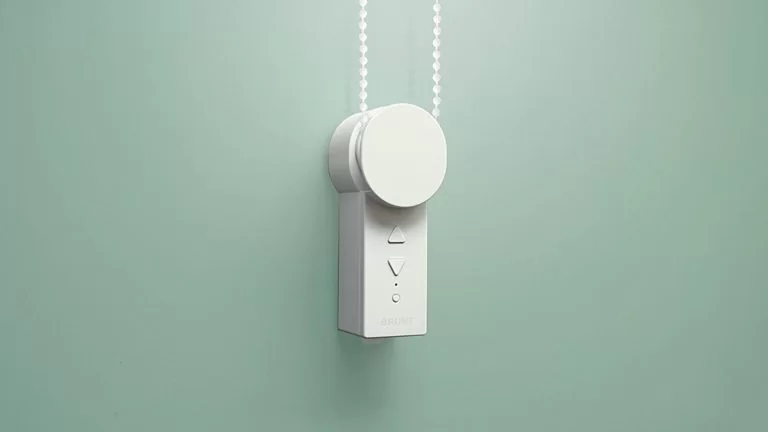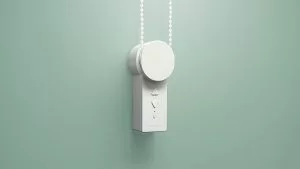 The Brunt Blind Engine is a device that transforms your standard home blinds into smart electric blinds.
The Blind Engine can be connected to your smartphone, allowing remote control and scheduling to open or close your blinds anytime, anywhere.
Mobile Connection via Wi-Fi – You can set the maximum and minimum blind lengths by connecting to the Brunt application (IOS & ANDROID).
Related: Alexa controlled blinds
Features
With the Brunt App's Welcome & Goodbye feature, you can raise and lower multiple blinds at the same time.
With the Brunt App's Welcome & Goodbye feature, you can raise and lower multiple blinds at the same time.
Set your desired blind's height and schedule them to open or close.
The Blind Engine will automatically stop in case of an emergency if the line catches, or if the Brunt Blind Engine detects abnormal weight or pressure.
The Brunt (Smart Home Skill) enables you to individually control your Brunt devices with Amazon Echo. After setting up your devices, enable the Brunt (Smart Home Skill) app by logging in with your Brunt app account. You can now individually control your devices with Amazon Echo.
Device Price:
Motorized wood venetian blinds By Brite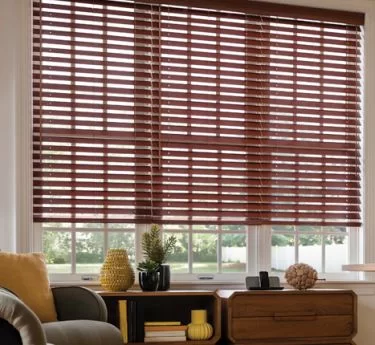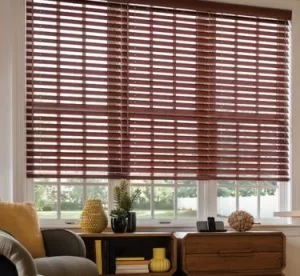 Save time and enjoy life more as your motorised blinds do all the work for you. Depending on your preference, we can recommend the Somfy motor and the control option to suit your requirements.
They offers Timberlux Wood Venetian, Sunwood Wood Venetians, Timber Impressions and Timbercraft Wood Venetians with having a same features and specification.
More Articles: Twinkly Smart Decoration
Features
240vac
Tilt, Raise and Lower
Available in a large range of slat colours
3 slat widths from 25mm to 50mm
Made to measure for all shapes and sizes
Get Quote: Wood Blinds with Device
Home Automation

>>

Lightening

>>

Others

>>

Smart Venetian Blinds