If you are looking for an efficient home climate controller then Trane XL824 thermostat is best. Trane XL824 thermostat is a simple programmable and touch screen device that controls heating and cooling system. It is designed in a way considering the convenience and comfort of customers as it plays aa central role in the regulation of indoor environment. It serves on your command to facilitate you. Trane XL824 is a device with sophisticated features and you can customize all the settings with your own preferences.
However, all devices need to be taken care properly for them to perform their functions optimally. But sometimes you can experience little problem in its working which can be due to some simple that you can solve yourself and some problems that you need a technician to take care of it. Here is a list of trouble shootings and their solutions that you can tackle yourself.
Here is an Overview of Trane XL824 Thermostat Troubleshooting
| | |
| --- | --- |
| Troubleshooting Problems | Quick Solution |
| 1. Thermostat would not turn on | Try rebooting Thermostat |
| 2. Thermostat would not change the temperature | May be temperature is locked press + and – buttons simultaneously 3 times. |
| 3. HVAC system short cycling | Try changing batteries or check circuit breaker |
| 4. Room temperature is not matching with thermostat setting | Remove dust from thermostat or change the air filter |
| 5. HVAC system not working | Replace the batteries or check home circuit setting |
How To Replace Batteries In Trane XL824 Thermostat:
You will have to change the batteries around once a year or more often depending on your battery quality. Dead batteries effect the functioning ability of the thermostat as it provides the power to all the signals and actions taking place in the thermostat. It can also lead to the blank screen.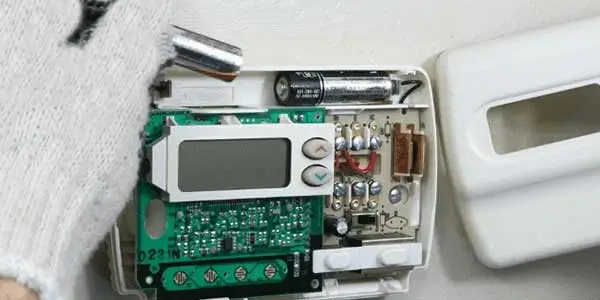 Turn off the power of the thermostat either by circuit breaker or fuse box.
Then remove the screws present at the bottom of the thermostat.
Grab the top and bottom of the thermostat mounted on the wall(control plate)
Pull it off the wall gently
You will see the batteries from the backside.
Take all the batteries out one by one carefully in such a way that terminals or thermostat are not damaged.
Grab the batteries
Take new Triple AAA batteries and insert them in battery slot.
Pay attention to the staggering terminals (anode and cathode) indicated by the + and – sign when replacing the batteries.
Then carefully pick the thermostat and put it back on the wall and fit it.
Once the thermostat is back on the wall press the "configure" button present on the back of the control head and you will see a wrench shaped icon on the display.
If you still have queries about replacing the batteries you can watch video by clicking here.
How to Remove Trane XL824 Thermostat Cover:
Trane XL824 thermostat contains two parts of wall one is wall plate and other is control head. Control head is generally also known as cover. It also contains a battery compartment so to remove batteries first you have to remove the thermostat cover. Here is how to go about it.
Turn the power off either using a circuit breaker or fuse box
First step is to turn off the power of the system either by fuse box or circuit breaker.
Then you need to remove all the security screws by the help of screw driver.
Now pull out the plate and remove the thermostat.
While removing the cover of thermostat you should have following consideration in your mind.
While pulling out the plate don't pull it too hard otherwise the base can be detached from the wall. If it is taking long manually make sure to use screw driver.
All the wires are coming from the wall and not all the wires will be attached to the terminals and in case if all the wires are not coming through the wall, then there must be a second cover and you also have to remove that cover.
To remove the second plate use screw driver and then you will be able to see all the wires.
In case if there are some nuts or cable with a label of 120V AC then stop the action and call for specialized technician.
How do I reset my Trane XL824 thermostat?
Before proceeding make sure that the HVAC system is Idle.
On the thermostat screen, press Menu.
Select Settings.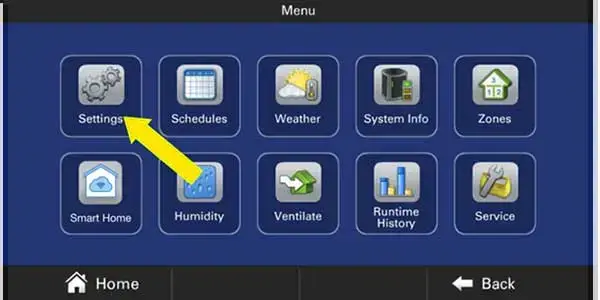 Click on "Yes" to allow your thermostat to reboot. This process can take several minutes in Completion.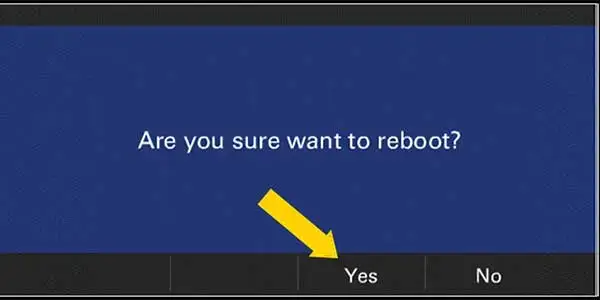 All other Thermostat Models:
Before proceeding first make sure that HVAC system is Idle.
Then search for switch button of your thermostat in the breaker box.
Switch the button OFF for 30 seconds.
Then flip the button to the ON position.
The reboot process can take up to several minutes.
Why The Trane Thermostat Won't Turn On?
While using thermostats, sometimes your thermostat does not turn on it can be cause of several issues. One of the most important problems can be your batterie, if your batteries are not working properly and supplying enough current your thermostat would not turn on.
Here are some major problems that can lead your thermostat to not turn on and solution to these problems are also given in detail.
1. Temporal Battery Insufficiency
Sometimes, battery is fully charged but not inserted properly. in this case your device would not turn on.
2. Obstructed Electricity Poles
Dirt inside of your thermostat's compartment may be preventing the batteries from making proper contact.
3. Worn-Out Batteries
The batteries could have simply gone faulty.
4. Flipped Safe-T-Switch
Most users install a Safe-T-Switch on their HVAC furnace pipe that if flipped, will prevent the thermostat from being turned on when connected.
5. Thermostat Hardware Problem
Problem in hard ware of your device can also prevent your device from turning on.
Here's how you can fix a Trane thermostat that is not turning on:
1. Power Reset Trane Thermostat
The first and most easy thing you should attempt is the power cycle process. If your power cycle has suffered a problem it can lead to disruption in the functioning of thermostat. Here's the complete power cycle guide for your Trane thermostat:
Take the front panel of your thermostat off.
Expose all 3 batteries.
Take the batteries out.
Standby for 5 minutes while the thermostat is getting discharged.
Re-insert the batteries back into your thermostat.
Test your system if its working properly.
Note: As you put the batteries back in, watch out for the electric poles and the way you're inserting them.
2. Clean Trane Battery Compartment
Sometimes dirt particles are entrapped inside your battery compartment and can lead to prevent the proper contact of batteries. in this case clean your thermostat's battery compartment properly.
Here is a complete guide to clean your thermostat completely:
Go next to the Trane thermostat unit.
Take the front panel off and expose the batteries.
Eject the batteries out.
Grab both wet and dried
Use wet fabric or pad to soften the dense dirt inside the thermostat.
Collect everything using the dried napkin.
Make sure to re-insert the batteries when the compartment is fully dried to avoid any further problem.
3. Replace Thermostat Batteries
If cleaning the thermostat's internal compartment didn't help with the problem, you should replace all of the batteries inside cause there are a lot of chances that your batteries are out of order and need to be replaced.
Here's how to replace the batteries of your thermostat in easy steps:
Go to the Trane thermostat.
Expose the 3 batteries again.
Take all of them out and get 3 new units of AAs.
Put them inside your thermostat.
Close the compartment.
Test your system if it is running smoothly.
4. Disable Safe-T-Switch
If there is a large pipe coming out of the furnace in your HVAC encasement, on that pipe, the HVAC technicians have installed a Safe-T-Switch that when flipped, will disable your system for the time being. All you have to do is to find the pipe and make sure that the safety clog switch is turned off.
This means that the switch is currently disabled and your system should be working properly (along with the thermostat).
Note: If required, apply force to spin the switch, due to its anti-children technology, preventing curious kids from spinning it.
5. Reconnect Trane Thermostat's Wires
Even if your thermostat is operated by batteries, it still has wire connection that connects your thermostat to HVAC system and it can enable or disable ACS. If any wire gets damaged it will also lead your thermostat to not turn on. By following these steps, you can reconnect your system.
Take the front panel of the thermostat off.
Expose the 7 wires that are connected to the back.
Ensure each of the wires is connected to the panel securely.
How Do Wires Have To Be Connected?
There are total of 7 wires in your thermostat. Orange, white, green, blue, black, yellow and red.
The wires have to be connected this way:
Orange wire at "F" entry.
White wire at "X2" entry.
Green Wire at "G" entry.
Blue wire at "O" entry.
Black wire at "Y" entry.
Yellow and red both wires should be connected at "R" entry.
Note: If you notice that a wire is damaged, make sure to contact an HVAC technician immediately.
How to Reboot Trane Thermostat:
If your thermostat is unable to start there are chances that the problem is somehow related to software. A factory reset will definitely manage to fix issues with the software of your device if applied properly.
Ensure that your HVAC system is idle.
Go over to the box with the circuit breakers
Locate the HVAC system switch.
Slowly turn it to the OFF side in an interval of 5 seconds.
Standby for 30 seconds and then spin it back to ON.
If you're still having issues contact an HVAC technician to identify and solve the problem.
Thermostat does not let you change the temperature:
After the selection of temperature of your choice you feel irritated because thermostat will not change its temperature as you are trying to program it. It can be due to change in settings if your temperature is locked than thermostat will not change the temperature. To solve this problem press + and – buttons at the same time thrice. If this does not work reset your thermostat or change the batteries of thermostat and remove all the dust present in the thermostat. If it is still not working call a professional technician.
How to know if you need a replacement:
If your thermostat is suffering from some troubleshooting and all the methods mentioned above are not helpful then are highly chances that you need to replace your thermostat. Here are some symptoms that can indicate that you need to replace thermostat.
If your thermostat is more than 15 years old.
If your thermostat trouble shooting is caused due to faulty wiring or electricity system.
If your thermostat often displays wrong room temperature.
Your thermostat often gets stuck on a specific temperature.
Your energy bills are inexplicably high.
Your thermostat is making strange noises.
If your thermostat does not remember the set temperature that you programmed.
You Might Want to know this:
Home Automation

>>

Thermostats

>>

Smart Thermostats

>>

Trane XL824 Thermostat Troubleshooting – Full Guide