Somfy 74300 remote is a seamless device which controls your blinds or shades making your life easier and convenient with this modern era. It has some specifications such as
It makes convenient to control the devices.
Simplify the routine tasks by increasing your comfort level.
Easy to programmed and use.
Reliable to use and energy efficient.
Has simple operation and amazing control over devices.
In this article we will provide you a complete and easy step to step guide to program Somfy 74300 Remote Programming.
How to Program Your Somfy Remote RTS Motor?
Motors blinds generally come without any programming. If you want proper functioning programming then must follow these steps. While programming all the blinds should be disconnected to the power except the one which is being programmed.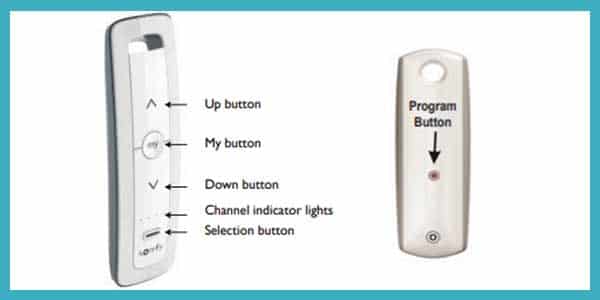 Step1: Connect Power
first install the motor in the blinds and connect them with power (120V, or 12 V or 24V transformer or 12 V battery wand).
Step 2: Initiate programming:
press and hold both Up and Down buttons until the system jogs. While you are programming shades will only move when up or down buttons are held.
Step 3: Check Directions:
To check directions, press up or down button while pressing the down buttons blinds will go down or outside. For changing the directions of the blinds press and hold "my" button until the blinds jog.
Step 4: Set the Upper limits:
Raise your blinds to the position of your choice and then press the "My" and "down" buttons at the same time and stop when motor jogs (incase shade stops moving when you release the buttons reset your blinds to the upper limit). When you reach the lower limit of your blinds stop the motor. Now you can move your blinds with UP and Down buttons.
Step 5: Set the lower limit
Now press "My" and "Up" buttons simultaneously and hold until the shades jogs. Then release the buttons blinds will move to the upper limit positions.
Step 6: Confirm the limit setting
Press "MY" button and hold it until your system jogs. It will confirm the limit settings.
STEP 7: Set user mode
To set up user mode press and hold programming button present on the back of the transmitter until the motor jogs. While your system is in user mode you can manage the limits just by a gentle press of Up and Down buttons.
How to set up your Somfy remote control for motorized blinds for Multiple Blinds:
1. Wake up your blind motor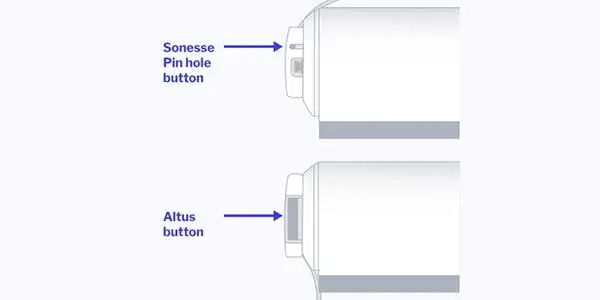 To wake up your blind's motor first press the pin hole (Sonesse) or Altus (motor Button) present on the side of your roller blind to wake up the motor. The blinds will give a little up and down jog. Note that battery of your blinds should be fully charges before you try to wake up the blinds.
For your multiple rollers blinds you should add one blind at a time by following all these steps. Once you are done adding all the blinds group them.
2. Pick your channel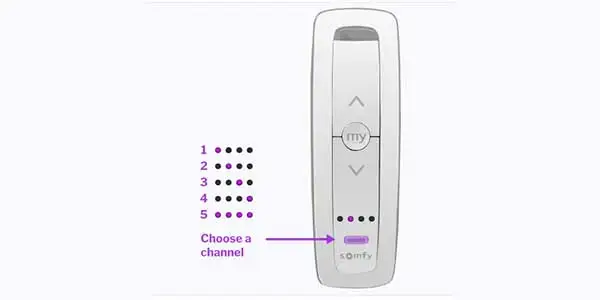 If your remote is 5 channel remote then click on the channel button at the bottom of the remote and select the channel for your blind. Red light will tell you about the channel you are on.
Those who have 1 channel remote can kip this point.
3. Assign your blind to the channel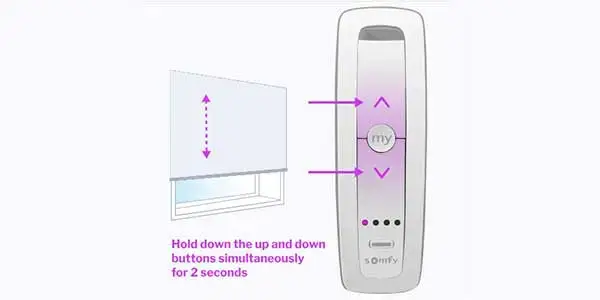 Press "UP" and "Down" buttons at the same time for 2 seconds. Your blinds will give a little jog if your blind is assigned to the channel.
4. Check your roll direction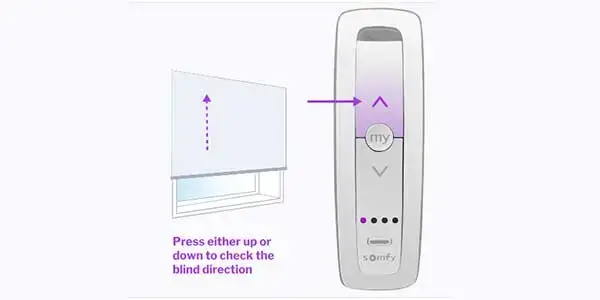 To check that your blinds are moving in right direction press "Up" or "Down" button.
If your blinds are not moving in right direction press and hold "My" button until your blinds jog.
5. Set your blind's upper limit (part A)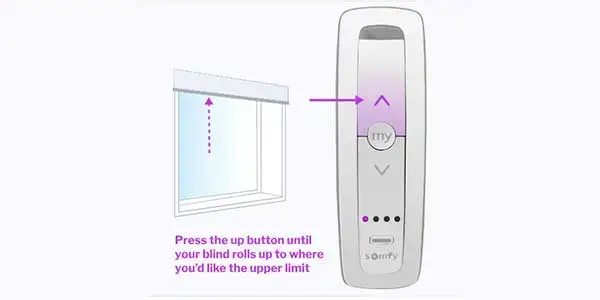 To set the blinds upper limit press the "Up" button and raise your blinds to the desired limit.
6. Set your blind's upper limit (part B)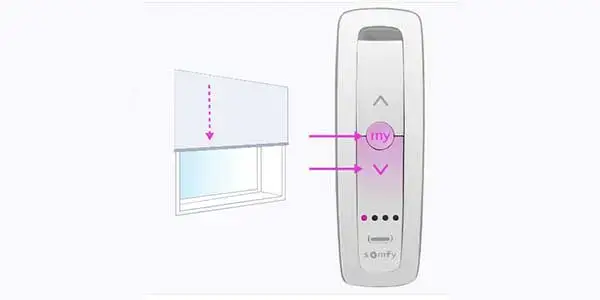 Now press and hold "My" and "Down" buttons and your blind will move downward now release the buttons. When blinds reach the bottom press the "my" button.
7. Set your blind's lower limit (part A)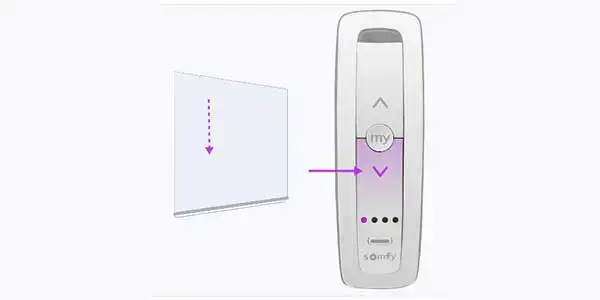 Press the down button and lower your blinds to your desired position. If your blinds move slightly upward you can move downward by pressing down button.
8. Set your blind's lower limit (part B)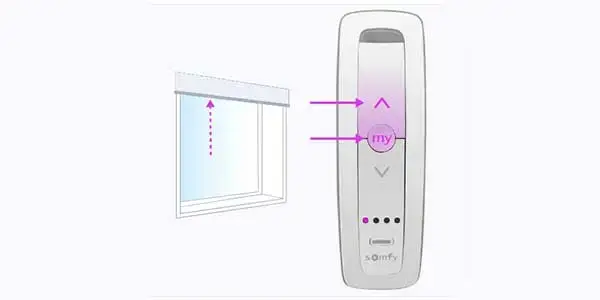 Now Press and hold both My and Up buttons simultaneously. When blinds start to move release the buttons and when they reach to upper limit press my button.
9. Confirm your end limits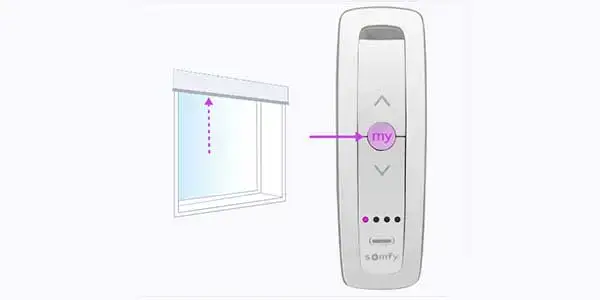 Press "My" button and hold it for 2 seconds until you blinds give a jog which will indicate that limits have been set.
10. Finish your remote set up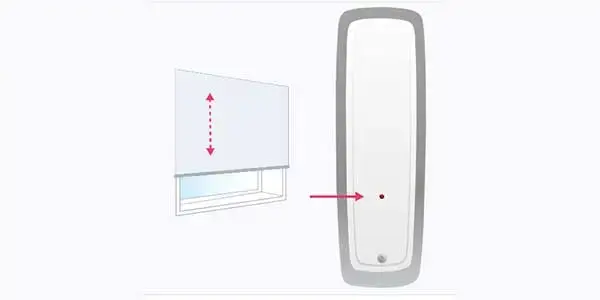 Take a pin or a paperclip and press the program button on the back of the remote, your blinds will give jog. If your blinds do not give a jog then lightly tap the program button again because pressing and holding will not give the result. Make sure that your blinds give a little upward and downward movement to fully setup the remote.
Now your remote is completely set. You can open and close your blinds just by pressing up and down button.
Now if you want to set your remote for multiple blinds such as double or linked blinds, follow steps 1-10 for every additional motor. After adding all the blinds group them. You can see this on PDF as well.
QUICK PROGRAMMING FOR Somfy TELIS 16 RTS:
The somfy TELIS 16 RTS remote control has the ability to control up to 16 blinds or 16 groups of blinds.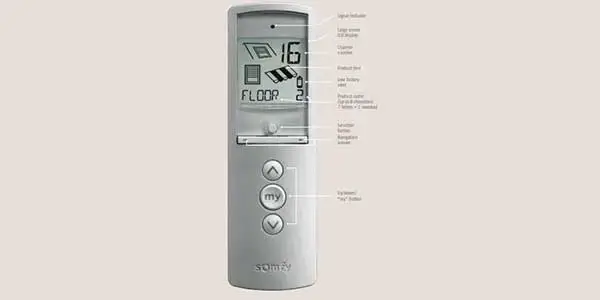 Before starting the programming, each motor should be programmed and upper and lower limits of blinds should be set. After 2 minutes of inactivity the Telis 16 RTS remote goes to sleep automatically. If the screen is off turn it on by pressing any key.
STEP 1: First select the channel that you want to customize by using the arrow < and > buttons.
STEP 2: Then press the selection button SET will appear on the screen and set mode is activated. The flashing icon such as shades/shutter, rolling shutters/skylight shades and awning are displayed. Scroll down to choose the icon.
STEP 3: To save the icon Press the SELECTION button and move to the first character.
STEP 4: Now using the navigation button or < and > select the location of the character that you want to edit. The flashing hyphen shows the character that is being edited.
STEP 5: Now press the Selection button briefly to edit the character in this proximity.
STEP 6: While selecting another character hyphen flashes for selection use the arrows or < and >.
STEP 7: Again press the Selection button for a brief moment to save the character then move on to the next character.
STEP 8: for each character in the channel name repeat steps 4-7.
STEP 9: Now press and hold the selection button and SET will disappear from the screen and SET mode will be deactivated. Now your Telis 16 RTS remote will be back to the Manual Mode.
NOTE: The characters can be (7 letters and 1 number) can be any alphabet from A to Z or any numeral value from 0 to 9
For more info watch this video
How To Delete a Channel from Remote?
The process of adding and removing the channels from remote is pretty much same.
STEP 1: First of All, press and hold the program button on the back of the RTS transmitter which is already programmed to the point that blinds give a small jog. Programming mode will be activated for 2 minutes.
STEP 2: By using the arrow or < and > buttons select the channel that you want to customize.
STEP 3: Now briefly press the Programming Button the blinds will move up and down for a moment as it is deleted from the selected channel.
If you want delete more blinds from channel repeat third process again.
Programming Somfy 4 and 5 Channel remote:
To program your 4 or 5 channel remote go through the same process as that for RTS 16 channel remote and add the channels of your choice but for 4 channel you can add up to 4 channels and for 5 channel remote you can link up to 5 channels.
Why is my Somfy blinking red?
Flashing red light shows that device is unplugged the power supply is not proper. To solve this issue plug it back.
How do I reset my Somfy wireless motor?
turn OFF the power supply of motor for 2 seconds.
turn the power supply on for almost 10 seconds.
Then again turn off the power supply for 2 seconds.
Now turn the power of motor back on and the system will give a little jog for 5 seconds.
Now take your remote and press the Programming button on the remote control. And motor will jog twice.
To confirm press the programming button again.
While resetting the motor shutter should not react which indicates that motor has been reset successfully.
Home Automation

>>

Other

>>

Smart Blinds

>>

Somfy 74300 Remote Programming – Complete Guide