Here Are the Most Common Problems and How Dyson V7 Troubleshoot
Dyson V7 Troubleshooting Pulsing
If your Dyson vacuum begins to pulsate on and off or only operates for short periods of time, this is due to a blockage in your unit or its charger. A Dyson cordless vacuum will begin to notify you of a potential problem by shutting off or pulsating, indicating a problem.
Dyson vacuums, according to its online help page, are meant to notify consumers of possible problems, thus pulsing is totally normal. Again, it's a good idea to check your vacuum's dirt bin and make sure you're charging it on a regular basis.
How Do You Restore A Dyson Cordless Pulsing Vacuum?
Fixing a pulsing cordless Dyson vacuum isn't very hard.
To start:
Check your vacuum, pressing its bin release button.
Empty your Dyson's dirt bin.
Separate your vacuum's bin from its cyclone.
Remove the entire bin from your machine.
Clean the area with a cloth or dry brush.
While your bin is removed, check your Dyson's inlet flap for blockages.
Check all attachments for blockages and remove any debris as necessary.
Clean out your vacuum's motorized head, undoing its end cap fastener.
Remove your Dyson's brush bar and cut away any hair/fibers from its bristles.
Reassemble your machine, test it, and you're good to go!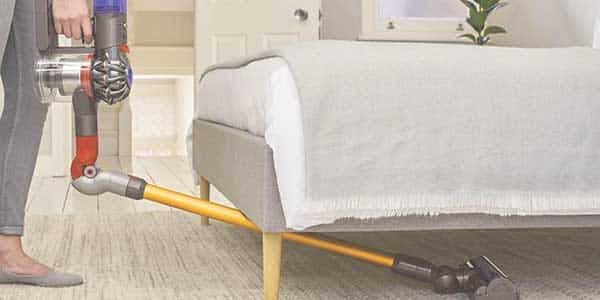 Dyson V7 Pulsing After Cleaning Filter/ Dyson Pulsing But No Blockage
If you have cleaned your Dyson filter and allowed it to dry overnight before inserting it into your vacuum, yet the pulsing persists. The Dyson filter must be replaced.
Replacing a Dyson filter is simple and should be done once every 12 months. So, keep your Dyson serial number handy if you want to get the correct filter for your Dyson vacuum. (Find out what Dyson you have here.)
Here's the chart for Dyson filter with their series.
Dyson V7 Not Charging
While a faulty battery is most likely to blame, there might be other causes. The following are the most essential reasons:
The Dyson battery is not correctly attached to the vacuum cleaner
Your Dyson vacuum cleaner's battery is worn out
The Dyson battery is not correctly attached to the vacuum cleaner
Your Dyson vacuum cleaner's battery is worn out
How to Spot a Dyson That's Not Charging?
There are a number of indicators that a Dyson is no longer charging. When you plug in the Dyson vacuum cleaner, for example, the light no longer illuminates (after all, there is no battery power).
The Dyson won't turn on, even after charging for the minimum number of hours.
A red light will flash, indicating a worn-out battery.
The blue light does not come on when you charge the Dyson battery.
If you have a newer Dyson with an LCD screen (for example, the Dyson V15 Detect), you will receive a message on the display when charging.
Solution: You May Recharge the Battery This Way.
You cannot use a Dyson vacuum cleaner if it is not charging. As a result, it is critical to resolving this issue as quickly as feasible.
First, make sure the vacuum cleaner isn't just out of power. That is why it is best to charge the Dyson for the shortest amount of time first. And, while this may seem hopeless, it may save you from purchasing an extra battery for nothing.
Relevant:
The minimum charging time for each Dyson vacuum cleaner series is listed below.
| | |
| --- | --- |
| Dyson serie | Minimum charging time |
| Dyson V6 | 190 minutes |
| Dyson V7 | 221 minutes |
| Dyson V8 | 301 minutes |
| Dyson V10 | 210 minutes |
| Dyson V12 (Slim) | 280 minutes |
| Dyson V15 Detect | 275 minutes |
| Dyson Omni Glide | 208 minutes |
| Dyson Micro 1.5kg | 237 minutes |
Have you charged the Dyson for at least the specified amount of time? Then you may use the following checklist to help you pinpoint the issue.
Is there a red light that is blinking? Then there's the issue with the Dyson battery.
Is there no flashing red light? When you insert the charging wire into the Dyson, see whether it flashes blue light.
Is there absolutely no light? The charging cord and/or charger may also be defective. Examine the cable for any signs of damage or flaws.
There are no noticeable flaws on the charger? Then, ensure that the Dyson battery is securely attached to the vacuum cleaner. Remove and replace the vacuum cleaner's battery.
From experience, I can say that in many cases the problem will lie with a defective battery. Replacing a Dyson battery for a new one is often the only solution. Although this entails additional costs, the replacement itself does not require any technical knowledge.
Many users want to know if they can reset a Dyson battery. It is not feasible to reset a Dyson battery, however, it is always a good idea to replace the battery in the vacuum cleaner.
New Dyson battery? Check these tips first!
Before you just buy a new Dyson battery, it is smart to read the tips below carefully. This way you may still have a warranty on your battery.
Check to see whether your Dyson battery is still under warranty.
Always use a Dyson battery; general batteries might cause damage to your Dyson.
Check that the battery is compatible with your Dyson vacuum cleaner (check your serial number in the booklet 'Which Dyson do I have?').
Choose the correct sort of battery: do you have a click-in battery or a screw-in battery? A clickable battery may be identified by its huge red button (see the photo below)
Discover the right battery in the overview below.
How Do I Reset My Dyson V7 Battery?
Unplug the charger from the power source.
Connect the charger once more.
Connect the Dyson vacuum to the charger.
Even if the vacuum does not turn on, pull the trigger and hold it for 20 seconds.
Release the trigger. Remove the charger from the vacuum and continue to use it as usual.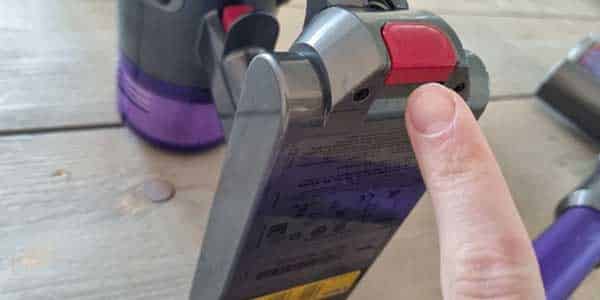 Dyson V7 Blue Light Flashing 10 Times
The machine is nearing the end of its useful life and must be replaced.
See Above your Compatible Battery.
Dyson V7 Flashing Red Light 32 Times
Flashing red light signals a malfunction. This is usually caused by a defective battery. A Dyson V7 battery replacement is required.
Over time these lithium-ion battery packs will fail. On average you should be able to get around 500 charge cycles on a lithium-ion battery pack before they begin to fail. This is normal and it is a condition of all lithium batteries.
Symptoms include short run times, pulsing vacuum motor speed, slow charge times, and flashing red lights.
How to Replace the Dyson V7 Battery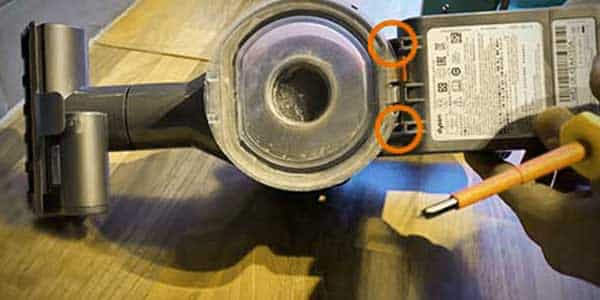 Open up the Dyson V7 top bin using the red latch and pull the dirt separator out.
Remove the clear bin by releasing the red toggle latch on the bottom near the battery.
Use a small Philips head screwdriver to remove the 2x screws on the bottom of the V7 battery.
Remove the single screw on the back of the handle near the charge port.
Slide out the battery and replace it with a new V7 lithium-ion battery.
Replace everything back in reverse order.
Troubleshooting these Common Faults OF Dyson V7
V7 cordless vacuum stops and starts.
This is frequently caused by a blocked motorhead or an overflowing collecting bin. When the Dyson detects a large current draw from the battery, it activates a protective circuit. An obstruction is generally to blame.
Dyson V7 not charging
When you try to charge a malfunctioning Dyson battery, you can either get no lights or 32 flashing red lights.
The V7 battery must be replaced in the manner described above.
Dyson V7 short run time
This is a classic condition in which your battery begins to fail. The V7 can run for around thirty minutes on its regular low power settings with a full charge.
By using the boost button, you may significantly decrease the run time.
If your cordless vacuum stops working after a few minutes, it's time to replace the Dyson V7 battery.
Motorhead not turning
Check for hair or objects stuck in the motorhead. Empty the bin and clean the filter. Check if the belt has broken that turn the brush bar.
If the battery is failing there may not be enough capacity to turn both the vacuum suction motor and the brush bar. Replace the battery.
Home Automation

>>

Other

>>

Smart Vacuum

>>

Dyson V7 Troubleshoot