Some may attach remote control option is a smart way to control via from Bluetooth or from phone, tablet which is complete is wrong perception.
These are the dedicated list of locks with having a separate remote control device to lock and unlock door from it.
These are not compatible with smarter systems such as z-wave or zig-bee supported, however if you want Bluetooth or smarter locks compatible with popular smart systems then here is in detail of smart locks.
List of Electronic Door Lock with Remote Control
HAIFUAN Digital Door Lock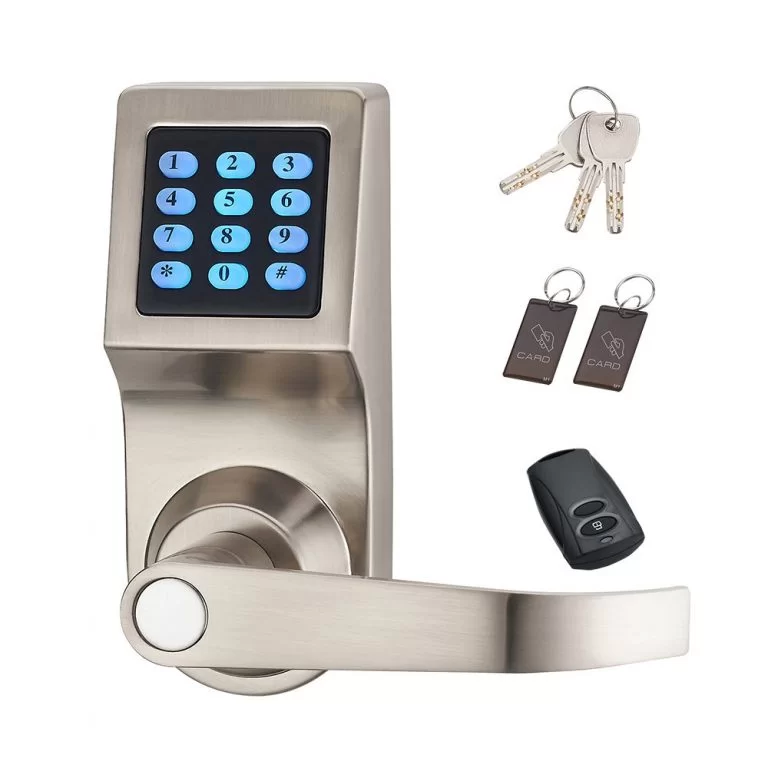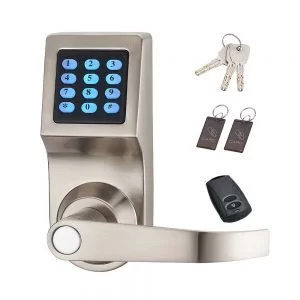 Unlock with Remote Control, M1 Card, Pass Code or Mechanical Key,Voice Navigation While Operating
Max of 100 Codes, 800 Cards, 120 Remote Control users. Stay Unlocked Mode Available. Keypad illumination, Extra remote and card available.
Users can input many digits before and after the true code to open the door, for example, true code is 234890(the length of codes should be 6-10 digits), you can input 146+234890+1578# to open the door, total length must be less than 20 digits, never worry about people around you will figure out the true code :).
The lock will alarm when the battery voltage is lower than 4.8V, you can use keys to open the door (move away the key hole cover first).
When enter into this mode, the lock won't automatically lock after open once, no need to input code every time for a busy door.
Voice Navigation While Operating, make it much easier when program the lock.
Price:
LockState Electronic Deadbolt with Remote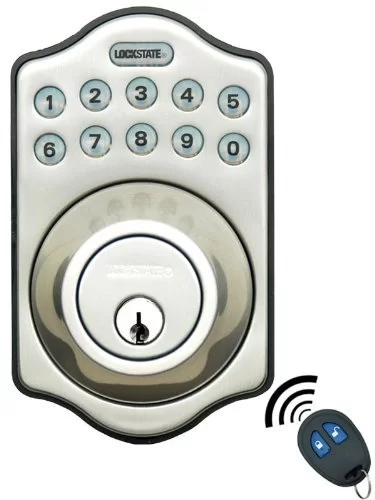 Electronic Keyless Deadbolt lock with 6 user codes. Never fumble for keys again. This electronic deadbolt features a lit keypad for easy viewing in the dark and a radio frequency remote.
The remote can lock/unlock the door from up to 30 feet. One-time user codes can be issued for service personnel or guests. Will work on both right and left hand doors. Comps complete with 2 emergency override keys, low battery indicator.
MiLocks Digital Deadbolt Door Lock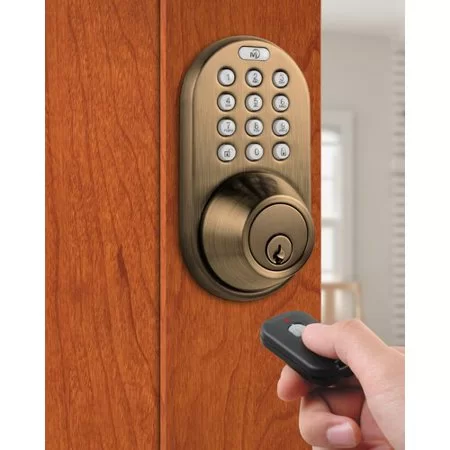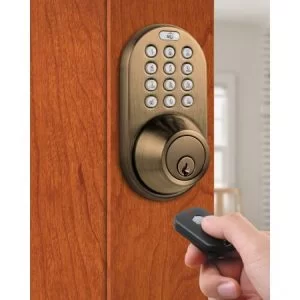 his MiLocks electronic deadbolt features a keypad which can store up to 10 different user Codes and accepts up to 10 radio frequency remote controls that work up to 30ft away (without obstructions). if you own more than 1 MiLocks remote control lock you are able to program 1 remote to control all of them.
This keyless entry door lock uses a common kW1 keyway making it possible for a locksmith to re-key it to match your existing key. No more extra keys, no more tucking a key under the mat, simply add a code or share a remote and give keyless access instantly.
This electronic deadbolt is also smartphone compatible by integrating into your insteon home automation system or as a standalone smartphone control lock using the morninglinc.
Price:
You Might Be Interested in this: 
Milocks Single Cylinder Electronic Deadbolt with Remote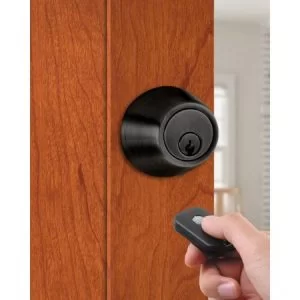 Another Keyless door lock by MiLocks let you lock and unlock your door without keys. A direct replacement for your standard residential door lock without any additional wiring or drilling required making for a simple hassle free installation.
Price:
COLOSUS NDL319 Keyless Electronic Digital Smart Door Lock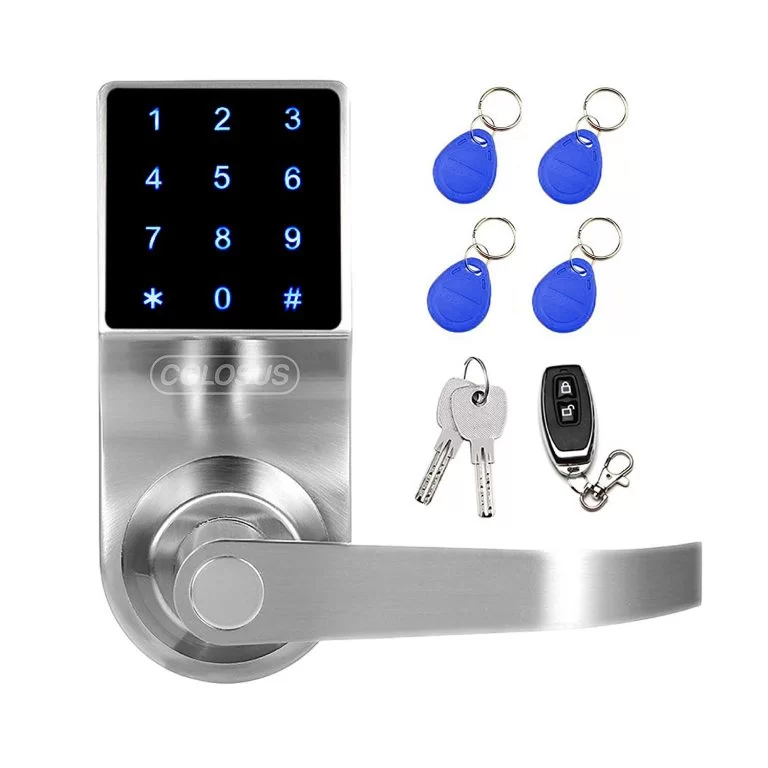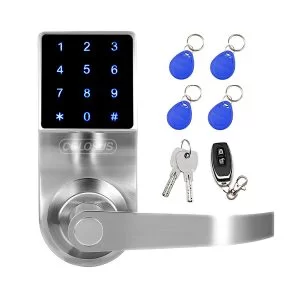 The Colosus electronic door lock completes your security system. Say goodbye to door lock keys and hello to keyless entry with digital door technology from Colosus,
Create custom access codes for up to 50 users, set up key fobs (RFID) for up to 50 users, and even assign remote controls for up to 5 users. Different access methods for everyone in your home, office, or business.
If your priority is simple, secure, keyless living, then replacing your existing door lock with Colosus electronic door lock is the right step towards just that.
The ability to set up unique codes, and the option to choose different access methods are just some of the reasons why so many property owners, commercial businesses, warehouses, offices, retirement home facilities choose Colosus electronic door lock as their go-to security system. Also visit Nortechcontrol Door Interlock
Extra features includes
If you have multiple Colosus locks, you can sync your codes, key fobs or RFID and remote to work with all of the same lock models, Set up auto lock and let your door automatically lock after it's been unlocked.
Protect your code by entering a random set of numbers before your actual code.
Disables lock and beeps after 3 wrong entries
Flashing light when battery is low
Price:
Home Automation

>>

Home Automation Complete Systems

>>

Security system

>>

Electronic Door Lock with Remote Control