Fibaro is a home automation brand compatible with all Z-Wave, and other IOT things, they offers a complete range of products that could be needed for a home or an apartment to be able to get smarter, such products are (Lighting, Heating, Security, Gates, Blinds and in the last not the least one which is going to be explain in detail particularly are Hub/Gateways.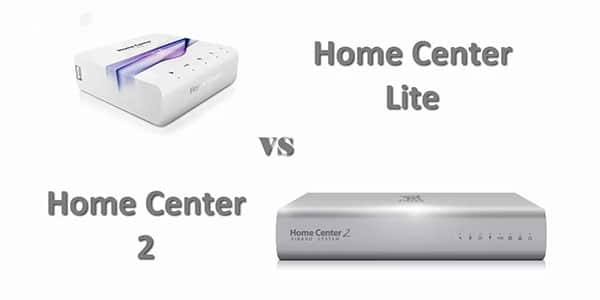 Difference between Fibaro home centre 2 vs Lite
Fibaro Home Centre 2
Basically these two are very similar in designed except for Fibaro Home Centre 2 use for commercial or larger premises where you may need to link multiple units together in a network for controlling in a wide area.
It covers large wide areas such as building and offices, in addition home center 2 has more advanced controller to ensure better usable possibilities,
It includes:
LUA Programming – LUA is a programming (scripting) language commonly used in home automation controllers to enable users to create more complex control scenes than supported by the controller's Scene editor.
LUA based virtual devices – to create virtual device and program each button in LUA language individually,
VOIP Communication,
SATEL alarm system integration,
Non-limited number of plugins.
Home Center Lite
Similarly center lite functionality, design and the technology are same and works best in homes and apartments,
In another words in typical home automation glossary phrase, it's an extremely compact controller using a web based and featuring graphic interface for simple programming.
Features of Fibaro Home center 2 vs Lite
Control your house through a broad range of native apps
Voice control by Google Assistant, Amazon Alexa or Apple Siri and Messenge
Creating Home Center Lite, they applied proven solutions used in their Home Center 2.
Specially designed to your needs, Home Center Lite smoothly integrates with a broad range of multimedia systems and has a vast library of drivers for smart TV's, IP camera, and other 3rd party devices.
Properly compact, Home Center Lite allows you to manage smart home using intuitive interfaces remotely or locally.
You can set up, navigate and manage your home works on a smart phone or tablet. Even inexperienced users can built quick simple scenes using the visual scene builder on the web interface via from APP.
Compatibility of Home center 2 and Lite
It's designed for home automation and allows you to remotely control everything from an iron to the lighting in your house.
There are millions of Z-Wave-supported devices available from roughly 300 manufacturers around the world. In fact, the flagship Wynn Hotel in Las Vegas uses more 65,000 Z-Wave-supported devices alone.
Fibaro is offering an easy-to-install system that uses Z-Wave. The brain of Fibaro's system is either the Home Center 2 or Home Center Lite.
They eliminate the need for special knowledge of cables and networking equipment's. That's because they're wirelessly-controlled smart hubs (also known as control modules) that connect to a variety of sensors and other modules for your home. They are compatible with any Z-Wave-supported device.
You can pair the Home Center 2 or Home Center Lite to something like the Philips Hue smart LED light bulbs.
Once a Fibaro hub is linked to a home router or ethernet port, it can easily pair to several devices with a one-click interface.
Also, after everything is synced, you can access Fibaro's home automated system through a mobile device or computer.
Want to get a Smart and cheap home automation system
In other words, you'll be able to take control of your home from anywhere.
TO FIND OUT COMPATIBLE PRODUCTS works with Fibaro: Apple Cameras, Apple Light Switches, Apple Sensors and Apple Door bell
Specification
Home Center 2

Home Center Lite

GENERAL INFORMATION

Processor
Intel Atom Dual Core (1.6 GHz)
ARM Cortex-A8 (720 Mhz)
Operating memory
1 GB DDR RAM
128 MB RAM
Hard drive
2 GB SLC and 4GB MLC Recovery Disc
128 MB SLC HDD
Network interface
10/100/1000 Base-T (Gigabit) Ethernet via RJ45 connector
10/100 Base-T Ethernet via RJ45 connector
USB
4
–
VGA
1
–

COMMUNICATION

Radio protocol
Z-Wave
Z-Wave
Range
up to 50m (164 ft) outdoors

up to 30m (98 ft) indoors

up to 50m (164 ft) outdoors

up to 30m (98 ft) indoors

SOFTWARE

Remote access
Yes
Yes
Magic scenes
Yes
Yes
Block scenes
Yes
Yes
LUA scenes
Yes
NO
LUA virtual devices
Yes
NO
String-based virtual devices
Yes
Yes
Satel alarm integration
Yes
NO
Amazon Alexa integration
Yes
Yes
Google Assistant integration
Yes
Yes
VoIP
Yes
NO
Working as a stand-alone controller or a slave
Yes
Yes
Working as a master controller
Yes
NO
Controlled devices
Yes
Yes
VoIP
230
230
Price
£519.00
£214.00
Which one is Better suited to me Home Center Lite or Home Center 2
It is difficult to determine which one is better as both Home Center Lite and Home Center 2 have different features and capabilities. It ultimately depends on the specific needs and preferences of the user. Some may prefer the features of Home Center Lite while others may prefer the features of Home Center 2. It is recommended to research and compare the features of both options to determine which one is the best fit for the user.
Home Center Lite Suited for Those Users:
Home Center Lite is perfect for users who want a basic home automation system with limited functionality. It is ideal for those who only need basic automation features such as controlling lights and appliances, setting up basic schedules, and receiving notifications. It is not suitable for users who require advanced automation features such as advanced security systems, smart thermostats, or voice control. It is also not suitable for users who want a full-featured home automation system with a wide range of integration options.
Home Center 2 Suited for Those Users:
Home Center 2 is perfect for users who want to create a smart home system, control various devices and appliances in their home, and customize their home automation experience. It is also ideal for users who want to integrate multiple smart home devices and platforms, such as smart lights, thermostats, security systems, and more. Additionally, it is suitable for users who want a user-friendly and easy-to-use home automation system that allows them to easily monitor and control their home remotely using a smartphone or tablet.
Home Automation

>>

Brands

>>

Fibaro

>>

Fibaro Home Center 2 Vs Lite