This article explains how to replace the battery in a Chamberlain garage door opener step-by-step. If the Chamberlain garage door opener you have has a backup system, the battery powers it. Every one to two years, the battery in the garage door opener should be replaced.
The battery monitoring feature on the backup system will alert you with a sound signal if your battery needs to be changed. The garage door backup system's main goal is to open the garage door in the event of a power outage. This is why the backup battery for your garage door opener needs to be in good condition and able to maintain its charge for at least one cycle of opening and closing the door.
How to Change Chamberlain Garage Door Opener Battery
You simply need safety gear, including gloves and eye protection, the replacement battery, and a screwdriver to change the garage door opener batteries.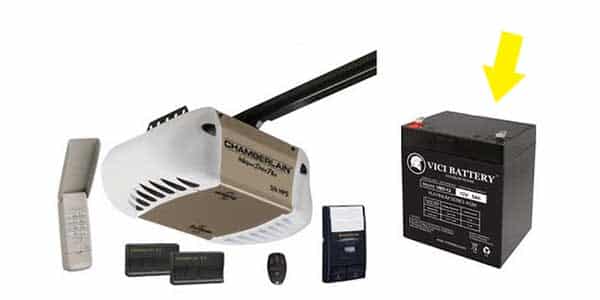 Disconnect the power cord from the garage door opener.
Unlock the garage door opener light lens.
Take the top off the battery compartment.
Remove the battery from the device and cut the red and black wires from it.
Attach the new garage door opener battery to the red and black wire. Make sure the red wire is connected to the battery's red contact and the black wire to its black terminal.
Place the fresh battery for the garage door opener in the space and close the battery compartment lid. (Check to make sure the battery wires are not kinked.)
Connect the backup Chamberlain garage door opener to the power.
The Garage Door Opener battery will be fully charged and ready for testing after 24 hours. Open the garage door after unplugging the backup system. The door will open more slowly than usual if the battery is not completely charged.
Reconnect the electricity to the Chamberlain Garage Door System.
In addition to that, there is another topic of how to reprogram the chamberlain garage door opener in detail. Find it here:
You may get replacement Chamberlain garage door opener batteries at Amazon:
Chamberlain/Lift Master/Craftsman 4228 Replacement Battery
Chamberlain 41A6357-1 Garage Door Opener Replacement Battery
ML5-12 – 12V 5AH Chamberlain 41A6357-1 Garage Door Opener Battery
Home Automation

>>

Brands

>>

Chamberlain

>>

How to Change Chamberlain Garage Door Opener Battery?