To begin, it is critical to understand that the majority of Samsung TVs released in 2016 or after are compatible with the Disney Plus streaming service. This is because the Disney Plus app is not accessible on any Samsung TV models powered by the Tizen operating system. It will not work on any models that utilize the Orsay OS or the built-in web browser. The following is an exhaustive list of Samsung smart TVs that can connect to Disney Plus.
To enjoy the best possible viewing experience, make sure you have a high-speed internet connection and that the operating system of your smart TV is updated to the most recent version.
How to Get Disney Plus on Samsung TV
Please follow the procedures outlined below to install Disney Plus on your Samsung TV.
Step 1: From the home screen of your television, navigate to and select the Apps option.
Step 2: Using the included remote, navigate to the top right corner of the apps screen and pick the search button. This button resembles a magnifying glass and may be accessed by selecting it.
Step 3: Using the virtual keyboard on the screen, enter "Disney+," and then press the Enter button when you are finished.
In the 4 steps, the application will finally show up on the screen. To install Disney Plus on your Samsung TV, select the Install option from the menu.
If you search for the Disney Plus app and it doesn't appear, it's a solid indication that your smart TV isn't compatible with the streaming platform or that Disney Plus isn't available in your region. Both of these options are plausible.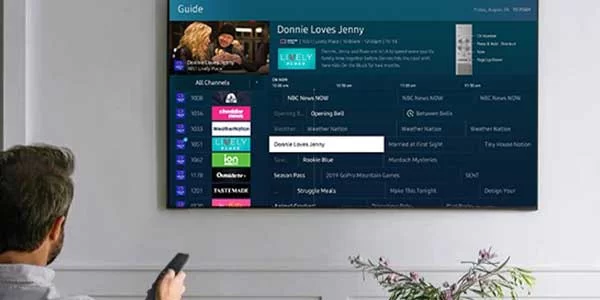 So How to Get Disney plus On Older Samsung Smart TV?
Even if your Samsung smart TV is an older model and does not support the app, you may still use it to access Disney Plus. However, you will need to spend a little extra money in order to obtain an external device that is compatible with the program. Even so, this option is better than having to buy a totally new television when there is no immediate need for one.
Connecting a streaming device to an older Samsung TV, such as a Roku, Amazon Fire TV, Apple TV (4th generation or later), or Chromecast, can allow you to enjoy Disney Plus on that set. They will connect to your television through HDMI, allowing you to access Disney Plus via the applications they provide. If your game console is linked to your TV, you may use the specific Disney Plus programs for your PlayStation 4 or Xbox One. This is true whether you own a PlayStation 4 or an Xbox One.
Following steps to find out how to connect your Chromecast to an older Samsung TV.
Plug your Chromecast into your Samsung TVs HDMI port.
Next, plug one end of the USB cable into the Chromecast and the other end into a wall adapter.
Plug the wall adapter into the wall and turn on your Samsung TV.
Now use the TV remote to select the same HDMI port that your Chromecast is plugged in.
Connect your Chromecast and Smartphone/tablet to the same Wi-Fi connection and set up the device.
Open the Disney+ app on your and use your credentials to sign in.
Tap the cast icon on the top right side to open up a list of available devices for casting.
Select your older Samsung TV device from the list.
Finally, choose a video and press play to cast the Disney content.
You might want to see this:
If you use a Roku device, you can get Disney Plus through your app store in the same manner that smart TVs do.
Frequently Asked Questions:
How to get Disney Plus on Samsung TV?
On your Samsung TV, go to the App option, enter Disney Plus on search and press enter to download Disney plus on your Samsung TV.
Is my Smart TV too old for Disney plus?
You can be found it by navigating into the APPS and checking if there is a Disney Plus or not. However, you can still watch by connecting other Devices that are compatible with Disney Plus on your TV.
Can't find Disney plus on Samsung smart TV?
That means, your Samsung smart TV is not compatible with Disney Plus, But you can still watch Disney plus by connecting using third-party devices that are compatible with Disney plus on your TV.