IKEA is a Swedish company make many products and sell across Europe, UK and USA mainly, IKEA in 2019 launched smart blinds with a lot cheaper price as compare to other smart blinds and shades available in the market, almost 30 percent cheaper against the least expensive smart shades available in the market.
Quality and technological perspective IKEA smart blinds performance are very satisfactory.
That is the reason IKEA attracted a lot more audience not even in Europe, UK but in USA as well.
Fyrtur
These are blackout motorized, battery operated smart blinds available in two colors full black and grey, IKEA Fyrtur is a darken blind which block the lights completely from light and shine, control via app, via voice from Siri, and compatible with Zigbee devices.
Fyrtur roller smart blinds available in Europe, UK and USA, however Tradfri only be available in Europe and UK.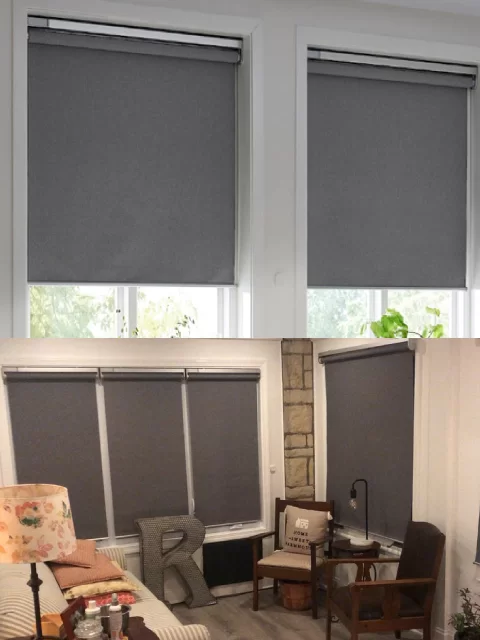 Fyrtur Works with
You can add the TRÅDFRI gateway and the IKEA Home Smart app to control through Google Home.
Support HomeKit will allow the blinds to be controlled via the Home app, as well as being included in automated scenes and adjustable via Siri commands.
There's also no easy, out-of-the-box ability to make the blinds respond to third-party light or temperature sensors, but with Zigbee, anything is possible if you're willing to put in the effort.
Works fine with Home Assistant.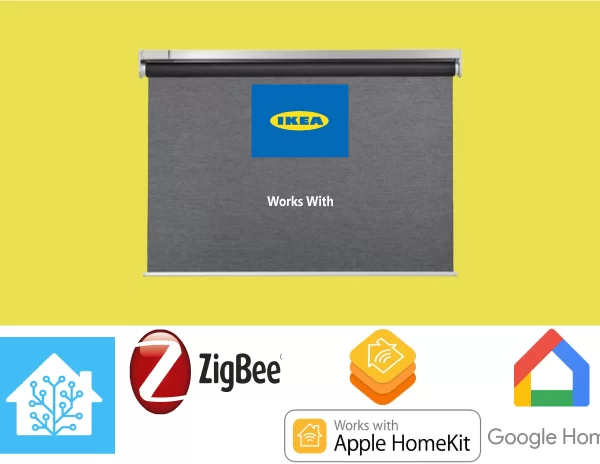 Features of IKEA Fyrtur
You can use TRÅDFRI gateway and IKEA Home smart app to create several groups of wireless blinds and control them in different ways.
Control your blinds wirelessly to adapt the light or create privacy depending on the activity taking place in the room.
You can set your wireless blinds to go up and down with a timer, automate scenes on different timing using Homekit, google or tradfri app.
Now you can have the blinds automatically open and close at sunrise and sunset every day. By integrating the IKEA blinds with HomeKit scenes, you can have them automatically close during a "movie night" scene, for instance.
Pros of IKEA Fyrtur
Affordable.
Easy to integrate & operate using Homekit Platform instead of Home App.
Cons of IKEA Fyrtur
Connection lost, failed pairings and reset, very irritating using Tradfri gateway and Home smart app.
Only available in limited sizes
Design and built quality
FYRTUR blackout blind.
100% polyester, 100% polyethylene blind.
Battery powered.
Aluminum casing that holds the blind spindle and motor.
Battery compartment, along with 2 buttons which you can use to pair and operate them.
Mounting rail and brackets.
In the box
IKEA Fyrtur blackout blind
Mounting brackets
Battery
USB charging cable
Signal repeater
Remote control with a magnetic mounting plate.
Power point for charging and Signal repeater.
More Info: Smart Life Compatible Devices
What you shouldn't have to do with IKEA Fyrtur?
Don't not cut
Don't wash
Don't dry clean
Don't iron
Don't bleach
Battery Life
It's a rechargeable battery that normally can last up to 3 months maximum before the battery needs to re-charging again, however the average time of battery is up to 2 months which isn't very bad.
Recharging of battery takes up to 2 to 4 hrs.
You have to pull the blind down manually and then recharge the battery so that you can raise it again.
IKEA Fyrtur Speed performance
17 seconds to Close


123cm Drop Cap
19 seconds to open
Size Model and Price of IKEA Fyrtur
| | | |
| --- | --- | --- |
| Size | Model | Price |
| 23×76 3⁄4″ | 304.174.60 | $129 |
| 27×76 3⁄4″ | 104.174.61 | $139 |
| 30×76 3⁄4″ | 904.174.62 | $149 |
| 32×76 3⁄4″ | 704.174.63 | $154 |
| 34×76 3⁄4″ | 504.174.64 | $159 |
| 36×76 3⁄4″ | 204.174.65 | $164 |
| 38×76 3⁄4″ | 004.174.66 | $169 |
| 48×76 3⁄4″ | 504.174.59 | $179 |
Relevant: Alexa controlled blinds
How to setup and Connect IKEA Fyrtur with Remote Control or from APP?
If you want to use the app, then you will need a Tradfri gateway and follow a few setup steps.
Download IKEA smart app from IOS or from Google play store
Launch the IKEA Home Smart app on your phone or tablet.
Check the box to agree with the Terms & Conditions and Privacy Policy, then tap Let's Get Started.
You will be asked to plug in your gateway.
In case you don't know how to Plug in a gateway
Open gateway cover by counter clockwise to unlock it
Plug Ethernet and power cable and on the other ends plug Ethernet into a router
Plug the other end of the power cable into a wall outlet and wait for all three indicator lights on the gateway to turn on.
Return to the app and Tap Next.
Tap Scan to continue.
Locate the Security Code on the bottom of your gateway and point your mobile device's camera towards it. Ensure it's placed within the square marked on the screen.
Tap Next to continue.
Steps
1. Pair remote with signal repeater
You need to have the signal repeater plugged in and within 5 meters of the smart blind, although IKEA stated of within 32 Feet maximum.
The instruction manual from IKEA says that the blinds will not function without having the repeater configured.
(The repeater is a necessary part to help operate the blind (it will not work otherwise). It helps the blind and the remote control to communicate. It is needed for proper wireless function).
2. Pair remote with gateway
Choose the Remote Control as the device to be linked with the Tradfri gateway.
Feel free to follow along within the app and tap Next on each screen when you are ready to proceed.
Use a screwdriver or a similar tool to remove the battery cover of the remote control.
Insert the provided battery with the positive side outward.
Press and release the button next to the battery 4 times within 5 seconds.
Wait for at least 10 seconds since you released the button for the remote control to be reset.
Place the remote control within an inch of the gateway then press and hold the Link button (1) next to the battery for at least 10 seconds until the topmost indicator light (2) on the gateway starts flashing quickly then turns solid.
You should get a confirmation message on the mobile device that the remote control was found. Tap OK to continue.
3. Pair remote with smart blinds
Tap Add device
Choose smart IKEA Fytur as the type of device to Add to the System.
Choose the remote control you want to link the smart blinds with and Tap Next.
Now you can control your blinds from APP
Installation of smart blind must be done before
Relevant: Z Wave Blinds
For Apple Homekit Support:
You need to update firmware from IKEA home app.
Tradfri Gateway running 1.10.28
Smart Blinds running 2.2.009
Open/Close Remote running 2.2.010
Ikea Signal repeater running 2.2.005
First need to add the TRADFRI Gateway to your Home app as stated above in setup process.
Tap Add Accessories
Pair/Add Homekit with Tradfri gateway by using scanning a code just like with any other HomeKit accessory, or hold your iPhone near the label on the blinds.
Homekit is connected and the blinds will appear in the home app.
What can you do from Homekit Platform?
You can tap on the tiles to fully open or close the blinds, or long-press and use the slider for more precise control, such as opening them to 60%.
If you have more than one blind over a window, you can group them together in the Home app, just like you can with multiple bulbs in a single fixture.
Siri control, you can say things like "open the kitchen blinds" or "open the living room blinds to 45%." This works via iPhone, iPad, Mac, HomePod, and Apple Watch.
Integrate with HomeKit scenes and automations.
How to Set Length of IKEA Fyrtur?
The first thing you'll want to do is set the max length of the blinds (they cannot be cut).
This can be done using the buttons embedded near the corner of the blind assembly (next to the battery).
Hold the lower button until the blinds reach to the bottom of the window, release it, and then click the button twice.
The blinds will do a little dance to signal the new maximum length.
Now, when you lower the blinds to 100 percent they'll only drop to the bottom of the window, not unfurl to the floor.
How To Add/Pair Additional IKEA Fyrtur blinds or products?
Open the back cover of the open/close remote and find the pairing button.
Short press on both buttons on the blind. The device is now awake and ready to pair for 2 minutes.
Hold the open/close remote very close to the wireless roller blind that you want to add (no more than 5cm away from the blinds' battery lid).
Press and hold the pairing button for at least 10 seconds on the wireless open/close remote.
A red light will shine steadily on the open/close remote. On your wireless roller blind, a white light will begin to dim and flash until the devices are paired successfully.
You can pair up to 4 blind per remote control and up to 10 blinds connected on one signal repeater.
Availability of Stores in UK AND USA
UNITED STATES
UNITED KINGDOM
AZ, Tempe
Belfast
CA, Burbank
Birmingham
CA, Carson
Bristol
CA, Costa Mesa
Cardiff
CA, Covina
Coventry
CA, East Palo Alto
Croydon
CA, Emeryville
Edinburgh
CA, San Diego
Exeter
CA, West Sacramento
Gateshead
CO, Centennial
Glasgow
CT, New Haven
Greenwich
FL, Jacksonville
Lakeside
FL, Miami
Leeds
FL, Orlando
Lakeside
FL, Sunrise
Manchester
FL, Tampa
Milton Keynes
GA, Atlanta
Nottingham
IL, Bolingbrook
Reading
IL, Schaumburg
Sheffield
IN, Fishers
Southampton
KS, Merriam
Tottentem
MA, Stoughton
Wembley
MD, Baltimore
Warrington
MD, College Park
Belfast
MN, Twin Cities
MO, St, Louis
NJ, Elizabeth
NV, Las Vegas
NY, Brooklyn
NY, Long Island
OH, Columbus
OH, West Chester
OR, Portland
PA, Pittsburg
PA, South Philadelphia
TN, Memphis
TX, Frisco
TX, Houston
TX, Round Rock
UT, Draper
VA, Woodbridge
WA, Renton
WA, Oak Creek
For further Information about Stock, Go to: IKEA Contact
Home Automation

>>

Brands

>>

Amazon

>>

IKEA Fyrtur : smart blinds with a cheaper price