The features of Ring security cameras, such as doorbells and cameras, are well-known. One feature of Ring smart home devices that helps add an extra layer of security to your home is the motion alert.
In the rest of this article, you'll learn what Motion Warning is if you should enable it, which Ring devices support it, and how to turn on or off motion warning on your Ring camera.
So let's look at the Ring Motion Warning feature in more depth.
What is the Ring motion warning?
On specific Ring devices, the Motion Warning feature, which is only accessible in the US, creates a digital recording that alerts visitors that their movement has triggered motion detection and is being recorded. The message is heard over your Ring device's speaker. Hello, you are currently being recorded, it says.
Only devices that use an AC adaptor to get power can use it. Sadly, Ring cameras that run on batteries don't support motion alerts either.
Lastly, you can choose to turn on or off motion alerts on each Ring camera separately. You can even turn it on for as many Ring cameras as you want that can send motion alerts.
So Here Are The Main Points:
When motion is detected, the motion warning tells the visitor that they are being recorded.
Motion alerts are only available in the US right now.
This is something that only some Ring cameras have. (Check out the full list below.)
Ring cameras that run on batteries don't have motion alerts. An AC adaptor should be used to connect it to the power source.
To turn on Motion Warning on your Ring camera, you need to update the Ring app.
What Is The Difference Between Motion Detection And Motion Alerts On Ring?
The motion detector on your device will still remain on, and any movement it detects will be noted in Event History. Motion Warnings (Smart Alerts) employ extra video processing, which may cause alerts to be delayed. You can select to receive notifications for Person, Other Motion, and Package using Smart Alerts.
Which Ring Devices Have The Motion Warning Feature?
Right now, not every Ring camera has a motion alert. Only some Ring cameras let you turn it on.
Here is a full list of all the Ring devices that have the motion alert feature.
Elite Stick-Up Cam
Stick Up Cam Plug-In (3rd Gen) – Works with an AC adaptor
Wired Indoor Cam Light Cam
Mount for a spotlight cam
Cam Floodlight
Wired Floodlight Cam Pro
Wired Plus Floodlight Cam
Ring Video Doorbell Pro Ring Video Doorbell Pro 2 Ring Video Doorbell Elite
Note: The motion alert feature does not work on devices that run on batteries. For the motion alert to work, the AC adapter must be plugged into the ring camera.
If your device is not on the list, you can't use the motion alert feature yet. Or, if yours can detect motion, read the guide below to learn how to turn it on or off. For more queries Contact their Support…
How Can I Tell If My Device Has a Motion Warning?
Follow the steps below to find out if your Ring device supports motion warnings even if you don't know what your device is called.
Open the Ring app.
Tap the icon with three lines in the top left corner.
Tap the option for
Tap the Specific Device.
Click on Device Health.
Scroll down and look for the Product Name in the section called "Device details."
Write down the name of the product and check to see if it's on the list above to see if it supports motion warnings.
Should you set up motion alerts on your Ring cameras?
Now comes an interesting question: should you use a motion warning or turn it off?
I think it's cool that the motion alert lets people know they are being recorded. It will help keep thieves from breaking into your house.
Look at an example of how a camera's motion alert was used to stop a stranger from looking at packages.
From the video, you can see that when a person walks in front of the Ring camera, it says their name out loud. Hello, you are being recorded right now.
Motion Warning 🤝 Deterring strangers eyeing your packages pic.twitter.com/Aq783tufWf

— Ring (@ring) July 6, 2022
This feature will be very helpful if you aren't at home and want to know that everything is okay.
Motion Warning Problems
Even though the motion alert is a great feature, it also has some problems.
For instance, Ring should have made it possible to set up motion alerts. When the camera sees a person in front of it, it says "Hello, you are being recorded." This can be really annoying during the day, especially if you have a lot of people over often.
If there had been a way to schedule the motion alarm, we could have set it to go off only at night, from 10 PM to 6 AM.
In a future update, we can expect Ring to give us the option to schedule motion alerts.
How to Turn on Ring's Motion Alert?
Follow the steps below if you want to turn on motion alerts on a Ring camera that can do so.
Open the Ring app on your device
Tap the three lines icon on the top left
Tap Devices
Find the device on which you want to enable the Motion Warning
Tap on the device
Toggle on Motion Warning
As soon as you enable motion warning, you'll hear a message saying it's enabled.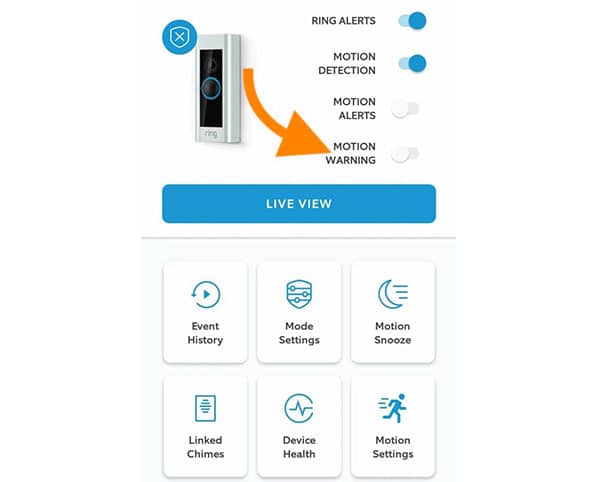 If the motion alert option in the Ring app is greyed out, it means that the feature won't work with your device yet.
Remember that you can't change the volume of the Motion Warning just yet.
How to Stop Ring's Motion Alert
If you don't like the motion alert on your Ring and want to turn it off, follow the steps below.
Open the Ring app on your device
Tap the three lines icon on the top left
Tap Devices
Find the device on which you want to enable Motion Warning
Tap on the device
Toggle off Motion Warning
You'll hear a message which says Motion Warning is turned off.
Where Do I Find Motion Warning In The Ring App?
Even though they have a device that works with the Ring app, many people say they can't find the motion alert feature.
If you don't see the motion alert feature in the Ring app on your phone, you need to update the app. It's a pretty new feature, and only the most recent version has it.
Follow the steps below to bring your smartphone's Ring app up to date.
Changes to the Android Ring app:
Open the Google Play Store.
Look for the app called "Ring."
Tap the Ring app from the list.
Tap the button that says Update and wait a few seconds.
You've updated the Ring app on your Android device successfully.
Changes to the iOS Ring app:
Open App Store.
Tap your picture in the upper right corner.
Scroll down to find the section about upcoming changes.
Tap the Update button next to the Ring app in the list of apps.
Wait a few seconds, and the Ring app on your iOS device will have been successfully updated.
Frequently Asked Questions:
How does the Ring alarm work?
The Ring Alarm Motion Detector is made to look for heat and movement in a room or area of your home. When the Motion detector is set, your Ring Alarm will go off when it senses heat and motion.
Why does Ring send me two motion alerts?
If you have notifications for Ring turned on in both the Ring app and the SmartRent mobile app, you will get notifications for Ring twice. To stop this from happening, you will need to turn off Ring notifications in either the SmartRent Mobile App or the Ring app.
Why does Ring have three motion zones?
By setting up Motion Zones to cover only the areas you want the Ring device to watch, you can effectively watch the area you want and reduce the number of "false positive" motion alerts (such as cars driving by).
Does Ring work as a security system?
A lot of insurance companies will give you a discount if you have a Ring doorbell camera because it lets you see who's at your door. Ring makes it easy to send a professional monitoring certificate, which you can then give to your insurance company.
Can the police look at cameras from Ring?
Google, Ring, and other companies that process user video footage can give the police access to it without a warrant or the user's permission in an emergency. It's up to them to decide whether or not to do this when the police show up.
How long does the siren of the Ring sound?
If your home or business siren goes off, the Ring Alarm and Ring Alarm Pro Base Station siren will go off after 10 minutes. If you turn off your Ring Alarm within 10 minutes, the siren will stop right away.
Can someone get in touch with my Ring?
You can add a Shared User to your account if you want to share it with someone else. Shared Users need their own Ring account, which they can get by downloading the Ring app, and they must log in with their own email address and password. If there are more than one Ring device, the Account Owner must invite each Shared User to each device individually.
Can hackers break into Ring cameras?
All electronics can be broken into.
If you don't take the right steps, your Ring Doorbell could be hacked and used to spy on you or your family. You can help keep hackers out of your Ring doorbell by updating the software regularly, using strong passwords, and using two-factor authentication.
You might want to see this:
Home Automation

>>

Brands

>>

Amazon

>>

What is Ring Motion Warning and How Can You Benefit From It?