Before coming to Alexa ring alarm commands, do you know how to sync ring alarm with Alexa, if you don't know then here are a complete guideline for the users to first sync it and use it via from Alexa voice commands.
Open your Alexa app on your iPhone or Android device.
Tap the horizontal bars in the top left of the app screen
Select the Skills & Games option in the menu that appears.
Enter Ring into the search bar.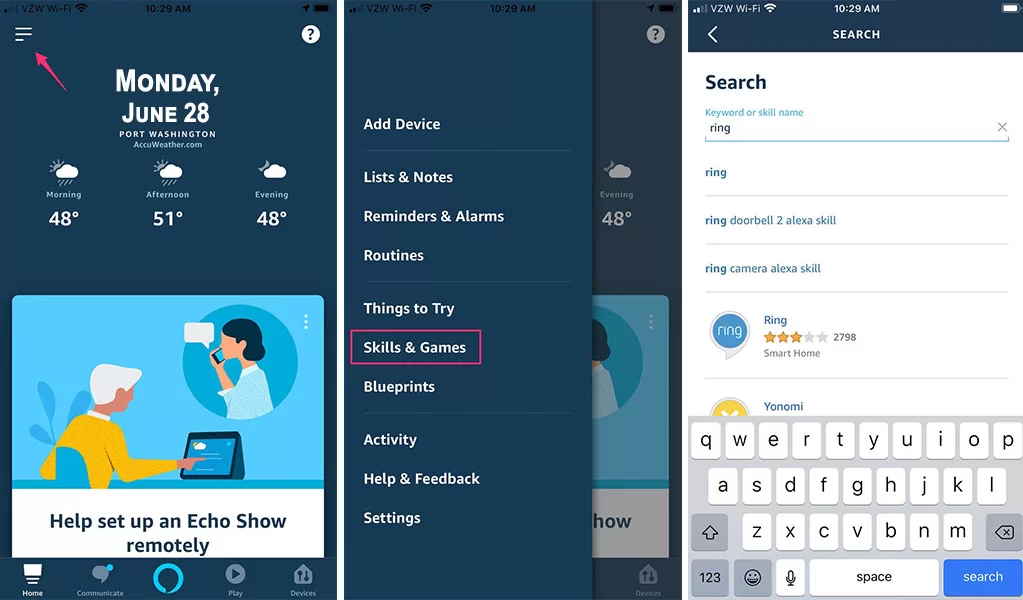 When Ring appears as a result, tap the Enable button.
Sign in to your existing Ring account to link your Alexa and Ring devices.
When a screen appears asking to Discover Devices, tap the prompt to find and automatically connect your Ring hardware.
If none of your Ring devices appear automatically, you can either:
Ask, "Alexa, discover my devices."
or:
Tap Devices.
Tap Discover.
All of your Ring devices should appear and connect automatically to Alexa with either method.
How To Connect Ring Doorbell To Echo Show 5
Here are complete list of Alexa Ring Alarm Commands
With Ring Alarm, you can: arm/disarm, create routines with contact and motion sensors, and lock and unlock 3rd party locks by providers such as Kwikset, Schlage, Yale and more.
Once your Ring account is linked to Alexa per above steps, you can Arm the Alarm by saying
"Alexa, arm Ring."
Once armed Alexa will respond with:
"Ring is armed in home/away mode."
To check the status of your Alarm, say:
"Alexa, is Ring armed?"
To disarm your Ring Alarm, ask Alexa:
"Alexa, disarm Ring."
Alexa will ask for your four-digit voice code. Once properly said, your Ring Alarm will disarm.
How do I enable Disarm by voice?
To enable Disarm by voice, go to Alexa app, click Devices, click All devices, click on Ring Alarm and click Disarm by voice toggle on.
Home Automation

>>

Surveillance & Security

>>

Smart Alarm System

>>

Alexa Ring Alarm Commands