HBO Max is a Warner Media Direct on-demand movie streaming service that launched in May 2020. This popular streaming portal includes all of the best series from HBO, one of the major television networks.
Whether you want to revisit Game of Thrones or catch up on the latest episode of The Nevers, HBO Max has it all.
Unfortunately, HBO Max did not start off well, and the majority of its consumers had issues when using the site.
To be honest, HBO Max is still a new platform, and the number of customers it has acquired is staggering.
Nonetheless, you may relax now since we are here to assist you. As we did in our other topic on why HBO Max isn't working in general, here we emphasized more on one specific issue which is HBO Max keeps freezing.
Today, we'll go through the best ways to fix HBO Max HBO Max Freezing on Samsung TV.
You may be wondering why your HBO Max often freezes or why HBO Max crashes on a frequent basis. There are a variety of possible causes for this, ranging from issues in your apps to HBO Max servers being down and causing an HBO Max outage, or even an out-of-date device.
To fix it, check the status of the max servers to determine the specific problem, or whether an HBO Max app update is needed. Additionally, ensure that you have a high internet speed, and finally, restart your Samsung TV, uninstall, and re-install the HBO Max app.
Check HBO Max servers
Check your internet connection speed
The issue with the HBO Max app Update them on your device
Required device Updating
Using VPN
Browser Cache and Cookies.
Too many Browser Extensions.
How to Fix HBO Max Freezing on Samsung TV?
Check HBO Max servers
If HBO Max crashes, it is probable that the issue is not on your end of the bargain. There might be a complete HBO Max outage in your location. This implies that the HBO Max servers are now unavailable and will be restored as soon as possible.
To find out whether there has been an HBO Max outage, simply ask Google if there is a reported HBO Max outage right now. If there is, you will have to wait until HBO Max fixes the problem. Outages are generally resolved fast.
Alternatively, if there has not been a complete outage of HBO Max, you may notice that just specific movies and TV episodes are sluggish and buffer often. If this is the case, they are most likely popular films. There may be buffering difficulties if too many users are streaming movies at the same time.
Try Watching Another Show
Some HBO Max episodes may become inaccessible as a result of platform problems and malfunctions. If your favorite TV show keeps freezing, it might be due to technical difficulties.
Check your internet connection speed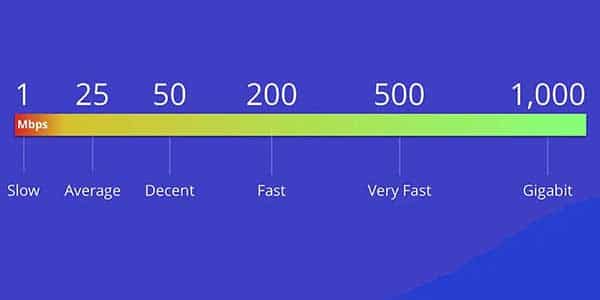 Often, problems with streaming movies are caused by a sluggish internet connection and network bandwidth limitations. A smart way to determine the speed of your internet connection is to visit an internet speed test website; there, you will be able to determine the speed of your internet.
If your internet connections are slow, you may simply power cycle your Wi-Fi router. Follow the steps below to do this:
Turn off your Wi-Fi router and unplug its power adapter from the socket.
Wait for one minute and plug the power adapter back in.
Turn on your Wi-Fi router and let your smart TV connect to it automatically.
Open the HBO Max app and check if the problem is fixed.
If your Wi-Fi connection is too sluggish, connect to the internet using an Ethernet cable instead.
If this does not resolve your sluggish internet connection difficulties, then follow your internet service provider's troubleshooting instructions or contact your internet provider.
A good internet connection is required to view HBO Max smoothly. They recommend a download connection of at least 25 Mbps to watch 4k UHD material, but a download speed of 50mbps will provide a smoother viewing experience.
Browser Cache and Cookies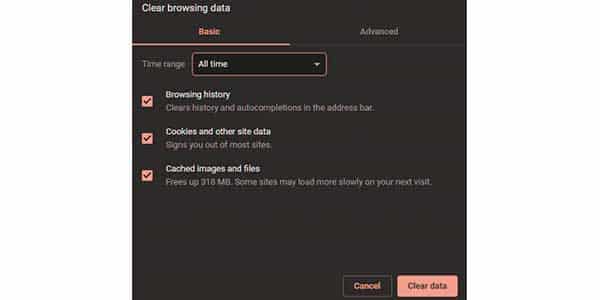 Browsers save temporary data to your device called caches and cookies, which enhances their overall efficiency. Caches and cookies, on the other hand, can amass and get damaged over time.
Clear your caches and cookies if the HBO Max website continues stalling in your browser.
See the steps below to guide you on the process:
First, open your preferred browser and click on More Options.
Now, select Settings and go to Privacy and Security.
After that, include caches and cookies in the process and change the Time Range to All Time.
Lastly, press the Clear Data button to start clearing your browsing data.
Once done, log back into your HBO Max account and check if the problem is solved.
Disable Browser Extensions
Extensions are another reason HBO Max keeps stalling in your browser. These are third-party programs that add functionality to websites you visit. Unfortunately, while they improve your browsing experience, they add an additional burdens to your system and may create performance difficulties.
If HBO Max is freezing on your web browser, turn off your extensions and see if the problem goes away.
Here's how you can disable your browser extensions:
On your web browser, click on More Options and go to Settings.
Now, click the Extensions tab inside the side drawer to manage your browser extensions.
Finally, disable all the extensions installed on your browser.
Return to HBO Max to see whether the problem has been resolved.
Clear HBO Max Cache Data on the HBO Max App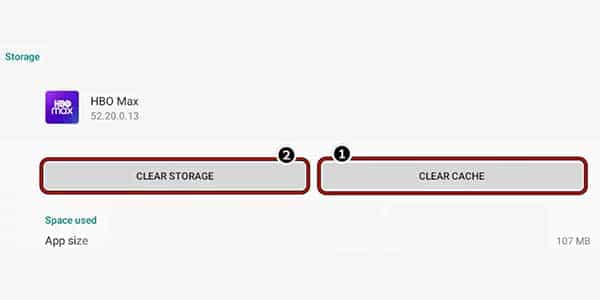 Your HBO Max app will cache data in order to operate faster and conserve internet data. If you haven't cleared cached data in a while, it may be filling your memory and causing playing troubles. It is critical to erase the cache of your HBO Max app in this instance.
The procedure for clearing cache data will change depending on whatever device you are running the HBO Max app on. To give you an idea of where to look, here's an example from the Samsung Smart TV.
Press home on your remote;
Select settings, then select apps
Head to the systems apps
Select HBO Max
Click clear cache and press confirm;
Launch HBO Max to check if your issue has been resolved.
This process will be similar on all your devices and can usually be found in your settings app.
Turn Off VPN
VPNs are third-party services that shield you from internet hackers and other potentially dangerous parties. They provide your device a random IP address to conceal your true location and filter your data to disguise important information such as bank accounts and credit card details.
However, not all VPNs are effective and may cause delays and lags on your network.
If this occurs, HBO Max and other online applications may have difficulties. To resolve this, turn off your VPN before visiting the platform.
Update HBO Max
Most apps on your mobile device or other devices need to be updated on a regular basis. Companies issue fresh updates to address any bugs that have been reported or discovered, as well as to bring new features. If you do not have the most recent version of the HBO Max app on your mobile or smart device, you may experience buffering and crashes.
On Android devices, see the step-by-step guide below to update HBO Max:
On your app drawer, tap on Google Play Store to launch it.
After that, go to yourProfile and tap on My Apps & Games.
Finally, locate HBO Max from the list, then press the Update
For iOS users, follow the guide below to update HBO Max:
First, open the App Store on your device.
Next, tap on your Profile icon and find the HBO Max app.
If there's an available update, press the Update button next to HBO Max.
Log out and back in again
Sometimes there is a glitch or a bug with your HBO Max app log-in session. This may cause buffering problems but is usually solved by simply logging out and back in. Make sure to wait for a couple of minutes before logging back in.
Power cycle your streaming device
Overheating or other issues might cause hardware or software faults in your device; at this point, it is a good idea to do a full power cycle operation. This is very beneficial for Smart TVs. Do so by:
Long press the power button on your Smart TV or Smart TV remote;
Unplug your Smart TV cable from the plug;
Wait for around five minutes
Plug your Smart TV back in and switch it on
See if the issue has been resolved.
Update Your Device.
After updating HBO Max, you should also update your device's operating system to ensure that you won't run into compatibility issues. This will also ensure that any bugs on your device would get patched during the update.
On Android devices, you can update its OS by doing the following:
First, open the Settings app on your device and scroll down to the bottom.
After that, tap on About or About Phone.
Lastly, go to Software Update and press the Download and Install button.
For iOS users, see the guide below to update your system:
On your device, tap on Settings and access the General tab.
Now, go to the Software Updates tab.
If there's an available update, tap the Download and Install button to update your operating system.
If you use a different device, please consult your user manual to upgrade your software version.
Return to HBO Max and see whether the app still freezes when using it.
Reinstall HBO Max on your device
If you're still having issues, consider uninstalling and reinstalling the HBO Max app on your device. When there are faults in the software or the cache becomes corrupted, reinstalling HBO Max removes the damaged cached data.
For Android users, here's how you can reinstall HBO Max:
On your app drawer, locate the HBO Max app and press its app icon.
Inside the selection menu, tap on Uninstall to delete the application.
Finally, go to Google Play Store to reinstall HBO Max.
On iOS, you can reinstall HBO Max by doing the steps below:
To begin, tap and hold the HBO Max symbol on your home screen.
To delete HBO Max, go to the settings menu and select Remove App.
Finally, open the App Store on your device and reinstall the app from there.
Reset your device
If HBO Max freezes a lot after this, you may have to do a full factory reset of your device. This will remove any cached data or bugs that have made their way onto your device.
To perform a factory reset on a Samsung Smart TV
Select settings on your remote
Find the support section
Select self-diagnosis
Select reset the smart hub and follow the on-screen instructions on your Samsung Smart TV.
After doing a factory reset on your Smart TV device, you may download the HBO Max app and then start HBO Max to see whether the issue has been resolved.
Please notify HBO Max of the issue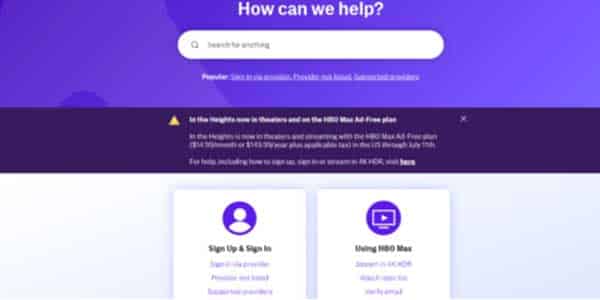 If you continue to have problems with playing and HBO Max keeps stalling or buffering, you should contact HBO Max. The HBO Max team can provide further assistance for your device, whether it is a Smart TV, a mobile device, or a tablet.
When requesting assistance, be sure to provide any relevant information, such as your account information and the device you're using, to make it simpler for HBO's staff to find a solution.
This concludes our tutorial on resolving HBO Max freezing issues on your device. If you have any questions or issues, please leave them in the comments box and we will try our best to assist you.
You might want to see this:
Home Automation

>>

Uncategorized

>>

Why is my HBO Max Freezing on Samsung TV – How to Fix it?