Having spent hours working or studying…
You settle in to unwind and enjoy your favorite TV programs.
But oh no…
On your Firestick, Peacock won't even start to load.
Don't give up.
You'll be able to open it back up in no time if you follow the instructions in this post. and for those users who have Samsung TV and peacock is not working then don't wait here go here.
To fix the Peacock app not working: Before restarting your Firestick and peacock app, you should check your eligibility and ensure that the Peacock server is not down. Other troubleshooting techniques include clearing the app's cache, updating the peacock app, and uninstalling and reinstalling the Peacock app.
Why is the peacock not working on the firestick?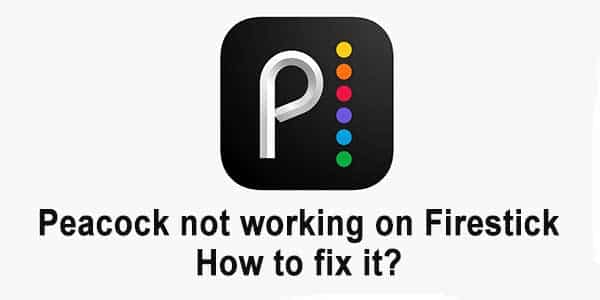 There might be a number of causes for the malfunctioning of your Peacock on Firestick.
Consideration must be given to whether your device has internet connectivity.
To access the platform and watch any type of content, your Peacock must always have an active internet connection.
In that regard, verify your connectivity first. If it does not solve the issue, the following other possibilities exist:
Verify your eligibility to use it.
There are various solutions to the Peacock on Firestick issue.
But if you're just not qualified to use Peacock, there's nothing you can do to remedy it.
If you're attempting to stream from Peacock on your Firestick for the first time…
Check to make sure you've met all the requirements first.
What do I need to be eligible?"
To be able to access Peacock, you need to be mindful of 2 factors:
Your location.
Your Firestick model.
For your location…
Make sure that Peacock is available in your region.
Up to date, Peacock is only available within:
• Italy.
• Austria.
• Ireland.
• Germany.
• United States.
• United Kingdom.
• Select US Territories.
If you don't see your country, visit Peacock's official page.
Ensure that your Firestick isn't part of the 1st generation Fire TV stick.
Peacock isn't compatible with them
Peacock Server down
Prior to beginning the technical stages…
Verify the servers' status at Peacock.
Despite only being available for two years,
28 million people use Peacock only in the US.
Additionally, millions of people are constantly utilizing the network at any given time.
Overloading is one of several potential reasons why servers may crash.
How do I check Peacock's servers?"
It's easy to know if Peacock is down or not.
To check its servers, visit 1 of these websites:
If you check both of these above issues that might cause the peacock to not working then go to the next step.
Restart Your Firestick
Restarting your Firestick is the quickest and easiest fix for every user who is experiencing this problem.
A fresh system reboot could be all that's necessary to fix your Peacock problems on Firestick, despite what it might seem like.
Try restarting your Firestick to see if it might assist in that aspect. Make careful you also unplug the host device's power cable.
Restart fire using a remote: Restarting the Firestick by going to Settings ⚙ > My Fire TV or System >
You can also restart Firestick manually: unplug the firestick cord from the wall and wait 30 seconds before plugging back in.
Now the next thing to do is to restart your peacock app as well:
To force close your Peacock app:
Open your Fire TV home screen.
Head to Apps and select it.
Find Peacock among the apps displayed.
Press the button with 3 horizontal lines on your remote.
On the menu that shows up, select force stop.
Wait for it to load completely.
Reopen your Peacock app again.
While there isn't a straightforward way to restart apps in Firestick…
An action you can take will produce outcomes that are comparable, and that's…
Note it is up to you to first restart the peacock app and then restart firestick or vice versa.
When connected but with no internet
If your Firestick is connected, but you still can't access the internet, your network most likely has an issue.
You can return to Peacock by using the simple fixes for your internet problems listed below:
Restart Network device – Restart your network device and check to see whether the internet is working again. This includes rebooting your modem, router, or gateway.
Reconnect all Network Wires – Reattach all of the cables that are in charge of bringing the internet to your router.
Reduce Use – There may be too many resources being used by your network to prevent high-data downloads, seeding, and uploads to reduce network consumption.
Continue with the following method if your internet is working perfectly but the Peacock app won't launch on the Firestick.
Check Network Speed
A typical cause of choppy or laggy video play is a sluggish network speed. Follow these instructions to make sure your Firestick has a fast Internet connection.
Press Home to get to the Home screen.
Select Settings ⚙ > Network.
Press the Play/Pause button to test and view your connection speed
For dependable video, a speed of more than 20 Mbps is advised. If your connection is slower, turn off any other networked devices that could be using bandwidth. You may also make sure that any coaxial or Ethernet cable connections are secure by checking them. Verify none of the network's PCs are downloading huge files or harboring malware.
Relog From Peacock
You must click the account icon in the top-right corner and then select "Sign Out" to log out of Peacock.
You will soon be sent to the home page, where you may access your account again using a new set of credentials.
If that wasn't able to fix the issue, let's go on to the next one.
Clear the Peacock app's cache
If you're unsure what a cache is, then…
It's a phrase used to define the storage on your app or device.
Consider it as a bag where the system can quickly access the items you require.
In this manner, you may instantly request any activity without having to wait a long time.
But even if these facts are unquestionably useful…
They have the potential to eventually fill up the cache or bag.
You are probably aware of how difficult it may be to walk when carrying a hefty backpack.
Your program experiences exactly this when the cache is overloaded.
It makes your device sluggish and unstable.
So to make your app run fast again, you have to delete your cache.
To delete your Peacock's app cache:
Head to Settings > Applications.
Open Manage Installed Applications.
Find and select Peacock.
Select Clear Cache.
Choose Clear Data.
Update Peacock
Update your Peacock application is the next suggested action. A number of issues may be resolved by performing any outstanding updates, so you should absolutely check before moving further.
Follow the steps down below to update your Peacock app:
On your Firestick, head to the app store.
Locate the Firestick application in your downloaded list.
Check for the update button.
Press the update button and wait for the update to undergo.
Try using the app on your Firestick after it has been updated to see whether it functions. Let's go on to the next solution if upgrading Peacock was unsuccessful.
Disable Any Active VPNs
Peacock could connect to you using a different location path if your VPN is active.
Your access to the application may only be slowed down as a result until further notice. Disabling any VPNs that are currently active on your Firestick is our best recommendation in this area thus far.
Since you're the only one who has control over his location and VPNs, make sure to suppress this type of service until the end of the guide.
After disabling the VPN, try accessing Peacock and determine if the issue is resolved.
Reinstall Peacock
Try reinstalling Peacock if the above remedies didn't work for you.
All the files that were left after clearing the cache will be deleted when the app is deleted.
There are 2 steps to this process:
Deleting Peacock.
Reinstalling Peacock.
Let's proceed.
To delete Peacock:
Select Settings on the right of your screen.
Hover down and tap Applications.
Select Manage Installed Applications.
ChoosePeacock from the choices.
Click Uninstall.
Confirm the uninstallation.
Wait for a couple of minutes and try to reinstall the app again.
To reinstall Peacock:
On your home screen, select Appstore.
Tap Search.
Type "Peacock."
Select Peacock's title card.
Click on the download cloud.
Wait for it to finish.
Conclusion:
We hope you were able to solve the issue on your own now that you know why Peacock TV is not working on Firestick.
However, if none of the aforementioned fixes worked, getting in touch with Peacock would provide you access to the second round of troubleshooting!
You might want to see this:
Home Automation

>>

Other

>>

Software & Apps

>>

Why is my Peacock not working on Firestick – How to fix it?