Here are almost all of the issues that Roborock s5 users face and don't know how to solve. As a result, a detailed guide and how-to-fix it of Roborock s5 troubleshooting is given, along with Images and steps.
List of Roborock S5 Troubleshooting of Most of the Problems
S5 robot vacuum are unable to charge
Please remove robot vacuum and check whether the charging dock indicator light is on. Make sure both of the charging dock and power adapter are all plugged in.
Poor contact, please clean up the electric shock on the charging dock and the charging electrode shock on the Robot.
S5 robot vacuum are unable to go back to charge
There are too many obstacles near the charging dock, please place the charging dock in an open area.
Robot is too far away from the charging dock. Please try to place Robot near the charging dock.
Abnormal noise during cleaning
Anything may have entangled the main brush, side brush, or wheel; please shut it down and clean it.
S5 robot vacuum have abnormal behavior
Long press the power button to shut down and push to restart.
S5 robot vacuum are unable to power on
When the battery is limited, position Robot on the charging dock and align it with the charging electrode plates, and Robot will turn on automatically (if the battery is fully drained, Robot will need to be charged for a while before turning on automatically).
Ambient temperature is too low or too high (below 0℃/ 32℉ or above 50℃/ 120℉), please use this product in temperature ranging from 0℃/ 32℉ to 40℃/ 104℉.
Scheduled cleaning mode is invalid
Insufficient power! The scheduled time cleaning can only be started when the remaining battery capacity ≥ 30%.
S5 LDS Laser Sensor Error 1
The fault was identified as a jammed LDS sensor, but this resulted in the loss of the drive motor. A visual inspection of the LDS sensor is a reliable way to diagnose this problem.
Turn on the robot and watch to make sure the laser unit is spinning.
If the laser unit is not spinning, gently rotate it manually, then restart the robot.
If you continue to experience this error, follow the below guidelines of how to fix LDS error.
When you look at your LDS-equipped robotic vacuum cleaner, you'll find a tiny turret in the form of a circle with holes on the sides and a hole in the center. It rotates the LDS sensor system inside, but only when it's running.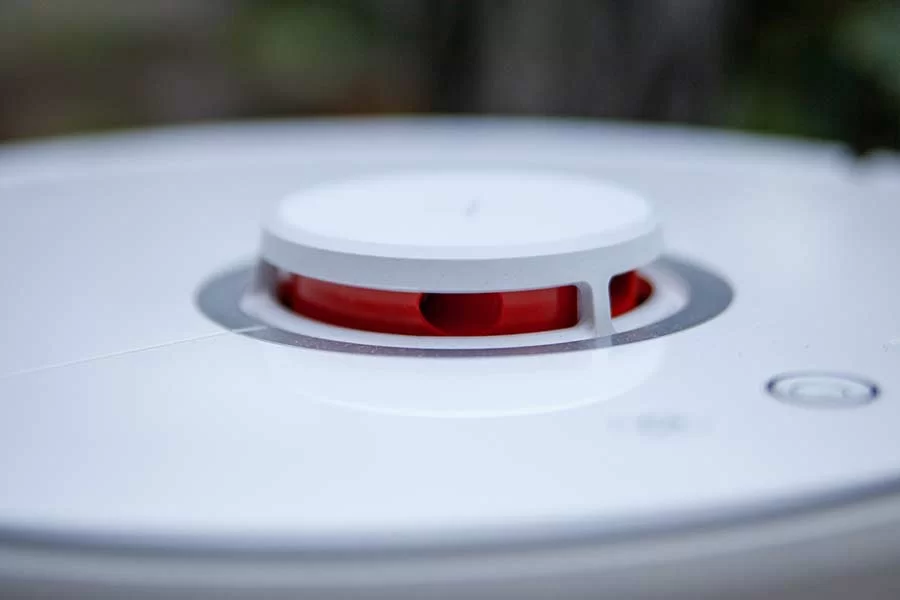 In the case of the failure described above, the LDS mechanism does not rotate when the vacuum cleaner is turned on.
Two solutions
If you've found the problem, it's almost definitely due to a driving electric motor. It is very quick to break up, and other times it is important to adjust. You'll have to disassemble it in both situations.
Repair the motorcycles with a small trick or to replace it.
LSD module disassembly procedure
Raise your fingertips gently to cut the upper plastic mask, which is secured in place by seven plastic connectors.
Release the opening cover of the dust box. Using a screwdriver, remove the 6 screws on the hinges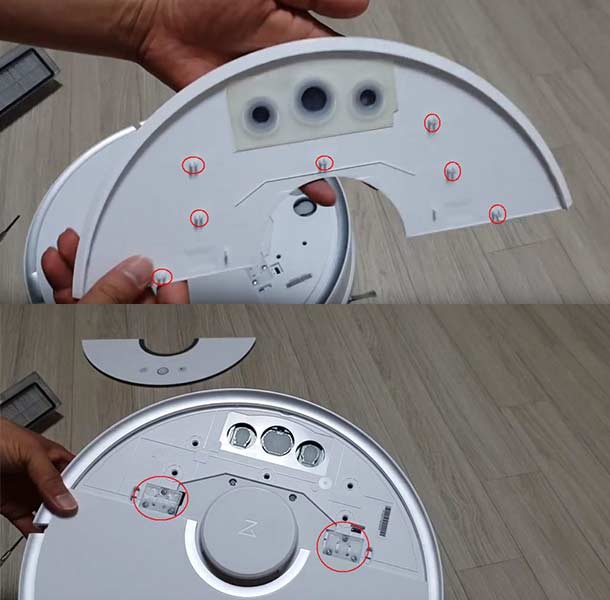 Remove the cover from the LDS module. It's tied together by five screws. Three of them are concealed under plastic covers that can be cut with a screwdriver.
Remove the LDS module, which is fastened by 4 additional screws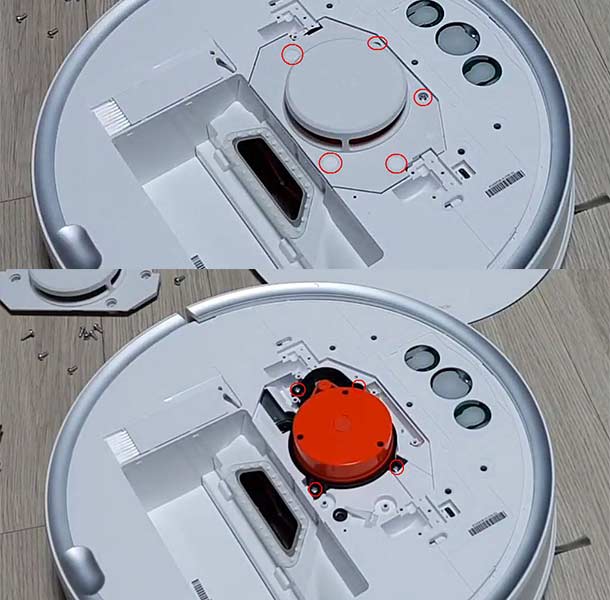 Motorcycle repair
You need 1 pc 9V battery type 6F22 (classic 9 volt battery) and two short and thin cables
On a disassembled LDS module, manually release the drive transmission belt from the motor shaft – to make it run easier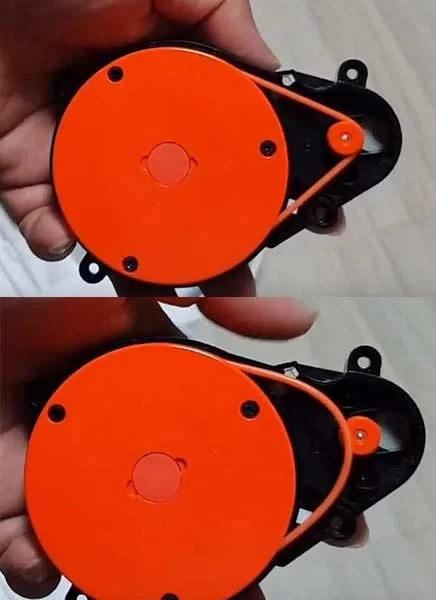 From the bottom, release the power connector of the motor by hand by simply pulling it
Then connect the 9-volt battery to the motor contacts using only two cables. The motor should move. If this happens, let it run for 5 to 10 seconds. If he can't move, try to help him by turning his shaft. If it doesn't start even after this attempt, you have nothing left but to replace the motorbike with a new one.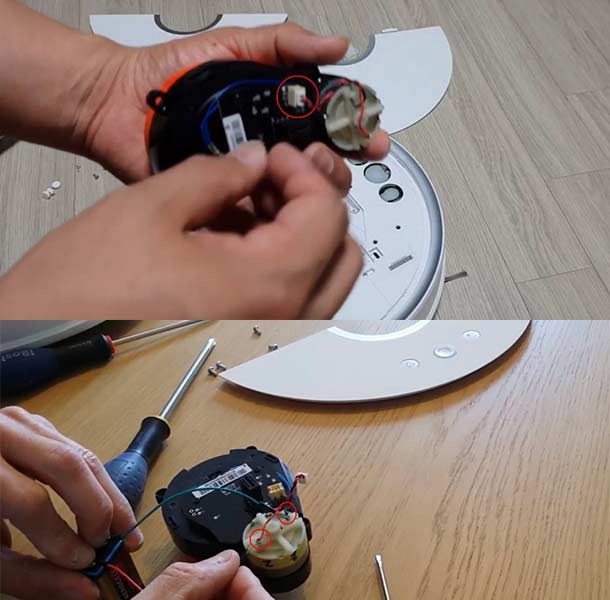 After a successful repair, you can restore the vacuum cleaner to its original condition and continue to use it.
Replacing the motor
The motor is fastened with two screws, these must be loosened with a screwdriver before replacement
After loosening the screws, move the motor to the enlarged hole and pull it out of the module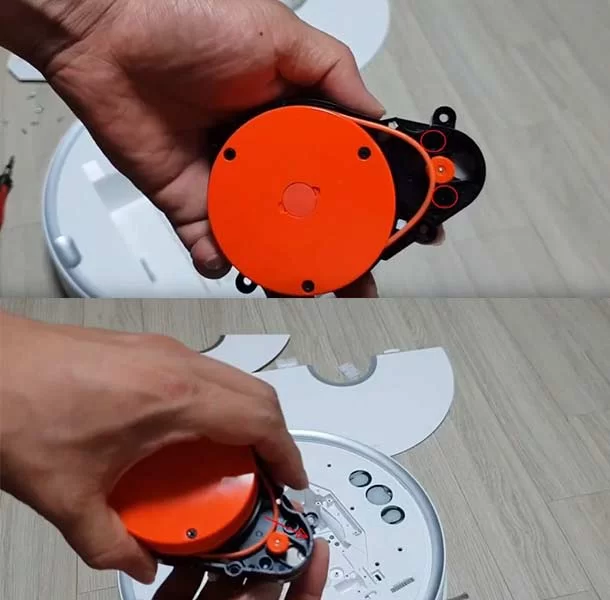 Then all you have to do is insert a new motor in the same way, which you won't forget to screw on. Connect the power connector and thread the drive transmission belt. Then just return the vacuum cleaner to its original state and you can let it vacuum.
Roborock Error 10
Clean the filter, dry it thoroughly and place it back in the robot then try again.
Roborock Error 18
Clap the side of the robot several times to try and clear debris from the fan.
Roborock Error 8
Make sure there is no obstacles around the robot cleaner.
Press and spin manually to check if they are stuck. If they are, try to work them free.
If the water tank is installed, remove it and try again.
Roborock Error 13
Wipe the charging contacts both on dock and under device.
Make sure they have not been corroded.
Roborock Internal Error:
Restore the robot cleaner to factory setting.
For reset Roborock S5 :
Step 1. Hold the recharge button for 3-5 seconds.
Step 2. Use a pin to press the reset button next to Wi-Fi LED just once, and power button, recharge and spot cleaning button's light will be out. When you are doing this, please make sure recharge button is still under your finger's holding without moving.
Step 3. Keep holding recharge button for 5 seconds after you press reset button until power button blinks again and you hear the tone restore, and then you could remove the finger.
Notice:
1. Factory default restore will disconnect RoboVac from Wi-Fi. Please re-add it after factory default restore.
2. Factory default restore will also make RoboVac's firmware version come back to original one when it was made in factory. After factory default restore, you could go to RoboVac's setting–general setting–check for updates to upgrade its firmware to latest one.
3. Factory default restore will delete all your setting on device like scheduled cleaning.
4. Factory default restore will delete every single cleaning's log including every cleaning's duration, size and map. But the total duration, total times of cleaning and total size will be still kept there.
Note: Most of the errors except 1 can be fix through factory reset.
If your Roborock problems are not in this list, go to this page.
Home Automation

>>

Other

>>

Robots

>>

Roborock S5 Troubleshooting