In the realm of architectural design, the process of bringing ideas to life has always relied heavily on visual communication. Architects have long depended on the power of detailed blueprints and precise drawings to convey their visions. However, plotter printers have ushered in a new era of possibilities, redefining how architects tackle large architectural prints for their complex tasks. These advanced devices have emerged as indispensable tools in the architect's arsenal, revolutionising the way designs are transformed from concepts into tangible realities. In this article, you will explore seven plotter printers that have significantly impacted the architectural landscape, enabling architects to achieve unprecedented precision and efficiency.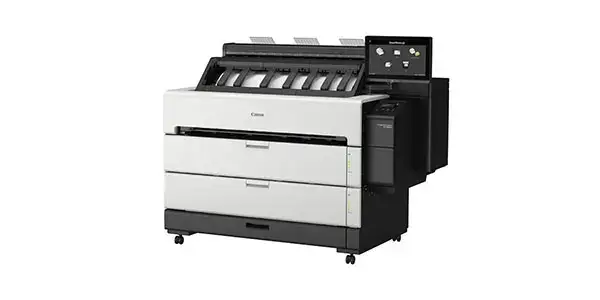 When it comes to tackling complex architectural projects, the expertise of the best architects in Miami is unmatched. Their innovative designs and meticulous planning are complemented by cutting-edge technology. In this context, Seven Plotter Printers are redefining the way architects in Miami bring their visions to life, offering precision and efficiency like never before.
1- HP DesignJet T830
The HP DesignJet T830 has earned a remarkable reputation for its versatility and ruggedness. With its compact design and mobile capabilities, architects can effortlessly take their work to construction sites and collaborate with contractors on the spot. This plotter printer's ability to produce high-quality prints and integrated scanning features allows architects to convert physical drawings into digital files seamlessly. By bridging the gap between paper-based and digital workflows, the HP DesignJet T830 enables architects to streamline the design process, reducing time and costs while maintaining accuracy.
2- Canon imagePROGRAF PRO-4000
The Canon imagePROGRAF PRO-4000 stands as a testament to technological innovation in the field of architectural printing. With its 12-colour pigment ink system, this plotter printer delivers stunningly vivid and detailed prints. Architects can showcase their designs with exceptional clarity, allowing clients to immerse themselves in the proposed structures fully. The PRO-4000's large-format capabilities and advanced colour management ensure that every minute detail is faithfully reproduced, elevating the visual impact of architectural presentations.
3- Epson SureColor P9000
When it comes to large-scale projects, the Epson SureColor P9000 is a game-changer. This plotter printer boasts an impressive colour gamut, producing prints with remarkable colour accuracy and depth. Architects can confidently reproduce complex designs, preserving their original intent in every print. The P9000's advanced PrecisionCore technology guarantees sharpness and clarity, allowing architects to communicate their ideas with unparalleled precision, even on the grandest of scales.
4- Roland DG VersaUV LEF-300
Architects are increasingly exploring new dimensions in design, incorporating textures, patterns, and intricate details into their projects. The Roland DG VersaUV LEF-300 is the perfect plotter printer for architects seeking to add that extra touch of creativity to their work. With its ability to print on various materials, including wood, glass, and plastics, this printer enables architects to experiment with different mediums and bring their visions to life in unique and captivating ways. The LEF-300 opens up a world of possibilities, allowing architects to create tactile and visually striking designs that engage the senses.
5- Océ ColorWave 700
Efficiency and speed are critical factors in the architectural design process. The Océ ColorWave 700 offers architects a cutting-edge solution that combines productivity and quality. With its single-pass printing technology, this plotter printer can rapidly produce high-resolution large architectural prints without compromising on detail or colour vibrancy. Architects can now meet tight deadlines while maintaining the highest standards of quality. The ColorWave 700's ability to handle various media types, including plain paper and heavy-weight media, further enhances its versatility and makes it an indispensable tool for architects tackling complex projects.
6- Xerox Wide Format IJP 2000
The Xerox Wide Format IJP 2000 is a plotter printer that offers architects unmatched speed and productivity. With its high printing speed and quick-drying ink, architects can produce large-format prints in a fraction of the time compared to traditional printers. The IJP 2000's reliability and efficiency enable architects to optimise their workflow, reducing turnaround times and increasing productivity without sacrificing quality.
7- Mimaki JV33-160
The Mimaki JV33-160 plotter printer is renowned for its exceptional colour accuracy and versatility. Architects can rely on this printer to reproduce their designs with stunning precision and vibrancy. Whether printing detailed blueprints or vibrant renders, the JV33-160 ensures that every design element is accurately conveyed. The machine's ability to handle a wide range of media types and sizes allows architects to explore different materials and formats, allowing them to experiment and push the boundaries of their designs.
Conclusion:
Plotter printers have become indispensable tools for the best architects in Miami, revolutionizing how complex projects are approached and executed. The HP DesignJet T830, Canon imagePROGRAF PRO-4000, Epson SureColor P9000, Roland DG VersaUV LEF-300, Océ ColorWave 700, Xerox Wide Format IJP 2000, and Mimaki JV33-160 are just a few examples of the plotter printers that have redefined the industry. With their advanced features, these printers empower architects to achieve unparalleled precision, efficiency, and creativity. As technology advances, people can expect plotter printers to play an even more significant role in the architectural design process, driving innovation and shaping the future of the field.
Home Automation

>>

Blog

>>

Seven Plotter Printers Redefining How Architects Tackle Complex Projects