Making a coffee now more easy by using smart app with all in it for mixing and time to make it, now you don't have to do wait and watch in the kitchen till its dones, list  of smart coffee machine are from mid to low end class products. 
Moderate products:
Smarter Coffee (2nd Generation) Coffee Maker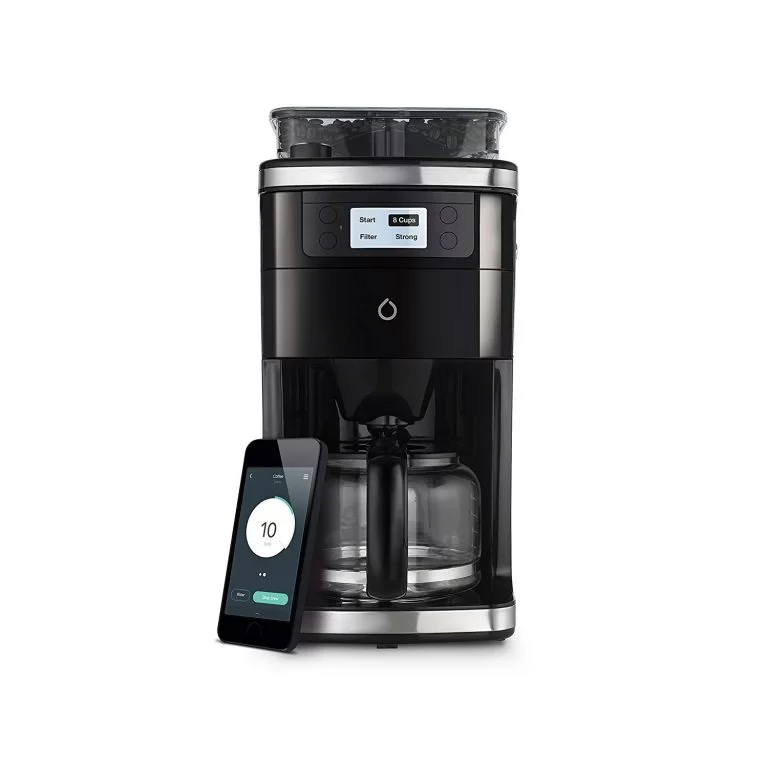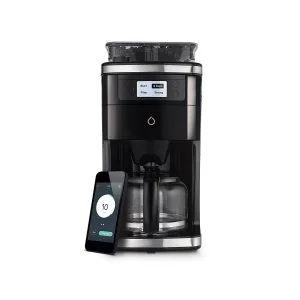 Attractive, easy-to-read LCD display
BlinkUp technology makes connecting to your device a piece of cake
Coffee reordering directly from the companion app
Bean-to-cup or filter coffee options
Customizable Wake Up mode brews coffee automatically in the morning
Comes with three different color panels (cream, red and black) to help you match the machine to your kitchen decor
Warming plate keeps coffee hot for up to 40 minutes after brewing
Elegant brushed aluminum design
Compatible with Amazon Alexa and Google Home
With its built-in WiFi capability, you can connect to your iKettle (as it is called) and send brewing instructions with nothing more than a few taps of the screen on your iOS or Android powered mobile device.
Using its fast and secure BlinkUp technology, you can quickly pair up with multiple devices, so you can have plenty of flexibility in terms of when and how you can control the functions of the machine.
The Smarter App also allows you to set alarms via the machine's Wake Up mode, so that you can have a nice, fresh pot of coffee waiting for you when you first get out of bed.
Price:     £179.00
More Info: Alexa controlled blinds
Nespresso Expert Coffee Machine, Black by Krups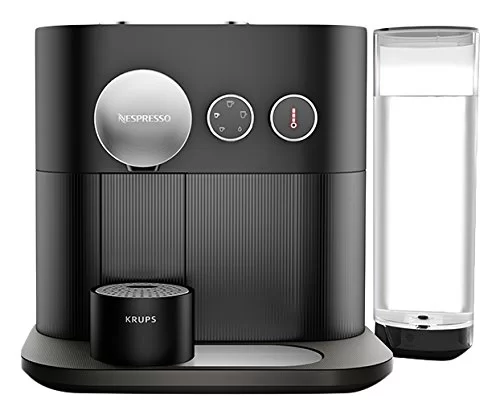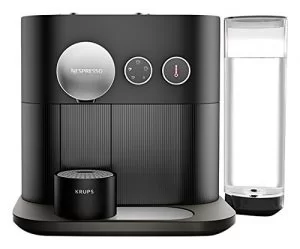 The Nespresso Expert along with the companion Nespresso mobile app (made for iPhone, iPads and Android smartphones) allows you to create your own personalized coffees, smartly gives you access to an easy ordering of Nespresso capsules the possibility to manage coffee recipes and capsules stock, schedule a brew time, brew remotely and get simplified machine assistance through the Nespresso Club.
Cutting-edge design inspired by the world of the barista, with a flat-to-the wall shape.
The Nespresso Expert can now brew 4 coffee sizes: Ristretto (25ml), Espresso (40ml), Lungo (110ml) and the Nespresso Americano (25ml coffee and 125ml hot water) allows for a longer mild coffee experience, you'll instantly love. Use the magnetic drip tray for different cup and glass sizes for your perfect cup.
You also have the choice between three temperatures (medium, hot, extra hot) either directly on the machine or remotely via the mobile app, with its 'Schedule Brew' and 'Brew Now'
Price:     £199.00
More Info: Top 10 Personal Robots 2020
Illy Iperespresso Machine Y5 white by Illy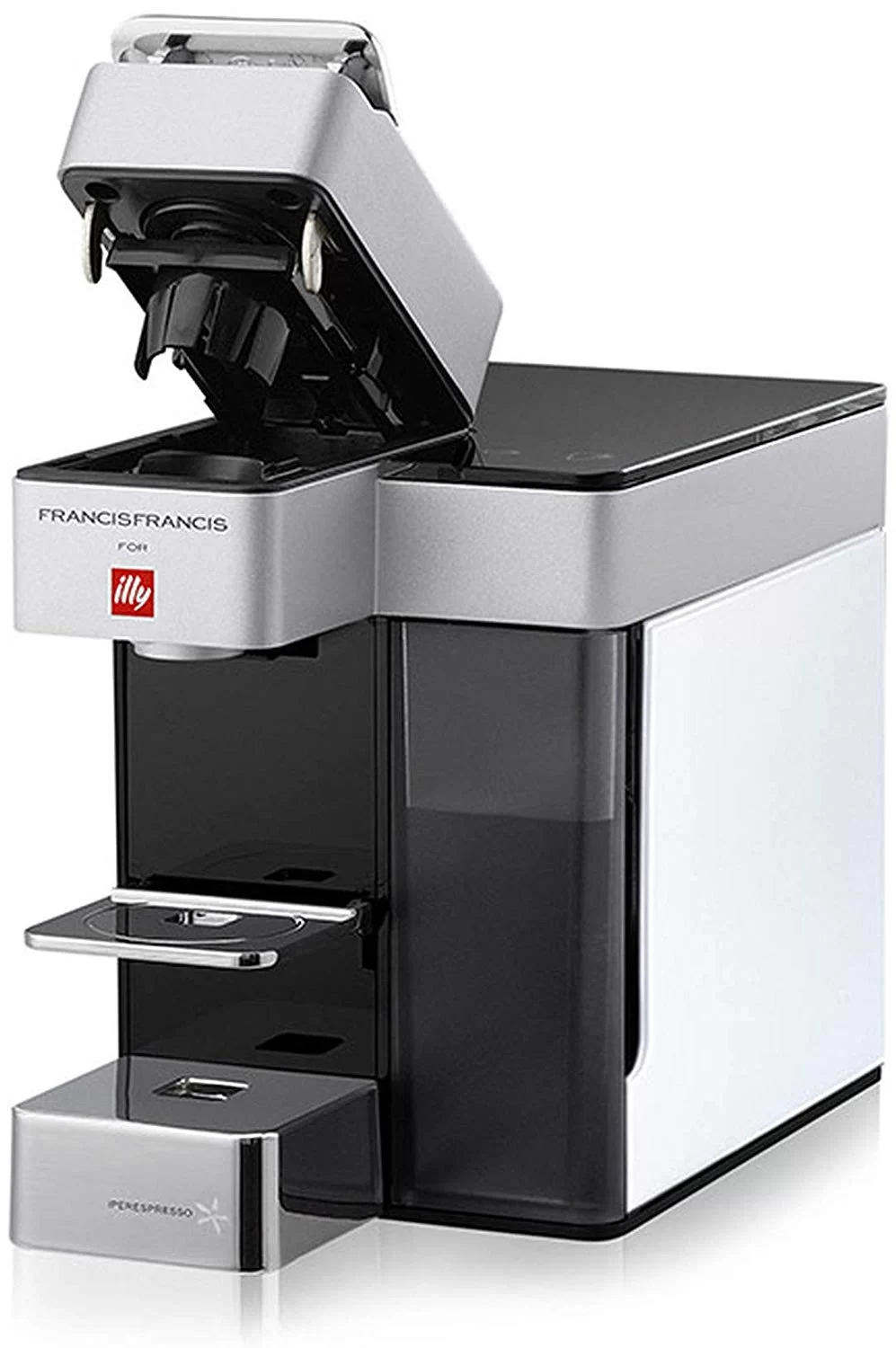 Mechanically, the Y5 is very simple and accessible. The water tank pulls easily out of the front of the machine to the right of the nozzle. The drip tray pulls out to reveal the pod bin, which keeps all spent espresso and coffee pods trapped and dry, their contents sealed away in plastic.
The top of the Y5 holds two glowing, touch-sensitive buttons for manually brewing espresso or drip coffee, with a blue connection light below them to indicate that the machine is connected to the app.
Illy offers both drip coffee and espresso pods, which share the same 1.3-by-1.5-inch (HW) tapered cylindrical dimensions. Drip coffee pods are black with a small filter in the bottom, while espresso pods are red and transparent, with a small nub-shaped opening in the bottom and the word IPERESPRESSO circling it in cutouts.
Iperespresso capsules are designed for single cups and shots, so you can't brew a whole pot of coffee on the Y5.
Y5 with the free MyIlly app for Android and iOS. The machine connects over Bluetooth, and pairing is a simple process of turning it on, opening the app, and selecting the machine. Once it's paired, you can brew coffee or espresso based on your preferences, schedule brewings, track stats, and perform maintenance like descaling.
Price:     £102.58
Are You Looking For Homekit Enabled Coffee Maker? IF Yes Then Click Homekit Coffee Maker
Best Brand Products:
Philips Saeco GranBaristo Avanti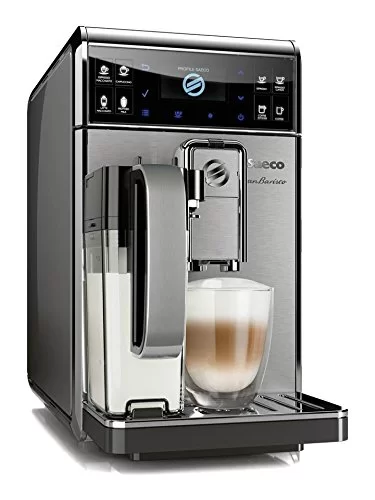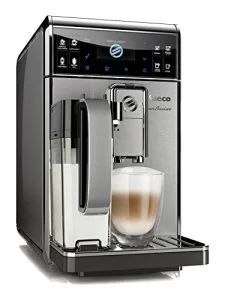 The app-controlled Philips Saeco GranBaristo Avanti is one of the most advanced home coffee makers you can buy. It's also one of the most expensive.
The control panel is a glossy black square that takes up the top quarter of the front of the machine. A small, monochrome LCD sits in the center to display information and offer limited menu navigation.
Half of those beverages require milk, and for that you need to use the included milk carafe. It's a smaller plastic container with an input hose and spout system.
The milk carafe connector can also provide hot water when you snap in the included hot water nozzle.
The free Saeco Avanti app for Android and iOS lets you brew beverages, monitor the GranBaristo, and perform maintenance on it.
Price:  £995.95
Siemens EQ.500 integral Freestanding Espresso machine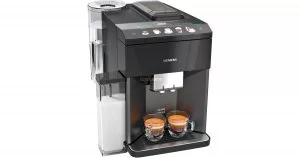 Surprise and spoil your guests. With the Home Connect app, you can easily take multiple orders of different coffee variations and remotely transfer the playlist to your appliance. The coffee center then prepares the individual coffees from the playlist, one after another.
Coffee World offers you a great variety of international coffee styles exclusive to the Home Connect app. simply find your favorite and remotely send the choice to your Siemens smart coffee machine – perfect aromas in seconds.
With Home Connect, you can satisfy them all – without needing extensive coffee knowledge. Use the intuitive app to choose or create your desired drink, then transfer it straight to your Siemens smart coffee center.
Price:     £771.02
More Info: Z Wave Blinds
Melitta F85/0-101 Barista TS Smart Coffee Machine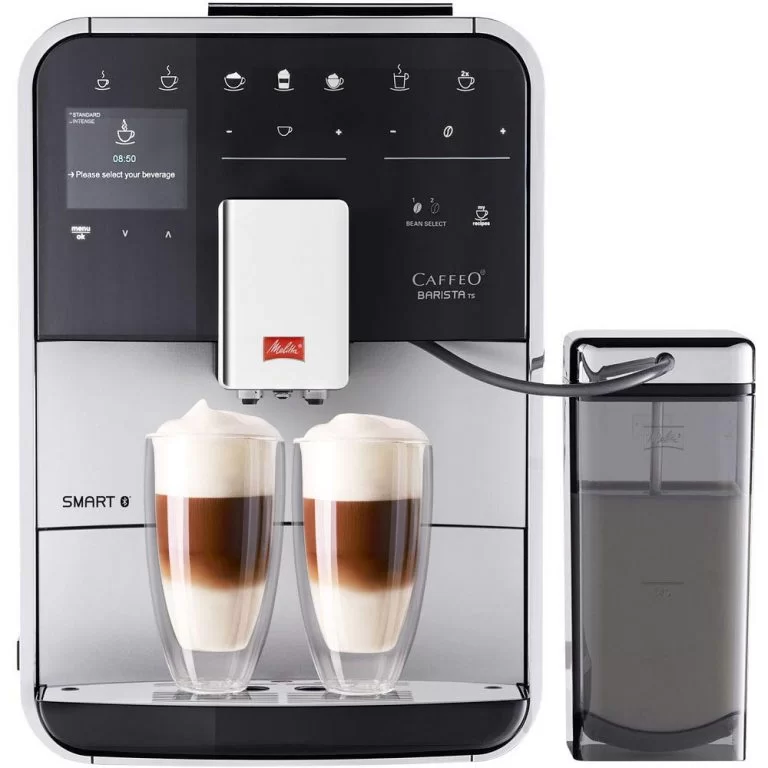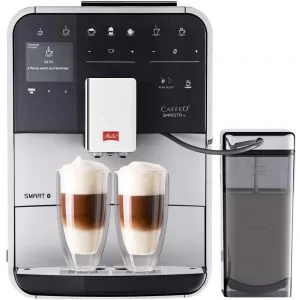 Enjoy your daily coffee just the way you like it, Choose from 21 pre-set coffee specialties prepared according to the original recipes, Manage several features of your fully automatic machine and customize your coffee with the Melitta Connect App.
The Caffeo Barista TS Smart is compatible with the Melitta Connect app, so you can remotely steer the preparation of coffee and manage other features of this all-in-one Melitta coffee maker.
An airtight double-bean chamber offers steady rotation of coffee flavor. The TS Smart additionally offers separate hot-water access for tea service and a pre-ground coffee chute.
Preserve the machine and coffee taste with automatic cleaning and descaling, Includes welcome pack cleaning kit, Easy to clean interior thanks to the removable brewing unit – Dishwasher safe.
Simple and intuitive, Customized coffee selection with Automatic Bean Select, Touch display: Select the amount of hot water, milk, foam and coffee, Select the amount of coffee (25 ml – 220 ml), Automated choice of grain type, Double-cup mode.
Price:     £782.00
Home Automation

>>

Other

>>

Other Smart Devices

>>

Smart Coffee Machine