These are the most compatible smart home light switch controller in UK, EU and USA, Few are independent and can work with multiple devices and some are only be compatible with their respective platform.
Here are the list of all Smart home light Switch Controller:
Insteon Dimmer Micro Module
Sonoff 4CH Pro R2 WiFi Smart Switch
Dimmable 1 Amp Receiver for Wireless Switch controller
Smart Zig-Bee Dimmer Switch Controller By Moes
Quinetic 16 Amp Wireless Light Switch Receiver/Controller
CLC-1LEDPWM-RGBW-EX BY Crestron

Insteon Dimmer Micro Module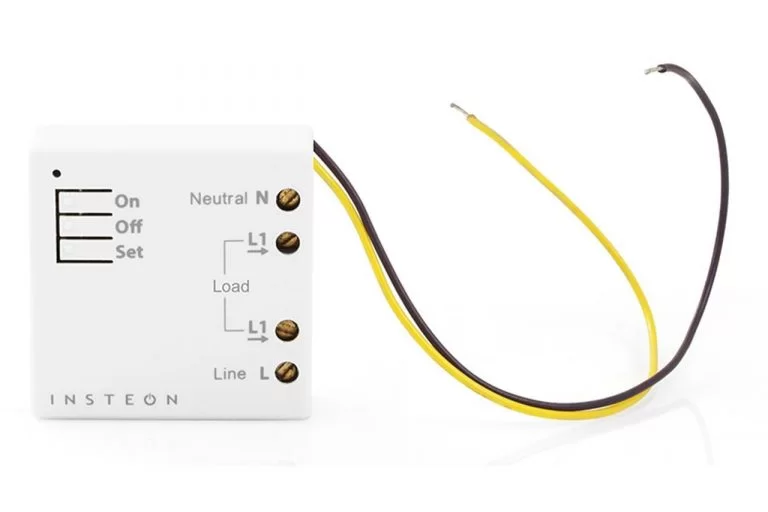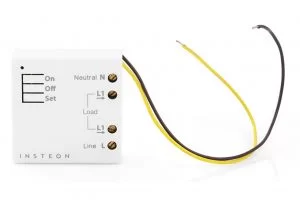 Adding home control to an elaborately decorated home can be tricky, especially when it comes to working around antique or custom switches. The compact Insteon Micro Dimmer installs behind the switch to allow custom dimmable remote control and automation without sacrificing style.
Versions are available that are compatible with US electrical systems as well as the EU, Australia and New Zealand. Also available as a wire-in Micro On/Off or Micro Open/Close module.
More Info: Smart Home Closet Light
Add Insteon dimmable remote control without replacing your existing switch
Installs behind existing latching, single momentary or dual momentary switches
Sense wiring retains local control at the switch
Programmable on-level and fade on/off speed
Featuring dual-band Insteon technology for the fastest and most reliable performance
Price: £90.40
Sonoff 4CH Pro R2 WiFi Smart Switch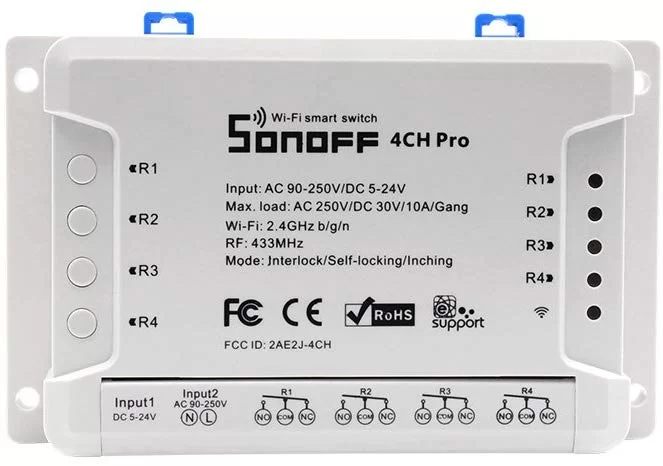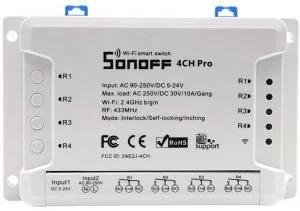 Sonoff 4CH Pro R2 can connect four household appliances or electrical devices, so you can remotely control four devices ON/OFF at the same time or separately. There are three working modes for your different needs: self-locking mode, interlock mode, and inching mode.
More Info: Smart Home Ceiling Light
Self-locking mode: Turn on/off 4 connected devices separately.
Interlock mode: Turn on one device every time, and turn off others at the same time.
Compatible with Alexa/Google Home/IFTTT: Link "eWeLink Smart Home" skill on Alexa app..
You can ask Amazon Echo/Echo Dot/Amazon Tap to turn on/off your Sonoff devices.
Link "Smart We Link" on Google Home app, start to voice control your Sonoff devices on Google Home.
Link"eWeLink Smart Home" on IFTTT app, start to use IFTTT supported app and services to control your Sonoff devices.
Price: £28.99
Dimmable 1 Amp Receiver for Wireless Switch controller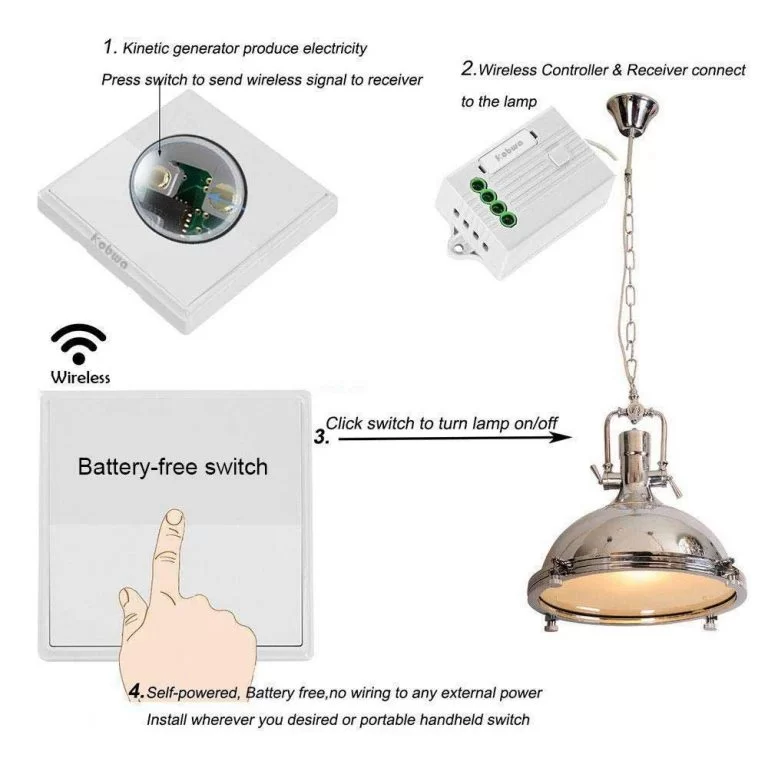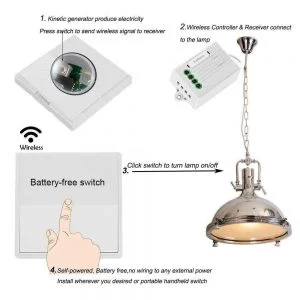 No Battery, No Wiring, No Wi-Fi, Self-Powered Smart Switch & Dimming Controller Receiver for House Lighting & Appliances.
The phone and APP pair need to use the home wireless router.
Turn on the power of the controller and confirm that the indicator light rapidly blinks.
Follows the prompts to select the controller model for quick pairing.
If the controller is not rapidly blinks, follow the prompts to set the receiver to rapidly blinks.
If the pairing switch is push button switch and the lamp is dimming, long press the switch to adjust brightness of the lamp.
Price: £34.99
Quinetic 16 Amp Wireless Light Switch Receiver/Controller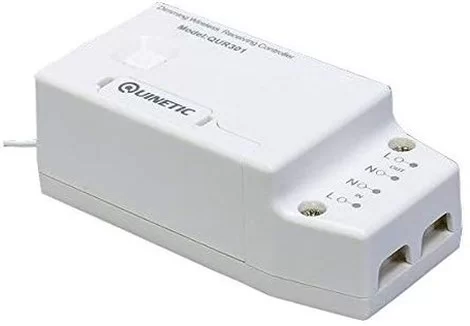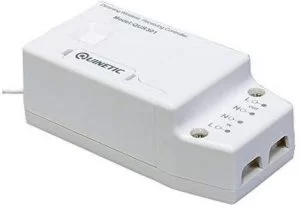 The Quinetic wireless controller with a high-efficiency switching power supply has a wide voltage range with excellent stability and durability.
A load capacity of 16A relay. The Quinetic wireless controller is equipped with an in-rush current suppression function thus creating a safe and durable product.
Compatible with the Quinetic Wireless Switch.The Quinetic wireless switch has a built-in micro energy generator. The action or pressing the switch, generates enough kinetic energy to create and transmit a radio signal and switch on/off via a receiver (wireless controller) the lamp or other loads. This solves an age old problem of having to install switch wiring over the past 130 years since the invention of the light bulb.
Wireless Quinetic energy switch and wireless receiving controller can be paired with any combination: a controller can be controlled by a maximum of 10 separate switches, a switch can pair an unlimited number of controllers
Price: £25.09
Smart Zig-Bee Dimmer Switch Controller By Moes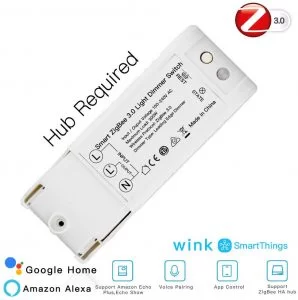 Moes Smart ZigBee 3.0 Dimmer Light Switch is a new advanced and stable design that smart your wireless home automation.
Compatible with Echo Plus, Smartthings hub and Wink hub. Adjust the Brightness Via Your Voice Assistant or Phone.
Support Smart App Control to remotely control on smart phone. One of the above ZigBee hub is required.
Control lights and home appliances through Amazon Alexa to freely voice control your lights, as long as there is stable ZigBee signal.
Considering the status of unstable network or no network, ZigBee 3.0 switch is really an irreplaceable must to combine with ZigBee gateway to form a home LAN, NO MORE WORRY about no network. You are able to freely control the appliances and enjoy a much more free lifestyle.
Share the control with your family members or friends. Support multiple phones to control one switch or one phone to control multiple switches at the same time.
Price: £23.99
Light Switch Timer Controller by smart life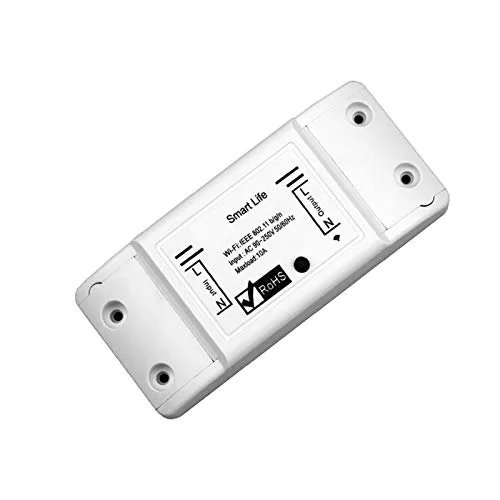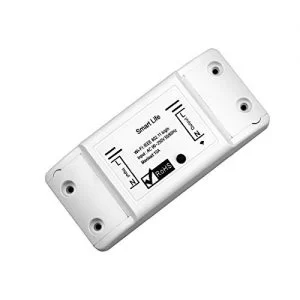 The smart switch linked to your 2.4GHz WiFi allows you to control your home appliances whenever and wherever possible via phone APP.
Once you have this switch, you can connect it with Amazon Alexa (Amazon echo/dot/tap) or Google Assistant for voice control.
Take full control of your home or office lights thanks to schedule timer that will allow you to plan the exact time to turn lights and appliances on/off automatically
Share it to family members! This smart switch can have several control sites shared by different family members.one mobile phone can control many switches. Multiple people can control one.
If this, then that is a free web-based service the lets you do amazing things with your light switch, turn lamps, fans or other electronics on before you get home or off when you leave.
Price: £6.65
Wireless RGBW LED Controller by HI-Line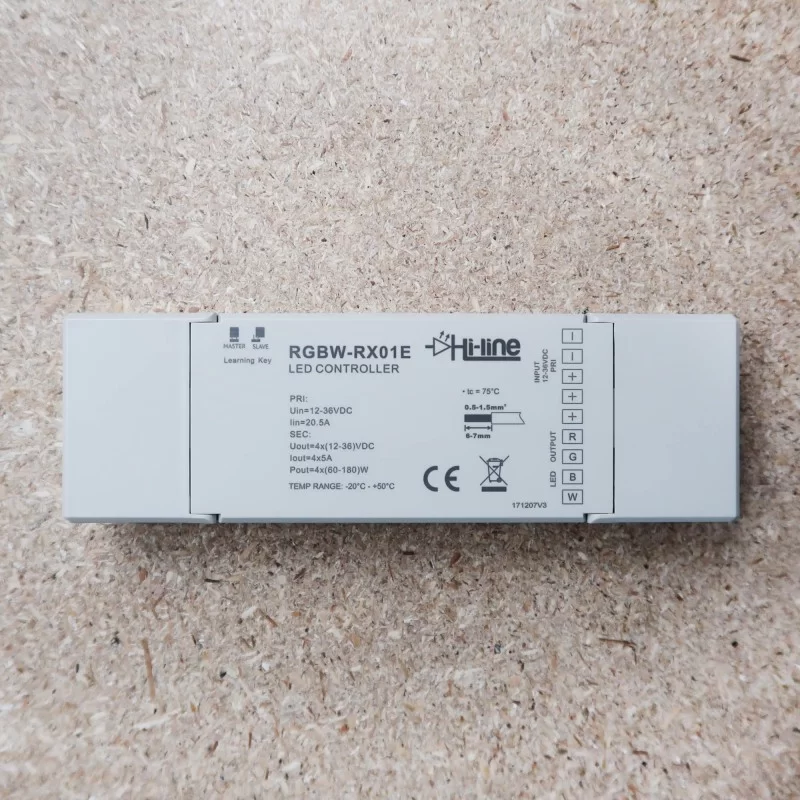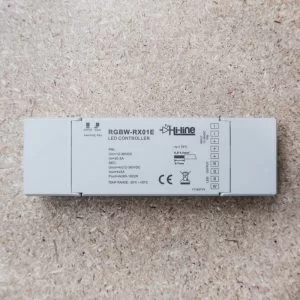 This wireless RGB/RGBW (4 Channels) LED controller can drive LED Strips or other constant voltage LED lighting that operates in the range of 12~36V DC.
It is a 4 channels controller rated at 20A maximum in total (4CH x 5A) but it is suggested not to exceed 12.5 Amps in total (all 4 channels together).
Every "master" RGB / RGBW wireless controller is assigned to one of the 4 zones available on the remote or touch panel, slave LED controllers get in sync through wireless radio signal and the result is a complete and precise colour synchronization between all controllers of each zone.
Optionally can get connected through Hi‐line's Wi-Fi gateway (WiFi‐RF‐RX01) and control LED strip lighting through smart phone or tablet (both apple and android devices are supported). When using "Wi-Fi gateway" you can still use the remote if necessary and vice versa.
This remote control can be used with RGB or RGBW LED Strips in configuration for up to 4 zones that can be controlled individually using only one remote
Price: £55.00
CLC-1LEDPWM-RGBW-EX BY Crestron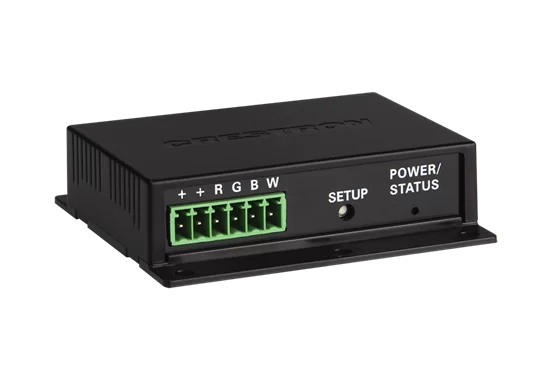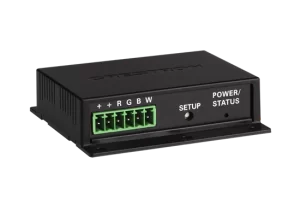 Four-channel LED controller for RGBW color mixing, wirelessly-controlled via ultra-reliable infiNET EX® communications technology.
The Crestron® CLC-1LEDPWM-RGBW-EX provides four independently controlled channels of RGBW color mixing for LEDs.  Achieve spectacular colored accent lighting to highlight architectural features, provide mood lighting, or spread a little holiday cheer.
More Info: Top 10 Timer Switch For Lights
Choose from an array of white hues on any or all of the four channels to boost the general room illumination.  This RGBW LED Controller uses a configurable Pulse Width Modulation (PWM) frequency for flicker-free performance. Over-current protection ensures the long life of this LED controller.
4 independently-controlled channels of RGBW color mixing for LEDs
Multiple white hues on any or all four channels
Configurable PWM for flicker-free performance
Over-current protection
infiNET EX® wireless communications
Price:  £120
Home Automation

>>

Lightening

>>

Hubs & central controllers/Bridges

>>

Smart Home Light Switch Controller