Here you are. That means you know what a garage door sensor is and how it works. You probably have a problem that is giving you a lot of trouble. We know it's a pain when your garage door won't close. Now all you need to do is figure out how to get around the garage door sensors so you can get on with your day. Make sure you only use this guide if you know for sure that the sensors are the problem. If you don't know what's wrong, call a company that fixes garage doors.
To quickly turn off the sensor on your garage door, just hold down the open/close button. This makes the garage door close because it is "forced" to. If you let go too soon, the sensors will raise the door, so just press it and hold on until the garage is completely closed.
Explain How to Bypass a Garage Door Sensor, here's a table for you:
| | |
| --- | --- |
| What to do? | Why does it? |
| Hold and press the garage door button. | This way, you can get around the garage sensor. But you should keep in mind that it's only a short-term fix for your problem. |
| Cut and tap the sensors. | The method, despite the fact that it involves some element of danger, is definitely practical. |
| Rewire the sensors. | When you rewire your garage door sensors, you create a new connection with your garage door opener. It is a permanent method of bypassing your garage door opener. |
| Move to manual operation. | It doesn't have buttons or remotes, but the garage door works. Though less convenient than a button or remote, it's better than nothing. |
 How to Bypass a Garage Door Sensor
If you haven't already, you should first try to fix your garage door sensors (A troubleshooting steps to try below). If you can fix your sensors this way, you don't have to go around them.
After you've tried to fix the problem and can't, you can try one of these three ways to get around your garage door sensor:
Press and Hold the Button for the Garage Door
Change It to Manual Mode
Cut and tap the Sensors
Rewiring
Press and Hold the Button for the Garage Door
Use the wall-mounted button or remote control that came with your automated garage door. Your garage door will begin to lower as soon as you press and hold the button located on the garage wall. As long as it takes, hold it until the door is completely closed.
This is a quick fix, but it doesn't get to the bottom of why your garage door sensors aren't working.
So, you can get around the sensors this way, but it's best to get your garage door fixed as soon as possible.
Change It to Manual Mode
Even though it may not be your favorite option, the most reliable way to get around the sensors is to open and close your garage door by hand.
You won't be able to use the motor or the open/close buttons anymore, but you will still be able to use your garage while you wait for a technician.
To switch your garage door from automatic to manual, all you have to do is pull the cord that hangs down from the motor on the ceiling.
This lets go of the door's chain, which pulls it up or down. Now you can raise and lower your garage door with the oldest tool known to man: your biceps!
Also, if your garage door is open or halfway open, you'll need someone to hold onto it so that it doesn't fall when you pull the cord.
Cut and Tap the Sensors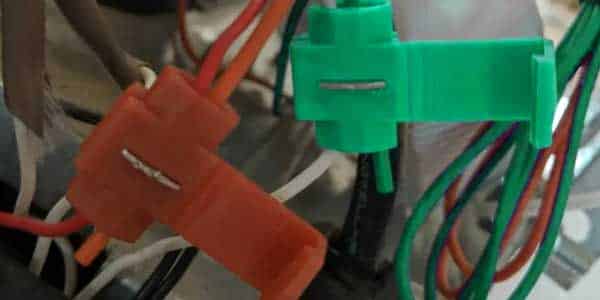 I don't usually suggest this choice, but I've seen it work many times.
You will start by cutting your garage door sensor wires and taking them off the left and right sides of your garage door.
This treatment carries some inherent danger. As such, double-check that you've properly implemented all necessary safety precautions. Just do as I say:
Stop using electricity completely by switching off the mains.
Use a wire cutter to sever your sensors' wires.
Trim any loose wires and secure their ends.
Position the sensors so that their lenses are looking directly at one another.
Rewire the Sensors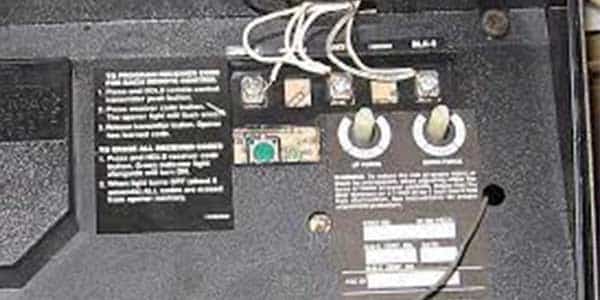 You can also bypass your garage door sensors by rewiring them. Rewiring your garage door sensors to make a new connection with your garage door opener is a complicated process, but it's a permanent way to bypass your garage door opener.
Here's what you need to do to rewire your sensors:
1.    Get a ladder and climb up it to see the garage door opener's wires.
2.    Remove the wires.
3.    Check the garage door opener to see where the wires go through the holes. Each hole has a colored block stuck in it. You should see a red block, two white blocks next to each other, and then a black or grey block (the order should be from left to right).
4.    Focus on the last two blocks, which are the second white and black/gray blocks, to connect the wires.
5.    Now, pay attention to your sensors. There should be one white wire coming from each sensor. Wire them together to connect them to the second white block on your garage door opener, going from left to right.
6.    In the same way, connect the black wires of your sensors to the last block of your garage door opener, which is the black/gray block, by wiring them together.
7.    So, that's all!
Don't forget to put the wires away right after you've made the new connection.
What Do Garage Door Sensors Do?
You probably already know that garage door sensors keep your door from closing accidentally. Not to worry. Of course, you're not alone in feeling this way. There are thousands of households that deal with this problem every day. You'll be an expert after just one successful repair. at least in terms of fixing this rather minor problem with your garage door.
There could be valid explanations for this. Despite our apparent need for closure, we may not always want the door to close. It is critical that the problem is fixed and the garage door sensors are not simply avoided in those unusual cases.
Why Would You Want to Disable a Garage Door's Sensor?
Think long and hard about your motivations before you decide to disable your sensor.
You should probably rethink things if the only reason you're doing it is that your trash cans block the sensor in the garage.
To put yourself, your loved ones, and your possessions in danger, you should never disable the garage door's sensor unless absolutely necessary.
Furthermore, if an accident does occur, your insurance provider may reject your claim on the grounds that you willfully disregarded safety procedures.
Let's Fix this:
Look For Real Obstructions at the Garage Door
In the event that closing the door could cause harm or injury to a person or animal, your garage door opener will stop the door from closing. Making sure there is nothing in the way of the two sensors is the quickest and easiest solution. Common sources of pollution include trash cans, gas cans, and even spider webs. If you find something, take it out of the way and give the garage door another go.
If it's still not working, the next step in troubleshooting is a must:
Stop and Check the Alignment
Make sure everything is lined up properly first. All garage door opener brands now use garage door sensors with LED lights. There will be a green and a yellow light on your LiftMaster. There's a chance Genie has two reds, or one red and one green. LiftMaster is equivalent to Chamberlain and Craftsman. Each linear device will display a green light, and one will display a red light. If only one light fails to come on, it's easiest to check that particular sensor. The objective is to get the light to turn on and stay on without any further intervention. There was no strobing or blinking.
Stop and Check the Cords
If altering the sensor does not solve the problem, then you should examine the wiring. It's not uncommon for animals or insects to be to blame. They have a strange fascination with chewing on these cables. Your pet is safe from harm, don't worry.
It is important to reconnect any wires that you find to be loose. If the wire has been chewed on, you should try to remove the damaged section and re-splice it. A garage door repair service may be needed if your door's wiring is located behind a wall.
Clean the Sensors
Most people don't give this much thought, yet it actually has a bigger impact than you might think.
Garage door sensors that aren't clean are much more likely to "get things wrong." Try wiping the sensors with a dry cloth; that may be all that's needed to restore functionality.
It's Time to Reset the Garage Door Opener
The most straightforward answer is usually the best one to implement. In case you haven't already, try resetting the garage door opener.
The specifics of what you need to do will, of course, be dependent on the specifics of your garage door opener.
If you go this path, you should be prepared to repair your remotes and possibly change your passcode.
Frequently Asked Questions:
How Do I Permanently Bypass Garage Door Sensors?
They are not meant to be used independently of your garage door system. Apart from switching to manual mode, there is no other method to permanently avoid them.
People and cars are kept safe by garage door sensors, which are made to be hard to get around.
However, you can Permanently Bypass Garage Door Sensors by rewiring your garage door sensors to make a new connection with your garage door opener i
What Happens If You Disconnect Garage Door Sensors?
If you turn off the garage door's automatic opener sensors, you'll have to open and close the door by hand/manually. Losing your garage door's sensors also means your door won't know if something is blocking it as it moves.
For more Faq Questions: Please find them here…
Conclusion
Having a garage door that can be opened and closed automatically saves us a lot of time and energy. If it malfunctions or has a technical flaw, this boon can quickly become a curse.
The sensors on these garage openers are an important feature. It mitigates numerous dangers that could otherwise jeopardize our lives and resources.
A major problem arises if the sensors quit functioning. But try not to worry. Don't panic; instead, investigate what's causing your sensor to stop working properly. If it's a minor issue, it shouldn't take you more than a few minutes to figure out how to fix it on your own.
To avoid further damage to your garage door, you may need to disable the sensor if the condition is serious. Holding down the garage door button, cutting and taping the sensors, reconnecting the sensors, or going completely manual are all viable options.
Before touching any electronic wires, you must always, I repeat, always make sure you're safe to do so. If you are unsure about your wiring skills, you should hire an expert.
You might want to see this:
Home Automation

>>

Surveillance & Security

>>

Smart Garage Doors

>>

The Simple Guide on How to Bypass a Garage Door Sensor