Everyone needs to be secure and safe whether at home or out, so what should be the best protection equipment you can consider to be entirely based on your budget, location, configuration, and the system itself, let me make it clear that the WIFI alarm system is part of the security system that involves a panic button, motion, window/door sensor, entrance sensor, however, most of the alarm system includes a feature of add on in case you want outdoor camera compatible with your system or indoor camera, garage door opener and so on.
HERE ARE THE LIST OF WIFI ALARM SYSTEM
SimpliSafe System DIY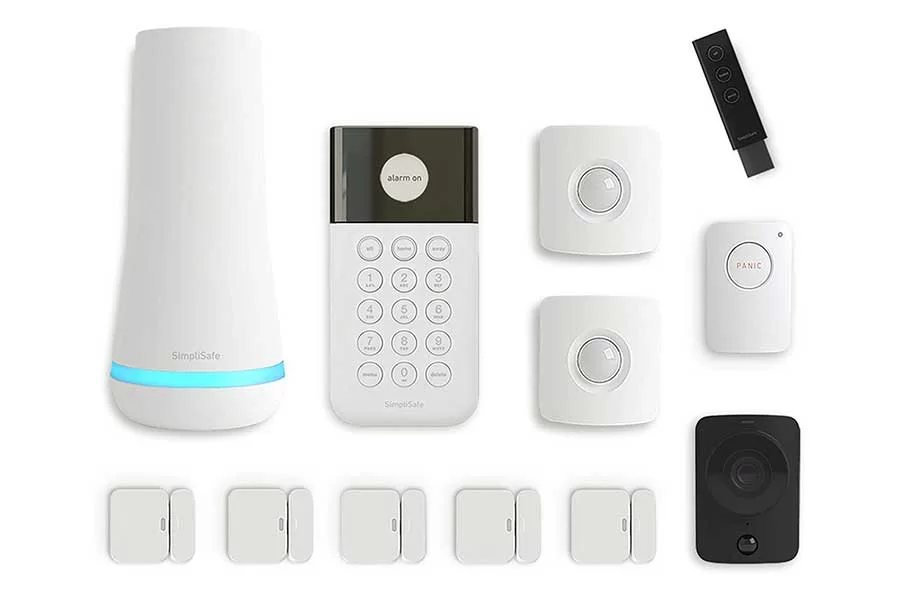 A favorite low-cost option for wireless home security without a monitoring contract
SimpliSafe is a long-standing preferred brand for maximum DIY home defence. Owners may incorporate specialist supervision, but many people prefer SimpliSafe in particular to reduce monthly payments. Some advantages are low-cost facilities and simple assembly.
Just plug in the base station, place your sensors, and start protecting your home in minutes – no tools required.
Optional 24/7 professional monitoring with police, fire & medical dispatch starting at 50c/day – No contracts.
Pioneering signal burst technology that is powerful enough to cover homes of every size, with up to 1000 ft. range — no extender needed.
Panic Button instantly triggers the alarm and dispatch police fast – with silent panic option to signal for help discreetly.
Base Station with built-in 95dB siren, Keypad, Entry Sensors, Motion Sensor, Panic Button, Yard sign, Window security stickers and a free month of monitoring.
| | |
| --- | --- |
| Pros | Cons |
| Arm or disarm the system from your phone, Amazon Alexa, Apple Watch, etc. | Remote control and alarm alert options only offered with more expensive monitoring |
| System batteries last 10+ years | SimpliCam has no facial recognition and may send false alerts |
| Quiet alerts for private, internal areas (cabinets, safes, etc.) | May be difficult to use for customers who aren't tech-savvy |
| Customizable coverage over all entry points in even the largest homes | |
| Month-to-month payments with no contract required | |
| Easy to install on your own | |
| Automatic firmware updates | |
| Refurbished systems available for a 25% discount | |
Compare SimpliSafe packages below:
SimpliSafe Packages Comparison
| | | | | | |
| --- | --- | --- | --- | --- | --- |
| Packages | The Foundation | The Essentials | The Hearth | The Knox | The Haven |
| | | | | | |
| Base station | 1 | 1 | 1 | 1 | 1 |
| Keypad | 1 | 1 | 1 | 1 | 1 |
| Entry sensors | 1 | 3 | 3 | 6 | 4 |
| Motion sensors | 1 | 1 | 1 | 2 | 2 |
| Siren | | | 1 | 1 | 1 |
| Key fob | | | 1 | 1 | 1 |
| Smoke detector | | | 1 | 1 | 1 |
| Panic button | | | | | 1 |
| Temperature sensor | | | | | 1 |
| Water sensor | | | | | 1 |
For every package, either customized or premade, you have two monitoring plan options: standard and interactive. The standard plan connects your base station with SimpliSafe dispatchers for 24/7 monitoring. The interactive plan includes 24/7 monitoring along with full functionality of the SimpliSafe app to arm and disarm the system, receive alert notifications, live stream security camera footage, and more.
Compare SimpliSafe plan pricing below:
SimpliSafe Plan Pricing
You can also pay for a SimpliSafe professional to come set up your system for you for an additional $79.00. If you need optional or extra equipment, here's what the devices will cost:
Video Doorbell Pro: $169.00
SimpliCam: $99.00
Cloud video storage: $4.99/month for one camera, $9.99/month for two to 10 cameras
Outdoor kit for SimpliCam: $19.99
Smart lock: $99.00
Extra entry sensors: $14.99 each
Extra motion sensors: $24.99 each
Glass-break sensors: $34.99 each
SimpliSafe has an A+ rating from the Better Business Bureau (BBB) based on its customer service and transparent business practices. Most complaints relate to customer service and problems processing refunds.
Google Nest Secure Alarm DIY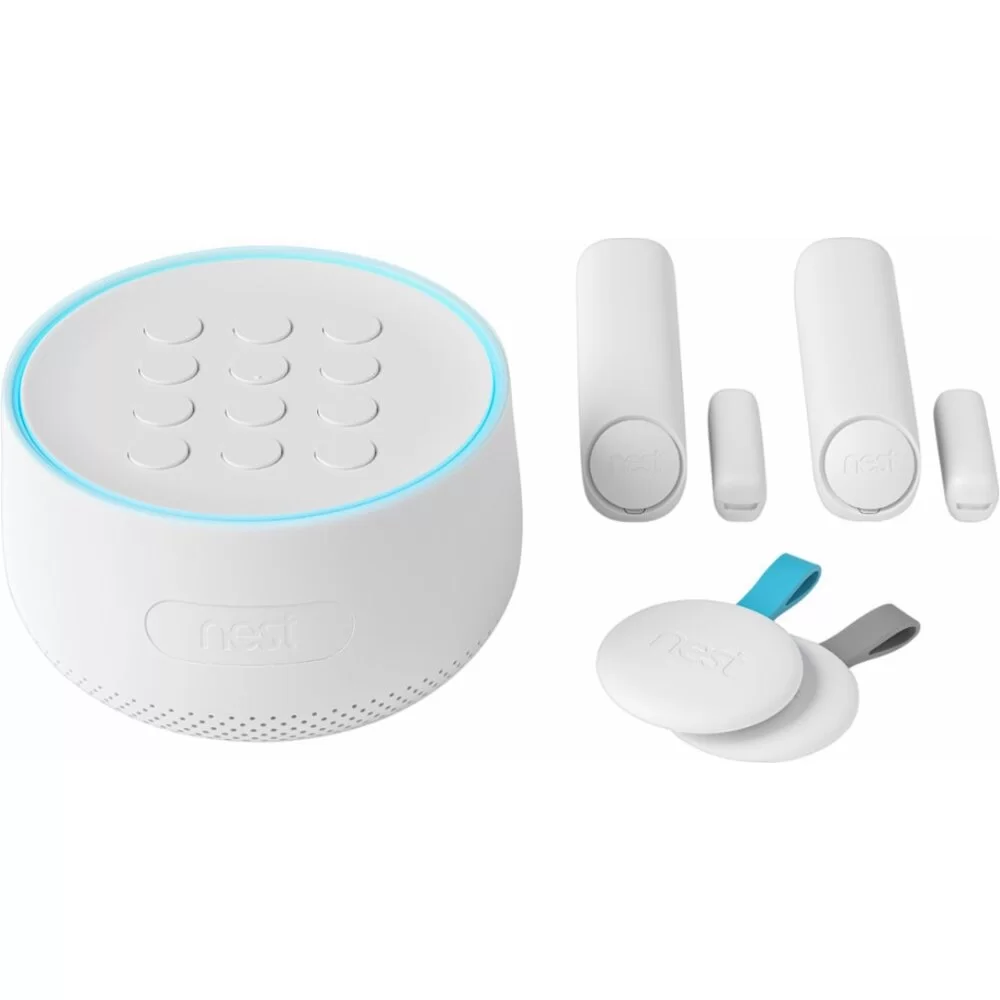 Don't you want to pay for competent monitoring? Then consider the Google Nest Safe Alarm System, a highly valued self-monitored monitoring device. The starter kit includes the Nest Guard main device, two Nest Detect door / window sensors, as well as two Nest Tags that allow you to arm and disarm the system without a passcode. You can expand the system by purchasing additional sensors, Tags, Nest Cameras, or the Nest Doorbell.
With the Nest app, you can arm and disarm with the Nest app from anywhere.¹ Tap Nest Tag on Nest Guard as you come and go. Or just ask your Google Assistant to arm for you. You can also enter a passcode on Nest Guard's keypad. (But only if you like passcodes.)
You can choose how much time you need to arm or disarm before the alarm goes off – up to 5 minutes. For doors you use most, you might give yourself more time. For doors you hardly use, you can set No Delay so the alarm goes off instantly when it opens. And if you forget to arm, you'll get a Remind Me alert on your phone.
Stick Nest Detect on a window, and you'll know when it opens. Stick it on a wall, and it senses motion in a room. And when you stick it on a door, it can sense both motion and open/close. You can turn motion detection on and off in the Nest app.
Reviewers also note that it works well with other Google products, such as Google Assistant.
| | |
| --- | --- |
| Pros | Cons |
| Flexible monthly monitoring plans with no contract required | Equipment is relatively expensive |
| High-quality security cameras | No professional monitoring for smoke or carbon monoxide detectors |
| Products integrate easily with each other and other smart devices | No glass-break sensors or panic buttons |
| Easy DIY installation | Poor customer service reviews |
| Customizable system with discounted bundles available | |
| | |
Pricing Plan
The Nest Secure main system consists of the Guard (hub), two Detects (sensors), and two Tags (key fobs), which cost $249.00 plus shipping.
For professional monitoring, you'll pay Brink's Home Security $29.99 a month, though that can be reduced to $19.99 a month if you sign a three-year contract.
Nest Aware subscriptions can be paid monthly or yearly and canceled at any time. Here is the price $6/month $60/year (Save $12 annually).
Nest Aware Plus subscription price is $12/month $120/year (Save $24 annually).
Nest is owned by Google and monitored by Brink's Home Security, it doesn't have any ratings or reviews on the Better Business Bureau (BBB). However, Nest does have some product-specific ratings on Trustpilot.
All-new Ring Alarm Kit DIY
Ring received the highest score in the DIY segment in the J.D. Power 2019 Home Security Satisfaction Study of customers' satisfaction with their home security system.
This kit comes with a base station to keep your system online, two keypads for in-home control, and a range extender to ensure your Alarm devices have a signal. When paired with contact sensors to cover eight doors or windows and motion detectors to cover two rooms, it's a great fit for 2-4 bedroom homes.
Place your Ring Alarm in Home mode to disarm your interior sensors, while keeping your exterior sensors armed. Set to Away mode to arm all the sensors in your home to know what happens while you're out. And disarm your system to disarm all sensors and freely walk in and out of your home.
To enhance your connected, whole-home security system, add smart accessories (sold separately) to your Ring Alarm, such as sensors that detect fire, carbon monoxide, flood, freeze and panic buttons to quickly request help.
Get 24/7 professional monitoring to help you reach emergency services and to enable cellular backup for your Ring Alarm and 60 days unlimited video recording and photo capture for your Ring cameras and doorbells for $10/month with Ring Protect Plus.
Receive mobile notifications when your system is triggered, change your Alarm modes, and monitor all your Ring devices all through the Ring app.
Connect Ring Alarm to select Alexa-enabled devices to easily set your Alarm in home, away, and disarm modes and check the status of your security system with hands-free voice control.
The Alarm is compatible with dozens of third-party Works with Ring devices including Kwikset, Schlage, and Yale door locks and Leviton and GE switches and dimmers. It also works with Alexa Guard, which listens for the sounds of a smoke alarm or breaking glass while you're away. However, it doesn't with IFTTT applets, nor does it support Apple HomeKit.
| | |
| --- | --- |
| PROS | CONS |
| Easy to install | Doesn't support IFTTT or HomeKit |
| Affordable professional monitoring is available | Bulky contact sensors |
| Supports multiple wireless platforms | |
| Loud siren | |
Price Plan
You can opt for DIY installation without a monitoring plan, in the alarm kit box include the base station, contact sensor, motion detector, keypad, and range extender cost $179 with echo dot 3rd generation free.
Pricing for add-on components is pretty much in line with what you'll pay if you have a SimpliSafe or Abode system. Extra contact sensors are $20 each, another motion sensor will cost you $30, and a range extender goes for $25. Additional devices include a First Alert smoke/CO detector, a flood/freeze detector, and a panic button.
You can monitor the system yourself using the mobile app and web app, but that means you'll have to alert the police or fire department when there's a break-in or fire.
Alternately, you can subscribe to the Ring Protect Plus monitoring plan. For $10 per month or $100 a year, you get 24/7 professional monitoring that includes police and fire department dispatch and push and email alerts. It also includes unlimited cloud recording for all Ring cameras, which makes it one of the best monitoring deals around.
abode Essentials Starter Kit DIY
Traditional security devices also have to be properly installed in your home due to their wired hardware, but the Essentials Starter Kit is a truly wireless security system that is simple to install on your own. This package includes a gateway controller, one door/window sensor, a motion sensor, and a key fob, which can be expanded with add-on products like cameras, sirens, panic buttons.
Remotely Arm & Disarm Your System with the Press of a Button, abode's Key Fob Makes "Did I Set the Alarm?" Worries A Thing Of The Past.
Easily Mount To Any Door Or Window In Your Home Using Included Adhesive. Set Up Notifications To Be Alerted On Your Phone Any Time Your Door Or Window Is Opened Or Closed.
Perfect for Entryways & Large Spaces, Our Motion Sensor Has A Wide Detection Radius And Uses Body Heat to Pick Up On Motion. This Means No Motion Will Go Undetected.
Works with Alexa, Google Home, and Apple HomeKit
| | |
| --- | --- |
| PROS | CONS |
| Quality Hardware | Some international users complain of service issues |
| Easy Set-Up | Some compatibility issues with other smart home products like Blink XT cameras. |
| Excellent tiered service levels | |
| Best home security system for DIYer's | |
| Compatible with IFTTT | |
| Z-Wave, Zigbee, Wi-Fi, and Abode RF connectivity | |
Abode offers 2 primary home security packages; the Smart Security Kit and the iota All-In-One Security Kit. Abode offers some of the most flexible home security options on the market. This makes Abode perfect for a wide range of needs. And, if your needs change at any time, you can always add equipment as needed.
With Abode, you purchase one of the home security kits up-front. There are no contracts and monthly monitoring is not required. Monitoring is available as an option, but not necessary to operate the system.
All home security systems come with fast shipping and a 30-day no-questions-asked return policy. Plus, the equipment has an unlimited warranty while users are signed up with the annual secure plan.
Pricing Plan
Check out the most popular home security equipment bundles from Abode below to find the best option for your home or apartment.
Abode is quite different than most of its competitors in that there are not any monthly fees required to use the system. However, the company does offer two different monthly monitoring plans for customers who want professional 24/7 monitoring. You do not have to sign a contract to get a monitoring plan. You can cancel or change plans at any time. This range of versatility makes Abode's system perfect for all budgets.
Smart Home: Cove Security Vs Simplisafe
iSmart alarm DIY
The iSmartAlarm Home Security System is a DIY, self-monitored, self-controlled home security system, no monthly fees, no contracts required. The iSmartAlarm App allows the user to utilize their iPhone to arm, monitor and disarm their security system at any time, from anywhere, in real-time. the App shows who is at home, when family members left or returned, and the on/off status of each sensor.
The App will alert all designated members with a phone call, SMS message, push notifications, and email when the iSmartAlarm security system detects a break-in or unauthorized activity and allows the user to view the home's status and safety with the optional camera. It is open to future home automation features and almost unlimited expandability.
All iSmartAlarm sensors are wireless, mobile, portable and easily installed. In addition, the iSmartAlarm App is customizable. Provide names/nicknames and pictures every family member and device to give your home system a personal touch.
Compatible with IFTTT and Alexa.
| | |
| --- | --- |
| Pros | Cons |
| Easy, DIY installation | Limited hardware options |
| No monthly fees and contracts | Lack of advanced security features |
| Native Alexa and IFTTT integration | Reliant on internet and power |
| Low-cost hardware | Limited cloud storage |
| Discounts on security system bundles | |
| Remote mobile app control | |
| Different user access levels | |
Smart Home Video Bundle
Whole-home protection – Monitor doors and windows, large rooms, and view live video (and record free cloud video in emergencies). Includes 1 CubeOne™, 1 Spot smart home security camera, 3 Contact Sensors, 1 Motion Sensor, 1 Remote Tag, and iSmartAlarm window decals.
Preferred Package
The perfect starting point for smart home security for any home. Includes 1 CubeOne™ (the brain of the system), 2 Contact Sensors, 1 Motion Sensor, 2 Remote Tags, and iSmartAlarm window stickers.
Plus Package
The perfect package for homes that require additional door and window security. Enjoy the convenience of adding additional accessories or smart home security cameras to your security system at any time.
Best Professional Alarm System for Homes
Vivint Smart Home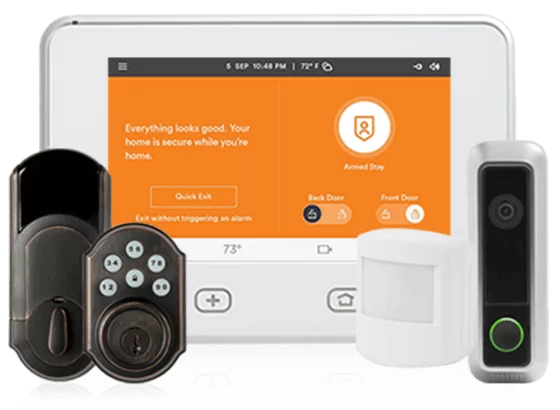 If you want to go for a professional alarm system then Vivint would be one of a choice, it wireless, and have a ton of products you can install at your home.
Vivint is renowned for its state-of-the-art appliances. Every Vivint protection device comes with a smart touchscreen controller, one motion sensor, two door/window sensors, and $100 to buy any additional sensors. Smart hubs would need minimum wiring and drilling, but you can still go for a countertop hub instead.
Each of these devices communicates wirelessly in your home. There's no need to worry about installation, as a Vivint Smart Home Pro will come out to your home and set up your equipment for you. The base equipment for a Vivint security system will cost around $600.
Compatible with Alexa and Google to control via voice.
| | |
| --- | --- |
| Pros | Cons |
| Flexible equipment configuration | Long contract if financing equipment |
| Flexible payment options | Expensive equipment cost |
| Variety of cutting-edge smart home devices and features | No DIY installation option |
Pricing Plan:
Vivint equipment prices start at $599.99 for their starter home security kit. Their professional monitoring costs $29.99 per month for their Smart Security package and $39.99 per month for their Smart Home Security package. If you'd like video monitoring Vivint charges $5 per month for each camera. Lastly, professional installation is required and starts at $49.99 depending on your equipment. Smart home add-ons can be added to the Smart Home Security package including smart lights, thermostats, smart locks and more ranging from $50 – $249.99.
| | | |
| --- | --- | --- |
| Plan | Smart Home Service | Smart Security Service |
| Upfront Cost | $599.99 | $599.99 |
| Monitoring price starts at | $39.99/mo. | $29.99/mo. |
| Motion Detection | Yes | Yes |
| Home environmental monitoring | Yes | Yes |
| Security cameras | Yes | No |
| Smart home devices | Yes | No |
Home Automation

>>

Surveillance & Security

>>

Smart Alarm System

>>

WIFI ALARM SYSTEM