It's a complete list of sonos google assistant commands with how to use and the possible solution of the problems user could face at a time of saying via from voice.
What commands can I use with Google Assistant?
For your Google Assistant, there are plenty of commands you can use. You can play music, ask for the forecast, or handle smart home appliances.
The list of general music-related commands is given below. Simply say 'Hey Google...' before the command in the list. Any older devices can, instead, require the use of "OK Google…"
Keep in mind that you can add "in the (room name)" to the end of all of your commands if you want to play in a specific room. Otherwise, the music will play on the speaker that responded to your request.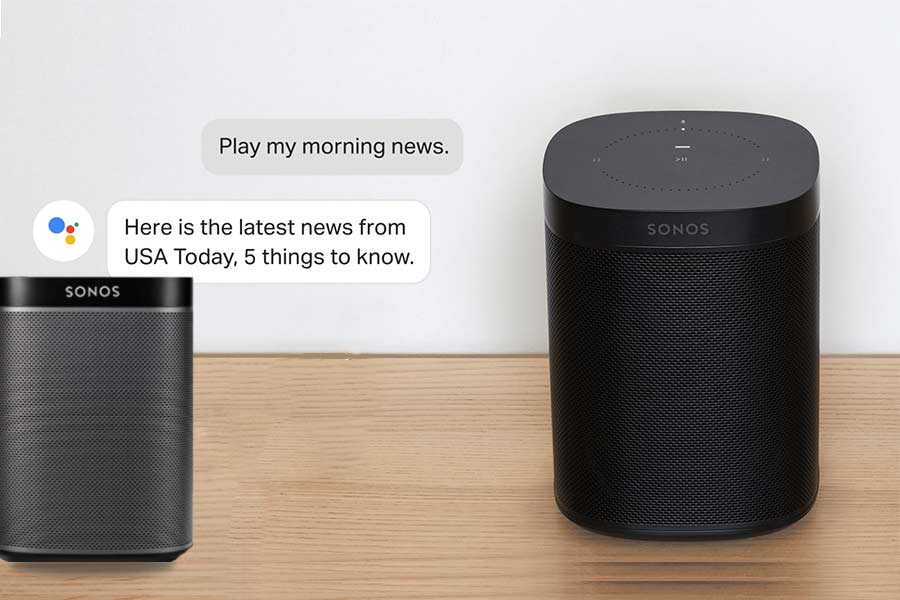 Here Are the List of Sonos Google Assistant Commands
Command
What it does
Example
Playback
play
pause
stop
Start or stop music
Hey Google, pause the music in the Kitchen.
skip
next
previous
Skip to the next or previous song
Hey Google, skip this song.
play [artist]
play [album]
play [song]
play [genre]
Play a specific artist, album, song, or genre.
Hey Google, play Travis Scott in the Office.
what's playing?
Find out what song is currently playing
Hey Google, what's playing in the Living Room?
Volume
turn it up
turn it down
louder
quieter
softer
Turn the volume up or down
Hey Google, turn it up in the Bathroom.
mute
unmute
Mute or unmute the speaker
Hey Google, mute the Bedroom.
set the volume to 3
set the volume to 30%
Set a specific volume [0-10 volume levels]
Hey Google, set the volume to 5 in the Kitchen.
Control your TV with Sonos home theater products*
turn on the TV
turn off the TV
Turn your TV on or off
Hey Google, turn on the Living Room TV.
With Deezer, you can use the Sonos Controller app to stream your entire Deezer music library to any room in the house. Get curated, personalized recommendations with your Deezer Flow and over 56 million songs.
Note: At this time, Deezer Free is not supported with voice commands on Google Home. 
How to use voice commands on Google Home
When using Google Home, it's important to start your commands with "Ok Google" and, if Deezer is not your default music service, you should end every command with "on Deezer."
"Ok Google, play my Flow on Deezer"
"Ok Google, play My music on Deezer"
"Ok Google, (Deezer Editor's Playlist) music on Deezer"
"Ok Google, play (name of your playlist) on Deezer"
"Ok Google, play (artist name) on Deezer"
Ok Google, play (name of album or song) on Deezer"
"Ok Google, (genre name) music on Deezer"
You can also ask Google to play music according to your mood for example, "Ok Google, play something happy."
What else can I ask?
You can ask Google to do a lot more, like tell you what song is playing, skip to the next track or even adjust the volume using these commands:
"Ok Google, next song"
"Ok Google, skip forward (X) secs"
"Ok Google, shuffle"
"Ok Google play this song again"
"Ok Google, repeat this song"
"Ok Google, who is playing?"
"Ok Google, I like/dislike this song"
"Ok Google, set volume to 5"
"Ok Google, set volume to 40%."
Note: You can also set and manage your media settings in select countries in English only. To learn more and check country availability please visit Google's support page.
In case the google assistant commands not working on sonos
These are the Steps to resolve issues with the Google Assistant not following commands, not responding at all, or responding with an error.
Before you start
Check the microphone status light on your voice-enabled Sonos speaker. If the light is off, tap the microphone icon to re-enable the microphone and try the command again. Move the speaker away from walls, other speakers, and sources of background noise to make sure that the Google Assistant can hear you.
You can check what your Google Assistant heard on http://myactivity.google.com by adding a filter for Assistant. If the Google Assistant isn't hearing your commands correctly, consider moving your device to reduce loud ambient sound that could impact how well your voice-enabled Sonos speaker (or Google Assistant-enabled product) can hear you.
A Google account with the Google Assistant can only be used with one Sonos system at a time. If you have a second Sonos system in another location, you'll need to use a second Google account if you'd like to use the Google Assistant in both places.
Home Automation

>>

Brands

>>

Google

>>

Sonos Google Assistant Commands